Sesamoiditis is a condition common among many athletes and dancers, as it affects the ball of your feet, causing pain and discomfort.
Sandals that offer proper support and cushioning in this area are ideal for relief and comfort from these painful symptoms caused by Sesamoiditis.
This article will look at the best sandals for Sesamoiditis specifically and what they have to offer you.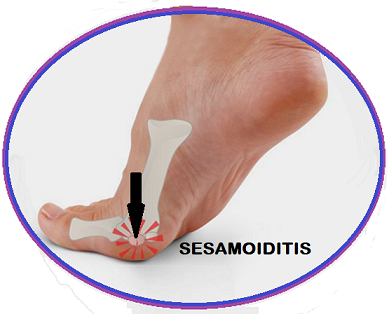 ---
Sesamoiditis Outlook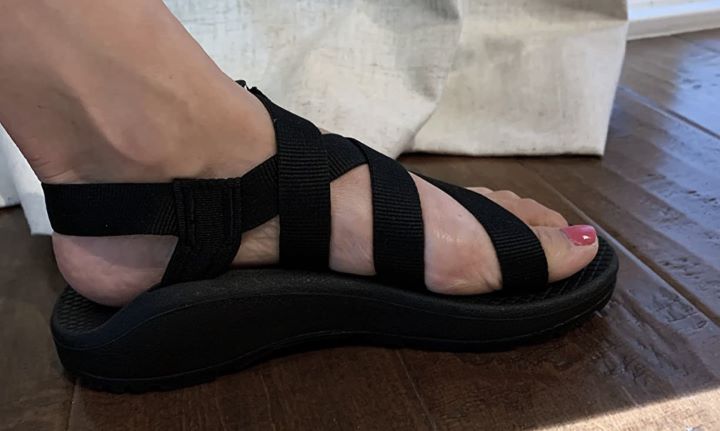 Your Sesamoids are bones connected to your muscles by tendons, and they differ from other bones because tendons and not joints connect them.
Sesamoids are located in different parts of the body. However, the eons we will be looking at today are located in the ball of the foot area.
When these tendons become injured, inflamed, or damaged, it causes pain in the ball of your foot that will build gradually, and you may also notice some bruising and swelling. Sesamoiditis may make it hard for you to bend your big toe initially and even cause a pop sensation in your big toe when you walk.
Generally, most athletes and dancers develop sesamoiditis because excessive pressure is placed on these bones in the ball of the feet with some movements and activities.
Most treatment plans for Sesamoiditis require a few small lifestyle changes, which may include;
Rest from Activities – You will need to stop certain activities that may have caused the condition for a while and rest your feet. Also, try to avoid activities that place excessive pressure on this area of your foot as far as you can.
No High Heels – High heels and shoes that pressure the sesamoids f your feet should be avoided at all times. Try to opt for more supportive and comfortable footwear with a lower heel and good support and cushioning features.
Medication – Mostly, over-the-counter pain medication and ant-inflammatory are sufficient, but if the pain is terrible, you can ask for cortisone injections from your doctor.
Surgery – In sporadic and severe cases, surgery may be required when the pain persists and becomes unbearable. They may have to remove one or two of the sesamoid bones surgically.
Mild cases of Sesamoiditis will resolve over a few days with some rest, ice, and anti-inflammatory medication. Once your symptoms disappear, you can resume normal activities.
However, I would still recommend proper supportive footwear and sandals for sesamoiditis.
---
Choosing Sandals for Sesamoiditis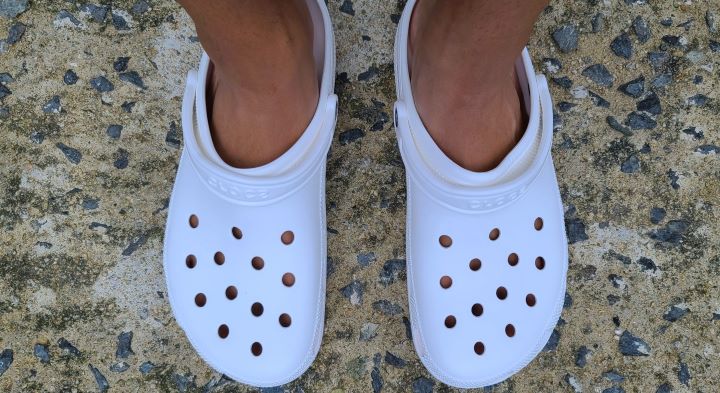 The ball of your foot where your sesamoids are in the area directly underneath the metatarsal heads in the bottom of your foot,
Sesamoiditis and pain in the ball of the foot are generally caused by excessive pressure on this area of your foot.
Thus, to prevent, cure and alleviate symptoms of sesamoiditis, you will need sandals that eliminate pressure in this area and provide plenty of underfoot cushioning.
Secondly, good arch support will also help as this helps to evenly disperse weight and shock across your feet, reducing pressure on the ball of the foot area.
---
Features of a Good Sandal for Sesamoiditis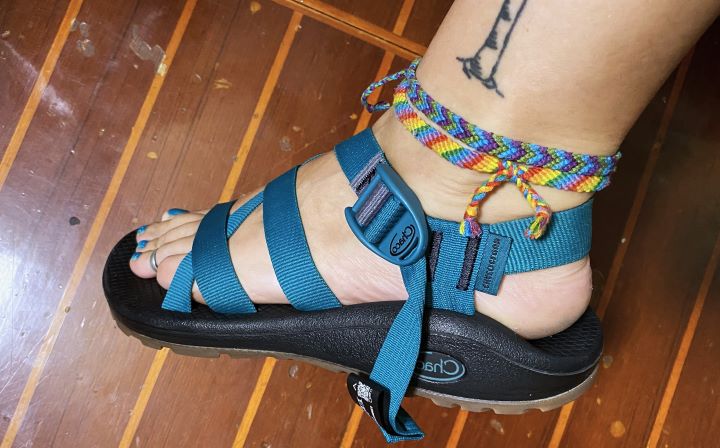 Forefoot Cushioning and Shock Absorbency – Look for a sandal with plenty of cushioning, especially in the forefoot area or under the balls of the feet. Cushioning such as EVA, memory foam, and other foams or gel provide excellent shock absorbency and reduce pressure on the balls of the feet.
Good Arch Support – A sandal with good arch support or a contoured or anatomical shape footbed provides support that will disperse weight and impact properly. Persons with high arches are also at greater risk for sesamoiditis. Therefore proper arch support for this foot type is necessary.
Wider Toe Box – Generally, with Sesamoiditis, you may notice a change in the shape of your feet and some swelling. A sandal with adjustable features or a wider fit will be ideal for accommodating swelling or foot shape changes.
Geometry of Sandals – Look for a sandal with a very low or no heel. A zero heel-to-toe drop design is always more suitable. This, in turn, helps to disperse weight more evenly and does not cause excessive weight and pressure to the ball of the foot.
Comfort – Sesamoiditis is quite painful, so you want sandals that provide as much comfort as possible. A moisture-wicking lining, good cushioning, and proper fit are three elements that can provide excellent comfort for this condition.
---
Reviews: The Best Sandals for Sesamoiditis
These are the best sandal designs for the condition Sesamoiditis;
We hope you love the products we recommend!
So that you know, We may collect a share of sales or other compensation from the links on this page.
---
1
The Chaco ZCloud sandal offers optimal cushioning for Sesamoiditis.
The sandal has quick-drying textile uppers and a durable rubber sole.
The Luvseat dual-density PU midsole ensures soft and comfortable cushioning.
The sole is designed for outdoor grip with a 3mm lug tread.
---
2
The Crocs Classic Clog sandal offers soft cushioning and a wider fit for sesamoiditis.
The sandal is well ventilated and has a roomy toe box.
It consists of plus cushioning foamy crosslite material with a supportive footbed.
The outsole is durable and slip-resistant.
There are also many more colors available.
---
3
Flip Flops for Sesamoiditis
The Vionic Tide is a comfortable Podiatric designed sandal for sesamoiditis.
The sandal is accepted by the APMA (American Podiatric Medical Association).
It has a Podiatrist cushioned and supportive footbed and design.
There are also a few more color options available.
---
4
These are two slides on sandals for sesamoiditis.
They have a flexible sole with a cushioned footbed,
The uppers are premium genuine leather, and more neutral colors are available.
The sole is a durable and high traction rubber.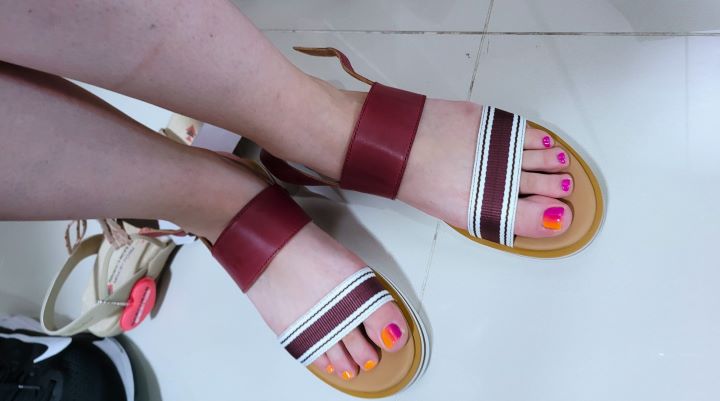 ---
5
Flip Flops for Sesamoiditis
The Clarks Step Beat Dune and Breeze are comfortable flip-flops for sesamoiditis.
They have Cloudstepper technology footbeds with cushioning and EVA in the midsole for shock absorbency.
The uppers offer a roomy fit and are a textile material.
The outsole is a slip-resistant flexible TPR rubber.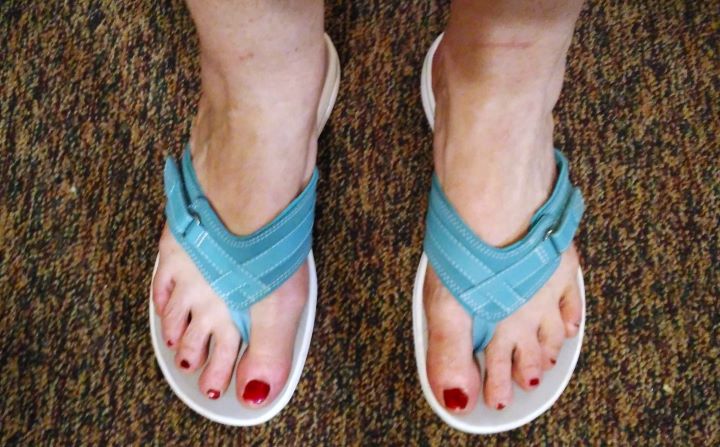 ---
6
Flip Flops for Sesamoiditis
The FitFlop has a specific cushioning spot directly under the ball of the foot.
There is also a heel cushion and distinct integrated arch support.
The Flip Flop sandal is durable cushioning and comes in many more color options.
The size and fit are also roomy and ideal.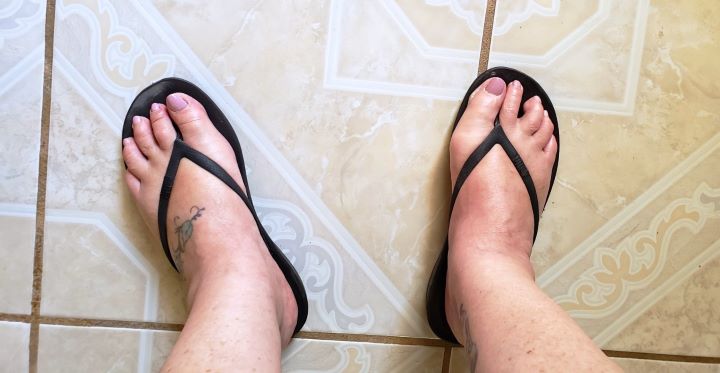 ---
7
Hiking sandals for Sesamoiditis
The Teva Hurricane Verge is a great Hiking sandal for sesamoiditis.
It has quick drying uppers and a durable rubber outsole.
The soft and supportive footbed with EVA foam is comfortable and durable.
The uppers are also fully adjustable.
---
8
Flip Flops for Sesamoiditis
Here we have two supportive and comfortable flip-flops for sesamoiditis.
They have leather and textile uppers and offer a comfortable fit.
The footbed features a Mush top sole and EVA midsole for cushioning.
There is also a high traction rubber outsole.
---
9
Leather sesamoiditis Sandals
The Chaco Wayfarer is a comfortable leather sandal for sesamoiditis.
The uppers are genuine leather and are available in neutral colors.
A Luvseat footbed and EVA are cushioning.
The rubber outsole is durable and non-marking.
---
10
Slide Sandals for Sesamoiditis
The Vionic kiwi slides are comfortable for home leisurewear.
The uppers strap is adjustable, and the sandal slide on and off easily,
They are available in a few color models.
The footbed is cushioned and offers excellent support.
---
Index Table: Top Rated Sandals for Sesamoiditis
---
---