Awful-smelling feet are not fun for anyone and can be quite embarrassing if you ask me.
There are many reasons your feet may smell; some people may notice the smell, particularly in summertime, and wear sandals.
Luckily, the best sandals for smelly feet will help reduce the odors and prevent bacteria and excessive sweating, which may cause smelly feet.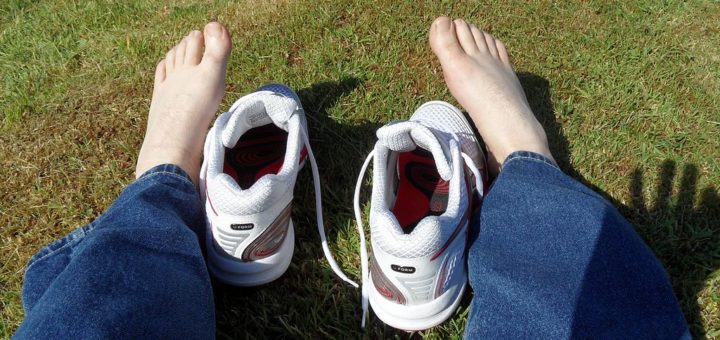 ---
---
Will Wearing Proper Sandals Help With Smelly Feet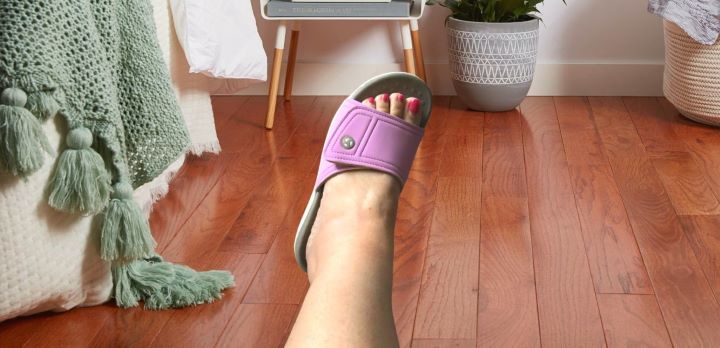 The right sandal will most definitely help to prevent or reduce smelly feet.
Remember, the main cause of smelly feet is sweat, which causes bacteria, which in turn causes bad odors. Sweat develops mainly in hot summers, and because sandals have a more open and ventilated design, they are better for smelly feet.
Besides their more open and ventilated design, many sandal models have an antimicrobial-treated footbed that helps eliminate bacteria that cause odors. Some design has moisture-wicking or absorbent features that also keep sweat at bay.
For these reasons, sandals will certainly help to prevent smelly feet.
---
How to Treat and Prevent Smelly Feet
Besides the right sandal, here are a few tips for preventing and treating smelly feet;
Washing Your Feet – You can wash your feet more than once daily with an antibacterial soap. Just make sure you keep them out evenly.
Keep Your feet Dry – Dry properly when wet, especially between the toes.
Wear Different Shoes – Try to alternate between your shoes and sandal so you do not wear the same pair daily.
Foot Grooming – Keep your feet well-groomed and clean; cut long toenails and file down hard skin, as these can become soggy and cause a breeding ground for bacteria. It is also advised to use a good moisturizer occasionally, particularly after a good grooming session. A foot scrub may help remove old dead skin cells that may become a breeding source for bacteria.
Plastic Sandals and Shoes – avoid wearing plastic shoes and sandals as they cause your feet to become sweaty and smell.
---
Features of a Good Sandal for Smelly Feet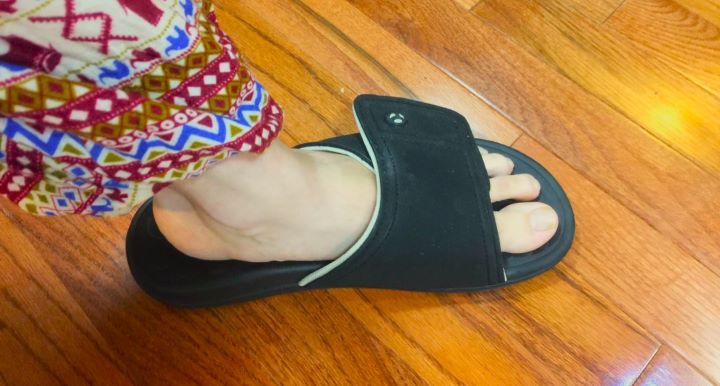 Uppers – Uppers can consist of polyester webbing, which is absorbent and dries quickly in leather or other materials. Look for comfortable and adjustable upper straps.
Odor Treated – Many sandals come with an antimicrobial or antibacterial odor treatment, which can be either zinc-based or silver technology. Washable sandals also allow you to keep bacteria at bay.
Comfort – A comfortable and cushioned footbed provides a comfortable and supportive fit. Look for EVA or PU materials in the footbed with good arch support. Memory foam is also an excellent choice if you are looking for more plush and moldable comfort cushioning.
Outsole – Good grip and traction are vital for the outsole. A patterned lug outsole will provide excellent grip, and rubber is one of the most durable materials for an outsole.
---
Reviews: The Best Sandals for Smelly Feet
In our review section, we have some of the best available sandal brands and models that have an odor-resistant and antimicrobial-treated footbeds for odor resistance;
We hope you love the sandals we recommend!
So that you know, We may collect a share of sales or other compensation from the links on this page.
---
1
Sports Sandals for Smelly Feet
The Keen Newport H2 is a comfortable and supportive outdoor sandal that can be machine washed to prevent odors.
The Keen Newport H2 has quick-drying uppers and a zinc-based antimicrobial-treated footbed, which helps to reduce odor bacteria and keeps your feet dry.
The uppers are adjustable polyester, and there are more colors available.
The footbed is a comfortable Compression-molded EVA.
The multi-directional lug rubber outsole ensures excellent grip on slippery surfaces.
---
2
The Teva Beach and Pool sandal is treated with a zinc-based antimicrobial to prevent odors and bacteria.
The sandal has an open and beach-friendly design.
The uppers are adjustable and consist of quick-drying fabric and synthetic material.
The sole is treated with a zinc-based antimicrobial treatment to prevent odors.
The Molded EVA midsole has a heel cup and cookie arch for full support and comfort.
More colors are similarly available to you.
---
3
Dressy Sandal for Smelly Feet
Spenco Sandals are Treated with an UUltra-FreshAntimicrobial to prevent odors and bacteria in their sandals.
These stunning sandals are available in more colors and will not let your feet smell.
They have leather and mesh uppers with a synthetic soles.
The footbed has Ultra-Fresh antimicrobial technology that helps to control odors.
There are a comfortable cushioned EVA footbed and Orthotic grade arch support.
The lug rubber outsole also provides good grip and traction.
---
4
Sports Sandal for Smelly Feet
This is an open-design sporty sandal.
The uppers are a quick-drying textile material that is fully adjustable in fit.
There is an antimicrobial footbed for better odor resistance.
The sandals have ChacoGrip durable and slip-resistant rubber outsole,
The LUVSEAT Pu cushioned footbed is comfortable and supportive.
You can also select from plenty more colors available.
---
5
The Birkenstock Arizona Suede leather sandal absorbs moisture and has a stay-fresh cork footbed.
Birkenstocks are known for their cushioning and supportive cork footbeds, but this material also helps resist heat and odors.
Cork is naturally absorbent and provides moldable cushioning daily for optimal support and comfort.
Birkenstocks are a quality top scandal brand with a very comfortable fit.
I have chosen the models with a suede leather upper for better moisture resistance.
However, only two colors are available in this model, in a unisex size for men and women.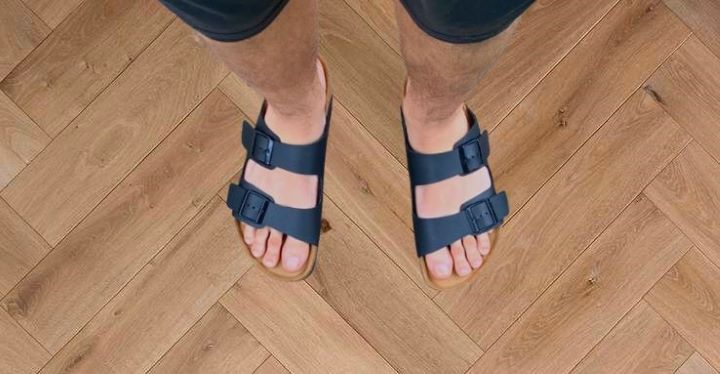 ---
6
Flip Flop Sandal for Smelly Feet
The Spenco Flip Flop range has an antimicrobial-treated footbed to reduce odors and other comfort features.
These are beach-style sandals with a ventilated and breathable open design.
As you can see, they are available in plenty of bright and fun colors.
The footbed is treated with an antimicrobial to reduce odors and prevent harmful bacteria from growing.
There is also excellent cushioning with a compression-molded EVA in the footbed and an Orthotic grade arch support.
The outsole has a non-marking and non-slip design, which is also quite durable, consisting of rubber.
---
7
Hiking Sandals for Smelly Feet
The Hurricane Verge has an open design that will ventilate smelly feet.
The uppers are a quick-drying polyester material that will wick away moisture.
The footbed is a soft EVA and there is a Nylon shank for stability.
The outsole is a lugged rubber for grip on outdoor surfaces.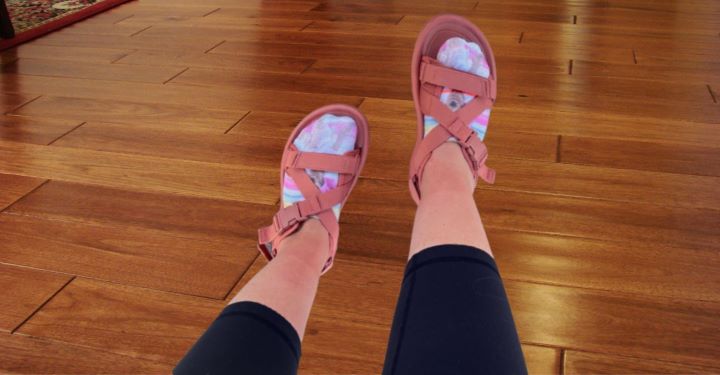 ---
8
Flip Flops for Smelly Feet
Flip Flops have an open and comfortable design to prevent excessive sweating that can cause odors.
These flip flops have a top sole lined to wick away moisture and comfortable cushioning.
The rubber outsole is durable and offers good traction.
There are also more neutral colors available.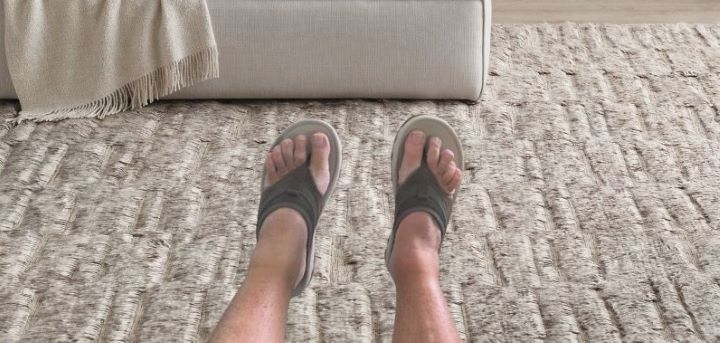 ---
9
Smelly Feet Hiking Sandal
The Chaco Banded is another great design for smelly feet.
The Luvseat footbed and EVA midsole cushion the feet and prevent odors.
The open design will keep your feet well ventilated and comfortable.
The textile uppers are quick-drying and moisture resistant.
---
10
Slide Sandal for Smelly Feet
The Vionic Kiwi slide is ideal for quick on and off.
They have a single uppers strap that is adjustable in fit and is a nubuck leather with a moisture-wicking lining.
The footbed is cushioned and supportive and will not cause excessive sweating and hold odors.
There are also a few more colors available to you.
---
Index Table: Top Rated Sandals for Smelly Feet
---
---