Back pain is a common condition suffered by many individuals, and it can be moderate or quite severe and debilitating.
There are many reasons and causes to back pain, of which one may be wearing improper footwear. In this article, we will be looking at some unique designed sandals that will help prevent and alleviate back pain.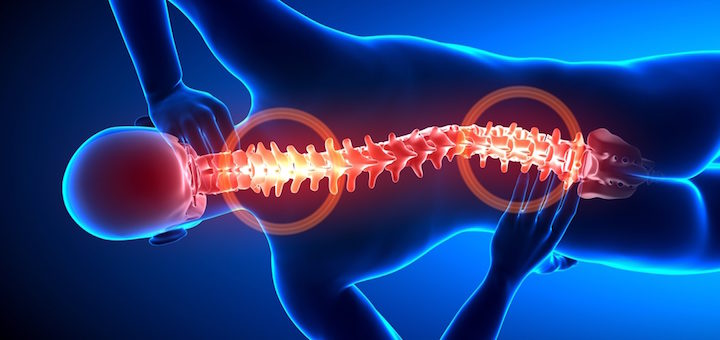 ---
What Causes Back Pain
Back pain can be once-off or lasting. It can come suddenly and last for many weeks, and there are many causes and risk factors;

Muscle or Ligament Strain – Muscle or ligament strains and sprains caused by repeated heavy lifting or awkward movements can strain the muscles in your back and spine can cause severe and moderate back pain.
Bulging or Ruptured Discs in The Spine – Bulging or ruptured disks in your spine, which are the soft cushions between your vertebrae and bones that have become ruptured or are pressing on a nerve, may also be the cause of your back pain.
Arthritis and Osteoarthritis – Arthritis and Osteoarthritis are two conditions that can affect the lower back, causing pain and spasm.
Skeletal Irregularities – When your Spine curves to the side as a condition of irregularity, the back can become painful.
Osteoporosis – This is a condition where the vertebrae in your spine develop compression fractures, and your bones become very porous and brittle.
Age – Back pain becomes more common as you get older and usually starts at around 30 to 40.
Lack of Excercise – If you are overweight and do not exercise regularly, there will be an excess strain on your back and back muscles, which can cause back pain.
Smoking – Smoking reduces the blood flow to your lower spine, which keeps your body from delivering proper nutrients to the discs in your spine, which in turn may result in back pain. Smoking also slows down the healing process in your body in general.
---
How Your Feet Can Affect Back Pain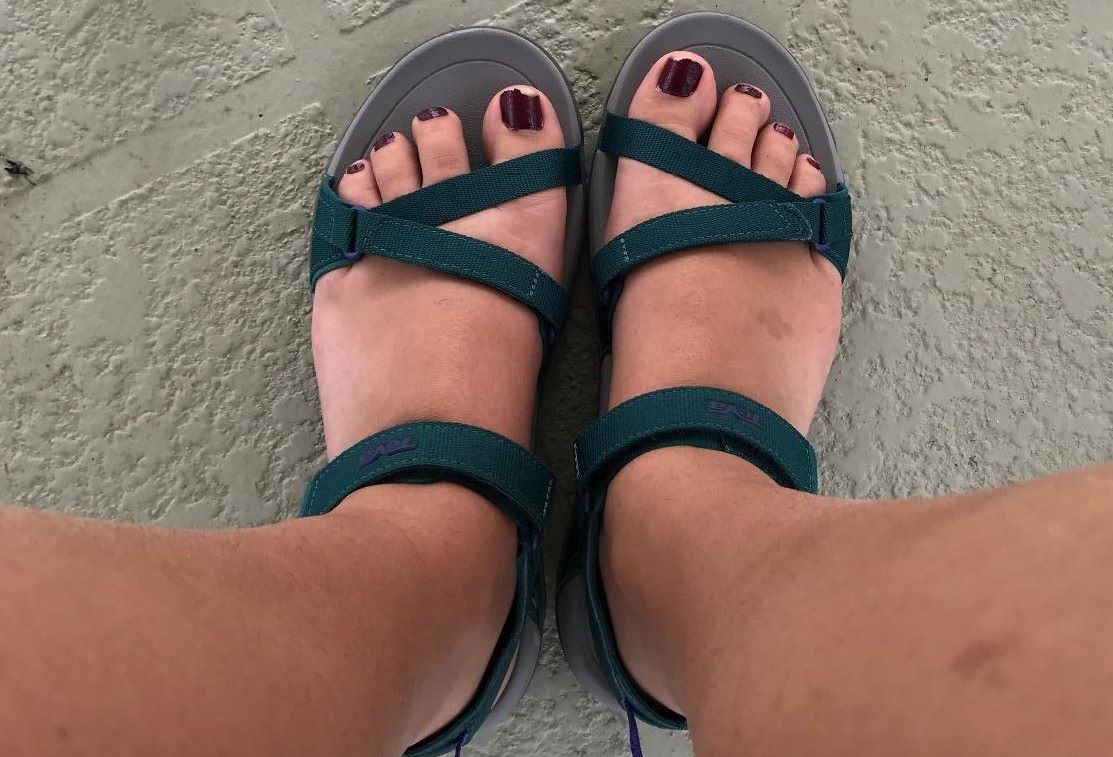 You will be quite surprised to hear that in some cases, the leading cause of your back pain may be your feet and improper footwear. Likewise, if you already suffer from back pain, improper footwear can aggravate the condition.
When you walk or run your place, a force five times your body weight on each foot, and if your feet do not redistribute and absorb the shock appropriately and effectively, you may develop problems in your feet, back, and other areas the body.
This issue often occurs in individuals with low or flat-arched feet because the arch is closer to the ground.
Overpronation is another cause of back pain, basically when your feet roll inward or pronate excessively when you walk or run. Hyper pronation is another cause similar to overpronation, with the only difference being that your legs turn inward. The same goes for Hyper Supination, when your feet and legs roll outward excessively when you walk or run.
---
Features of a Good Sandal for Back Pain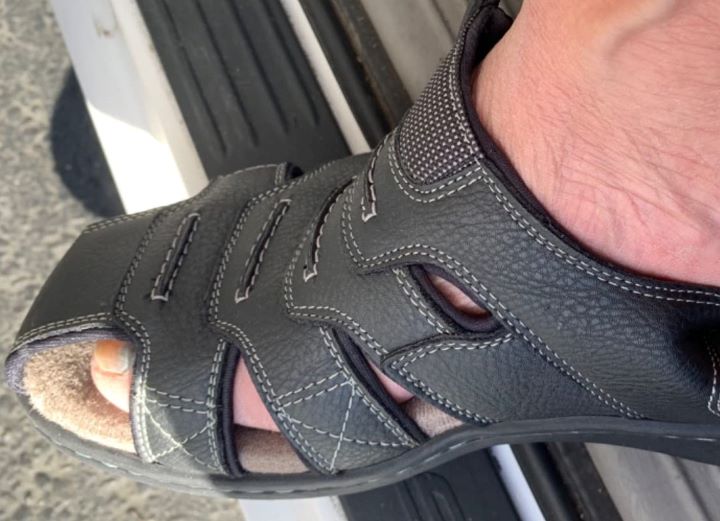 Support and Cushioning – Good arch support that helps to align your feet properly with motion control and stability features to prevent excessive or hyper pronation. Cushioning to absorb shock and provide comfort to reduce the impact on your body when walking or running.
Heel – A low and stable heel as a high heel can cause an impact that may lead to back pain.
Fit – A good fit that is not too loose or tight look for adjustable straps for a customizable fit.
Replace Old Shoes – Always replace old and worn shoes as they are no longer effective or good for your posture.
---
Reviews: The Best Sandals for Back Pain
Below are some superb choices in sandal for back pain.
We hope you love the products we recommend!
So that you know, We may collect a share of sales or other compensation from the links on this page.
---
1
Slide Sandal for Back Pain
The Propet June and Propet Vero are two Orthopedic comfort sandals with an easy slide-on and off design and availability in wider widths.
Durable and high traction, Thermal rubber outsole.
Moisture-wicking Microfiber lining and smooth and comfortable uppers straps.
The upper straps are adjustable to accommodate all foot types and conditions.
A comfortably cushioned insole that is removable, allowing you the use of your own orthotics.
A smooth Microfiber lining on the top sole to keep feet dry and prevent friction.
Shock-absorbing heel and midsole to prevent impact on the feet and joints, leading to back pain.
The uppers are made from very durable and comfortable leather.
Available in Wider width Options to Choose from.
---
2
Fisherman's Sandal for Back Pain
The Orthofeet Alpine and Naples are two very lightweight and breathable style Fisherman's sandals, ideal for conditions such as arthritic feet, diabetes, Plantar Fasciitis back, hip pain, and foot deformities and conditions including Bunions, Hammertoes, and Corns.
Ideal sandals to alleviate back and heel pain and accommodate wider feet and deformities such as Bunions, hammertoes, and corns.
Features the popular Ortho-Cushioning system lightweight with an air-cushioned sole, For ideal comfort, shock absorbency, and support.
A smooth and comfortable seamless interior design with extra depth and availability in wider widths.
Durable and thick rubber sole for shock absorbency and traction.
---
3
Walking Sandal for Back Pain
The Propet Pedic Walker and Jordy are two exceptional walking sandals that provide superb orthopedic comfort and pain relief.
Durable and smooth leather uppers with fully adjustable straps for the perfect fit.
Available in wide to XXX Wide width options for all foot shapes, sizes, and conditions.
Designed for full comfort and support and will help to alleviate back and heel pain.
A removable cushioned footbed that allows you the use of your own orthotic devices.
Durable and thick rubber outsole with a slight heel for stability and excellent traction.
---
4
Beach Style Sandal for Back Pain
Something a bit more light and casual for leisure or beachwear is the Teva Original, which is available in many colors and patterns with a black sole for men and women.
Features the high abrasion resistant Durabrasion rubber outsole provides excellent grip on all surfaces, even wet terrain.
Smooth and comfortable textile webbing uppers from quick-drying and durable Polyester.
An easy hook and loop closure system,m.
Comfortable cushioned EVA footbed.
Available in many colorful designs and prints to choose from as needed.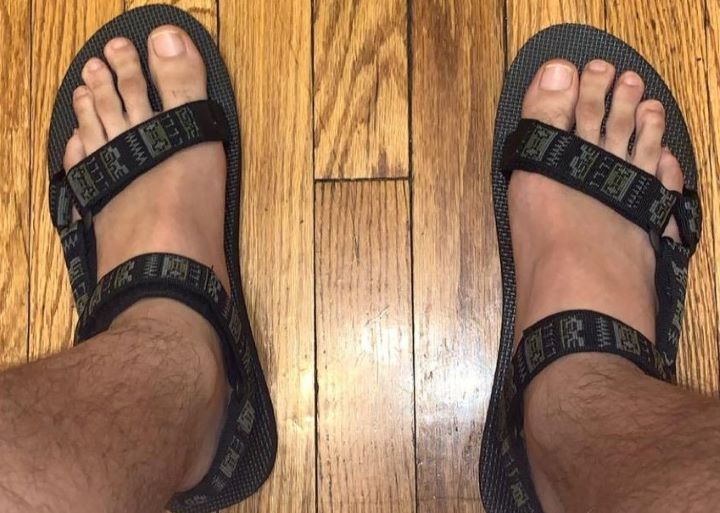 ---
5
From Hushpuppies, we have these two very comfortable and supportive and fashionable and more stylish designed sandals for all occasions.
Soft and supple leather uppers from Full Grain Nubuck Leather.
The Rawson Grady has a Lycra-Neoprene lining for less irritation and a suede-covered cushioned polyurethane footbed.
The Rawson Grady also features a Lug rubber outsole and WaveFlex technology patterns for more flexibility on the sole.
The Lyricale for the ladies has strategically placed Flexible Grooves for flexibility and even weight distribution along with a BioBevel beveled design toe and heel for natural balance and stability.
---
6
Arch Support Sandal for Back Pain
The Teva Verra and TevaHudson are two high athletic-styled comfort sandals that offer superb arch support, stability, and cushioning, which are ideal for supporting your back and joints when walking or running.
Textile and synthetic leather uppers with a Velcro Closure for the perfect and customizable fit.
Shock absorbing Shock-Pad technology to absorb shock.
There is a Microban zinc-based odor-treated lining on the footbed of the Verra.
Contoured and arch supportive EVA cushioned footbed for full support and stability.
Durable and High Traction rubber outsole.
---
7
The Rest Harissa and the Ludlow from Vionic are cushioned and comfortable sandals that will relieve strain on your back and feet.
The uppers comprise leather with a mesh lining for comfort.
There is a cushioned EVA footbed with a biomechanical design for optimal support and arch support.
The sandal offers excellent shock absorbency and underfoot protection.
You can also rely on a durable rubber outsole for good grip.
---
8
Back Pain Outdoor Sandals
The Keen Whisper and Newport are outdoor fisherman sandals with optimal support and comfort features for back pain.
The Keen sandal is easy to machine washable, and like these two models, it comes with Polyester textile upper and adjustable closure systems.
There is a comfortable and cushioned footbed that also offers excellent arch support.
An Underfoot TPU shank ensures better stability and underfoot protection.
The rubber outsole also absorbs shock and provides good slip resistance.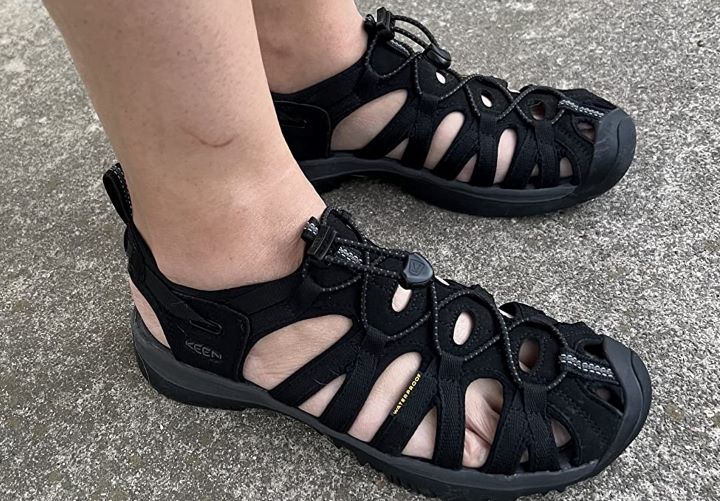 ---
9
Stability Sandals for Back Pain
The Fisherman and Breeze are two orthopedic design sandals from Dr. Comfort, ideal for back pain.
This sandal offers a roomy and accommodating fit and also allows for orthotics.
The footbed is cushioned and contoured for optimal support with a shock-absorbing midsole.
The Open Air design allows for maximum ventilation while still protecting your feet.
The fit is likewise customizable, and there are a few neutral color options.
---
10
Orthopedic Back Pain Sandals
The Searose and Arla Jacory are two different sandal brands that both offer effective relief of back pain.
Dockers Sea Rose
The Upper is synthetic leather with three neutral colors available/.
The cushioned footbed offers excellent shock absorbency and comfort.
A generous fit and roomy toe are more comfortable and accommodating.
Clarks Arla Jacory
There are textile and flexible uppers as well as wider width options available.
The footbed is fully cushioned with Cloudstepper technology.
The sandals are lightweight and comfortable to wear.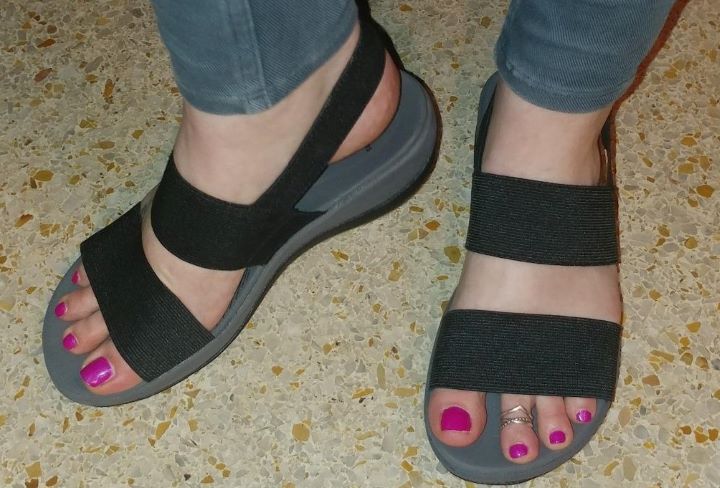 ---
Index Table: Top Rated Sandals for Back Pain
---
---