When you have Hip Pain, it may be caused by many issues and even health conditions.
Even in your sandal, the best available footwear can offer proper support and cushioning to alleviate Hip pain and aid in the healing process.
This article will look at some of the best available sandals that can help with Hip Pain.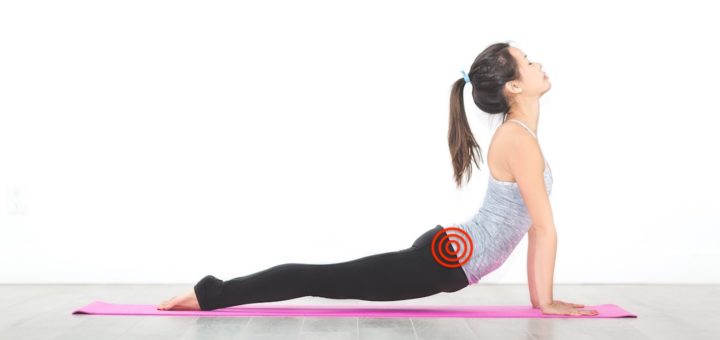 ---
How Your Feet and Shoes can Cause Hip Pain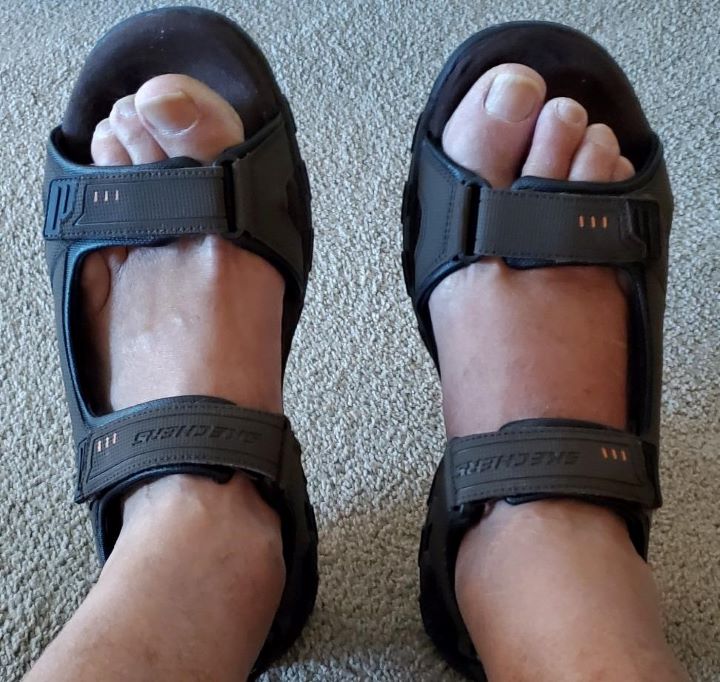 There are many causes and reasons why you may be suffering from Hip pain, such as arthritis and other conditions. Your Knees and Hips are the largest joints in your body, and they carry much weight and perform under much strain.
Did you know that there may be a direct connection between the pain in your hips and the way your feet function?
Walking can be great exercise, as is running, but poor walking and running habits can cause chronic pain in your back, shoulders, neck, hips, knees, and ankles alike.
Here are a few Pronation and foot issues that can all lead to Hip Pain;
Plantar Fasciitis – This condition leads to Chronic Heel and Arch pain and is prevalent in persons with a low or flat arch and tend to Overpronate. Plantar Fasciitis can directly or indirectly affect your hips because of how you move and constant stress on the heels.
Nerve pain – Nerve Pain in the Feet or Numbness may also lead to Hip pain.
Bunions and Bunionettes – Bunions and bunionettes may impact the way your walk, which in turn can place strain on your hips.
Excessive pronation – When your Feet pronate(Rool; in or Out) excessively, it causes dysfunction in the feet and ankles, as well as unevenly dispersed weight, which in turn can cause Hip pain.
---
What are The Best sandals for Hip Pain
There are a few types of sandals that you can consider to alleviate Hip Pain;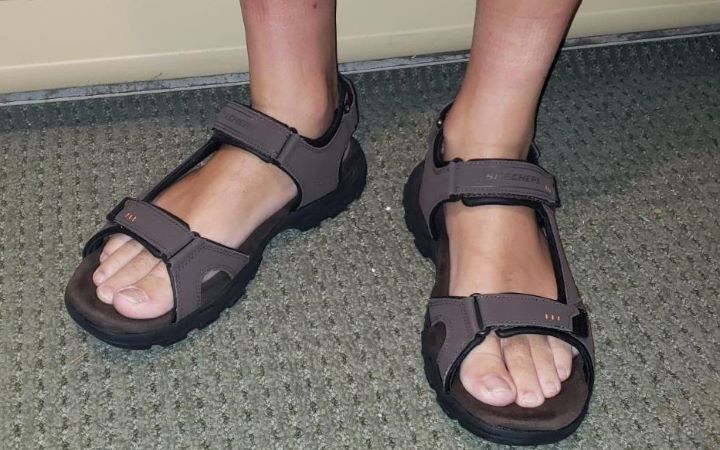 Contoured and Cushioned Footbed Sandals – Any sandal with a contoured, supportive design footbed and a cushioning system will alleviate strain and absorb shock to allow proper movement and impact resistance. This, in turn, will reduce hip pain and the healing process.
Orthopedic Sandals – Most Orthotic or Orthopedic design sandals will offer you the best support, cushioning, and alignment, which in turn will help with hip pain.
Arch Support and Pronation Control Sandals – Sandal that offers good arch support and the right pronation control help to prevent excessive pronation and allow for proper movement, which alleviates Hip pain.
Hiking and Sports Sandals – Many Hiking and sports sandal offer excellent support and stability features and cushioning to help support the feet and ankles, which aids with Hip pain.
---
Features of a Good Sandal for Hip Pain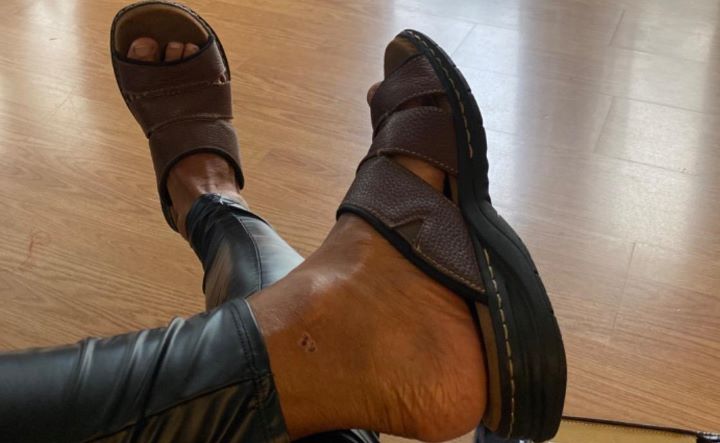 Uppers – Upper should be comfortable and adjustable for a better fit. A Lining r padding is also ideal. Materials such as leather, Nylon, textiles, fabric, or even synthetic leather and materials can construct the upper's straps.
Footbed – A cushioned and contoured footbed or insole is ideal. A contoured design also provides better arch supp[ort.
Midsole – A thick shock-absorbing midsole reduces the impact on the joints and hips. EVA or other types of foam are used in the midsole.
Outsole – A high traction durable rubber outsole is your best bet, although a synthetic sole might also be good.
---
Reviews: The Best Sandals for Hip Pain
Here we have some of the best sandals available that will reduce and prevent Hip Pain;
We hope you love the products we recommend!
So that you know, We may collect a share of sales or other compensation from the links on this page.
---
1
Sports Sandals for Hip Pain
The Skechers Louden and On The Go 600 are my top choice in a comfortable and Casual sandal for Hip pain.
The uppers on both sandals are fully adjustable, consisting of synthetic textile materials.
There is a comfortable memory foam and 5Gen cushioned footbed.
The Goga Max High rebound insole in the On The Go 600 offers excellent energy-returning cushioning.
Borth sandal features a slip-resistant synthetic sole.
You can likewise choose from a few color options.
---
2
The Ludlow and Tawny are two classy Dress Style sandals ideal for Hip pain.
The Ludlow is a fisherman-style men's sandal, while the tawny is a wedge heel for the ladies.
Both sandals have durable leather uppers with adjustable straps.
The footbed is cushioned and Biomechanically designed for optimal arch support.
There is a high traction durable rubber outsole.
---
3
Dress Sandal for Hip Pain
Dr. Scholl's Gordon and Sheena are also two more fashionable and dressy sandal models for Hip Pain.
The Gordon has leather uppers and is a slide-on sandal, while the Sheena has an ankle strap and wedge design sole.
Both sandals have a comfortable anatomically contoured footbed that is cushioned and supportive.
The durable rubber outsole ensures excellent traction on most surfaces.
Many color options are available in the Sheena and a black or brown color in the Gordon.
---
4
Another sports sandal addition is the comfortable Teva Terra for men and women.
The uppers are fabric and textile with a friction-free lining and adjustable straps.
The footbed is cushioned and has Shoc Pad technology for shock absorbency.
The durable outsole is ideal for the outdoors and offers an excellent grip.
You can likewise choose from many colors available in the Terra.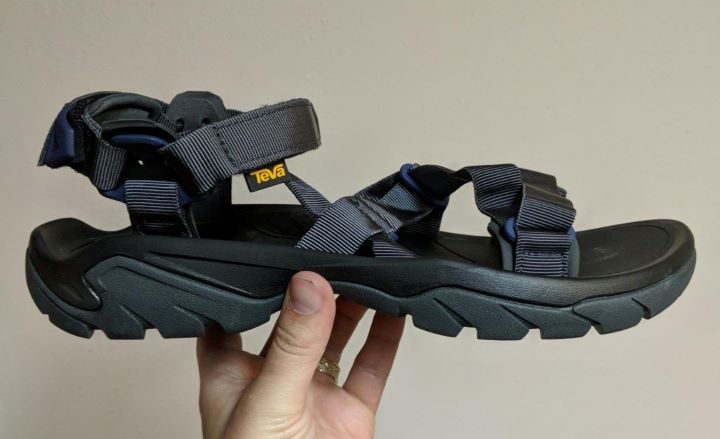 ---
5
Hip Pain Flip Flop Sandal
The Iqushion from FitFlop is a very good option for relieving Hip Pain.
The entire sandal is water-resistant and very easy to clean.
The uppers are synthetic, and the footbed consists of very airy foam.
There is an impact pillow in the heel and forefoot and a raised arch support.
The footbed has an anatomical shape with plenty of cushioning.
The outsole also has a slip-resistant design.
---
6
Slide Sandal for Hip Pain
The Birkenstock Arizona has a soft and comfortable footbed that absorbs shock, reducing the impact on your hips.
The rubber sole offers excellent grip and traction and is very durable.
The upper straps are genuine leather with buckle closures for an adjustable fit.
The cork and latex footbed cushions and molds to the shape of your feet,
There is also a comfortable and absorbent suede lining.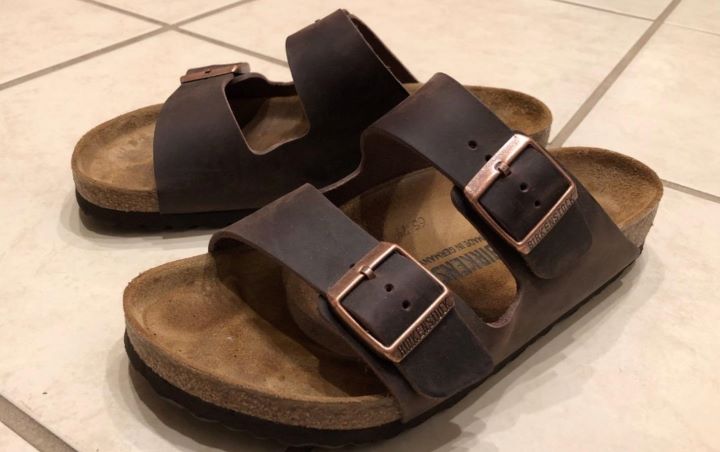 ---
7
The Vionic Leo and Amber are more formal styled and cushioned sandals perfect for hip pain relief.
Both sandals have adjustable leather and synthetic upper.
The Podiatrist-designed Orthaheel technology footbed offers exceptional cushioning and support.
The sandal also has excellent stability and support features to alleviate hip pain.
There is a durable and high traction outsole and supportive midsole.
---
8
From Propet, we have two more fashionable sandals, which help relieve Hip Pain.
The uppers are full grain and durable leather with a soft moisture-wicking lining.
The footbed is fully cushioned and contoured for support with a PU insole and a microfiber sock liner.
The lightweight Pu midsole and rubber outsole offer durability and shock absorbency.
The footbed in the Jocelyn is removable for the use of your own orthotic devices.
---
9
The Clarks Brixby and Leisa Vine are comfortable and casual sandals for hip pain.
The Leisa jas an Ortholite cushioned footbed with Cushion soft technology and a smooth lining.
The Brixby Shore has a cushioned footbed and added heel cushioning along with fully adjustable uppers.
Both sandals feature genuine leather uppers and are available in more colors.
They also feature a rubber outsole for traction and support.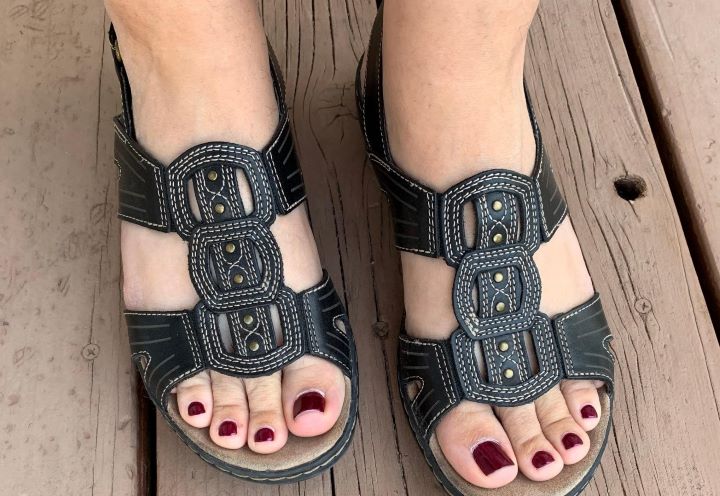 ---
10
The Teva Omnium is a cushioned and supportive sporty sandal for hip pain and other conditions.
The uppers are a quick-drying synthetic and mesh material with adjustable bungee lace-up system.
The footbed is cushioned with molded EVA, and the sole is supportive.
There is a durable and high traction Spider Web design rubber outsole.
You can also choose from a few color options available.
---
Index Table: Top Rated Sandals for Hip Pain
---
---