Knee and Joint Pain are often caused by many reasons, including medical conditions and certain activities and injuries, yet your footwear choice can cause or aggravate knee pain.
This article looks at some of the best sandals for knee pain in 2022, providing proper support and relief to your knees.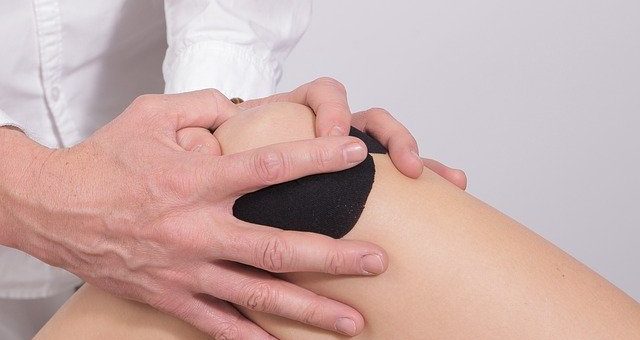 ---
How Do Your Sandals Affect Your Knees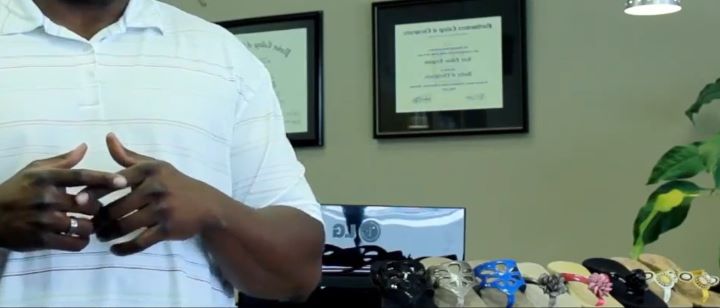 Impact – When you walk or run, there is a certain amount of impact on your knees, feet, and joints. Without the proper support and shock-absorbing materials in your shoes, the impact can cause damage and pain to your joints, including the feet, knees, ankles, and, in some cases, your back.
Pronation – When you Overpronate or Supinate excessively, which means your feet roll inward or outward too when you walk or run, there is a certain amount of damage done to the knees and joints of the improper biomechanics in your stride. Shoes offering proper stability and arch support features can correct pronation for a more aligned posture and natural movement, preventing and treating knee pain.
Physical Activities – Certain physical activities and sports activists can cause strain and impact on your kees because of the movements and impact when landing. Therefore the right shoes for the activity you are taking part in Are so important to protect your feet, knees, and joints and provide protection specifically for the movement and requirements of that specific sports activity.
---
So What Should You Generally Look for in a Sandal for Knee Pain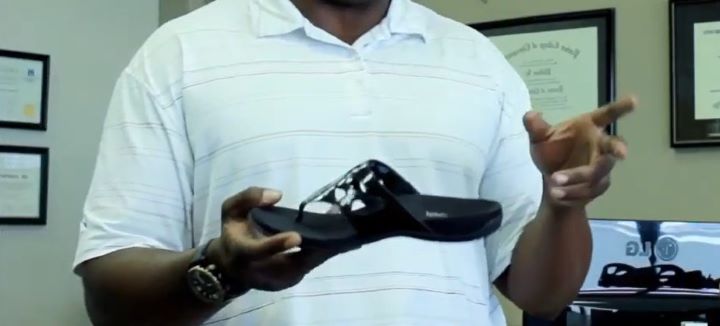 I would start with cushioning and shock-absorbing features in a shoe for knee pain, particularly cushioning in the heel, as the impact directly affects the ankle and knee joints.
God arch support and stability features help you keep a good form and alignment and prevent excessive pronation, which can cause injuries and knee pain.
---
Features of a Good Sandal for Knee Pain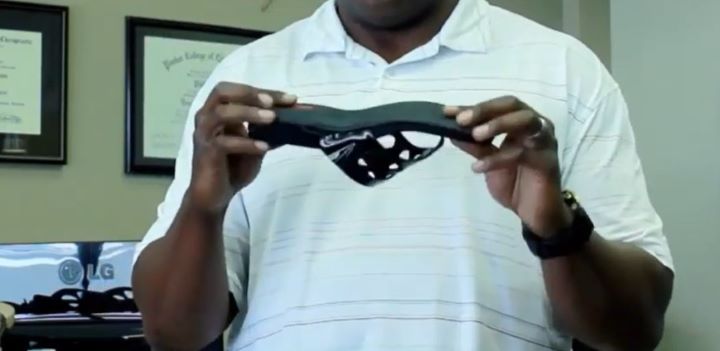 Uppers – Uppers can be anything from Textile, fabric, Polyester, Nylon, or genuine and synthetic leathers in various patterns and colors. Uppers straps can be single, double, crisscross, front and back, or thong straps, and there are also some more closed Fisherman's style designs.
Support – Good Arch Support, a heel cup, and a contoured or anatomically engineered Biomechanical footbed. This ensures better support and stability, ideal for keeping your feet, ankles, and knees adequately aligned.
Cushioning – The Cork and Latex footbed, in some models, or 5Gen, Goga Max, EVA, and foam cushioning used in others are ideal for providing comfort and a soft landing reducing the impact on the knees.
Midsole – A Foam based or EVA midsole ensures that impact is absorbed correctly, resulting in the least impact and strain on painful knees.
Rubber Outsole – A thick rubber outsole with a built-in arch offers excellent shock absorbency in some models. The rubber outsole should also be patterned for slip resistance and traction.
---
Reviews: The Best Sandals for Knee Pain
Below are some comfortable and supportive Sandals that will help you with Knee Pain;
We hope you love the sandals we recommend!
So that you know, We may collect a share of sales or other compensation from the links on this page.
---
1
The Naot Louis and Sophia offer exceptional Orthopedic comfort qualities, ideal for persons with sore knees and backs.
The Sophia has colorful upper leather straps in many color options available to you, while Louis also has some more neutral color options with leather uppers.
These sandal models feature a comfortable and supportive design with a cork and latex cushioned footbed and shock-absorbing midsole.
The durable rubber outsole ensures good traction and grip on most surfaces.
---
2
The Tide range from Vionic is thong sandals or flip flops as we know them with a cushioned and contoured footbed, which is perfect fr knee pain.
There are a shock-absorbing EVA midsole and a highly durable TPR outsole on this sandal.
The Vio-Motion support technology employs biomechanically designed footbed and built orthotics to support and align your feet and knees fully.
The uppers are m, made from leather with a synthetic comfort lining.
You can find these two Vionic Tide Models in various color selections.
---
3
Fisherman's Sandal for Knee Pain
Dr. Comfort is a therapeutic and Orthopedic footwear brand, and I have chosen their closed design Fisherman's sandal for knee pain and a variety of conditions affecting the feet.
The sandal offers extra depth and roomy toe fit and availability in wider width options.
A comfortably cushioned footbed with an anatomically contoured design and excellent arch support.
The heel offers excellent stability and support with a deeper heel cup.
A durable rubber outsole ensures good grip and traction.
---
4
Orthgofeet is another super orthopedic brand that offers many exceptional sandal models ideal for knee pain.
I have chosen the Cambria and Malibu, the two most popular casual design sandals that offer adjustable fits.
This sandal has a roomy toe box and is also available in wider widths.
An anatomical arch support footbed is fully cushioned for your comfort, and Maya foam layers from the midsole to the insole for optimal shock absorbency.
The uppers are made from soft leather with a smooth lining, and there is a durable and high traction rubber outsole.
---
5
The ionic Leo and The Vionic Shore are part of the Orthaheel technology range in Vionic.
The Orthaheel technology in these sandal ensure cushioned orthopedic comfort that also manages moisture.
Ther is likewise arch support and a deep heel cup for stability and support, and the Biomechanically engineered footbed is cushioned for comfort.
The EVA midsole absorbs shock and also provides cushioning.
A durable rubber outsole ensures a good grip, while the synthetic upper is adjustable for a better fit.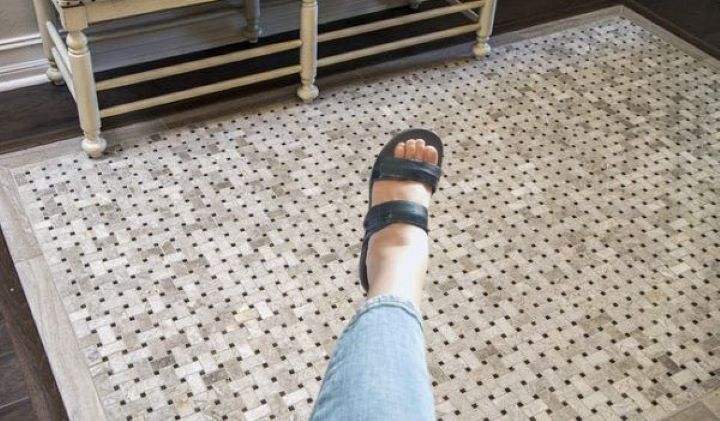 ---
6
A fun and sporty sandal from Skechers provides ample comfort and support features. The On the Go 600 is also perfect for walking and running.
Because the uppers are made from Textile materials, they dry quickly and wash easily.
The upper straps are adjustable for a more customizable fit./
You can look forward to the Goga Max high rebound insole and the Responsive 5Gen cushioning system that is very lightweight for comfort.
A thick, durable rubber outsole and a built-in heel finish off this lovely sandal.
You also have the choice of a few available color options.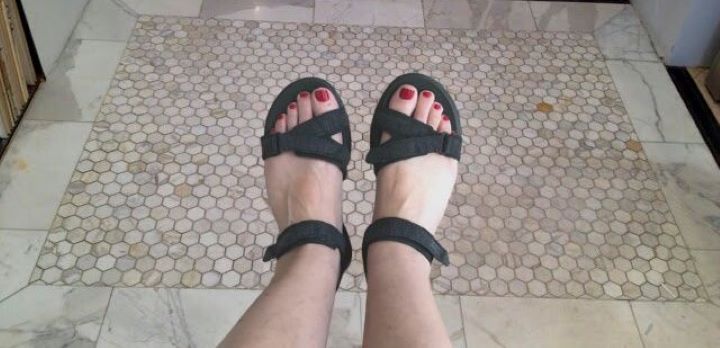 ---
7
The Teva Omnium is a cushioned and supportive sandal that will help with knee pain.
The Uppers are light and adjustable synthetic and mesh materials.
There is a durable and high traction rubber sole.
The Molded EVA foam midsole offers excellent shock absorbency and cushioning.
The outsole is also non-marking, and there is a bungee lace-up system for a secure fit.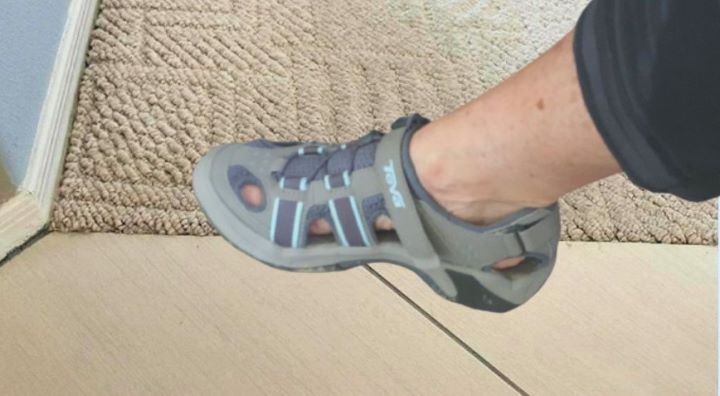 ---
8
Water Friendly Knee Pain Sandal
The Crocs Classic is well cushioned with Crosslite foam, which absorbs impact that may affect your knees.
The sandal consists of 100% Crosslite material.
Crosslite material is lightweight and foamy, offering excellent shock absorbency and cushioning.
The uppers are well ventilated with large holes.
There are also many colors available in the Crocs Classic range.
---
9
Slide Sandal for Knee Pain
These two slide sandal models are comfortable and casual to wear for knee pain.
The uppers are synthetic leather with a slide-on style.
A cushioned memory foam midsole in the Sunland and an Ortholite Molded footbed in the Brinkley Coats.
Both sandals have a shock-absorbing midsole and a durable rubber outsole.
You can choose from a few neutral colors available.
---
10
The FitFlop Iqushion is the perfect beach Flip Flop for painful knees.
The Fitflop Iqushion has a biomechanically designed footbed and a durable EVA foam with a rubber sole.
An anatomically shaped footbed with an added heel cushioned and forefoot cushion for shock absorbency and built-in arch support.
There are likewise many color options available in the Iqushion model.
The iQushion is also water-resistant and ideal for wearing on the beach or in a pool area.
---
Index Table: Top Rated Knee Pain Sandals
---
---