The Sanuk range of Yoga sandals offers you a comfortable and flexible sandal range with a soft foamy footbed similar to a yoga mat with other comfort features.
Sanuk is a brand that offers ethically sourced materials in their footwear and uses the finest technology to create the most comfortable sandals and shoe ranges.

---
Who is Sanuk
Sanuk is a company founded by Jeff Kelley that wanted to create something simple and comfortable that will make people smile.
They have a range of sandals such as the Yoga Sling range, the Furreal Astound Flip Flops, and their sidewalk surfer range.
Sanuk uses sustainable and eco-friendly leather for their leather sandal and mostly vegan and hemp materials to create their sandal. Some sandals also contain recycled material, as Sanuk is a company concerned with the wellbeing of the environment.
As you will see, most of the sandals offered by Sanuk are likewise machine washable.
---
The Sanuk Yoga Range
The Sanuk Yoga sandal range basically refers to a range of sandals with a Yoga Mat design footbed.
Sanuk uses a firm yet cushiony real Yoga Mat foam in the midsoles of their sandals, and they have an anatomically contoured and soft footbed., mostly with a grippy rubber outsole.
The Yoga mat foam that they use is made with 20% organic soybean polyol, and the outsoles consist of 50% recycled pre-consumer rubbers.
The form-fitting footbed comes with a comfortable vegan or sustainable leather cover for your comfort.
In the Yoga Mat footbed range, Sanuk has the following sandal models available;

Slingback Sandals – Their slingback sandal models have a thong and slingback style. They come in many variants and color options.
Slides – Sanuk also has some slide sandal models that feature the Toga mat footbed.
Flip Flops Sandals – There are quite a few flip flop sandal models from Sanuk that all feature their popular Yoga Mat foam footbed.
---
Features of a Good Sanuk Sandal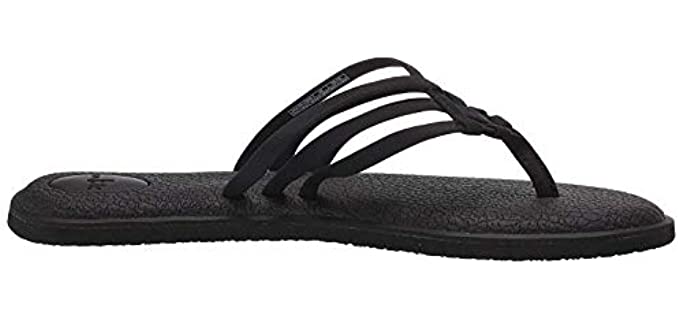 Uppers – Most of the sandal ranges offered by Sanuk feature the four way stretch fabric uppers or hemp, or vegan, as well as some models with leather uppers.
Footbed – The footbed consist of soft Yoga Mat foam and usually has a smooth lining.
Outsole – The outsole is usually a U Sponge Rubber that is soft and foamy, or regular rubber.
Design – You get flip flop, slide and thong slingback models in the Sanuk Yoga foam sandals.
Options – Yoga Foam footbed sandal models from Sanuk are available in many color and size options.
---
Reviews: The Best Sanuk Yoga Sandals
Here are some of our top picks in Sanuk Yoga sandals;
We hope you love the products we recommend!
So that you know, We may collect a share of sales or other compensation from the links on this page.
---
1
The Sanuk Yoga Sling summer is from their Shimmer range in yoga sandals.
The sandal has synthetic uppers that use a soft shimmery fabric.
There is a synthetic sole that is flat and comfortable.
The outsole consists of a soft and cushioning U rubber sponge.
The footbed consists of a real yoga mat with a sealed edge.
The uppers feature four-way stretch capabilities and a sling thong design.
You can also select from a few more color options.
---
2
The Sanuk Yoga Mat Flip Flop Sandal is ideal for comfort or yoga sandal.
The flip flop sandal has fabric and textile uppers and an easy, slip-on-and-off design.
They have a yoga mat cushioned footbed and a foamy cushioned rubber outsole that is very durable.
The flip flop sandal is flexible and comfortable.
There are also a few more colors available to you.
---
3
The Yoga Gora sandal from Sanuk is also a favorite in their yoga range.
The sandal has two uppers straps and a very flexible and flat sole.
They are contrasting strap and sole colors, and some more options are available.
The sandal is easy to slide on and off as needed.
The yoga sandal has an EVA cushioned midsole and a U Sponge Rubber outsole with straw.
They have double gore straps and a yoga mat insole with sealed edges.
Easily packable, very flexible, and lightweight sandals in general.
---
4
Here we have the regular Sanuk Yoga Sling 3 sandal.
The sandal has a slingback and thong design with soft synthetic uppers.
There is a Yoga Mat foamy insole that is sealed at the edges.
The outsole is a full-length rubber with additional flex grooves for flexibility.
The footbed has a more anatomical shape for arch support and a heel pad for heel cushioning.
The uppers are very lightweight knit, four-way stretch fabric.
There are also many colors available in this particular range from Sanuk.
---
5
The Sanuk Sling Original has a more basic design than the newer versions.
The sandal has a slingback strap and a thong in front.
The uppers consist of a soft synthetic, four-way stretch knit fabric that flexes with your feet, and it's comfortable against your skin.
The footbed has Yoga Mat cushioning and is wrapped at the edges for comfort.
The outsole is a spongy rubber with a high traction tread and good flexibility.
There are some more colors even patterns available from which you can choose.
---
6
The Sanuk Yoga Joy is a very comfortable Flip Flop style yoga sandal.
They easily slip on and off for your convenience.
The sandal has a durable and high traction rubber outsole for all purposes.
They are synthetic with a comfortable yoga mat insole for cushioning and soft uppers.
You can likewise choose from many color options, neutral and more bold and bright colors.
---
7
The Sanuk Yoga Sling sandals are from their number two range.
They are Vintage style with many colors and even printed options available.
This sandal similarly has a slingback and thong front.
They have soft four-way stretch knit uppers that are moisture-wicking and comfortable.
The Footbed consists of a genuine yoga mat and has seam-sealed edges for comfort.
There is a Happy U sponge design rubber outsole for cushioning and durability.
---
8
The Yoga Salty is a fun yoga flip flop sandal from Sanuk.
They come in contrasting colors with an opposite sole and many fun colors for the uppers.
The sandal is a flip flop design with breathable and quick-drying mesh thong uppers with super stretchy nylon and spandex.
The footbed has yoga mat cushioning and a lightly textured design.
The Happy U Sponge Rubber outsole is durable and offers good grip and cushioning.
---
Index Table: Top Rated Sanuk Yoga Sandals
---
---