When you have a wider foot and suffer from foot pain, or conditions such as heel pain, Plantar Fasciitis, or a flat foot, it may be necessary to invest n a good pair of Wide Fit Cushioned sandals that will provide comfort and support with and accommodating fit for your feet.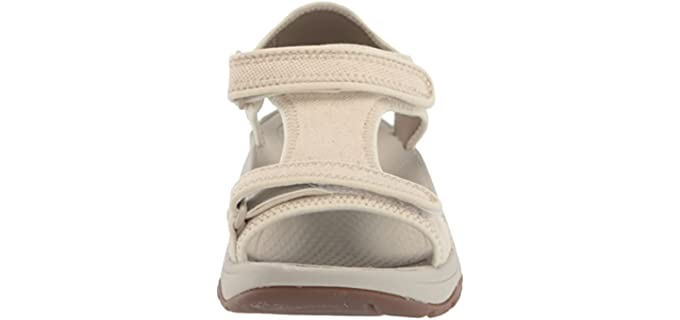 ---
---
How Narrow Sandals Affect Your Feet
Wearing narrow Shoes or sandals or even High Heeled sandals will squeeze your toes and feet and push your feet forward in an uncomfortable position that could cause many issues;

Bunions – Narrow-fitting shoes and high heels mainly cause bunions. They are painfully large Bumps that form at the base of the joint of your big toe.
Hammertoes – Hammertoes, where your toes point upward rather than down, are similarly caused by narrow and ill-fitting shoes and sandals that place pressure on the top and sides of the toes.
Improper Balances – Wearing shoes that are too narrow for your feet will put you off balance as you try to compensate for the pain and discomfort.
Friction and Ulcers – Narrow sandals will dig into your feet and toes, scarping, chafing, and causing pain and sores on your feet and toes.
Mechanical Issues – Wearing improper narrow-fitting sandals may cause issues when you walk, such as Overpronation where your feet roll inward excessively, or supination, and other mechanical issues, as your feet are trying to stabilize themselves with the narrow and ill-fitting shoes and sandal.
---
Why You Need a Cushioned Sandal
Most sandal models do not offer much cushioning and support features, which is why we want to look at sandals for wider feet that also have cushion and support to keep your feet comfortable with a proper fit.
When you walk, run or stand, there is an impact on your feet that may be felt on the heel or ball of the foot, ideally absorbed by the arches of your feet, unless you have high or low arches, and that will place an impact on your joints. Cushioning will absorb the impact making it much less on your feet, and arch support will evenly spread impact and your weight across your feet to prevent pain and strain on your feet and joints.
On the other hand, a shoe or sandal with cushioning will feel much softer and more comfortable under your feet and will prevent aching and tired feet at the end of the day.
Many sandal brands and models offer sandals in wider widths with plenty of comfortable cushioning features for your feet.
[/super_list]
---
Features of a Good Wide Fit Cushioned Sandal
Fit and Uppers – Wide Fit Cushioned sandals will have a wider footbed and uppers and availability in wider widths. The uppers may be polyester fabric, knit, textile, canvas, or leather with a comfortable lining and various styles and colors.
Support and Cushioning – For support and cushioning, there may be a Foam, EVA, or memory foam footbed with a contoured or arch support design.
Outsole – The Outsole may be EVA or a more durable rubber with a lug tread for traction and slip resistance.
Options – Wide Fit Cushioned sandals will be available in wider widths, colors, and size options.
---
Reviews: The Best Wide Fit Cushioned Sandals
In our list, you will find a variety of sandals that are all well-cushioned and available in wider-width fits;
---
1
Wide Fit Cushioned Sandals
The Gus and Adelle sandal is available in wider widths and offers a generally more roomy fit.
The Gus has leather uppers, memory foam cushioned insole, hooks, and loop adjustable closures.
The Adelle has soft microfiber and polyester uppers, an adjustable heel strap, and soft linings.
The Adelle has an anatomically cushioned footbed for comfort and support, with a more flexible design and polyurethane outsole.
---
2
Wide Fit Cushioned Sandals
The Clarks Slingback sandal has a secure and comfortable fit, with adjustable straps for the right width.
They have nubuck leather uppers with buckle closures and a smooth textile lining.
There is an Ortholite footbed with Pu foam for cushioning and an EAV and rubber outsole for shock absorbency.
The sandals are available in wider widths and more colors and sizes.
---
3
Slide Sandals With a Wide Fit
The Dr. Comfort Slide sandal has a single adjustable suede uppers strap for a wider fit.
It is available in wide and extra wide width options and more colors.
The slide sandal has a contoured footbed for support, a dual-density midsole for shock absorbency, and soft foam cushioning.
It has an integrated post and shank in the midsole for stability and support.
The outsole is high traction in durable rubber.
The sandal is ideally a Diabetic sandal perfect for swollen and wide feet.
---
4
Wide Width Cushioned Sandals
The Birkenstock Arizona is a very popular and comfortable sandal available n many colors, finishes, and wider widths. It is available in smooth or nubuck leather options in solid colors or patterns. The sandal has two leather uppers straps with buckle closures so that you can adjust the fit. The heel is open, and there is a supportive heel cup and good arch support. The sandal has a cork and latex footbed that provides cushioning and molds to the shape of your feet.
---
5
Wide Width Cushioned Sandals
The Dr. Comfort Fisherman style sandal has a very closed and more protective design, with open-air features for breathability and a protective toe box.
The sandals are ideal for wide feet, swelling, and foot deformities or conditions.
They are available in a wider width option and have a very roomy extra depth design and toe box.
The uppers are smooth-lined leather with an adjustable fit.
The sandals have a well-cushioned and supportive footbed.
They are available in neutral color options.
---
6
Orthopedic Cushioned Wide Sandal
We have two very comfortable leather sandals from Hush Puppies with a relaxed fit and availability in wider width fit options and more colors.
They have leather uppers and a durable, high-traction rubber sole.
The sandals have a smooth lining and plenty of cushioning in the footbed.
They have a supportive foam footbed for comfort and orthopedic designed sandals for comfort.
---
Index Table: Top Rated Wide Fit Cushioned Sandals
---
---