When it comes to shoes and sandals, the right support and cushioning can help alleviate the symptoms of Heel Spurs and speed up the recovery process.
Therefore we will be looking at some excellent sandal brands and models that can be of help when it comes to Heel Spurs.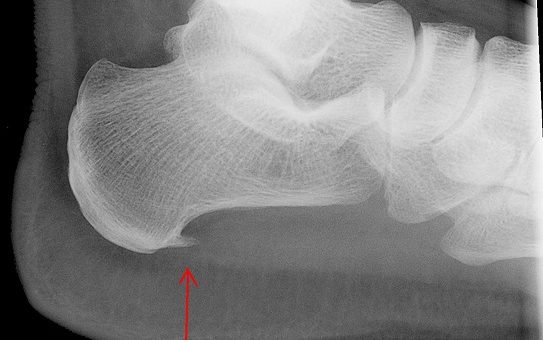 ---
---
Heel Spurs Cause and How They Affect You
Heel Spurs are often Painless at best; however, they can cause extreme and chronic Heel Pain in some cases.
Heel Spurs occur when Calcium deposits build up on the underside of your heel bones, which develops over a period of many months.
They occur because of strain and continuous stretching in the muscles and ligaments, as well as the Plantar Fascia of the foot, as well as repetitive tearing of the membrane that covers your heel bone.
Heel Spurs are more prevalent among athletes who run and jump, in general.
Some risk factors of Heel Spurs Include;
Abnormal Walking Gait – When there are abnormalities in your walking gait, there is repetitive straining of the heel bone, nerves, and ligaments of the heel, which may lead to Heel Spurs.
Hard Surfaces – Walking, running, and jogging continuously on tough floor surfaces place an impact on the heels that may lead to Heel Spurs.
Improper Footwear – Poorly fitting and unsupportive shoes and sandals can lead to Heel Spurs.
Obesity Weight and Age – Being overweight places excess strain on the heels and can lead to flat feet and Plantar Fasciitis, which also cause heel Spurs. As you age, the heel pads become thinner and the Plantar Fascia more flexed, leading to Heel Spurs.
Flat Feet and High Arches> – having an arch that is too low or high can cause uneven weight distribution and improper shock absorbency, which can lead to Heel Spurs.
---
How do wearing The Right Sandals Help
Proper Footwear that supports your feet can prevent and help with the healing process of Heel spurs. This, in turn, does count for your sandal, whether casual at-home wear or for other occasions, as well.
The right sandal will offer support and cushioning that can alleviate the pain and stress on your heels and help to heal the tissues that were strained in the first place.e
Good heel cushioning in a sandal is the ideal support, along with good arch support and a shock-absorbing midsole.
---
Features of a Good Sandal for Heel Spurs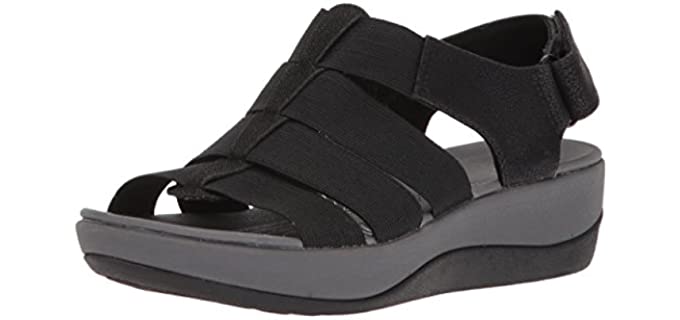 Uppers – The uppers are comfortable and lined and in some models padded. The upper should also be adjustable so that you get just the right fit. Upper can consist of leather, textile, fabric,c canvas and synthetic leather materials with different styles and strap details.
Footbed – The footbed should have a contoured and cushioned design for optimal comfort and support. A removable insole is also desirable to allow you the use of your own orthotics.
Midsole – A shock-absorbing EVA or foam midsole reduces the impact on the joints, heels, and feet.
Heel Support – A deeper heel cup or added heel cushioning is ideal for Heel Spurs.
Outsole – Always look for rubber or synthetic outsole with good slip resistance in a sandal and a lug tread. A low-heeled sandal is also better than a complete falt sandal for Heel Spurs.
---
Reviews: The Best Sandals for Heel Spurs
Here we have some excellent sandal brands and modesl that are all perfect for Heel Spurs;
---
1
The Arla and Malone from Clarks are the perfect sandals for Heel Spurs, ideal for all occasions.
The Upper of the Malone is leather and textile, with the Arla is the only textile.
The footbed is Cushioned with open Cell PU and Cushion Soft technology for shock absorbency.
There are a durable rubber outsole and a supportive midsole.
Both sandals have an adjustable design and are available in more color options.
---
2
Dress Sandal for Heel Spurs
The Dr. Scholl's Sheena and Gordon are comfortable and elegant sandals for Heel; Spurs.
The Sheena has perforated microfiber uppers and the Gordon leather uppers.
Both sandals have a memory foam contoured footbed that is anatomically shaped for support,
The outsole is flexible and durable offering good traction.
There are likewise some color options available in both sandal models.
---
3
Sports Sandals for Heel Spurs
The Skechers Reggae Tulo and On The Go 600 are comfortable, sporty sandals for Heel Spurs.
The sandal both have synthetic adjustable uppers and offer a comfortable and relaxed fit.
The footbed of the Reggae Tuylo is memory foam, while the On The Go 600 boasts a 5Gen cushioned footbed and Gog Max insole.
Both sandals have a durable and high traction outsole.
You can likewise get both models in different color selections.
---
4
Flip Flop Sandal for Heel Spurs
From Vionic, the Comfortable Tide Flip Flop has the perfect construction for Heel Spurs.
The uppers are leather with a synthetic comfort lining.
There is a Biomechanically Engineered Orthotoiic Footbed with a heel cup for heel support.
The EVA midsole offers excellent shock absorbency.
The durable TPR outsole is designed for optimal slip resistance.
With the thong design, these flip flops slide on and off easily.
---
5
Slide Sandal for Heel Spurs
A trendy sandal for many foot conditions and issues is the Birkenstock Arizona.
The yuppers are soft and supple leather with buckle closures.
The footbed consists of cork and latex that molds to the shape of your feet.
The midsole is supportive and shock absorbing.
There I also a slip-resistant EVA outsole.
---
6
Sports Sandal for Heel Spurs
The Teva Orginignal is another sporty style sandal for outdoor use in the summer, supporting Heel Spurs.
The uppers are water-resistant and easily washable Textile material makes them ideal for outdoor use and used in wet conditions.
You can likewise adjust the fit of the upper and choose from many color options for your personal preference and fit requirements.
There is a cushioned and contoured, foamy footbed that offers excellent shock absorbency and comfortable cushioning.
Furthermore, a Durabrasion high traction rubber outsole will make sure you get a good grip on slippery and uneven surfaces.
The strapping system on the upper is universal with a hook and loop closure that is very easy to use and adjust to your liking.
---
7
Cushioned Sandals for Heel Spurs
From dream pairs, we have a cushioned and supportive sports sandal for heel spurs.
The uppers are a soft synthetic material that is adjustable.
There is an EVA cushioned footbed for support and heel cushioning.
The sandal is very lightweight and supportive.
The rubber outsole also ensures excellent shock absorbency and traction.
You can choose from many colors in the Dreampairs collection.
---
8
With its supportive footbed and foamy cushioning, the Classic Croc is also a perfect choice as a casual sandal for heel spurs.
The footbed design in the Classic Crocs is contoured and supportive, with added cushioning in the heel.
The soft Crosslite material is very lightweight, water-resistant, and cushioning.
The airy uppers allow better ventilation and water drainage.
There are also plenty of colors from which you can choose.
---
9
The DR. Comfort Breeze and Fisherman's are fisherman-style sandals with a cushioned and supportive footbed for Heel Spurs.
The uppers are soft and comfortable leather with a closed fisherman style.
There are a fully cushioned and supportive footbed and midsole for shock absorbency.
There are also wider width and other color options available.
The rubber outsole is sturdy and durable for good stability.
---
10
From Propet, we have slightly more formal sandal designs, the Breeze and the Casual.
Both sandals have full-grain leather uppers and a smooth neoprene lining for comfort.
The fit is fully adjustable, and there are wider widths and more color options available.
There are a fully cushioned footbed and removable cushioned insole.
The outsole is flexible and highly durable.
---
Index Table: Top Rated Sandals for Heel Spurs
---
---