Besides being more comfortable in general, a Wider Width sandal is ideal for individuals with a wider or flat foot that need that extra bit of width to spread out their toes.
There is nothing more irritating than having your toes hanging out at the sides or off the top of your sandal touching the ground, which is also not very safe.
Therefore wide-width wedge sandals and a bit of extra length may be just what you need.
---
Why You May Need a Wide Width Sandal
Because you have a wider foot, you may need a wider width sandal if you want to prevent your feet from handing over the sides of the sandal. Other than that, a wider sandal, in general, is more comfortable, also for the reason that our feet tend to sweat a bit more during the summertime.
So here are a few reasons why you may benefit from a Wide Width Sandal;

Extra Room – A wider width sandal allows you extra room to splay out your toes and relax your feet, plus you won't have the risk of your feet hanging down the sides of your sandals or squeezing against the straps. It is always advised to opt for a slightly wider and larger size for sandals.
Foot Conditions – Many foot conditions may call for a wider width shoe or sandal. Hammertoes, Bunions, and other deformities and conditions that enlarge the feet' width or cause swelling and pain may require a wider sandal. A wider sandal will not exert extra and unnecessary pressure on painful and inflamed feet or even on injured feet.
Wider Foot – The most basic need for a wider width shoe overall is if you have a wider foot shape. The same will go for a sandal with a wider foot shape. You should always look for a wide enough fit in a sandal.
Flat Feet – Individuals who have flat feet or a low or fallen arch may also benefit from a wider width sandal, and in some cases, their feet may also be wider.
Swelling – Swelling, water retention, and edema cause the foot to enlarge and become painful in some cases. For this reason, you do not want added pressure on your feet from footwear, and therefore, a wider width sandal will be dealt with.
---
Other Features of a Wide Width Sandal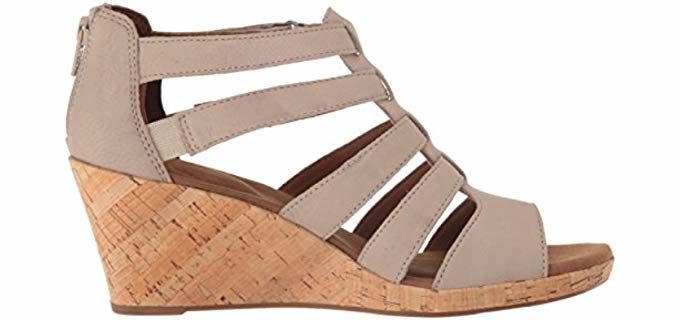 A More Comfortable Fit – A wide width sandal will offer you a much more comfortable and relaxed fit with ample toe room and less friction and pressure on your feet.
Less Pressure – Less pressure on painful foot conditions and deformities is a great relief and prevents damage to healthy feet. A wider-width sandal offers a much looser fit and accommodates foot conditions and deformities.
Styles – Your Wide width sandals come in a large variety of styles and designs. There is no longer the issue with wider width options being a problem, as most brands and models all offer different width options that you can choose from in your favorite sandal.
Comfort Features – The wide-width sandals, besides having a more roomy and comfortable fit, also feature the same comfort and support features as its regular fit models. Cushioning, a contoured footbed, comfortable padding, and smooth linings are all comfort features you can look forward to in a wide-width sandal.
---
Features of a Good Wide Width Wedge Sandal
Fit – Available in a Wide Fit Option.
Support and Cushioning – They are cushioned for comfort. Contoured and supportive footbed. Dry Moisture-wicking Linings.
Uppers – Soft straps and webbing. Quick-drying and breathable design.
POutsole – Durable rubber outsole with a slip-resistant tread. Flat, high or a low, or wedge heel style.
---
Reviews: The Best Wide Width Wedge Sandals
Here are some of our favorite picks of the best available wide width sandal for you to try out;
We hope you love the products we recommend!
So that you know, We may collect a share of sales or other compensation from the links on this page.
---
1
The Clarks Lexi is a casual dressy sandal that is perfect for those in-between occasions, and it is available in wider widths and many colors and pattern options.
Soft and durable leather uppers straps with a supportive back strap are available in gorgeous colors and prints.
An Ortholite footbed with soft cushion technology for plush comfort.
Very lightweight and shock-absorbing EVA midsole and a durable rubber outsole.
Available in wider width options.
---
2
The Skechers Petite parallel-Plot-square Perf Peep Toe Sling Back Wedge sole sandal is a comfortable and casual sandal available in a few color variations and wider width choices.
Peep toe slingback style casual sandals are available in a few colors.
Soft and comfortable leather uppers with a suede finish.
Full-length memory foam cushioned comfort footbed.
Wedge heel design with a slingback strap.
Hook and loop side strap for an adjustable fit.
Comfortable and available in wider width options.
---
3
The Yolo from Lifestride is a low wedge heel formal style sandal with a wider width selection to choose from.
Soft fabric style uppers in a formal dress style are available in red, black, and beige color options.
A very low wedge-style heel with a slingback ankle strap.
Comfortably cushioned footbed.
Durable high traction outsole.
Available in wider width options for every foot type and shape.
---
4
An easy slip-on and off Flip Flop from Vionic comes in wider widths for every foot type, size, and shape.
A platform-style wedge sole.
Flip flop design with comfortable uppers straps.
Available in a large range of colors and prints to choose from and wider width options.
Very durable and long-lasting quality design.
It also features a durable and high traction rubber outsole and a padded comfort footbed.
---
5
The Clarks Arla Jacory wedge sandal has wider widths and different color options for every preference.
Soft and flexible textile design uppers for a more casual and comfortable style.
A slight heel and platform with a wedge design sole.
Cloudstepers cushion soft technology and support.
A Very lightweight, durable, and high traction rubber outsole.
Available in different width options and a few neutral color choices.
---
6
A stunning dress sandal from Rockport with a wedge sole and wider width options.
Soft and supple leather uppers straps with a peep toe and closed heel.
A comfortable memory foam insole.
Available in white, black, tan, and beige color variations.
Wider width options are also available.
Smooth and comfortable interior textile linings and a durable rubber outsole.
---
7
A stylish Espadrille High heel Wedge Sandal with a fabric upper from Lifestride for all occasions.
The upper straps consist of a canvas fabric that is durable and breathable.
There are many color options in the Lifestride tango sandal.
The sandal features the patent Lifestride SoftSyste for soft and comfortable underfoot cushioning.
You can also choose between a medium or wide width option in the Tango.
---
8
The Blowfish Malibu Hapuku is an elegantly styled leather strap sandal with a wide-width Wedge Sole design.
An elegant style sandal with leather straps on the uppers with an adjustable hook and loop ankle strap.
There is a three-and-a-half-inch wedge heel.
The design of the sole offers a much more full width and a more comfortable and roomy fit.
You can choose between a few color options in the Hapuku.
---
9
The Delana Venna is a comfortable Wedge Sole sandal available in wider width options.
The sandal features soft and comfortable full-grain leather uppers and a flexible high traction rubber outsole for sound footing and stability.
The wedge design sole is 2.12 inches high, a medium and comfortable height.
The sandal comes in more extensive width options from which you can choose.
The Cushion Soft technology is also in the sole for underfoot comfort and shock absorbency.
---
10
The Skechers on the Go 600 is a comfortable and adjustable sandal with a wedge sole design.
The uppers are synthetic with a comfortable textile lining.
There are a few color options available from which you can select.
The footbed and sole have Goga Max High rebound cushioning and 5Gen cushioning for comfort and shock absorbency.
The outsole is durable and offers good slip resistance.
The sol has a wedge design.
---
Index Table: Top Rated Wide Width Wedge Sandals
---
---