Warm weather and adventures involving the great outdoors and water usually go hand in hand.
If you enjoy boating as a sport or recreational activity for whatever reason, here are a few superb tips on choosing the best sandals to enhance the experience.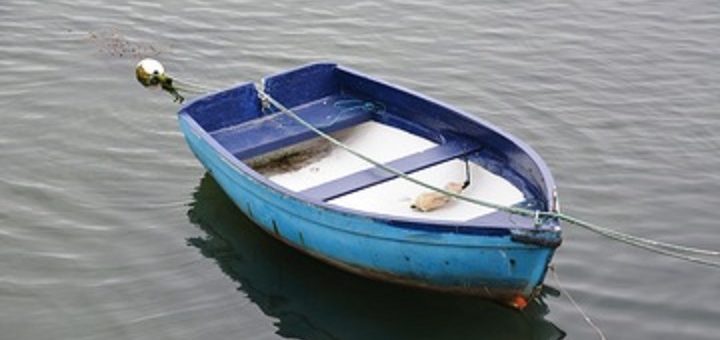 ---
Why do You Need a Good Sandal For Boating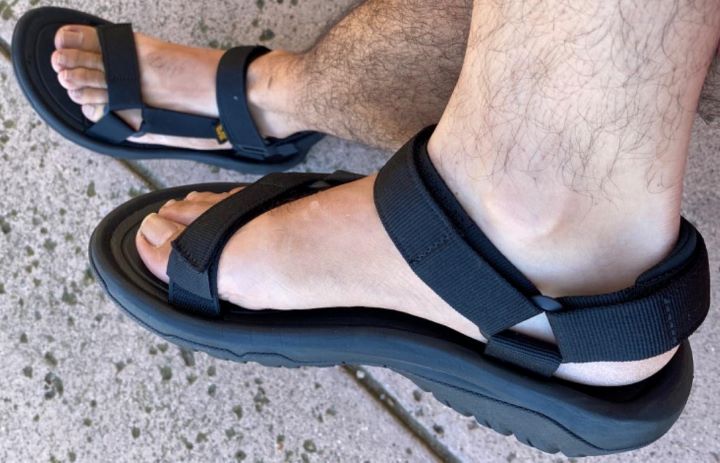 The original design of a classic boat shoe is a closed design shoe that looks like a loafer made from leather or canvas materials.
But as this is not very functional in hot summer weather and on wet boats, why not opt for a Boating sandal instead?
Not to say that there is anything wrong with closed Boating shoes. They do have their highly admirable performance characteristics.
Yet sometimes, you require something a bit cooler, freeing, that still offers the same levels of protection and comfort.
The right sandal can offer you all this and many other essential features.
Style – Sandals come in many styles and designs that you can choose from, and a more sporty or hiking-type styled sandal is perfect for any form of Boating.
Comfort – Comfort features such as adjustable and soft straps, a cushioned midsole, and an insole all help to keep your feet comfortable on long boat trips.
Protection – A good sandal can protect your feet from sharp objects, bumps, and abrasions.
Slip Resistance – The best sandal for Boating must be slip-resistant for getting on and off the boat or on all surfaces, especially wet surfaces.
Water and Moisture Resistance – Most sandals for ZBoating have quick-drying, draining, and water-resistant materials, so your feet are kept dry and safe.
---
Sandals to Consider for Different Boating Situations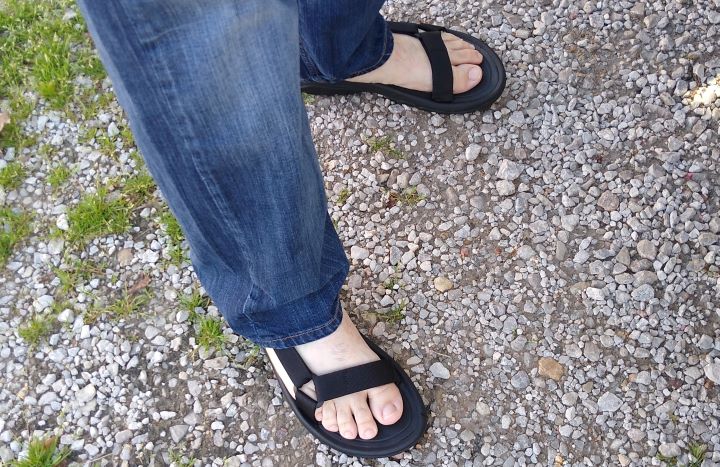 Boating can be done for different sports types or leisure activities, and the type will largely affect your choice in sandals;

Best for Paddling – Most paddlers go for a no-shoe option, but this is not too great when you reach a hard, rocky, or even hot sand coastline. For this reason, a lightweight sandal or an easy slip-on and off sandal for when you get off the oat s advised.
Best for Creek and Coastal Hikes – When part of your Boating trip involves Creek and Coastal hikes, you need a protective and robust Hiking sandal. Look for something with a lug and durable sole for slip resistance, quick-drying, and water-resistant materials, as well as a closed design protective toe.
Best for Beach Boating – Boating on and off at the beach requires a comfortable and lightweight sandal that you can put on and take off when on the boat or keep on.
Best for Fishing – For Fishing, I recommend something with excellent slip resistance on slippery rocks, sandals, and wet boats, as well as durability and water resistance.
Best for Sailing and General Boating – You need a comfortable sandal with some cushioning, a slip-resistant sole, and quick-drying materials for general recreational sailing and boating.
---
Features of a Good Sandal for Boating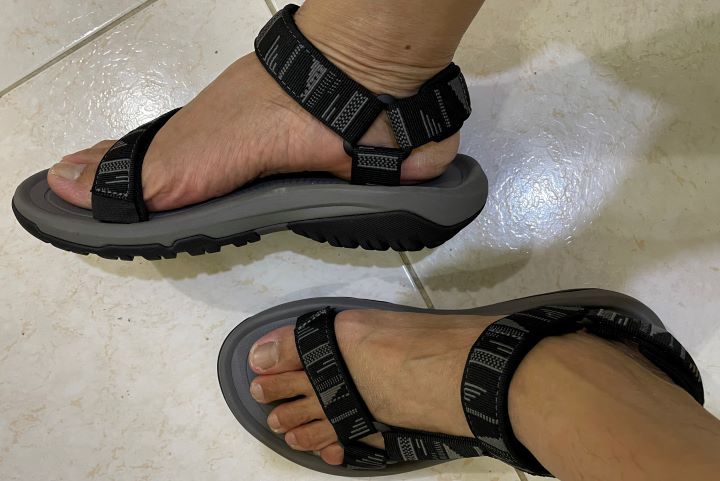 Style – Choose something that is still stylish and fashionable for on and off the boat wearing. A closed style is advisable if you expect rougher terrain with many bumps and abrasions, whereas a more relaxed experience and open-toe design are efficient.
Sole – Look for a thicker shock-absorbing sole that offers excellent grip and slip resistance on wet surfaces.
Fasterners – Ensure that the sandal fits snugly and has adjustable straps, as you do not want it to slip off your feet easily.
Siping and Tread Pattern – Look for more aggressive Piping and treads for better grip and slip resistance.
Water Resistance – Your sandal are guaranteed to get wet, anything from moderate to soaking, so choose quick-drying materials and well-draining sandals that will not cause irritation and friction.
---
Reviews: The Best Sandals for Boating
Here are the top selections in sandals for individuals with Diabetes;
We hope you love the boating sandals we recommend!
So that you know, We may collect a share of sales or other compensation from the links on this page.
---
1
Soft and breathable mesh and textile uppers easily drain water and keep you well-ventilated.
Extremely lightweight sandals with durable and soft materials.
It is made with the Crocs Crosslite Materials that are soft and cushioned.
Available in a few neutral color selections that you can choose from as you prefer.
The materials are flexible, and ample toe coverage protects against bumps and abrasions.
---
2
The Newport H2 from Keen is a top brand's durable and protective athletic style sandal.
Features quick-drying polyester upper webbing and a performance-enhancing bungee lace-up system.
The supportive and contoured arch keeps your feet well supported and comfortable.
All keen sandal models are also fully machine washable.
Great metatarsal support stability features and a durable slip-resistant rubber outsole.
---
3
The Hurricane from Teva is another fun and sporty sandal from a top brand ideal for Boating and water sports.
Textile and fabric uppers webbing with adjustable fore and back straps for the perfect fit.
There is a stabilizing nYlon shank and a durable rubber sole to support your feet on uneven terrain and absorb shock.
The sole is made from Durabrasion rubber, a high abrasion rubber.
---
4
The Merrell sandal All-out Blaze is tough, comfortable, and ideal for boating.
This sandal features Fabric uppers with a lace-up design, breathable mesh insets, and an Omni Lace design.
Inside is an M-Select Fresh mesh lining to combat odors and bacteria and keep your feet dry.
The UniFly midsole offers essential; cushioning and shock absorbency.
There is also a TC5+ Vibram rubber outsole that is durable and slips resistant.
You can choose between a variety of color options in this sandal.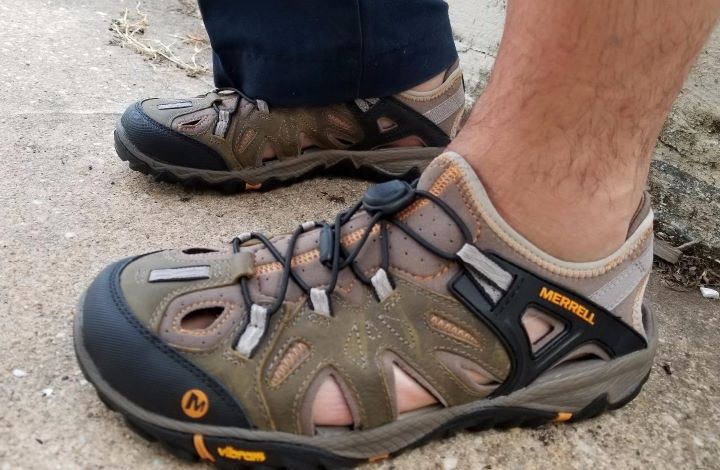 ---
5
The Saguaro Athletic is a Boating sandal with mesh and synthetic uppers that is durable, lightweight, and breathable.
A closed top design reduces bumps and abrasions and protects the forefoot.
The rubber sole has an updated groove ground rubber design with excellent grip and durability.
Casual and sporty design with a comfortable insole.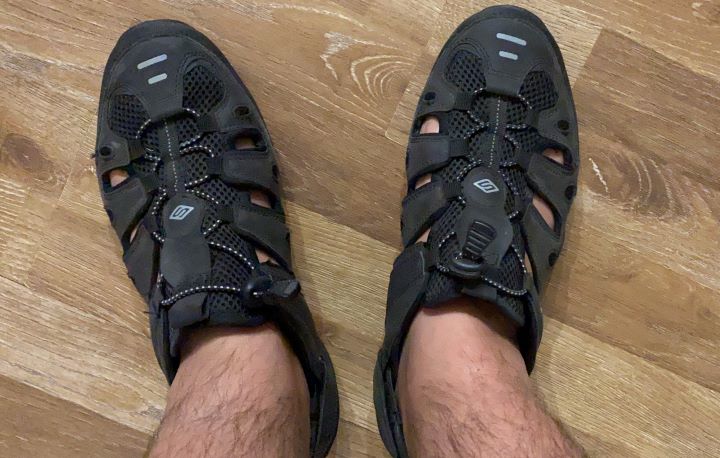 ---
6
Teva is another top casual and sports sandal brand, and I have chosen Holliway and Tirra, two similar models.
Some synthetic uppers straps are adjustable for a more secure fit.
The insole has ShocPad technology for cushioning and shock absorbency.
The insole is also treated with Microban Zing to fight bacteria and odors,
You can obtain this sandal in a few different color selections for you to choose from.
---
7
The Teva Open Toe Design sandal and Verra are the perfect sandals for casual Boat trips.
The perfect open-style sandal for casual boating excursions.
The upper straps are adjustable and durable.
The Contoured EVA footbed is cushioned and supportive.
A Vibram rubber outsole for a durable grip and slip resistance on outdoor trails.
---
8
The Keen Whisper and CNX Clearwater are sporty and durable sandals ideal for Boating.
Comfortable and supportive Fisherman-style sandal, which offers better protection.
The uppers are soft and comfortable against the skin as well as adjustable.
The sole is contoured for arch support and is well-cushioned.
There is an Aegis Treated lining for bacteria control and reducing odors.
The rubber outsole offers exceptional grip and support.
---
9
The Keen Newport H2 is a sporty and durable sandal with a protective closed design ideal for Boat Trips and outdoor sports.
Soft Polyester upper webbing and a Hydrophobic mesh lining will keep your feet dry and ensure the best adjustable ft.
The TPU stability shank and PFC materials will provide natural and secure support.
The footbed is contoured and ensures excellent arch support and ample cushioning.
There is also material ridge support ad stability.
The outsole is lug and ensures a high grip on all outdoor trails.
---
10
From Dream Pairs, the Adventurous sandal is the perfect boating sandal.
The uppers are soft and flexible textile materials with adjustable straps.
There are also quite a few color options available in the Dreampairs range.
The durable rubber outsole offers excellent slip resistance.
There is a super soft EVA cushioned footbed for comfort and support.
---
Index Table: Top Rated Sandals for Boating
---
---