The Closed Toe Sandal has become a fashion must for many reasons and is available in classic and modern styles.
A Closed Toe Sandal with an ankle strap gives you a much more secure fit that you can easily adjust.
---
---
The Closed Toe Ankle Strap Sandal
This article looks at some of the best closed-toe style sandals with a secure ankle strap. The Closed Toe Ankle Strap Sandal provides a more conservative yet still sophisticated style that gives you the security and comfort of an ankle strap.
Many ankle strap sandal models also have an adjustability feature on the strap, allowing you to customize your sandal fit easily.
Hence a Closed toe style sandal provides excellent toe protection and coverage when needed.
---
Benefits of a Closed Toe Sandal with an Ankle Strap
There are many excellent Benefits to the Closed Toe Sandal with an Ankle Strap;
Hide Foot Conditions and Unpedicured Toes – A closed-toe design sandal is ideal for those days in between when your toes are not yet pedicured and your nails need a new coat of paint. On the other hand, for persons with unsightly foot conditions such as Bunions and other deformities, the Closed Toe Sandal is ideal for hiding these issues.
Protection – A Closed Toe Sandal can provide comfort and protection against many elements. The closed toe protects you against chafing, bumps, and bruises from stubbing your toe. The Closed design also protects you from sand, water, and debris entering your sandal, making them uncomfortable.
Warmth – A closed-toe sandal provides a little more insulation and warmth for persons whose feet tend to get cold quickly.
Secure Fit – An ankle strap provides a comfortable and secure fit that can help protect your ankle against sprains and aids in keeping proper alignment of the feet.
Hiking and Trail Walking – For sports such as Hiking and Trail walking, a closed-toe design shoe can also provide much comfort, protection, and durability. When you need something a bit more breathable and more refreshing than a general hiking shoe or boot, or trail running shoe, the Closed Toe Sandal can provide you with just that, along with ample toe protection.
Style – The Closed Toe Ankle strap sandal comes in many styles and designs, from comfortable and casual, to more formal dress styles, so they are versatile.
---
Features of Good Closed Toe Sandals with an Ankle Strap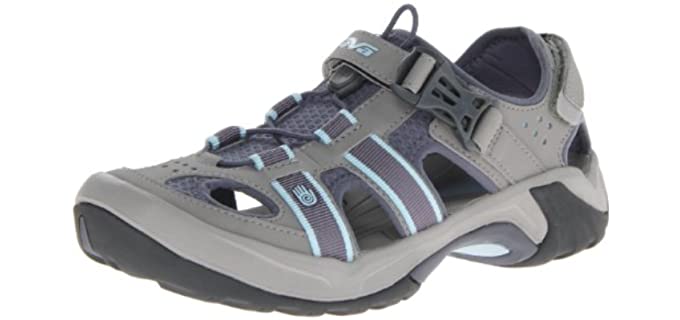 Uppers can be leather, synthetic leather fabric, or textile. Some models offer a neoprene or mesh moisture-wicking lining.
Footbed and Insole – A Memory Foam, EVA, or Fashion cushioned footbed is available for comfort. Some models only feature a lightly padded leather-lined footbed.
Outsole – Mostly, rubber is used for a durable and high traction outsole; some models have a synthetic outsole with a smoother tread.
Colors and Designs – Many colors and designs are available, from upper Fishermen to Espadrilles and Wedge styles. All feature a closed-design toe and an adjustable ankle strap.
Closures – The closures are either a hook and loop, buckle, or velcro strap around the ankle or forefoot.
---
Reviews: The Best Closed Toe Sandals with Ankle Straps for Women ♀
We hope you love the sandals we recommend!
We may collect a share of sales or other compensation from the links on this page.
---
1
The Clarks Valarie Rally Pump is a comfortable, fashionable, closed-toe sandal with an adjustable ankle strap.
The sandal is available in four color selections from which you can choose.
There is a two-inch heel for fashionability and style.
The sole is rubber for better grip, and the uppers are made from genuine full-grain leather for durability.
The Adjustable hook and loop closure allows you to custom fit the shoe.
---
2
A stunning Espadrilles style sandal with a closed toe and Wedge Heel from Syktkmx.
Formal style Espadrilles sandals with a high wedge heel.
The toe is closed, and there is an adjustable high ankle strap.
The shoe has fabric uppers and a Jute design sole.
Ideal for beach parties and summer excursions.
---
3
From Maxmuxun, we have another stunning flat sandal addition in many neutral and pastel color selections.
Synthetic leather and a flat sole.
A closed-toe and closed back with an adjustable strap wraps around the ankle.
The Sandal has a comfortable footbed and flat sole.
You can get the sandal model in light and pastel color options and a solid black selection.
---
4
The Teva Omnium is the perfect closed-toe sporty sandal.
The Upper is synthetic and meshes materials that are light and breathable.
There is a bungee lace-up system for security and multiple drainage ports.
The footbed is EVA withShocPad technology in the heel for support and cushioning.
The Spider Web design outsole is rubber and offers excellent slip resistance.
---
5
The Aruba Kaitlyn from Vionic is a fancy dress wedge-style sandal with a closed-toe design.
The Upper is a soft Canvas material or leather option you can choose.
There is a high wedge design sole and rubber outsole.
The footbed is cushioned for comfort with a podiatrist design.
There are four color options available in this model.
---
Reviews: Best Closed Toe Sandals & Ankle Straps for Men ♂
---
6
The Dockers Searose is a Fisherman's style sandal with a comfortable memory foam insole for men.
The Uppers consist of leather available in a brown or black color option with a Fisherman Closed toe design and ankle strap, which is adjustable.
There is a plush and comfortable Memory foam insole.
The sandal sole is generally flexible, and the Fashion Footbed adds a layer of plush, cushioned comfort.
The generous fit is comfortable and adaptable.
There is a durable rubber outsole.
---
7
We have their Men's Kona Fisherman's sandal from Propet with leather and Neoprene uppers.
The Kona comes in a luxurious brown color option.
The uppers consist of genuine leather with a moisture-wicking Neoprene lining.
There is a durable synthetic sole that is flexible and comfortable.
The model is available in wider width options if required.
---
8
A Top Orthopedic Sandal brand Dr. Scholls offers you their closed-toe ankle strap Hewitt sandal.
There are Rich brown leather uppers with a closed toe.
The Anatomical footbed with Microsuede lining provides cushioning ad moisture management.
The sole is flexible and lug for a better grip.
There is likewise a soft neoprene interior lining to wick away moisture.
---
9
The Crocs Swiftwater is a closed-toe water sandal for men.
The Upper is synthetic and the mesh drains well, ventilate, and quickly dries.
The footbed consists of soft and foamy Crosslite material.
The outsole ensures excellent slip resistance, even on wet surfaces.
There are a few color options available from which you can select.
---
10
The Keen Newport is a closed-toe design sports sandal that is water-friendly.
It is quick-drying polyester upper webbing with bungee lace-ups system for a secure fit.
The footbed has a supportive arch and metatarsal ridge support along with EVA cushioning.
There is a durable and highly slip-resistant rubber outsole.
Many color options are available in this sandal.
---
Index Table: Top Rated Closed Toe Sandals with an Ankle Strap
---
---