Flat sandals are easily available, comfortable, and come in various colors and designs.
In this article, we will look at some of the top favorites in Flat sandal designs, as well as some very comfortable flat sandal options.

---
---
The Benefits of Flat Sandals for Summer
Many enjoy walking barefoot in the hot summers, yet sometimes you need that lightweight underfoot protection against hard surfaces and sharp protruding objects, or maybe to keep your feet clean.
Here are a few great reasons why you should invest in a pair of Flat Sandals;
Easily Accessible – Most Flat sandals come in designs that are easy to take off and put on, such as the slip-on design or slides and even flip-flop styles. Flat sandals are a great option for quick footwear and protection when you are in a rush and quickly need to put something on your feet to run out the door.
More Natural Underfoot Feeling – A flat sandal provides lightweight underfoot protection while allowing a more natural underfoot feel and flexibility.
Summer Activities – Certain Summer activities, such as going to the beach or pool, require a flat sandal that can easily be taken off and put on and that provides lightweight comfort and protection.
Breathable – Most flat sandal designs have an open structure that is breathable and cool in hot weather conditions.
---
Different Types of Flat Sandals
There are many styles, colors, and designs that you will find in flat sandals.
Here are a few of the most popular designs and types of flat sandals;
Flip Flop Sandals – The most popular flat sandal is the Flip Flop. This solid flat sole with a top toe post webbing comes in various colors, prints, and designs.
Slide Sandals – Another favorite Flat sandal design is the Slide Sandal, a single cross strap and open design. Some slide sandals come with an adjustable strap and Velcro closure. The Slide sandal is easy to slide on and off quickly and ideal for Casual wear.
Strappy Sandals – Your general Strappy Flat Soled sandal has a more formal and fashionable design that is ideal for all occasions. The strappy sandal can come in various designs and colors with different upper options such as leather, textile, or synthetic materials.
T-Strap Flat Sandal – The T-Strap Flat sandal resembles a Flip Flop, with a T-Shape strap across your feet between your toes. Many T-Strap Sandals also have a back strap in various colors and designs.
Sling Back Sandal – The Sling Back sandal refers to any flat-soled sandal with a back strap.
Gladiator Flat Sandals – The Long Gladiator sandal comes in various shapes and designs and is usually a flat-soled sandal.
---
Features of a Good Summer Flat Sandal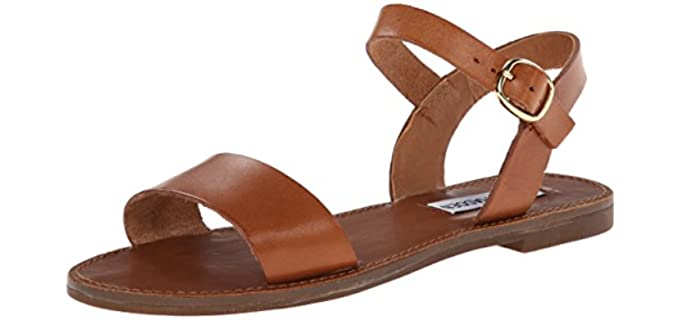 Uppers – The Uppers of a Flat sandal for Summer should be open and comfortable in design. Materials such as leather, synthetic leather, and textile or Canvas are ideal.
Footbed – Most flat sandal designs offer a flat hard sole, not much of a footbed. However, you get more cushioned models with EVA or memory foam padding for comfort. A comfortable leather or textile lining will help absorb moisture and provide comfort.
Outsole – Rubber or synthetic materials are usually used in the outsole, which should have a patterned tread for better grip and traction.
Designs – Flat sandals come in multiple design options, from sporty styles to gladiator, thong, and flip-flop designs. Plenty of colors and even some patterned options are available from which you can select.
---
Reviews: The Best Summer Flat Sandals for Women
---
1
The Rekayla Flat Song Sandal is among ladies' most sought-after Flat sandals today.
You can get these flat-sole thong sandals in a variety of neutral color options.
The Uppers are a thong design with a backstrap and buckle closure.
Synthetic leather is used for the uppers and to line the footbed.
The sole is flat with a non-slip, durable rubber outsole.
---
2
We have their Donndi, a favorite Casual Flat sandal from Steve Madden.
The Uppers straps consist of synthetic leather with adjustable straps.
The Design is more casual for everyday wear.
The footbed is flat with very light padding.
There is a durable and slip-resistant synthetic outsole.
You can also select from a few available options.
---
3
The Vionic Aloe is a stunning, orthopedic design Flat Flip Flop Sandal.
[/super_list]
The Uppers is genuine leather with a choice of smooth or suede leather and many color options.
The footbed is more comfortable with a podiatrist design and cushioning.
The sole is flat, and there is a durable rubber outsole.
A lightweight medium dense EVA midsole absorbs shock, usually lacking in most flat sandals.

---
4
From Skechers, the Desert Kiss is a Flat Dress style sandal in three color options.
The Upper is fully synthetic with a more classy design and adjustable straps.
There is a plush and comfortable light memory foam footbed and a flexible sole,
You can get these flat sandals in wider healthy options and three colors.
The sole is flat and durable with a slip-resistant tread.
---
5
Something on the casual side is the comfortable fat slide sandal from Under Armour.
[/super_list]
The Flat soled Slide sandal is easy and comfortable to slip on and off.
There is a plush 4D memory foam cushioned footbed in full length.
The outsole is a re-Engineered EVA that is slip-resistant.
The uppers are synthetic leather with a single strap that is adjustable.
You can get these sandals in a few feminine color options.

---
6
The Teva Universal Original is an outdoor flat-soled sandal with cushioning and an adjustable fit.
The Upper is a soft textile material with full universal adjustability.
You can get the TEVA Original in many solid or printed colors.
The footbed is cushioned with EVA for comfort.
There is a durable and slip-resistant Durabrasion outsole.
The sole is flat and uniform in design.
---
7
From Cloverly, we have a T-Strap summer flat sandal.
They have a vegan leather uppers style and a flat sole.
The outsole is a high-grip rubber.
More colors are available.
---
8
From Tory Birch, we have more fancy flat sandals for summer.
They are available in many more colors.
There are leather uppers and a rubber sole.
You also get a dust bag included.
---
9
The Dream pairs of Flat sandals are more casual.
They have cut-out leather uppers and an elastic ankle strap.
The sole is durable rubber, and the footbed is lightly padded.
They are also available in more colors.
---
10
From Amazon Essentials, we have the casual strappy flat sandal for women.
They gave synthetic uppers and a rubber sole.
The insole is a latex cushion foam with a slender toe post for cushioning.
You can also choose from a few more metallic colors.
---
Index Table: Top Rated Summer Flat Sandals for Women
---
---