Swedish Clogs are still seen as a trendy fashion item today. However, they have come quite a long way as traditional wooden footwear worn in several European countries.

---
History of the Swedish Clog
The first recorded clogs were found in the Netherlands in the 1200s. However, the traditional clog style was quite prevalent throughout Europe.
Unlike the Dutch closed-back style clog, the Swedish clogs are a bit different and not just a tourist attraction but today, a fashionable shoe style is still worn.
Initially, Swedish clogs were designed for individuals who needed protection from harsh outdoor weather conditions, and they were especially popular in the South of Sweden.
Swedish clogs are made from blocks of wood that are cheap and accessible.
By the 70s, the Swedish clog has come a long way from farm workers' and factory workers' shoes to a more fashionable trend.
The Swedish Clog became the Emblem of the 70's style and is still found today; however, a few changes were made.
Today the Swedish Clogs specific leather uppers with a wooden sole and high traction synthetic or rubber tread.
---
Swedish Clogs and How to Wear Them
The Swedish Clog is a style on its own that comes with comfort, durability, and protective properties;
Why Did Swedish Clogs Make a Comeback? – The 70's fashion revival helped to bring the Swedish Clog back into fashion. Similar to most athletic shoes, a Swedish clog can easily be slipped on and worn daily for all occasions. They offer excellent support and durability with a classic traditional style.
How Do You Wear a Swedish Clog? – You can wear Swedish clogs as daily casual wear or spruce out your outfit and wear them as nighttime outwear. They truly do look fabulous with almost any outfit. Flared Jeans, Bell Bottoms, and long skirts look great with Swedish clogs, such as portrayed in the 70,s.
---
Features of a Good Swedish Clog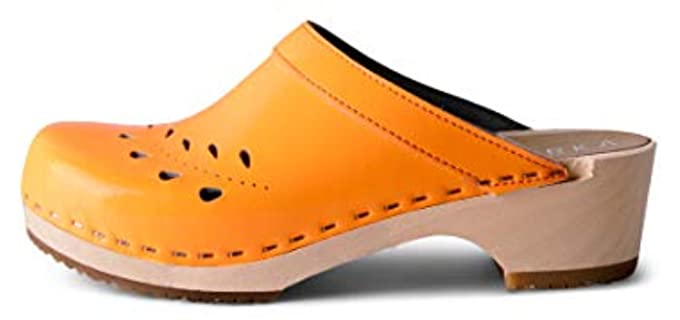 The Traditional Swedish clog consisted entirely of a single block of wood. However, more modern style Swedish clogs have a slightly different construction;

Uppers – Swedish Clogs traditionally consist entirely f wood. However, the models we have chosen will have genuine leather or synthetic leather uppers with nailhead trim or stitching.
Sole – Most Swedish clogs come with a solid wood sole. The midsole may be wood, and the outsole rubber with a high traction tread. Traditional Swedish clogs mainly feature a wooden sole.
Designs – Some design may have cut-outs or decorative details and straps. The colors available are usually more neutral.
Comfort Features – Some of the models we have chosen will have a more contoured footbed and some cushioning features for comfort and support.
---
Reviews: The Best Swedish Clogs
These are some exquisite and well crafted original Swedish Clog brands and models;
---
1
The Verka women's clogs are a more feminine design with flower cut-outs on the uppers.
They come with a wood base sole consisting of lightweight limewood.
The clogs are handcrafted in Sweden and consist of genuine patent traditional leather,
They are easy to clean with a damp cloth and are generally water-resistant.
The clogs have a comfortable design and plenty of toe room.
There are some lovely floral, and earthy color ranges available from which you can choose.
---
2
The Mia for ladies is a mule-style clog that has a more open design for summer.
They have genuine leather uppers and a synthetic sole.
There is a contoured wooden footbed for support and arch support.
The clogs have a high block heel and peep-toe with a platform sole.
The sole is durable and provides good traction.
Similarly, there are some neutral color options available to you.
---
3
The Sandgrens Swedish handmade clogs fur women are exquisite in design.
They have a solid wood sole and consist of only natural materials.
The clog has nubuck leather uppers with a velvety feel and is known to be more durable.
However, they are not designed to come into contact with excessive oil, water, and corrosive substances.
They are available in a few more neutral colors so that you can choose your favorite.
---
4
The Bjork Maja open back clogs are a lovely and comfortable design of Swedish Clogs for women.
They have genuine leather uppers with a roomy toe box.
The clogs have a polyurethane sole that looks like wood.
The sile has a rocker design that reduces pressure o your feet and a PU tread for grip and durability.
The toe cap is roomy and reinforced for durability and will accommodate a wide or normal foot shape.
There is a stable 2-inch heel.
---
5
The Bjork Swedish Comfort professional Ken clogs are ideal for men.
The clogs have premium leather uppers with a cushioned leather insole.
There is a PU outsole that has a rocker bottom design and provides good stability and arch support.
The heel cup is adjustable and allows your heels to move up and down, and provides lateral stability.
---
6
The Vollsjo genuine Leather Wood clogs are an original design for men.
They have genuine leather uppers with a roomy and accommodating toe box.
There is a comfortable design footbed for everyday wear.
The sole is a solid wood with a rubber tread for traction.
You can similarly select from a few more available neutral color options.
---
7
The Bjork Swedish Comfort Open Back leather clogs for men have a gorgeous design.
They are 100% genuine quality leather with Cabrio leather and a polyurethane sole.
The clogs have an original Swedish design and a PU rocker bottom outsole for stability and arch support.
The footbed is comfortable and cushioned.
The uppers allow for a roomy and accommodating fit.
---
8
The Sandgrens Swedish Handmade wooden clogs are available in Hamstad colors.
They have leather uppers with a leather strap and buckle details.
The clogs have a solid wood sole and consist of natural materials.
The leather is vegan leather, and the sole is wood.
The footbed is comfortable and supportive, to keep your feet aligned.
There are a few neutral color options available to you.
---
Index Table: Top Rated Swedish Clogs
---
---