Do you think you have huge feet and want to make them look smaller? Well, there are a few tips and tricks, but most of all, they are likely smaller than you may think.
Then there are some superb sandal styles that you can wear, accommodating and even flattering a larger foot type. So you can read further to find out some of the Best available sandal options for big feet.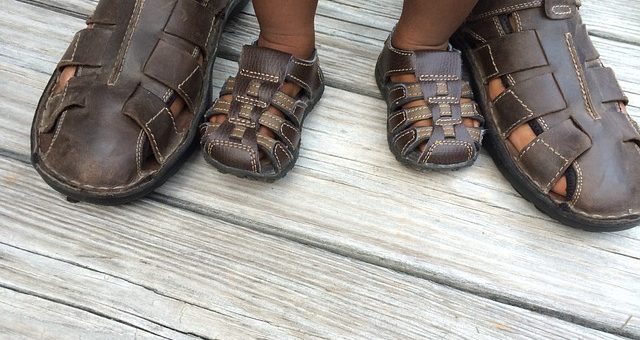 ---
---
Tips for Making Big Feet Appear Smaller
Firstly, let me let you in on a few secrets for making your big feet appear smaller and more streamlined;
Heel – Heels have the effect of making not only your feet look smaller but your entire physique looks trimmer. You do not have to wear fancy high heels. A low or medium-heeled sandal can also do the trick.
Narrow Vs. Round – Remember that a pointed-toe shoe or sandal makes your feet appear longer, whereas a round or square toe makes them appear shorter.
Colors – Darker Solid colors in sandals can also ceartcreatee the illusion of smaller feet.
Skimpy Sandals – Avoid sandal that leaves too much foot open as this can still make your feet appear quite big.
Big Bulky Shoes – A big and bulky shoe will also make your feet appear even bigger than they are.
---
The Best Sandal Types for Big Feet
One thing to consider in sandals for Big feet is the FIT, and you need to find a sandal with extended size and width options if you have larger feet.
With that said, the best sandal for big feet needs to be;

In a darker color option.
Not too skimpy with larger upper straps.
Have a slight heel or flatform sole.
Fit comfortably.
Have options, wider widths, and extended sizes available.
Adjustable straps are recommended.
Open or closed-toe designs are acceptable.
---
Features of a Good Sandal for Big Feet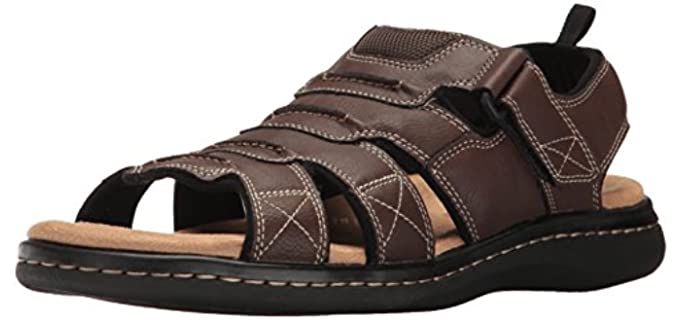 Uppers – Leather, synthetic, or textile materials can be used for the upper, which may or may not be adjustable.
Toe – A rounded toe is advised in a good sandal for big feet.
Footbed – A comfortable, contoured, cushioned footbed should support your feet and absorb shock.
Size Options – Big-foot sandals must be selected in extended size and width options.
Outsole – A durable and flexible outsole with high traction made from rubber is your best option.
Heel – Look for a low or medium heel rather than a flat sandal.
---
Reviews: The Best Sandals for Big Feet
Here are some top brands and models in sandals that come in extended sizes and widths for a larger foot;
We hope you love the sandals we recommend!
We may collect a share of sales or other compensation from the links on this page.
---
1
Casual Sandals for Big Feet
These casual and comfortable sandals are available in extended sizes and widths to accommodate larger feet and provide superb comfort.
Un Trek Bar
A sports-style men's sandal.
The Adjustable upper straps are made from pure Nubuck leather.
The sandal has a back strap for a secure fit and a durable rubber outsole for better grip and stability.
There is a comfortable Ortholite Footbed and EVA midsole for shock absorbency.
Breeze
The uppers are synthetic, and there are many colors to choose from as you wish.
On the sole, there is Cushion Soft Technology for comfort and support.
The sandal has a slight heel and is ideal for smart-casual occasions.
---
2
For Dress occasions, the Gaston from Dr. Scholls and the Aravon Medici are sophisticated, comfortable, and available in extended sizes and widths.
Gaston
The Gaston is a leather, fisherman-style sandal ideal for dressy occasions for men.
There is a black or brown color option available.
A leather upper and an adjustable back strap offer a more comfortable and accommodating fit.
The memory foam insole ensures excellent underfoot comfort.
A durable rubber outsole also ensures excellent traction.
Aravon Medici
The Medici also has a leather upper with a different design and a medium heel for dress occasions.
The uppers are adjustable at the back and forefoot.
There is an EVA and Ortholite footbed for comfort and support.
A steel shank in the sole offers better stability, underfoot protection, and a better grip from the rubber outsole.
---
3
Outdoor Sandals for Big Feet
The Teva Katavi and Tirra are casual outdoor sandals with a wider width and extended size availability.
Katavi
The Katavi has mixed materials, which are leather and synthetic in the uppers, and the uppers are likewise adjustable.
The rubber sole has lug patterns for better grip, and there is a Nylon shank for stability in the sole.
The footbed is cushioned and comfortable,
Tirra
There are synthetic and polyester upper in the Tirra that are fully adjustable.
The Tirra also has a Spider rubber outsole for better traction and grip.
The cushioned insole has Microban Zinc-Based treatment to reduce odors.
---
4
Slide Sandals for Big Feet
The Adidas Slide sandal has an adjustable upper and wider width fit and extended size options for Larger Feet.
The Adidas Questar is a comfortable slide sandal with an adjustable fit upper and a wider, more prominent design.
There is a Cloudfoam cushioned footbed with a dual-density midsole for shock absorbency.
You can choose from white or black color options with different logos.
Furthermore, the sandal also offers firmer support for better stability.
---
5
Only the best outdoor sandal for big feet, with adjustability features and extended sizes available.
The Yucatan offers larger sizes and a wider fit for men and women with larger feet.
The upper straps are all completely adjustable and genuine leather with a textile lining.
The footbed is extremely comfortable and cushioned with EVA and a microfiber cover for moisture management.
There is receptor technology for better stability and a durable rubber outsole.
---
6
Smart Casual Sandals for Big Feet
The Arla and Malone from Clarks are smart casual sandals for all occasions with many comfort features and extended size and wider width options for larger feet.
While the Arla boats are textile and synthetic upper materials, the Malone has leather with a textile material and adjustable uppers.
Both sandal models have Cushion Soft technology in the footbed and a durable Pu outsole.
The Arla likewise features an adjustable hook, loop heel strap, and flexible fabric uppers.
You can choose between a few color variants in both sandal models.
---
7
Sports Sandal for Big feet
The Teva Original has a wider fit and adjustable upper for bigger feet.
The Universal strapping system allows for a customizable fit for bigger feet.
The uppers are a soft textile, and many color options are available.
The soft and cushioned footbed offers excellent shock absorbency and comfort.
There is also a durable and high-traction rubber outsole.
---
8
These two models from Clarks and Dockers are available in wider widths and offer an more roomy and flexible fit.
Dockers Sea Rose
The design is more roomy and regular in fit, and there are also wider width options and three color options available.
The uppers are leather, and there is a flexible sole with a memory foam insole for comfort.
Clarks Arla Jacory
The uppers here are elastic and flexible textile materials.
The sandal has wider options for a better fit.
The footbed is cushioned with EVA and Cloudstepper technology.
---
8
Flip Flops for Bigger Feet
The Everhealth Flip Flop has an Orthopedic design and a wider fit.
The More open flip flop design is ideal for bigger feet.
There is ample cushioning and arch support to support heavier persons and larger feet.
Extended size options and three colors are available in this model.
The flip flop is also an excellent choice for foot conditions such as Overpronation, Flat feet, and edema.
---
10
Wide Width Orthopedic Sandals for Big Feet
The Open toe diabetic design sandal is ideal for persons with bigger feet who suffer from edema and diabetes.
The rubber sole is durable and offers good traction.
The soft uppers are gentle against sensitive feet and fully adjustable.
There are wide and extra-wide width options available for larger feet.
The footbed is fully cushioned and offers biomechanical and ergonomic support.
---
Index Table: Top Rated Sandals for Big Feet
---
---