Though it is advised that children go barefoot as much as possible, a good pair of protective and comfortable sandals is necessary to go out to town or outdoors to protect sensitive little feet.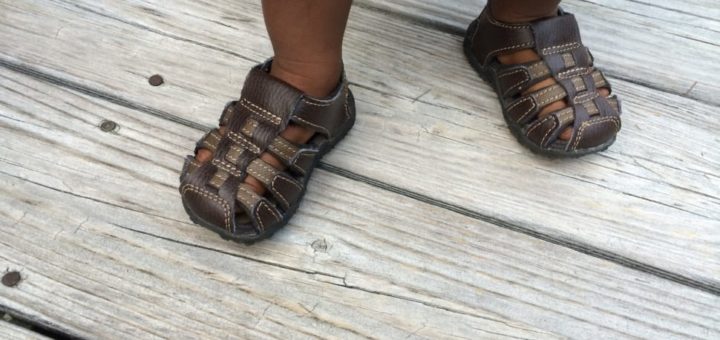 ---
---
The Closed Toe Sandal VS The Open Toe Sandal for Toddlers
The biggest debate regarding sandals for toddlers is whether to gt an open toe or closed toe sandal and if you want an open heel or closed heel design.
For the most part, I would say that a flip flop or open back and should never be considered for toddlers and a sandal with a toe that has too wide and opening.
However, here are some pros and Cons of the Open toe vs. Closed toe design sandal;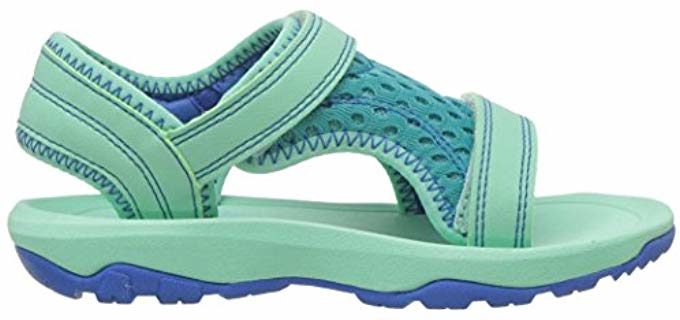 Open Toe Sandal – The Open Toe sandal can be safe and comfortable as long as the opening is not so wide that your toddler completely pushes their toes over the edge and out of the sandal. There should, however, still be either a closed or sling back, no open back. The open toe also does not protect the toes from bumps and stubs.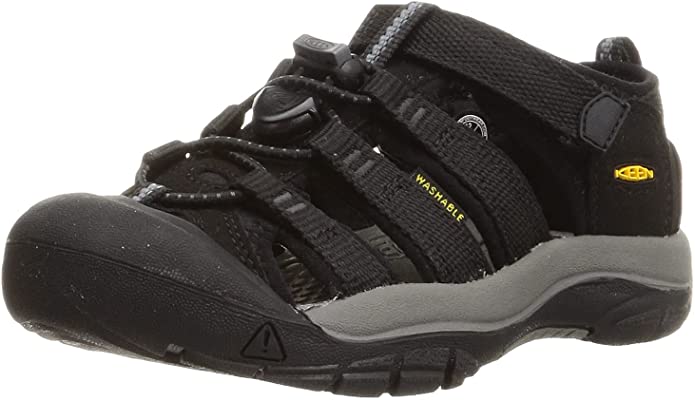 Closed Toe – I personally Find the closed-toe a more protective and better option for toddlers as there is no chance of toes overlapping or being bumped. However, you should still make sure that there is plenty of toe room so that your child can comfortably splay out their toes. With this option, also look for a closed or slingback design.
---
Choosing the Best Sandals for Toddlers
If you follow these few tips, you are sure to find the most suitable sandals for your little one;
Closures and Adjustability – It is advisable to select shoes with some closure and fit options that you can adjust, such as Velcro straps or a lace-up bungee system.
Soft Materails – Leather is comfortable soft and conforms to the feet' shape. Try to avoid hard plastic and rubber footwear and always rather opt for soft genuine or synthetic leather. Other than leather, look for breathable mesh and polyester that are ventilated and quick drying.
Cushioning – Some soft cushioning is comfortable for little feet but not so much as to limit movement and feeling, as toddlers still need to find their way around walking keep their balance steady.
Slip Resistant Rubber Outsole – A rubber sole that offers good grip and stability is advised to prevent slips.
Open or Closed Toe – A small open toe or closed toe design is ideal.
Soft Linings – Look for soft linings in the footbed and upper that will not chafe or irritate sensitive young skin.
Durability – A good quality brand made from quality materials with proper construction should last a while, and then you will only need one pair of trusty sandals.
Back Buffer – Always look for a closed slingback with some buffer or protection to prevent friction and discomfort against the ankle and heel.
Proper Fit – As with any shoe lok for a snug fit that does not squeeze and ample toe room.
---
Features of a Good Sandal for Toddlers
Uppers – Soft leather or synthetic leather upper with an open or closed-toe design. Closed-back with protective ankle collar.
Adjustable straps with Velcro or bungee closure.
Footbed – Comfortable and slightly cushioned footbed.
Outsole – Durable and high grip rubber outsole.
---
Reviews: The Best Sandals for Toddlers
Below are some of the top-rated Sandals that are ideal for Toddlers;
We hope you love the products we recommend!
So that you know, We may collect a share of sales or other compensation from the links on this page.
---
1
Closed Toe Water Sandals for Toddlers
The Keen Sea Camp is a tough and water-friendly sandal for little feet with a protective closed toe.
Soft and breathable synthetic and polyester upper with a protective rubber toe bumper and closed-toe design.
A durable and slip-resistant rubber outsole.
Inside is an aegis microbe shield for protection against moisture and odors.
The hydrophobic mesh lining keeps tiny feet dry and irritation-free.
Available in fun colors for boys and grill.
---
2
mesh Uppers Toddlers Sandal
These are two superb closed-toe design sandals for toddler feet that are ideal for outdoor play.
Lightweight mesh is upper with area cutouts and a protective Bump toe.
Adjustable strap closures that allow for a better fit.
The shoe is easily machine washable and very durable.
Available in a few color selections for young girls and boys to choose from.
---
3
From Skechers, we have the C-Flex and Hypno-Splash, which are fun and water-friendly quick-drying sandals for Toddlers.
Available in boys' colors as well as a pink or purple option for the girls.
Soft printed mesh fabric upper that is lightweight unbreathable.
There are an adjustable toe and instep strap for a customizable fit.
The midsole is cushioned for shock absorbency, and the high traction outsole is flexible for easy movement.
A comfortable and molded design that is also water friendly.
---
4
The Keen Newport H2 is a top favorite in adult adventure sandals, and why not for your toddler as well?
Soft and comfortable Polyester upper with a smooth jersey lining.
A Metatomical molded EVA footbed and comfortable cushioning.
The durable rubber outsole is non-marking and offers exceptional grip.
Breathable and lightweight with a protective closed toe for little feet.
Available in many bright and fun color selections.
It also features a lace-up bungee system.
---
5
Fisherman's Toddlers Sandal
The Stride Rite range for toddlers offers a comfortable and protective sandal for little outdoor adventurers.
Soft and smooth textile and synthetic upper with a hook and loop closure and a fisherman's style design.
A comfortable and plush memory foam footbed and an anti-sting odor-resistant lining.
The durable rubber outsole offers good grip and cushioning,
Machine washable and quick drying.
---
6
Sports Sandal for Toddlers
The Psyclone from Teva is a more open-toe design soft mesh sandal for little feet.
Textile and synthetic upper with an open toe and adjustable closure for an easy and customizable fit on little feet.
Available in a few boy's and girls' color selections.
Breathable and lightweight mesh upper keeps little feet cool and comfortable. The EVA foam footbed soft supports small feet, and a durable and flexible rubber outsole ensures safer and better movement.
---
7
From Nautica, we have the perfect sports and water sandals for toddlers.
The rubber sole is durable and ensures excellent grip and flexibility.
The uppers are lightweight and quick-drying, breathable mesh.
There are many color varieties for boys and girls.
The insole offers good cushioning and comfort.
---
8
One of my personal favorite sandals for my toddler girls is the Crocs Classic design, which is accessible on and off and very comfortable and breathable.
The Crocs sandals consist of 100% soft and foamy Crosslite material.
The footbed has an anatomical design that offers excellent cushioning.
The sandal is very lightweight and durable, with a slip-resistant sole.
There are large ventilation holes that also drain water.
In this model, you can choose from plenty of color options for boys and girls.
---
9
Soft Sole Sandal for Toddlers
The Apakowa kids sandal comes a toddler and little kids sizes as well as many color options.
The uppers are soft and quick-drying synthetic and textile material. There are a protective toe bumper and slip-resistant rubber sole. The leather insole provides excellent arch support and comfort, There are also many fun and bright color options from which you can choose.
---
10
Water Sandal for Toddlers
A top brand with some stunning kids model sandals is Keen.
The Venice H2 is a water-friendly sporty sandal for toddlers and small children.
The uppers are synthetic, adjustable, and quick-drying,
The entire sandal is fully washable and adjustable in fit.
There is a comfortable and supportive EVA Midsole and footbed with an odor-resistant lining.
The thick and durable rubber outsole has Multi-direction lug patterns for extra grip and support.
---
Index Table: Top Rated Sandals for
---
---