Diabetes can cause nerve damage as well as issues with blood circulation that usually has the biggest effect on your feet and your legs. Nerve damage to feet can also cause you to lose all feeling in your feet, which can be quite dangerous.
It is essential to wear the proper footwear when you have diabetes, whether closed shoes, sandals, or even slippers. You need to wear shoes and sandals or slippers that protect your feet.
Best sandals are usually the top of shoes that we tend to neglect when it comes to looking at support, comfort, and protection features, especially if your feet are affected by diabetes. I want to introduce you to Vionic sandals for diabetics in this article, which are perfect if you have feet affected in any way by the condition.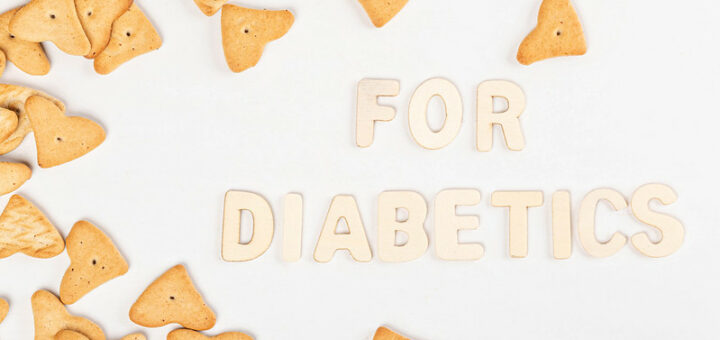 ---
Diabetes and Your Feet
Now diabetes can affect your feet in two ways many. Individuals who have diabetes suffer from nerve damage, in which case they may develop a condition called peripheral neuropathy, which is damage to the nerves that affect mostly the feet and the hands.
Now peripheral neuropathy can cause numbness pain, a tingling or burning sensation in your feet, and they usually lead to a complete lack of feeling in your feet. What is extremely dangerous about having a lack of feeling in your feet is that when your feet get injured or when your shoes hurt your feet, you will not feel it at all. When your feet are too cold or too hot, you will also not feel it at all.
Because diabetes affects your blood circulation, you have poor blood circulation in your feet, which means, if you have a cut or a bruise, or even just a blister on your feet, it can quickly become infected, which in turn will affect your bloodstream and can affect your organs. On the other hand, wounds also tend to heal extremely slowly when you have diabetes.
It is vital that you take proper care of your feet when you have diabetes, and check on your feet daily. Make sure there are no blisters, cuts, open soreness, discoloration of the skin, redness, or any, calluses and corns, and changes in the skin or the shape of your feet. If your feet become red and start to feel warm, you will need to see a doctor immediately, as this could be an infection that can be quite a serious keep. Keep your feet clean, and wash them regularly. Keep them well moisturized and make sure that they are dry. Toenail short so that they don't cause a risk of you nicking your feet with them
---
Sandals and Shoes for Diabetic Feet
As we have mentioned, feats affected by diabetes can. Heal slowly, and they may also have a lack of feeling and numbness. They may be poor blood circulation, and you may also lack balance. So when looking at ranch shoes or sandals for diabetes, you need to look at something that provides features that will protect your feet and that will be comfortable on your feet, but also provide some stability.

Fit – First of all, we will look at the fit of the shoes and sandals for diabetic feet. You want a shoe or sandal that is not going to place any pressure on your feet, and that will accommodate swelling. So always look for something that has a wide and roomy toe box or forefoot area.
Protection – Your shoes and sandals need to provide good underfoot protection. You are going to want something that has got a thick and hoarded soul that will protect your feet from anything hot, a shop that can protrude through the shoe, or that can cause bruising.
No Friction – The inside or the uppers of your shoes or sandals need to be soft and seamless with no hard ports that can cause friction or that can dig into your skin. Look for shoes and sandals that have a smooth lining and padding that will protect the skin from any damage.
Cushioning – For comfort and support, you want a shoe or sandal that has a cushioned insole or footbed that will support your foot and also protect it against hard impact.
Heel Stability – Hill stability, especially in sandals, can be attained by opting for a sandal with a closed heel or a heel strap, or that has a deeper heel Cup or more stable yield design. Hill stability is ideal, especially to give you better balance.
---
Features of a Good Vionic Sandal for Diabetics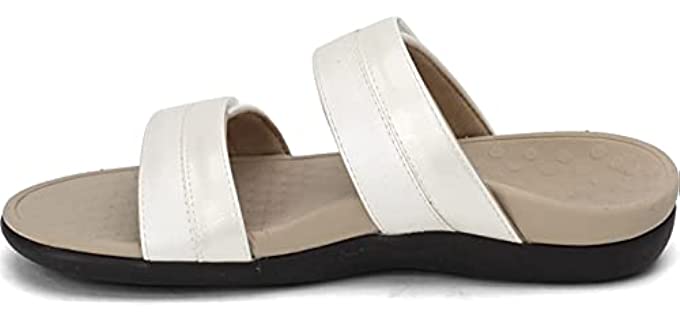 Uppers – Vionic sandals may have leather or textile uppers that are comfortable and seamless to reduce friction. They mostly have adjustable uppers so that you can get the perfect fit.
Comfort and Support – For comfort and support Vionic sandals have an anatomically shaped footbed with good arch support and heel stability. They are cushioned for comfort and shock absorbency.
Fit – Vionic sandals offer a comfortable and roomy fit, and most models are available in wider widths.
Outsole – The outsole can be rubber or synthetic and will provide good underfoot protection.
---
Reviews: The Best Vionic Sandals for Diabetics
As you will see below we have some of the best available Vionic sandals that are ideal for Diabetics;
---
1
The Vionic Colleen is a comfortable casual sandal with soft uppers and a secure heel strap.
The Colleen has a podiatrist design supportive and cushioned footbed and a durable outsole.
The Vionic Canoe has fully adjustable uppers and a secure heel strap.
The Canoe also features a supportive and cushioned footbed and a thick durable rubber outsole.
---
2
Leather Sandals for Diabetics
The Vionic Leo has a concealed orthotic arch support and cushioned footbed and dully adjustable leather uppers.
The Leo features a thick and stable outsole and a closed heel strap.
The Rest Harissa has a strappy design with soft leather uppers.
There is a cork and latex moldable footbed, and a durable rubber outsole in the Rest Harissa.
---
3
Slide Sandals for Diabetics
The Vionic Kiwi is one of my favorite slide sandals for Diabetic feet.
Even though there is no heel strap, the heel cup footbed offers good support and stability.
The sandal has soft padded and lined uppers that are adjustable.
The footbed is cushioned and supportive.
The thick outsole protects your feet and is very durable.
---
4
If you still want to wear those flip-flops to the beach or pool, then rather opt for the Tide from Vionic.
They offer better support and stability for Diabetic feet.
They have a cool and open design and roomy fit.
The footbed is supportive and cushioned, with a thick enough sole for underfoot protection.
---
5
Slide Sandal for Diabetics
These two slide sandals are fully adjustable with soft-lined uppers and a roomy toe box.
They have a podiatrist-designed footbed for support and stability and a cushioning EVA midsole.
The sandal has a durable and stable outsole.
They are available in wider widths and more color selections.
The heel has a heel cup design for lateral stability.
---
6
Ludlow Charlie
The Ludlow Charlie is a more formal-styled leather flat sandal for men.
It has two adjustable uppers straps and a podiatrist-design footbed for comfort and support.
The outsole will protect your feet and offers good slip resistance.
The Vionic Peony is a lovely formal-styled leather sandal with a low heel.
It does have a more secure ankle strap and adjustable fit.
The sandals have a podiatrist-designed footbed and durable outsole.
---
Index Table: Top Rated Vionic Sandals for Diabetics
---
---