Finding the best sandal to travel with may be challenging, and you may need more than one pair.
The options will depend largely on your comfort needs, our trip plans, and personal style.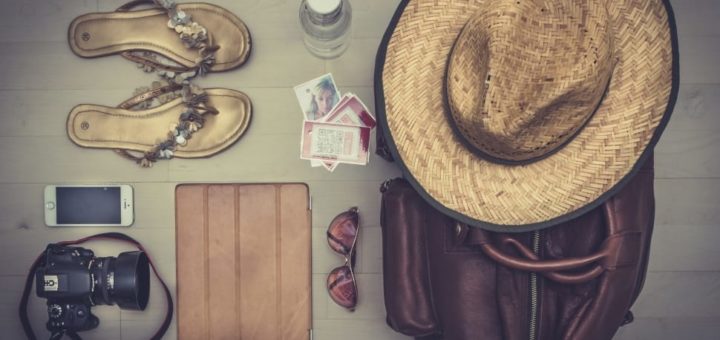 ---
---
Sandals for Traveling What to Consider
Before you can go out and choose some sandals for your summer travels, you need to ask yourself these questions;

What Will The Weather Be Like? – Opting for a sandal means that the area you are visiting generally has mostly warm and sunny weather, which is important to make sure of; otherwise, a sandal may not be the best choice.
What Occasions Will You Be Attending? – If you only go on casual excursions, you can go for informal sandal types. For formal events, you will need something dressy with a heel. A flip flop is ideal for beachwear and hiking in the great outdoors and a sports-type hiking sandal.
What Area Are You Going to be Visiting? – Outdoor and hiking or nature areas require a much more durable and supportive sandal type with a tread designed for outdoor trails. Whereas for indoors and in cities, a more fashionable, comfortable sandal should work.
What are The Walking Surfaces Like? – The walking surfaces can affect your choice of sandals. As mentioned, you will need a trail-specific outsole for outdoors and trails. Simultaneously, a durable and well-cushioned sole is necessary for shock absorbency for hard surfaces and city or urban areas. You may require more lug soles and stability features for uneven and rocky surfaces or slippery surfaces.
What is Your Style? – Last but not least, you must stay true to your fashion sense and style and select something you can wear even after your travels are down.
---
Types of Sandals You May Need for Traveling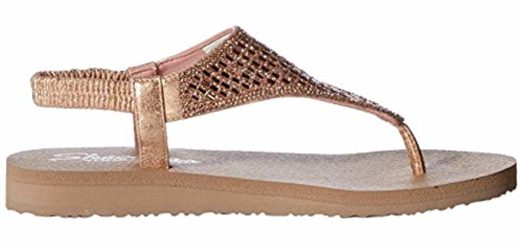 Dress Sandals – Dress sandals are ideal for an evening out or more formal occasions. A dress sandal has a more elegant style, usually a slight heel or a wedge heel if you want something comfortable.
Beach Sandals – For excursions to the beach or poolside, you will need a pair of comfortable and slip-resistant flip-flop sandals for those wet surfaces.
Walking Sandals – Depending on where you are walking, as I have mentioned, a sporty trail walking sandal for outdoors. You can consider an in-between formal and casual sandal for visiting the town and daily excursions, with plenty of shock-absorbing cushioning and a comfortable fit.
Leisure Sandals – These need to be comfortable and not be appealing; you can wear them in your hotel room or on flights to rest your feet.
---
Features of a Good Travel Sandal
Outsole – A durable and robust rubber outsole that offers good traction.
Cushioning and Support – Shock absorbing midsole and cushioning. A comfortable and cushioned footbed.
Uppers – Stylish and elegant design that is multifunctional. Smooth and no-irritating upper design. Adjustability for a customized fit.
---
Reviews: The Best Sandals for Travel
Here you will see some of our top favorites in sandals for traveling of all sorts;
---
1
Comfortable Travelling Sandals
These two comfortable and casual design sandals are ideal for a summer holiday where you will be doing plenty of walking outdoors in a less formal setting.
Both models have a full-length orthotic footbed with a deeper heel cup and biomechanical arch support, which will keep your feet supportive and comfortable.
The outsole is made from a slip-resistant, durable rubber, so you can walk on all terrains and surfaces.
The Triple density EVA midsole and additional heel cushioning help attenuate shock and protect your joints and heels.
The uppers are soft and will not cause any unnecessary friction.
---
2
Memory Foam Traveling Sandals
The Reggae Swag and Louden are two beach-style colorful, casual sandals that are easy to slip on and off and keep in your bag for days on the beach.
The uppers have soft textile and fabric linings and construction in many color variations.
Easy slip-on and off design.
Comfortable and supportive memory foam footbed with a contoured design.
They are fully cushioned for shock absorbency.
Durable design with a rubber outsole and fast-drying, water-resistant materials.
There are an adjustable hook and loop closure for a customizable fit.
Both shoes have a slight heel for better stability, and the sole is flexible.
---
3
A Fisherman's style sandal is always a good idea to protect your toes and feet in hazardous areas and remain cool and comfortable overall. The Fisherman sandal also has a fashionable style that is always in demand.
This sandal features the popular Smart Comfort system for a more customizable fit.
There is an Orthopedically designed, anatomically shaped arch-supportive comfort footbed.
The protective Nylon shank offers excellent puncture proofing and stability features.
A durable and multi-density shock-absorbing outsole designed for all terrains.
Comfortable and soft closed-style uppers that are highly breathable.
---
4
Nothing is as fashionable, globally accepted, and comfortable as the original Birkenstock slide-on sandals.
Synthetic uppers straps with the classic two-strap and buckle design, made from foamy and durable EVA.
A soft cushioned footbed with pronounced arch support and a deeper heel cup.
The footbed will comfortably mold and contour to the unique shape of your feet.
Overall the soles are flexible and durable, with shock-absorbing EVA and a slip-resistant tread.
Available in many color variations to choose from.
---
5
Slide Sandal For Traveling
Under Armour is a top brand in tough and durable sports footwear. Their sandal slide is the ideal quick on-and-off casual wear sandal for those in-between leisure periods.
Soft and quick-drying synthetic uppers with a Velcro closure so you can adjust the fit to your preference.
Features a heatGear, lining to keep you cool and dry.
The footbed has two layers of performance-enhancing 4D foam and is anatomically contoured for your comfort and support.
A re-engineered EVA outsole has durable traction pods on the tread for enhanced traction and grip.
The sole is likewise cushioned for maximum shock absorbency and is very lightweight.
---
6
Casual Sandal For Traveling
From Skechers, we have the sandal designed for doing plenty of walking on your travels, the On The Go 600 model.
Soft and friction-reducing textile uppers that are adjustable for a customizable fit.
A slight platform sole with lightweight 5 Gen cushioning.
A Goga Max high remound comfort and support insole.
The uppers' fabric is soft and heathered.
Durable tread for traction and grip.
Some color variations are available for you to look over.
---
7
Fancy Flip Flop Sandal For Traveling
These are two stylish and elegant flip-flops when you need something more dressy that is still comfortable.
Soft and smooth leather uppers on the Breeze and Nubuck leather on the Bosun Coast.
Synthetic linings to reduce friction.
Comfortable and cushioned sole and shock-absorbing midsole.
Both have a high traction durable outsole.
The Breeze has three neutral color selections, and the Bosun Coast is available in a tan Suede to feel leather.
---
8
Dress Sandal Sandal For Traveling
For those evenings out and about, these are two of the most comfortable dress-style sandals that you will find.
The Jace features waxy nubuck upper with a smooth neoprene lining to reduce friction and absorb moisture.
The Jace also has a foam padded comfortable footbed and a microfiber moisture-wicking sock liner.
We have a few neutral color options available in the smooth leather uppers with decorative laser cutouts in the Winnie.
The Winnie is an adjustable slingback sandal with a comfortably padded and cushioned footbed and a durable rubber outsole.
---
9
fashionable Closed Style Sandals for Travelling
The Brixby and Sillian from Clarks are comfortable and fashionable sandal for traveling.
The Brixby has genuine leather uppers, while the Sillian has an upper textile design.
Both sandals feature a Cloudtseppers Cushion soft technology footbed for comfort and support.
The fisherman style is comfortable and protective.
There are a few neutral colors from which you can select.
---
10
The Teva original is a durable and reliable casual sandal that is ideal for traveling.
The uppers are textiles and fully adjustable.
The sole is flexible and cushioned for comfort with an EVA cushioned footbed.
The footbed is also in line with a microban anti-microbial lining to prevent odors.
There is a Durabrasion high abrasion-resistant rubber outsole.
You can also choose from many color options available.
---
Index Table: Top Rated Travel Sandals
---
---