When it comes to Block Heel sandals, it is not just about the aesthetics but also the comfort features.
The best block heels sandals look fashionable and also fit comfortably.
This article will explore the block heel sandal in more detail.

---
---
The Block Heel Sandal
The Block heel sandal is a fashionable style solution to find a heeled sandal that is still very comfortable.
The Block heel sandal is something you can wear all year round and for all occasions.
Explain a Block Heel sandal is self-explanatory, for that matter, in the fact that it has a chunky block design heel.
The block heel is much thicker and chunkier than most stiletto heels and comes in medium, low, and very high heel styles, almost similar to a stiletto heel.
The Block heel design became popular in the '70s as the hippie platforms took the fashion market by storm.
Today the block heel sandal is a much more practical and fashionable option if you want to stay clear of narrow and uncomfortable heels or very flat sandals.
---
Benefits of a Block Heel Sandal
There are a few outstanding benefits to owning a pair of Block Heel sandals;
Heels That Are Comfortable – We love heels for the sophistication, height, and length they give to our legs, yet they are not too comfortable. The Block heel gives you all the advantages of a regular heeled sandal and is also very comfortable. It is so much easier to walk in a block heel than in a stiletto heel or even flat sandal, for that matter.
Fewer Chances of Injuries – Because the block heel sandal's heel has a larger surface touching the ground, it is much more stable. You will have a much better balance with a block heel sandal and thus be less likely to twist your ankle or fall.
Very Fashionable – Although the block heel sandal has fallen slightly out of fashion in the '90s, it is back in full bloom this season. The Block Heel Sandal is a fashion staple that every woman should own at least one pair of.
No Seasonal Fad – Block Heel sandals can be worn for all occasions, and they tend to remain popular and fashionable most of the time. Therefore, you can invest in a pair of the best block-heel sandals without worrying that they will go out of fashion or season.
Heel Choices – You can choose your heel height with the Block heel sandal. Luckily, block heel sandals come in various heights from low, medium, and very high for the more daring heart.
---
Features of a Good Block Heel Sandal
Here are a few features you can find in the Block Heel sandal;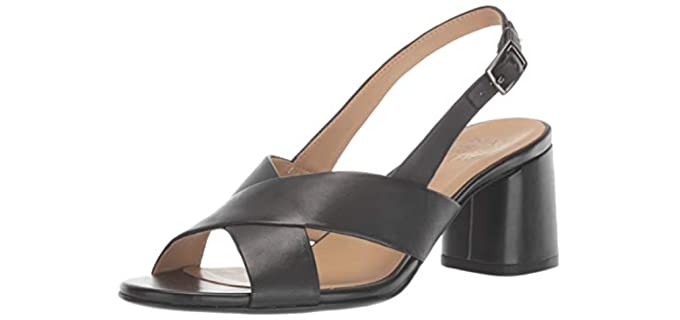 Uppers – The Upper portion of most sandals may consist of genuine leather, synthetic leather, textile, or fabric materials, depending on the brand and model. There are also many styles available when it comes to block-heel sandals.
Comfort Features – Some brands and models of Block heel sandals offer comfort features such as a cushioned and anatomical footbed, arch support, and a moisture-wicking insole.
Heel and Outsole – Block Heel sandals may have a flat sole or platform sole design that can be rubber or synthetic. You may choose between a low, medium, or high-block heel design.
Options – Block Heel sandals come in many colors, prints, and design options reliant on the specific brand and model.
---
Reviews: The Best Block Heel Sandals
In our list, you will find block heel sandals in all styles and heel heights;
---
1
The Allegra K Block heel sandal is an easy slip-on sandal ideal for all occasions and available in many bright and neutral colors.
The Allegra K sandal is available in many colors, from bold and bright colors to softer neutrals.
The sandals are a slide-on design with two straps and a comfortable footbed.
There is a medium to low block heel and flat forefoot.
This is the perfect sandal for all occasions and casual wear.
---
2
A chunkier platform block heel sandal from Madden Girl. These sandals will go well with a long skirt, maxi dress, and flared pants.
The Madden Girl sandal has a high platform sole and a very high block heel with a fashionable and chunky design.
We studded stitching details on the sides, and the sandal looks vintage.
A few neutral colors are available, as well as a completely translucent color option.
The sandal has a strapped ankle and a buckle closure on the ankle strap.
---
3
An Elegant strappy design, medium block heel sandal from Kenneth Cole is perfect for more formal occasions.
colors
The elegant Kenneth Cole sandal features a medium block heel that is fashionable and sophisticated.
This is the perfect sandal for an evening out and is also comfortable enough for wearing to the office.
A single strap over the forefoot and a closed heel with an adjustable buckle closure ankle strap.
The sandal is available in plenty of color variations from which you can choose.
---
4
The Dream Pairs strappy sandal has a low-cut block heel and is available in more colors and printed options. It is perfect for a more formal setting.
From Dream Pairs, the Low Chunky block heel sandal is an absolute fashion must.
It is available in colors and prints from which you can select.
The sandal has a latex-added insole for comfort and a bouncing TPR outsole for steady walking support.
The uppers ate synthetic leather.
The sandal is ideal for formal and informal occasions of all sorts.
---
5
The Chines Laundry Block Heel sandal is available in neutral colors and comes with a high block heel and platform sole.
Another stunning platform sole option with a high chunky block heel.
These sandals will give you length and a fashionable class.
They are available in a few neutral colors from which you can choose.
The sandal has textile uppers and a leather lining for comfort.
---
6
The Naturalizer low-block heel sandal has many comfort features and is available in many more color options.
The sandals have leather or suede uppers, depending on the color option that you select.
They contour technology cushioning in eth footbed for support and a comfortable, breathable, smooth lining for comfort.
The uppers are two straps with an adjustable ankle strap.
The outsole has a non-slip design that offers excellent traction.
There is also a low block heel and a flat front sole.
---
7
The Dream Pairs Block heel sandal is an elegant design.
They have a block heel and a rubber sole.
There is an ankle strap with buckle closure.
More colors are available to you.
---
8
The Dream pairs sandal has a lower block heel.
This is the perfect flat-sole sandal with a slight block heel.
It is available in more colors.
The uppers are leather, and it has a buckle closure.
---
9
From oms, we have a higher block heel sandal.
It has stretchable uppers and a peep toe.
There is a supportive ankle strap and closure.
The sandals are available in more colors.
---
10
The Chinese Laundry brings you their slide Block heel sandal.
This sandal has a medium block heel and flat forefoot sole.
It has two straps and a slide-on design.
The colors are assorted solids and metallic.
---
Index Table: Top Rated Block Heel Sandals
---
---