Vegan leather sandals, or vegan sandals, consist of material snot derived from animals rather than plants and synthetic materials.
This article looks at some of the best options for vegan sandals that have no animal-derived materials in them.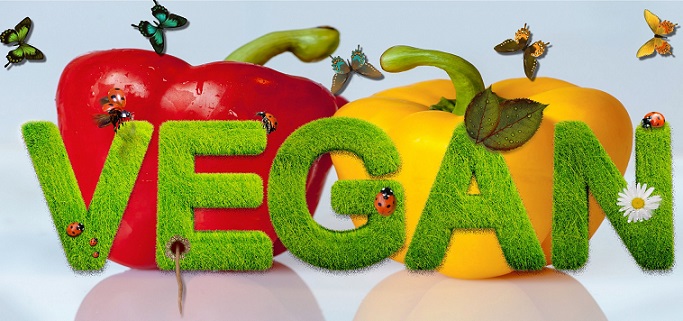 ---
---
What Exactly are Vegan Sandals
Vegan sandal generally consists of natural materials such as cork, rubber, cotton, and other materials or synthetic materials such as PU leather, microfiber, and polyester.
Vegan means that no materials in the sandal come from an animal, no fur, wool, or leather from their hides.
Any individual chooses this option against the killing and misuse of animals. Cruelty against animals has become increasingly evident in society today and mass production. Thus, many choose to take a stand and completely avoid animal-derived products.
---
Choosing Vegan Sandals
Shopping for vegan shoes and sandals may differ slightly, with many leather and wool options available.
Many sandals will come with a tag or label that will list them as vegan or have a diamond or cross-hatch symbol, meaning they are vegan.
You can also review the materials list, as most synthetic sandals are completely vegan.
A few Common Questions about vegan shoes;

Are Vegan Shoes More Eco-Friendly? – Vegan shoes are much more eco-friendly than leather. The production process of genuine leather and animal-derived materials is much more harmful than natural or synthetic materials.
How Long Does Vegan Sandals Last? – Unfortunately, faux, or PU leather, does not last as long as genuine leather, as genuine leather is the most popular. However, natural materials such as Jute, Cotton, and hemp are quite durable.
---
Features of a Good Vegan Sandal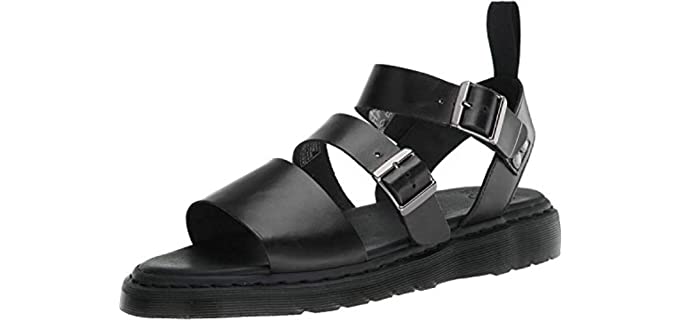 Uppers – The Uppers consist of faux or PU leather, EVA, Rubber, or polyester. The straps may be adjustable.
Footbed – The footbed needs comfortable cushioning and a more anatomical or arc-supportive shape for your comfort.
Outsole – The outsole can be a natural rubber or EVA with a high traction tread.
Options – You may find some color and width options, along with plenty of sizes.
---
Reviews: The Best Vegan Sandals
As you will see, we have some of the top favorite known vegan leather sandals available just for you;
---
1
Birkenstock sandals are well known for their vegan leather uppers and natural cork and latex footbeds.
They are truly vegan sandals with all the natural trimmings.
Here, I have chosen the Mayari, a more underrated design popular in Arizona.
The Mayari has a toe loop and cross straps with a second higher strap and smaller buckle closures for an adjustable fit.
The footbed still features the well-known cork and latex, with a molded shape and deep heel cup for comfort and support.
Like the other Birkenstock models, the Mayari is available in more colors, widths, and extended-size options for men and women.
---
2
From DR. Martens, we have the Gryphon Gladiator sandal model. They, too, are well known for their vegan sandal consisting of vegan leather.
The sandals have a gladiator-style upper and a thick gum rubber outsole with exceptional traction.
The uppers are made of vegan leather, and the footbed is lined with vegan leather.
The sandals offer light underfoot padding for comfort and an adjustable fit with buckle closures.
Furthermore, there are only a few color options available.
---
3
Then we get to the very popular Birkenstock, Arizona, one of the most sought-after vegan sandals.
The sandal has two upper straps with adjustable buckle closures that consist of vegan leather.
The footbed is cork and latex with a soft lining and moldable design, with a heel cup for cushioning and support.
The sandal has a synthetic sole that offers good grip and traction.
As you will see, plenty of colors and prints are available, and, in turn, wider widths and sizes.
---
4
Brown Oak Casual
The Brown Oak for the gents is a vegan leather sporty-style sandal.
The sandal has adjustable Velcro upper straps in vegan leather and a memory foam insole for comfort and cushioning.
The very rugged rubber outsole is designed for outdoor trails and slippery surfaces.
Blowfish Roper
The Blowfish Roper is a comfortable wedge-style sandal for the ladies.
The sandal features vegan leather straps, an adjustable ankle strap, and Velcro closure.
The footbed is lined for comfort and lightly padded.
The midsole has a jute cover to give the sandal a more natural style.
The outsole is a durable rubber for good traction.
---
5
Vegan Leather Slide Sandal
Here, we have more of a slide-on sandal from Dr. Martens with two straps, buckle closures, and an adjustable fit.
The Myles Brando sandal has vegan leather uppers and a durable, slip-resistant rubber outsole.
The footbed is lightly padded for comfort, and the sole has a zig-zag pattern for superb grip.
A few neutral colors are available, from which you can choose as needed.
---
6
The Cushionaire is a sandal similar to Arizona from Birkenstock, likewise fully vegan.
The sandal has two vegan leather upper straps with adjustable buckle closure.
The footbed is a comfortable cork and latex that is flexible and cushioning,
The EVA outsole is of premium quality and offers good traction and durability.
There are also more colors available that are neutral and earthy.
---
Index Table: Top Rated Vegan Sandals
---
---