Block heel sandals can look elegant and fashionable with a much safer and more comfortable heel than panted heels.
However, the most comfortable block heel sandal will have features that offer so much more than just a stable block heel.
If you are looking for the most comfortable sandal with a heel, I can highly recommend block heel sandals.

---
What are Block Heel Sandals
A block heel sandal is a sandal with a heel with more of a solid block shape than the regular thin pointed shape or a flat sole.
You get block heel sandals with a low, medium, or high heel.
Block heel sandals provide much better stability than narrow heeled or flat-heeled sandals.
---
Why Choose the Most Comfortable Block Heel sandals
There are quite a few reasons why I would encourage you to rather opt for a block heel style sandal;

Comfort and Support – Comfortable Block heel sandals have a low or medium block heel as well as comfortable padding and support for your feet. They are designed to look good and comfortable to walk and stand in.
More Stable – The Block heel is much more stable and balanced than a pointy heel or a flat sole. A narrow heel tends to push your foot forward into the sandal. However, a block heel provides more even distribution and weight distribution.
Many Styles and Designs – The Block Heel sandal comes in many styles and designs with different heel heights. They are a fashionable style that you can choose to your heart's content.
For All Occasions – The Block heel sandal comes in both formal and casual options so that you can get something for every occasion.
---
Features of a Good Comfortable Block Heel Sandal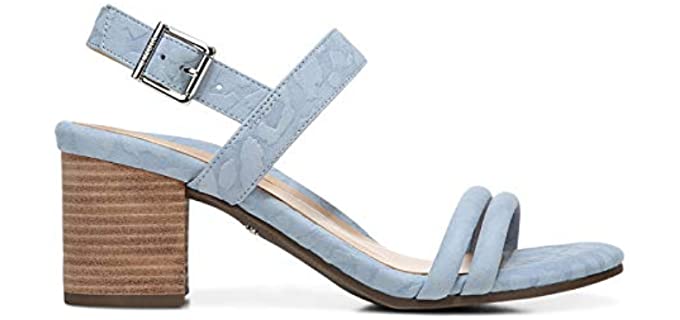 Uppers – Most block heel sandal will have either genuine or faux leather uppers, with some that have textile, or lined uppers. The straps can differ in design and most will have an ankle strap with a buckle closure that is adjustable.
Comfort Features – For comfort there may be foam, memory foam, or padded foam cushioning in the footbed as well as amore contoured footbed design for support, and aa smooth moisture wicking lining.
Sole – The sole will be synthetic or rubber to provide traction and durability.
Heel Height – You can choose from a low, medium or high block heel height.
Colors and Options – The Block heel models that we have chosen do come in many color and prints options from which you can choose.
---
Reviews: The Best Comfortable Block Heel Sandals
These are some of the most comfortable and stunning block heel sandals that you will ever own;
We hope you love the products we recommend!
So that you know, We may collect a share of sales or other compensation from the links on this page.
---
1
The Vionic Peony Block heel sandals are extremely comfortable and good-looking.
They have genuine leather uppers with a front strap and adjustable ankle strap.
The sandals have a podiatrist-designed footbed that cushions your feet and hugs your arches for full comfort and support.
They gave a biomechanical support design and lovely style.
There are more colors from which you can choose.
The sandal has a low block style heel.
---
2
The Clarks Alisa Dedra is a low-block heeled sandal for all occasions.
The sandal has a single front strap and an adjustable thin ankle strap.
It has a flat and durable rubber outsole that offers a good grip.
There is an Ortholite footbed with PU foam and a smooth textile lining for comfort.
The uppers consist of premium genuine suede r smooth leather, and the heel has a very comfortable height.
The sandal is available in solid colors and snake and other animal prints.
---
3
From Dream Pairs, we have the chunkle, which is a Low-Heeled Pump style sandal.
The sandal gas is an open-toe pump style and has a comfortable ankle strap with buckle closure.
It has a high platform block heel and a TPR rubber outsole.
There are some more colors available from which you can choose as needed.
---
4
The Vionic Perk Sofia is an open-toe block heel sandal with Orthotic arch support.
The sandal has 100% soft suede leather uppers and double ankle straps for a secure fit.
It has a podiatrist design footbed that hugs your arches and provides ample cushioning.
A reasonably high but stable block heel is in a contrasting or similar color.
The sandals have a durable rubber outsole for grip and traction.
They do come in a few more solid color options.
---
5
The Clarks Lorene Bright us a lovely low block heeled sandal.
It has a casual style, two uppers straps, and a single ankle strap.
The heel is wrapped in the same material as the shoe.
There is an EVA sole for comfort nd and an Ortholite cushioned insole.
The outsole is a durable and high traction rubber.
---
6
The Cushionaire Nila is a very comfortable low block heeled sandal for ladies.
It has soft vegan leather uppers and an adjustable ankle strap.
There is a Comfortable padded insole and suede lining.
The heel is a very low block design, and the outsole is flexible, offering high traction.
---
7
The Sandalup sandal has a Chunky Block heel and an open toe, with an ankle strap.
For comfort, there is a well-padded insole and a comfortable footbed.
The heel is a medium to low design and ideal for stability.
The sandals are more formal in style and perfect for a night out.
More colors are also available to you.
---
8
The Vionic Papaya Paula is a Block heel sandal offering excellent arch support.
It has a podiatrist design cushioned and orthotic arch support footbed with three-zone comfort cushioning and support features.
The sandal features suede and smooth genuine leather uppers with a single front strap and adjustable ankle strap, with buckle closure.
Furthermore, the sandal has a durable rubber outsole. And a medium-height block heel.
You can choose from a few available solid colors and prints.
---
Index Table: Top Rated Comfortable Block Heel Sandals
---
---