The leather gladiator sandal has been around since ancient times and managed to stay on the fashion scene much longer than most sandal fashions and for a good reason.
The Gladiator sandal is versatile, comfortable, and available in various colors and materials.
---
---
The Gladiator Sandal
The Gladiator sandal was originally a flat sandal with several wide cross straps that held the sole to the foot and ended with one wide strap around the ankle.
Since ancient times, the Gladiator sandal had existed when the Greek and Roman Gladiators wore them in their battles.
Gladiator sandals were one of the most worn footwear in warm climates in the Mediterranean and Roman empires.
The Gladiator sandal got its popularity in modern fashion in the last century. Today, the Gladiator sandal is a fashion icon and a top item in many women's wardrobes.
---
How to Wear Gladiator Sandals
Dress for Your Leg Type – We would advise an ankle-length or shorter-style Gladiator sandal if you have shorter or fuller legs. You can opt for longer and more extravagant styles if you have long and full legs.
Fancy Styles for Formal Occasions – The Gladiator Sandal is perfect for formal occasions. Choose a more glamorous style and also opt for a higher heel.
Best Sandal for Vancations – The Gladiator sandal is the ideal style for vacations. They easily fold flat and take little space in your luggage, and they are versatile enough to wear with almost anything.
Clothing Styles – Well, you can wear a Gladiator sandal with almost anythingYou. They go well with jeans, short dresses and skirts, wide-leg pants, shorts, and a formal dress or pants.
Prep Your Feet – Never wear socks with Gladiator sandals. Make surEnsuree your feet are pedicured and clean before wearing your Gladiator sandals, as this is quite an open style that will show off your toes and feet.
---
Features of a Good Gladiator Sandal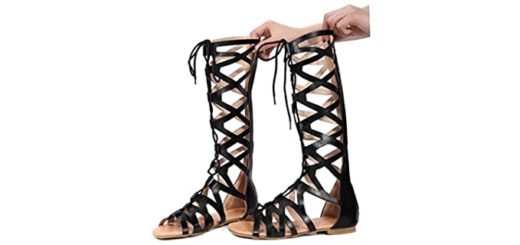 Uppers – the Uppers portion of a Gladiator sandal has many cross straps, which in some models tie around the ankles or can go up to the knees or thighs. The strap styles differ in every model and are manufactured from leather, textile, synthetic, or suede leather.
Insole – The insole can be padded or cushioned for comfort and lined with a leather or moisture-wicking lining.
Outsole – The outsole may consist of rubber, EVA, or synthetic materials with a slip-resistant or smooth tread.
Heel – I have chosen a variety of Gladiator Sandals, some with a flat sole, others with high or medium heels, and a more dressy style with a stiletto heel for formal occasions.
Closures – The original closure style for the Gladiator sandal straps around the ankles, although some styles may have a zip or buckle closure in today's new fashion.
---
Reviews: The Best Gladiator Sandals
These are some favorite brands and models in Gladiator Sandals;
We hope you love the gladiator sandals we recommend!
We may collect a share of sales or other compensation from the links on this page.
---
1
A top favorite in Gladiator sandals from Dr. Martens is available in black or white color models from which you can choose.
The uppers straps are made from genuine leather and have an ankle-toe design.
Dr. Marten keeps the classic DNA with the scripted heel loop and the yellow stitching details.
Built to last very long with Goodyear Welt construction methods.
These sandals are white or black with a solid platform-style gum rubber sole.
---
2
The Sweet Nice Women's Gladiator sandal is a versatile, stylish sandal with various strap designs, materials, and color options.
You can choose between various leather, fabric, or synthetic uppers with or without beaded detailing.
There are open-toe and thong design styles available in this sandal.
The sandal's sole is flat, just like the original Gladiator sandals.
You can pair these stylish sandals with shorts or a short dress or skirt.
---
3
A more extended-length Gladiator sandal design can be worn with shorts or short skirts.
The Yoki sandal features extra-long straps that tie just beneath your knee.
Imported leather is used to construct the uppers, to be durable and comfortable.
The toe is open, and there is a flat uniform sole.
You can get the Yoki Gladiator sandal in either black leather or a red leather choice.
---
4
I like the Hiriri because it has a slight heel with a flat sole, keeping the original Classic Gladiator style with an edge.
The Hiriri is a knee-high Gladiator sandal available in a few neutral color options from which you may select.
The sandal has a flat and thin sole with a slightly elevated heel.
The Uppers straps are manufactured from smooth synthetic leather and toe with laces around the calf below the knee.
The sandal also has an open-toe design and not a thong toe.
---
5
From Gibobby, we have a more formal styled and elegant flat Gladiator sandal with a slight heel.
The sandal upper comprises smooth synthetic leather straps with a few print and color options.
The straps are quite thin and run across the forefoot and around the legs up to the mid-calf.
There is a solid thin sole with a slightly elevated heel for sophistication.
The ideal sandal for an evening out, worn with the right outfit.
---
6
The Camssoo is an elegant and feminine-styled Gladiator sandal with different options with decorative beading and embellishments.
The Camssoo has long, thin upper straps close below the knee with a zipper.
You can choose between different styles and colors in the leather design, some with beads and decorative metal details.
The sole is flat with a slight heel and offers a good grip.
There is a comfortable and very lightly padded insole.
The Camssoo is what we call the caged design in Gladiator sandals.
---
7
A decorated Gladiator sandal with an ankle strap and flat sole.
A flat leather sole with a very slight heel for sophistication and style.
The leather strap uppers have a cross-strap design and decorative details.
The footbed is light and comfortable.
There are also a few color selections from which you can choose.
---
8
Sandal is an excellent choice in a knee-high Gladiator sandal in four colors.
The Gladiator sandal has a knee-high design and a back zipper for a secure fit.
There are four neutral colors from which you can select.
The leather straps are synthetic, and the sole rubber is for a good grip.
The sole is flat with a slight heel design.
---
9
From Ellie shoes, we have a stunning flat Dress style Gladiator sandal.
The upper straps are synthetic leather and are calf-high.
The sole is flat, and there is a closed-heel design.
This sandal is also ideal as a dress sandal for more formal occasions.
The outsole offers good traction and grip.
---
10
From Bebe, we have these cute gladiator sandals for little girls in different colors and size options.
There are sizes available for younger and older girls.
The sandals are also available in three neutral color selections.
The footbed is padded and cushioned for comfort, and the side zipper design offers and secure fit.
There is likewise an anti-skid and slip-resistant rubber outsole for peace of mind.
---
Index Table: Top Rated
---
---