Shower floors, especially public shoer floors, can hold many physical and invisible dangers that can cause injury and illness.
Thus you need the best shower sandal, especially for showering in a public shower.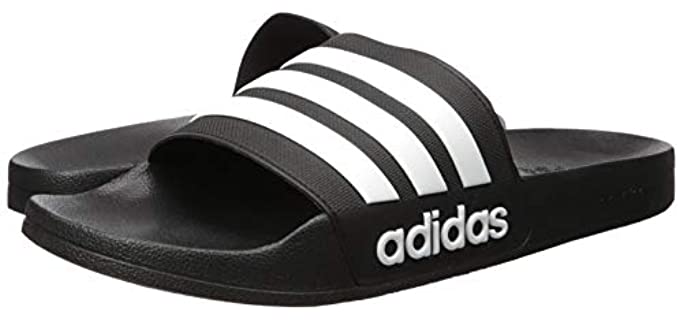 ---
Dangers in Showers and Outside
Whether you are inside the shower or stepping out of the shower, it is important to wear proper shower sandals.
Slips and Falls – Shower floors and the floors in a bathroom can be extremely slippery, and shower floors easily become slippery with soap and other products used in the shower. In turn, this could cause a slipping hazard, which can easily be prevented with a good pair of shower sandals.
Physical Injury – More related to the public, beach, and gym showers, both inside and outside the shower. Physical elements such as sharp objects, broken shower tiles, glass, thorns, and stones could all cause an injury that could easily be avoided with some good shower sandals.
Infections and Disease – Shower floors, especially in public areas such as gyms, schools, and varsity, can hold germs and fungus that can cause bacterial and fungal infections, which may lead to diseases and infected feet.
---
What Too Look for in a Good Shower Sandal
Firstly any good shower sandal needs to consist of water-friendly or water-resistant materials that dry quickly and that you can easily clean off.
A solid and thick sole with a slip-resistant tread is ideal for preventing slips on slippery and soapy shower floors.
Then you need to select a style such as a slide, flip flop, or clog with large drainage holes that will not hold water.
The sandal needs to be made of durable materials, and quality construction, in order for them to last being wet regularly. The style should suit or specific needs and comfort needs, and many shower sandals do come with a cushioned and supportive footbed.
---
Features of a Good Shower Sandals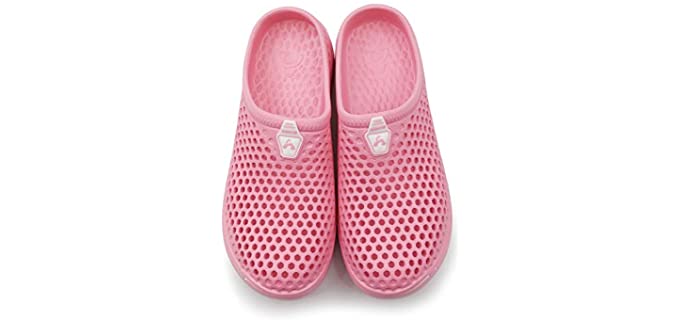 Uppers – Shower sandals need to have waterproof and easy to clean uppers. They are usually foam, EVA rubber, or crosslite form. The Uppers can be a Thong Flip-Flop design, or a slide sandal that is open and will not hold water. For more closed clog-style sandals, make sure that they have large drainage holes for water to pass through. Upper materials need to be quick-drying and water-resistant to a certain point.
Design – Shower sandals can come in many styles and designs, such as slides, flip flops, and more closed clogs designs.
Drainage – A shower sandal should offer good drainage with large holes to drain water and ventilate your feet.
Outsole – The outsole needs to have a slip-resistant and durable rubber or foam tread that will also provide good puncture resistance for physical hazards.
Options – Options available in the sandal we have chosen are mainly in colors. There are neutral, as well as some bold and bright colors available. Some of the models, such as Crocs, do offer wider width fits.
---
Reviews: The Best Shower Sandals
In our review section we have some perfect sandal models that you can use in the shower;
---
1
The Adidas Adilette is a specifically designed slide for showering with.
It has a single cross strap upper and solid sole.
The sandal consists of a water-friendly and quick-drying make.
The outsole is very lightweight and offers comfortable cushioning.
There are also many colors options available from which you can choose.
---
2
The classic Crocs Clogs are also perfect versatile sandals that you can similarly use for showering.
They come in many colors as well as sizes and width options.
The Crocs Classic Clogs have large drainage holes and a closed design.
They consist entirely of a soft and foamy Crosslite foam.
The Crocs have an adjustable back strap and a roomy fit with a wide-toe box.
They have a contoured and supportive footbed.
---
3
The Amoji is actually a gardening clog butt. It has so many versatile uses and makes for the best shower sandals.
The shower sandal has a ventilated design with many drainage holes.
It has a soft and foamy structure with quick-drying materials.
It has a flexible design and can be folded for transport and packing.
There are plenty of colors available as well as many size options.
---
4
The Oofos sandal is ideally a recovery sandal with a rocker bottom sole that reduces pressure off your feet.
Their foamy construction and quick-drying water-resistant materials are ideal for showering.
The sandal is durable and has a slip-resistant bottom.
They are a slide that is easy to put on and take off, with drainage holes.
---
5
The Joomra Pillow Slippers make for the perfect shower shoes and slippers all in one for summer.
They consist of lightweight and durable EVA.
The sandals are a slide design with cushioning and a deep heel cup.
The sole is quite thick and protective with an anti-slip textured tread.
The shower sandal is available in more colors and size options.
---
6
The Crocs classic Flips flops are another excellent choice in shower sandals.
They have a very open design and are easy to slip on and off.
The Crocs classic flip flops come in many colors and ample size options.
They have soft and foamy footbeds for cushioning and comfort.
The flip-flops consist of water-friendly materials that are also quite easy to clean.
---
7
The Happy Lily slide sandal is the ideal shower sandal.
They consist of high-quality Closed-Cell EVA that is water-friendly and easy to clean.
The slide design is quick to put on and take off, and there are large drainage holes on the sizes.
The soles are cushioned and comfortable with a durable textured outsole for slip resistance.
They are available in more colors and size options.
---
8
The Crocs classic slide is another wonderful addition from this brand as a shower sandal.
They come in many fun colors and prints with a comfortable slide-on and off design.
The Crocs slide has drainage holes and foamy crosslite material constriction.
They are water-friendly and very easy to clean.
---
Index Table: Top Rated Shower Sandals
---
---