The benefits of a Cork Footbed are endless. Cork is a versatile and durable material that offers much comfort and support when used as a footbed in shoes or sandals.
Cork has the intricate and unique ability to give you a custom fit as it adapts and molds to the shape of your feet.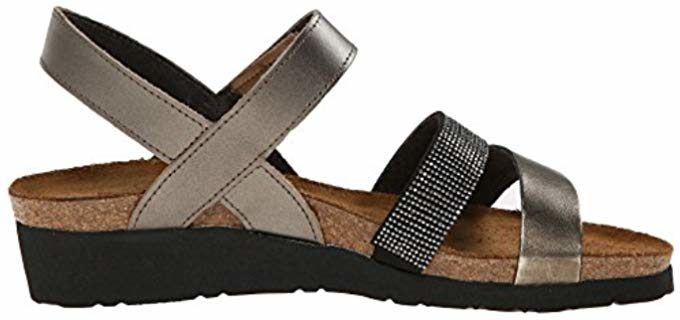 ---
---
What is a Cork Footbed and Its Benefits
Cork is a highly versatile and natural material sued to create many things besides just wine corks and even the footbed of shoes and sandals. Cork soles are bonded with resin to create a durable footbed or sole that offers anatomically precise support and pain-relieving comfort.
Here are some of the superb benefits of a Cork Footbed or sole in a sandal;
Naturally Renewable – Cork is harvested from the material under the upper bark layer of the cork tree. The material is stripped at certain times to prevent damage to the trees, and the material is completely recyclable, making it completely environmentally friendly.
Impact Resistance – If you are actively on your feet for long periods, then a cork footbed could be just what you need. Cork is elastic. Thus, it means less impact on your feet, ankles, knees, and joints. Cork likewise has a very high shock absorbing capability and helps to hold your heels and feet in an anatomically and orthopedically correct position for better-contoured support.
< strong>Odor Resistant – Cork is a natural moisture-wicking material that absorbs odors and prevents moisture build-up. This, in return, helps to reduce the growth of bacteria because it is starved of its vital moisture food supplement.
Form Fitting – Cork is moldable, elastic, and densely packed as a shoe sole. Cork will mold to the shape of your feet with heat and wear for a contoured and comfortable fit that adapts specifically to your feet.
---
Why Choose a Cork Footbed Sandal
Cork footbed sandals are created beautifully and crafted into many different styles and options for you to choose from as needed. The cork footbed provides contoured support and luxury comfort that is lightweight and durable enough for everyday wear.
Cork footbed sandals today are designed luxury to suit any outfit and occasion. You can choose between heel heights, shapes, upper designs, and colors.
Likewise, the Cork Footbed sandal has other support and comfort features, such as additional lightweight cushioning in the sole and comfortable leather or suede lining that helps wick away moisture and prevents excessive friction.
Stability features such as a contoured footbed design and deeper heel cups or shanks provide better support. Then there are different heel styles and uppers designs to choose from as you prefer. Some models even feature an EVA cushioned midsole or outsole for better shock absorbency adding to the cork in the sole.
---
Features of a Good Sandal with a Cork Footbed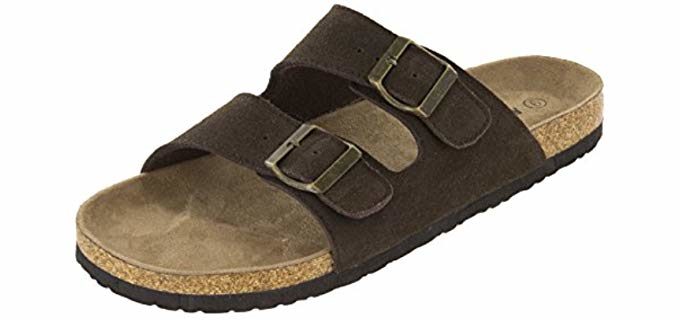 Footbed – A durable, soft Cork footbed or insole. EVA cushioning or midsole for improved shock absorbency and better support functionality. Leather-lined footbed for better moisture absorption and less friction, causing chafing and blisters. Ortholite or Cushion soft technology footbed for better support and cushioned comfort that is durable and lightweight.
Outsole – Lug patterns on the sole offer better grip and traction. Durable synthetic or rubber outsole that provides excellent slip resistance.
Uppers – Comfortable uppers straps. Adjustability in the form of a hook and loop strap or buckles as a closure and decorative detail.
---
Reviews: The Best Cork Footbed Sandals
below are some of the top brands and models in comfortable and durable Cork Footbed or sole sandals that you can choose from;
We hope you love the products we recommend!
So that you know, We may collect a share of sales or other compensation from the links on this page.
---
1
Sandals with a Cork Footbed
Birkenstock is a sandal well known and much sought after for its popular and comfortable Cork Footbed. The Arizona is one of the most popular models in the range and is designed for both men and women.
Soft and supple full-grain leather uppers in vibrant brown color with a smooth finish and buckle closure details on the two straps.
A lug and durable outsole that offers excellent grip and traction.
Birko-Flor style uppers made from polyamide felt fibers.
The cork footbed is covered in suede that wicks away moisture and is soft against the skin.
Eva cushioned outsole for better shock absorbency.
---
2
Sandals with a Cork Footbed
These sandals from Naot have a casual yet more dressy style you can wear for almost any occasion.
A cushioned comfort cork footbed lined with smooth leather for comfort and moisture absorption.
Cushioned EVA sole and a durable rubber outsole.
Flexible design that is comfortable and supportive.
Many color options are available to choose from.
---
3
Two Strap Sandals with a Cork Footbed
The Northside Phoenix and Maraini are comfortable slides on two-strap sandals with a supportive Cork footbed.
Soft synthetic Sude leather two straps with buckle detail available in many colors as needed.
A Moldable and contoured Cork footbed for better arch support and comfort.
Lightweight EVA outsole, with lug patterns for better grip and durability.
Very lightweight and comfortable slide-on design.
---
4
Dress Sandals with a Cork Footbed
Two unique designs and brands of sandals, each boasting the famous Cork footbed.
Bayton Achille
Synthetic leather uppers with adjustable straps and buckle detailing.
The cork footbed is lined with leather for comfort and moisture abruption.
A durable and high-traction EVA and rubber outsole.
Clarks Annadel
Classy Dress Style sandals with a high wedge heel for sophistication.
Genuine leather uppers straps are available in many color variations.
Cushion soft comfort technology,Cork footbed.
Ortholite technology footbed design.
Durable rubber outsole for better grip and support.
---
5
Toe StrapSandals with a Cork Footbed
The Birkenstock Mayari with toe strap is another superb design in Cork Footbed shoes from Birkenstock.
Genuine leather uppers straps with a toe strap and webbing design.
A comfortable and shock-absorbing EVA sole.
Lug patterned outsole for better traction.
Slight heel platform design.
Easy slide-on and off sandals with buckle closures.
The cork footbed is contoured for more comfort and support.
Comfortable cork midsole for better shock absorbency.
---
6
Sandals with a Cork Footbed
The Eastland Tiogo and Caleb are slightly different models, with similar features and a cork footbed.
Both models have leather straps that you can choose in smooth or suede leather and some color options.
An EVA outsole for shock absorbency and comfort and an active memory foam insole exist.
The Footbed has a layer of cork for additional cushioning shock absorbency.
This sandal has a slight heel for stability.
---
7
Flip Flops with a Cork Footbed
These two sandal models from UGG, a top brand, are ideal for beach and casual wear.
The upper comprises f leather and textile materials with a mesh lining for comfort.
Both shoes have a durable rubber outsole and a CORK sock-liner for cushioned comfort.
The Seaside is a Flip Flop design, while the Koolaburra is a Wedge sandal for the ladies.
---
8
Sandals with a Cork Footbed
The Birkenstock Milano for men and women has a cushioned and comfortable Cork footbed and soft leather design.
The Milano has leather upper straps with adjustable buckles as well as an adjustable buckle back sling strap.
The footbed consists of cushioning Cork and is contoured for support.
The upper of the sandal consists of genuine leather and is available in a brown or black option from which you can select.
---
9
The Birkenstock Gizeh sandal is a stylish thong sandal with a contoured cork footbed.
The uppers are comprised of synthetic and leather materials with adjustable design and buckle closure.
The Gizeh is a thong-style sandal for men and women.
The footbed consists of cork and latex for cushioning and support ha molds to your feet' shape.
There is also a shock-absorbing and durable EVA sole that offers good traction.
---
10
Cork Footbed Slip On Sandal
The Naot Shai is a comfortable Suede leather sandal with a contoured cork footbed.
A suede leather upper sandal for men and women.
The contoured cork footbed molds to the shape of your feet for optimal support.
There is a TPR outsole for lightweight and flexible support and traction.
The sandal is comfortable and very durable.
---
11
The Birkenstock Yao Balance and Lugano is another superb addition from Birkenstock in our Cork Footbed sandal range.
Another superb addition from Birkenstock with soft leather upper and a buckle closure system.
They feature the popular moldable cork footbed that is contoured for better support.
The EVA sole is flexible and durable, offering excellent support and comfort.
There are a raised toe bar and a neutral heel cup for better stability.
---
Index Table: Top Rated Sandals with a Cork Footbed
---
---