Widths such a huge variety of evening and dress shoes available on the market today, it may become difficult to find the perfect sandals for wedding guests.
As a guest at a wedding, you may still want to dress quite formally and have a pair of matching shoes.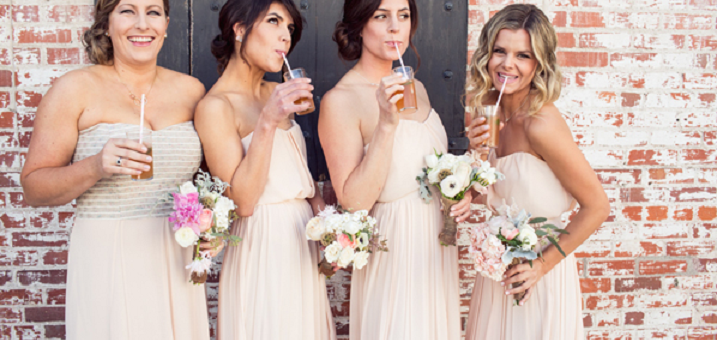 ---
Dress Sandals for a Wedding Guest
It is not always as easy as it sounds to coordinate an outfit for a wedding; however, luckily, women have many more options in dresses and shoes.
One of the most important aspects is the occasion, will the wedding be formal, semi-formal, held at night, during the day, and in what season.
When you can link all these things to your occasion, you can already form a picture of the perfect outfit for a wedding guest.
In the case of sandals for wedding guests, the wedding you are attending is most likely in summer; however, it may still be in the evening or during the day.
I can give one tip to match your wedding guest dress to your sandals in color and slightly in style.
If you wear very flashy sandals, wear a plainer dress. Use light-colored sandals with light dresses and dark-colored or black sandals with darker dresses or outfits for the wedding.
---
Choosing Dress Sandals
Match the Dress to the Sandals – As I have mentioned, when you choose a dress or outfit for a wedding, only the shoes or the dress should be embellished and flashy. If you wear shimmery, glistening sandals, then wear a more plain and solid-colored dress. Use colors that complement your dress or outfit rather than stand out.
Try Evening Sandals – An evening shoe is similar to a dress shoe, with more details and materials to make them more formal. Most evening sandals will have embellishments and luxurious fabrics such as satin and velvet. Dress shoes that are not categorized as evening shoes may be leather or patent leather.
Get the Right Color Sandals – Make sure to choose a color dress sandal to complement the colors of your outfit. Black works well with most darker colors and even printed outfits, however not with pastels, white and lighter neutrals. On the other hand, Silver complements white and pastel-colored dresses, whereas Gold and bright-colored shoes are more daring and suited to darker-colored outfits or printed options.
Get Comfortable Evening Sandals – One thing that I will surely recommend is that you get comfortable shoes for a wedding. You will be on and off your feet, there will be dancing and many activities, so the last thing you want s sandals that you cannot walk in, or that will hurt your feet halfway through the wedding.
---
Features of a Good Sandal for Wedding Guests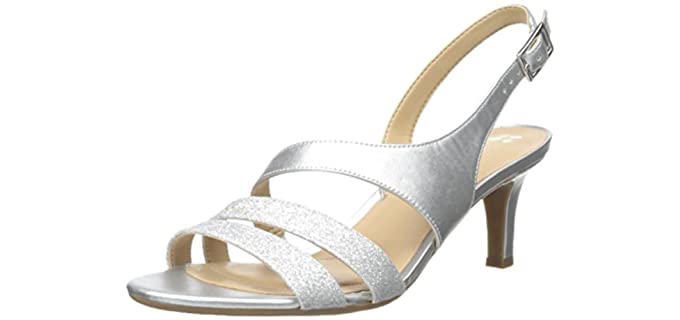 Uppers – Look for sandals that will either patent or smooth leather uppers, fabric uppers such as velvet or sating, or faux leather uppers.
Footbed – Ensure that the dress sandal has some comfort and support features, such as an anatomical footbed with cushioning or padding.
Heel – You can choose the heel according to your preference and your dress length. You get high stiletto or shorter kitten heels, block heels that can be medium, low, or high, as well as wedge and platform sole styles.
Colors – Choose the color of the wedding guest sandal accordingly, as you will see the options we have listed do offer you many choices.
Style – Look for a style that suits your outfit and fashion style. There may be more plain styles or those with glitter and embellishments.
---
Reviews: The Best Sandals for Wedding Guests
In our list, we have some exquisite choices in sandals that you can wear as a guest to a wedding;
---
1
The Drop Avery Square Toe High heeled sandal is perfect to wear if you are a wedding guest.
The sandal has polyurethane uppers with two straps and an open-back design.
The synthetic lining provides comfort and helps to wick away moisture.
The sandal has a slip-on design and closure.
The Heel us high and sophisticated.
The colors available are perfect for formal events, such as weddings.
---
2
We have cute and dressy summer sandals for weddings as a guest from dream pairs.
They are a flat sole sandal hat that is more comfortable if you do not prefer heels.
The sandal has a sprinklers toe and strappy uppers with a comfortable PU and Latex footbed fir cushioning, which is skin-friendly.
There is an adjustable buckle for a more comfortable fit, and many more colors are available.
The sandals are ideal for various occasions, both formal and informal.
---
3
The Betsey Johnson Mel is a comfortable heeled sandal for formal events.
It has textile uppers, a block heel with an embellished toe strap, and a platform sole.
The sandal is exquisite and stylish, with a formal design for weddings.
There are also more colors available.
---
4
From Naturalizer, we have a stunning formal sandal dress that is also very comfortable for wearing as a guest to a wedding.
The Taimi is a dress shoe with a low kitten heel and strappy uppers that show some toe.
They have a very comfortable and cuhsionedN5 footbed and sturdy design.
The uppers consist of a Nylon fabric, and there are many more colors available.
---
5
The Mari by Betsey Johnson is a lovely fashionable style sandal.
The sandal has a single toe strap and ankle strap with a closed heel.
The style of the Mari is very popular, classic, and elegant as a sandal for wedding guests.
It is available in more colors and has a low but sophisticated block heel.
---
6
If you need something very comfortable and in a good fit, especially if you have foot conditions or suffer from back pain, knee pain, or heel pain, I highly suggest the Naot Wand sandal.
It is still a sophisticated style as a wedding guest sandal. However, it has a better fit and more comfortable features.
The uppers offer more toe room, and the straps are very soft and elastic.
The footbed has cork and latex with an arch support design for support, cushioning,
The back is padded for your comfort, and there is a secure ankle strap.
The outsole is a durable polyurethane.
There are likewise a few ore colors available. However, I prefer black as it is black, rather than contrasting soles.
---
Index Table: Top Rated Sandals for Wedding Guests
---
---