A good Minimalist sandal allows you to feel and experience your environment like Barefoot.
The Minimalist sandal is much freer, with fewer features to get in the way, just slight and comfortable protection.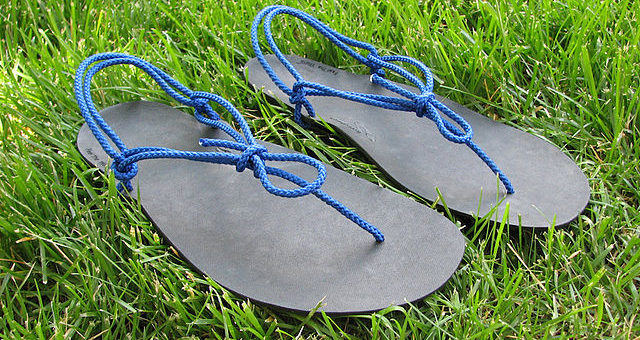 ---
---
The Barefoot Movement
Barefoot sandal weather for running, exploring, or just for comfort is a trend that has exploded next to barefoot running. After the release of the bestseller book by Christopher McDougall in 2009, this happened called Born to Run.
After observing the Tarahumara people's running cultures in Mexico, McDougall concluded that humans evolved by running barefoot and argued that the advancements of most running shoes are doing much more harm than good to our feet and health in general.
The result is to run Barefoot or opt for minimalist sandals, which are very close and similar.
---
Minimalist Sandals and What To Look For
Running barefoot causes less impact and gives you better balance because, with shoes, the heel hits the ground first, and then the team and the midstroke hit the ground flat, which can cause overstriding and other issues.
Since your feet are forced to cope and engage with the ground's contours and imperfections when you wear minimalist shoes or run barefoot, they are more balanced and have less strain and impact.
Zero Drop – This means that the sole is even, and the heel and front are the same height. Zero-drop shoes relieve knee pain and improve muscle strength, agility, and balance.
Thin Sole – Anything thicker than 12mm, with no more Barefoot feeling, preferably 5-8 are best. The Thinner the sole, the more flexible the sandal, and the better the Barefoot feel.
Lightweight – Any Minimalist sandal must be very lightweight, almost featherlike on your feet. However, genuine leather and materials are heavier than most synthetic leather.
Thong Straps – Many Minimalist brands use specially designed laces and straps that are lightweight, comfortable, weather-resistant, and adjustable in fit. However, straps may cause hotspots and squeeze your toes after a while. Here is where the Thong strap comes in. The thong strap is less confining, and most of your foot is left open and untouched by any materials.
---
Features of a Good Minimalist Sandal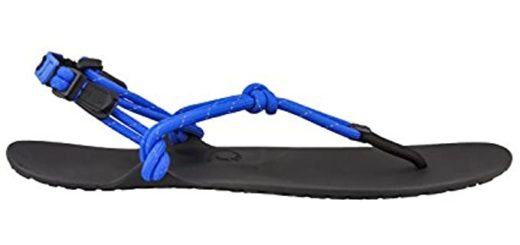 Uppers – The Uppers on a minimalist sandal usually have a thong design or very loose straps. Textile, fabric, and leather can be used for the upper, with or without a lining.
Sole – The sole is usually made out of rubber or EVA and is minimalistic, offering protection against sharp and protruding objects without impeding the feel of the earth under your feet. The tread is usually lugs or patterned for better traction.
Cushioning – Most Minimalist sandals will not have to cushion, somewhat slight padding, a lining on the footbed, or just the EVA from which the sole is made.
Designs – The Minimalist sandal usually exists in Yoga designs and styles and some sports styles and designs. There are likewise color options in some of the models.
---
Reviews: The Best Minimalist Sandals
Here are our top choices in comfortable and liberating Minimalist sandals;
---
1
Minimalist Trail Running Sandal
The Z-Trek from Xero Shoes is popular among runners and has a minimalist outdoor sports and running approach.
The Z-Trek is a Trail running minimalist sandal.
It is an extra, lightweight, and comfortable design sandal with a Zero Heel drop designed for that barefoot feeling.
The outsole is made from a lightweight and high grip durable rubber.
You will also enjoy the extreme flexibility of this sandal and the fact that it can be easily rolled up and stored in a small bag or pocket.
Some color options are available for you to choose from for your own personal style.
---
2
Minimalist Flip Flop Sandal
The Sanuk Beer Cozy is preferred among many minimalists and those who practice Yoga.
The sandal has a durable and slip-resistant rubber sole that has a slight heel.
The Footbed is a Yoga Mat design and is slightly padded.
Comfortable polyester is used for the uppers, and the uppers are available in many different colors.
The Sanuk sandal is very lightweight but offers underfoot protection and comfort.
---
3
The Teva Original is among the most favored sandals for sports, water sports, and casual wear. It has a minimalist and lightweight design with some comfort and protection features.
One of my favorites for running, sports, and activities is the Teva Original sandal.
The Teva original has textile uppers that dry quickly and can be washed easily.
The straps on the top and back are adjustable with a hook and loop Velcro closure for a comfortable fit.
You can look forward to a Footbed cushioned with EVA, which has a Micro Ban Zinc-based antibacterial treatment to resist odors.
Durbrasion Rubber is used for excellent grip and durability for the outsole on this sandal, high abrasion-resistant.
---
4
The Skechers Rock Crown and Flex Advantage are lightweight runnings and outdoor sandals. They are not quite minimalist but extraordinarily lightweight and flexible, so I have added them if you want something in between.
They have synthetic Jersey knit upper straps made from durable and quick-drying Nylon.
The uppers are adjustable for a more comfortable fit.
The Yoga Foam cushioned footbed is exceptionally lightweight and flexible, allowing more natural movement and some cushioning.
The outsole is durable rubber and flexible, with a tread for outdoor terrains and slip resistance.
---
5
The Mono Winged sandal from Luna is a flexible and lightweight Minimalist Trail walking sandal.
These are adventure sandals designed to be durable and ideal for all terrains and environments.
There is a durable Vibram Morflex outsole for superior grip and durability.
An MGT footbed with Monkey grip technology ensures a base that will not become slippery under your feet.
You can also easily customize the fit with the continuous strap made from climbing-grade tubular rope webbing with adjustable buckles.
---
6
Another excellent addition from Xero shoes is the Genesis and Jessie for men and women.
A very flexible and lightweight Minimalist THONG style sandal for men and women.
Better than flip flops offering much better grip and durability with a much lighter weight.
The Zero Drop flat sole is flexible and durable, allowing proper balance and posture.
There is a soft woven upper with a secure toe loop and an open design.
There are likewise a few colors that you may select.
---
7
Minimalist Design Sandals
From Xero Shoes, we have the minimalist barefoot trail walking shoes the Jessie and the Z-Trail.
The Z-Trail has an open-toe design, while the Jessie has a toe loop.
Both sandals have adjustable textile uppers.
The sole is minimalist in design and offers a more barefoot feel.
The sole is a durable rubber that also ensures a good grip.
The sandal is very flexible and easy to walk with.
---
8
The Crocs Swiftwater is a lightweight minimalist hiking and outdoor sandal.
The sandal consists of lightweight Croslite material.
The footbed offers comfortable cushioning.
The outsole is durable and ensures excellent slip resistance.
There are a few color options from which you can select.
The uppers are adjustable for a perfect fit.
---
9
Minimalist Flip Flop Sandals
The Havaianas range offers a very lightweight minimalist design Flip Flop for everyday wear.
The Flip Flop consists of rubber with a light rubber sole.
There are many color options available from which you can choose.
The flip-flop sandal is very light yet still durable.
The footbed offers light cushioning and protection.
---
10
Minimalist Design Flip Flop Sandals
The Reef Fanning is the perfect outdoor Minimalist Hiking Flip Flop sandal.
The uppers are synthetic Nubuck leather.
There is a Herringbone patterned rubber outsole for better traction and grip.
There is also an additional bottle opener in the sole.
You can choose from a few color selections in the Reef Fanning.
---
Index Table: Top Rated Minimalist Sandals
---
---