With so many sandal varieties available today, the choice may be quite overwhelming.
But why not opt for the very basic and all-time favorite leather sandal that has been in fashion for so many years?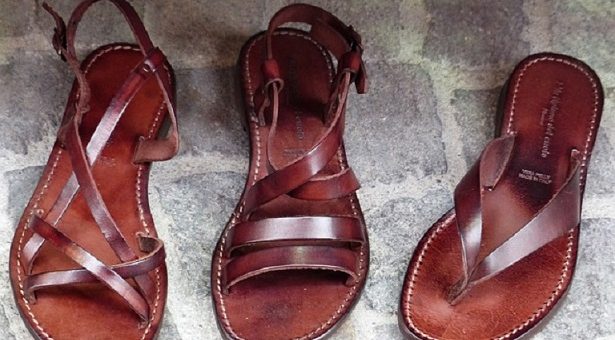 ---
Why Choose Leather Sandals
Regardless of their purpose, the leather sandal is very stylish and affordable. Leather sandals, however, do not blend well with moisture, so I generally do recommend them for beach and pool wear.
On the other hand, some treated leather sandals are waterproof.
Leather in sandal has some exceptional quilts and unique attributes that make it one of a kind;.'
Some Qualities of Leather Sandals

Leather is a semi-porous material that breathes well and will help to reduce sweating.
Leather sandals can b quite rugged and last for many years.
You can easily wipe a leather sandal clean as it is not absorbent.
Most leather sandals do not contain harmful chemicals.
Leather sandals are flexible, and the leather, in time, will mold to the shape of your feet.
Leather is also very comfortable against your skin.
Furthermore, leather has a classic and timeless style.
Leather sandals can last extremely long, even a lifetime, if properly managed.
Leather Sandals May be More Expensive Depending on the Leather
However, as you will notice, most genuine leather sandals will be quite expensive. On the other hand, faux leather such as Pu leather sandals can be quite affordable, though not as durable.
---
Benefits of Wearing Leather Sandals
When it comes to ranking sandal materials, leather by far outshines the rest in terms of durability and other qualities;
Excellent Quality – Leather is long lasting, durable and exceptionally good quality.
Comfortable – Because leather will conform and flex with the shape of your feet, it's the most comfortable material that is soft and supple.
Always Fashionable – Leather is a material used in sandals that never go out of style.
Easy to Clean and Maintain – Genuine and Faux leather is easily wiped clean and maintained. Thus you do not need to wash your leather sandal. Rather, wipe them clean and use leather oil for genuine leather.
Natural Material – genuine leather is a completely natural material that I usually eco-friendly.
Leather Ages Well – Genuine Leather, unlike other materials used in shoes, ages well and becomes more comfortable with age.
---
Features of a Good Leather Sandal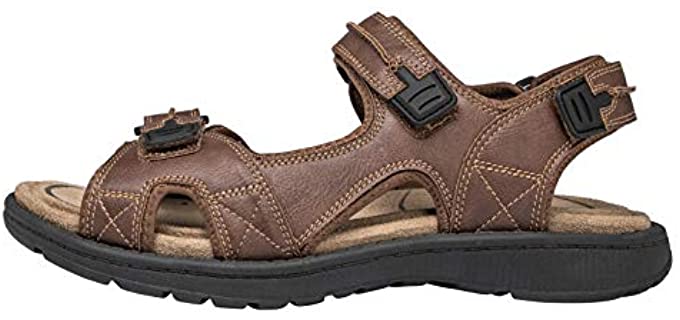 Uppers – Look for a sandal that has either genuine, vegan or faux leather uppers. There may be a comfortable mesh lining, and the uppers may be adjustable, with a hook and loop closure.
Footbed – The footbed needs to provide good cushioning and anatomical, or arch support.
Outsole – Rubber is a good material for the outsole, however sometimes EVA is used. Look for a lug tread that provides good traction.
Options – From our list you will find that most of the chosen sandal models do offer some choice in color. There are plenty of sizes, and some even have wider width options.
---
Reviews: The Best Leather Sandals
Listed below are some of the most comfortable and ideal sandals, that are genuine leather.
We hope you love the leather sandals we recommend!
So that you know: We may collect a share of sales or other compensation from the links on this page.
---
1
Here we have the Vionic Rest Harissa and the Vionic Canoe leather sandals with adjustable uppers straps and a more formal style.
The sandal does come in more colors. The Harissa has many more, whereas the Canoe only has a few neutral colors options.
The sandal is available in wider width fits and extended sizes, and plenty is available.
Both sandals feature a comfortable anatomically shaped footbed with plenty of cushioning.
The Rest Harissa has a Microfiber lined cushioned footbed and a durable rubber outsole, whereas the Vioic Canoe features an EVA footbed and sole with a podiatrist design.
---
2
The Sandalm leather sandal is a basic flat sandal design that goes back to ancient times.
The particular model I have chosen has gladiator-style strappy uppers in genuine leather, with a leather-lined footbed.
The sandal offers very little cushioning and support, as it is a minimalistic design.
The sole is a durable rubber that will offer good slip resistance.
Furthermore, you can get the sandal in many bright and bold colors, as well as black and neutral browns.
---
3
Form Rockport I have chosen a slingback thong design sandal for the ladies and an adjustable sporty sandal for the men.
The Ridge Sling has genuine leather uppers with an anatomically molded EVA footbed that is lightweight, flexible, and impact absorbing.
Furthermore, the Ridge has a TPR outsole for exceptional stability and traction.
The Rocklake Flat sandal for men has fully adjustable leather uppers lined for your comfort.
The Rocklake also features a lightweight shock-absorbing comfort system, an EVA midsole, and a durable high traction rubber outsole.
Both these sandal models do offer availability in more colors.
---
4
The Chaco Wayfarer is another favorite leather sandal that comes in many neutral colors for men and women.
The Chaco wayfarer features strappy leather uppers with a comfortable fit and closure.
There is a Luvseat Dual-density EVA footbed for cushioning and support.
The outsole uses a durable rubber that is non-marking and offers excellent traction.
The uppers also consist of excellent quality full grain genuine leather.
---
5
Arch Support Leather Sandals
The DR. Scholls Gus and Adelle 2 are lovely leather sandals that offer many comforts and support features.
The Gus sandal has genuine leather uppers that give pebbled leather straps with adjustable hook and loop closures.
The Gus likewise features a cushioned memory foam insole for comfort and a durable synthetic outsole.
The Adelle has genuine leather uppers with adjustable hook and loops straps, similar to the Gus.
The Adelle sandal has a padded heel strap for comfort and a padded cushioned insole with an anatomical shape for better support.
Boh sandals are lightweight and flexible to move with you.,
There are also more color varieties available.
---
6
Something a bit more on the formal side is the Vivienne and Rocklake Fisherman's sandal from Rockport, ideal for all occasions.
The sandal features genuine leather uppers with adjustable straps for the perfect fit.
The Vivianne for the ladies has a medium-height block heel and platform with a durable rubber outsole.
The Vivianne also features a cork-covered midsole and microfiber lining, with EVA cushioning in the midsole.
The Rocklake Fisherman-style sandal has an EVA midsole and latex footbed for comfort and cushioning, with a durable and high traction rubber outsole.
You can get both sandals in a few more color options.
---
Index Table: Top Rated Leather Sandals
---
---