You may have endless wedding accessories and preparations to plan and purchase; however, your wedding sandals should also be a priority.
If you are not the bride but a guest or bridesmaid, your sandals are also a vital part of your wedding ensemble.
Choosing the best sandals as a bride or to a wedding as a guest or bridesmaid should not be taken lightly. That is why we have listed some of the perfect wedding sandals.
---
Do's and Don'ts for Finding the Best Wedding Sandals
Here are a few Do's and Don't's for a wedding the best Wedding sandals for a bride, bridesmaid, or even a guest;
Find Your Dress or Outfit First – You need to know exactly what you are wearing or have your wedding dress first before you can choose matching sandals. You want your sandals to match and complement your dress attire and jewelry in every way possible, especially if you are the bride.
Don't Wait Until the Last Minute to Buy Sandals – It is the worse idea to wear brand-new sandals to a wedding, particularly for a bride. Make sure you have a few days with your wedding sandals to wear and break them in, as well as to make sure you can actually walk and operate in them properly.
Try On Before You Commit – Try on your Wedding sandals before you purchase, walk in them for a short while, and ensure they are comfortable before you commit.
Play With Color – You can Play with bold colors and metallics as long as they match your attire or wedding dress in some way. Please make sure to be bold.
Consider the Venue – When picking sandals, consider the venue and the floor surfaces you will be walking and dancing on. High stiletto heels may not work well on a beach or grassy outdoor venue.
Prioritize Comfort – Choose comfortable sandals, as you do not want painful aching feet all day.
---
Best Color Options in Wedding Sandals
Most bridal dresses are white or a shade of white, silver, white, cream, gold, or a matching lighter color; a sandal option is always best.
Other than for other colors in wedding dresses, guests, and bridesmaid dresses, choose a sandal in either matching color, a darker option, or a neutral black, tan, silver, or gold option.
---
Features of a Good Wedding Sandal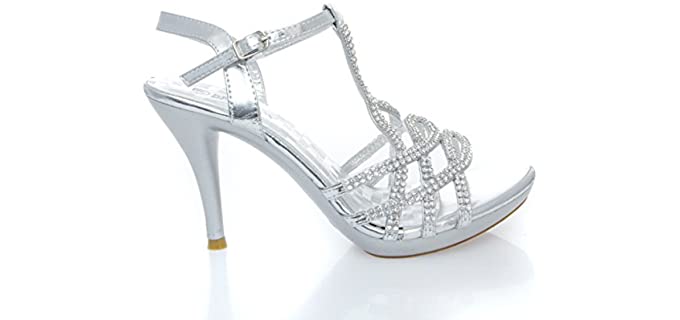 Uppers – Style and color are quite important for the uppers on a wedding sandal. An elegant strappy style with decorative details such as rhinestones, glitter, and bows is an excellent choice. Leather, Synthetic leather, and some materials such as satin and velvet are all ideal for wedding shoes.
Footbed – Usually, most Dress style sandals do not offer much comfort. Yet, a padded footbed with a leather or fabric lining can be useful for comfort and moisture management.
Outsole – For the outsole, you will usually have a platform, stiletto heel or other heel types, and a synthetic or rubber outsole to provide some grip.
Other Features – Features such as decorative details and comfort insoles are found in some wedding shoe models.
Options – There are many color and size options when it comes to wedding sandals, although sticking to basic colors such as white, silver, gold, and black are usually the best.
Closures and Adjustability – Most wedding sandals will have a buckle or press stud closure, and a few may have a Velcro closure with adjustable straps.
---
Reviews: The Best Wedding Sandals
Here are some excellent options in Sandals for Brides, Bridesmaids and even Guests to wear to a Wedding;
---
1
From Dream Pairs, the Low Chunky Heeled sandal is the most glamorous and comfortable choice as a wedding sandal for brides, bridesmaids, and even guests.
As you will see, the sandal is available in many color options and prints, and white, gold, and silver options for a bride.
The lower heel is still sophisticated yet more comfortable, and the open design is cool for summer.
There is a Lightly cushioned footbed for comfort and a durable synthetic sole.
The Ankle strap is adjustable to get a more secure fit.
---
2
The Jiajia Bridal Peep Toe Sandals are explicitly designed for Brides and come in two shades of white.
These are unique antique styles sandals with a Peep-Toe and lace and ribbon decorations.
The heel is low and pointy for comfort and sophistication.
The sandal offers a comfortable and snug fit and has different width options.
The rubber sole is likewise more durable and offers a good grip.
---
3
From Mrs. Right, we have another stunning Bridal shoe with a stiletto heel and lace and satin construction.
The Upper is a strappy leather design with lace and satin finishing and a stained flower imitation with pearl embellishments,
The closed style is more formal, with a medium stiletto heel.
The sandal offers a comfortable fit and is the perfect design for Brides and even bridesmaids.
The Color options are neutral and will complement any dress style very well.
---
4
The Elegant Park women's High heel Pumps are ideal for Brides, guests, and Bridesmaids with an elegant formal style.
The Sandals are available in neutral and bold color options, perfect for formal wear to a wedding.
The design has a peep toe, platform sole, and high stiletto heel.
These sandals are for the more extravagant and daring ladies.
The synthetic sole is durable and will offer good traction.
---
5
The V-Luxury Wedding sandal is perfect for Brides with a decorative and sensual style.
The Strappy leather uppers are silver with white rhinestone décor.
There is a high stiletto heel for sophistication and a platform design sole.
The footbed is lightly padded for comfort, and the sole offers excellent traction.
The uppers consist of PU leather that is soft and durable.
---
6
From Touch Ups, we have their Jane Ankle strap sandal, which I recommend for guests and bridesmaids at the wedding.
The sand is classy, sophisticated, and yet still comfortable.
The sole is flat with a low pointy heel that is more formal in style.
There are strappy uppers with a slingback ankle strap and peep toe.
You can choose from a black, white, beige, or dark blue color option,
The footbed has light padding for comfort, and the low heel is much easier to walk.
---
7
The sandals are completely synthetic.
They have a T-Strap and a flat sole.
There are rhinestones on the T-Strap for decoration.
You can also choose from a few available neutral color options.
---
8
There are many colors available in this sandal.
It has an elegant strappy design and a durable rubber sole.
The footbed is cushioned with faux suede.
There is also rhinestone detail for decoration.
---
9
The sandals have soft textile uppers.
There are a few neutral colors available.
There are low-heel and ankle straps.
The toe strap is decorated and embellished.
---
10
These are kitten-heeled strappy sandals.
They are available in more neutral color options.
The uppers are synthetic, and the sole is a TPR rubber,
There is a lightly padded Faux leather insole for comfort.
---
Index Table: Top Rated Wedding Sandals
---
---