So you have finally gotten around to taking that much-deserved cruise ship trip. If it is in the summertime, you will need some good sandals for your trip.
In this article, I have a few different sandal types that are the best for wearing on a cruise ship for every occasion.

---
The Best Sandal Types for Wearing on and Off a Cruise Ship
Some sandal types work well when on a Cruise ship, and that is an absolute must. You may also need two or more different sandal types, depending on your outings.
Flip Flops, Thongs, and Slides – These are the casual sandals styles that are ideal for wearing on deck to the pool or the beach.
Casual Sports or Hiking Sandals – Although this is a choice up to you, I have found that a more robust and slip-resistant Hiking or Sports type sandal comes in handy for many occasions. Outdoor hikes, beach trips, or just general walking are all situations where these sandal types are ideal; however, keep in mind that they are also very casual in style.
Comfort Sandal – A general elegant styled sandal that has a comfortable footbed and rubber outsole for traction is perfect to wear on deck, out on day trips, and for almost every occasion.
Dress Sandals – For those evenings out or very special for formal occasions, a good pair of dress-heeled sandals will come in quite handy. You can opt for a safer wedge heel or a lower block heel design,
---
Why Sandals for a Cruise Ship
Sandals come in many types, styles, and forms, and for a summer vacation on a cruise ship, they are the perfect footwear.
A sandal is lightweight, takes up very little space, and is perfect for wearing on a Cruise ship and even on and off to beaches.
You can get a dress sandal for formal events on the cruise ship and use a casual walking sandal for everyday wear.
Sandals are very versatile and comfortable, as well as the perfect summer shoe.
---
Features of a Good Sandal for Cruise Ships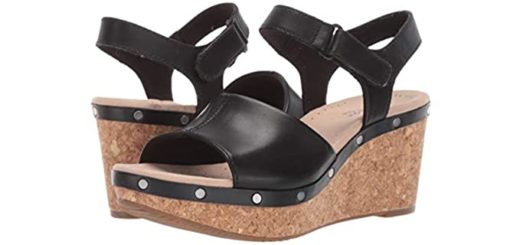 Dress Sandals – These will have a wedge, high, or medium design heel and uppers leather or synthetic straps with a more formal style. The footbed can be padded for comfort, and there should be an adjustable strap if it is not a slide-on design.
Walking Sandal – Your walking sandal can be anything from a comfort casual or a hiking sports sandal with a cushioned and supportive footbed, as well as a durable rubber outsole with a lug tread for slip resistance. Leather, textile, or synthetic materials are ideal for the upper with a buckle or hoop and loop closure for an adjustable fit.
Beach Sandal – FlipFlops or Slides are ideal for beachwear and need to have some water-resistance as well as a comfortably cushioned footbed and comfortable synthetic or textile uppers, usually rubber or plastic.
Casual on Deck Sandal – This is just a comfortable and fashionable sandal with leather, canvas, synthetic upper, a slight platform or heeled sole for sophistication, and a comfortable footbed on all occasions.
---
Reviews: The Best Sandals for Cruise Ships
These are your best choices in sandals for wearing on Cruise Ships;
---
1
The Teva Tirra is the ideal all-purpose sandal for Cruise Ships, and it is slip-resistant, durable, and perfect for on and off the ship.
Polyester fabric and synthetic materials are used in the uppers.
There is a durable and slip-resistant rubber sole.
The upper straps are adjustable and feminine in style.
With the energy-returning cushioning in the footbed and the heel cup, you enjoy optimal comfort and support.
The footbed is likewise treated with microban zinc technology to reduce odors.
---
2
The Clarks Annadel is the perfect Dress sandal for those more formal events and occasions on a Cruise Ship.
The upper consists of genuine durable leather, and there are four color options.
The design has a wedge heel with a slight platform lift.
Cushion soft technology and Ortholite footbed provides comfort and support in the sandal.
There is also a smooth textile lining for moisture management.
The straps are adjustable with a hook and loop closure.
You can choose from four neutral color options.
---
3
The Iqushion from FitFlop is my favorite pick for days at the beach when you are off the ship or on deck by the poolside.
The Iqusion features an ergonomically shaped footbed with a foam midsole and an anatomical shape and arch support and added heel and forefoot Air cushioning.
Many color options are available on the flip.
You can easily wash and clean your Iqushions, and they are water-resistant.
The outsole is durable and offers good slip resistance.
---
4
I have chosen the ECCO Flowt as another versatile and comfortable wearing sandal that you can wear on and off the Cruise Ship.
The Flowt is available in many colors with leather uppers and leather lined.
There is a microfiber lining on the footbed for cushioning and moisture management.
The sandal has a causal sporty design and is ideal for all occasions.
The Outsole has direct-injected PU materials for durability and flexibility.
---
5
A great choice in sandals for wearing in the shower, to the pool, or just for leisurewear is the slide design Adilette from Adidas.
The sole is rubber and very slip-resistant.
All the materials are water-friendly and resistant.
There is a massive range of colors available from which you can choose.
The footbed has a contoured design and is cushioned for comfort.
---
6
The On the Go 600 from Skechers is a comfortable, sporty sandal that is also ideal for wearing on a Cruise ship.
Another sporty comfort model for all occasions.
The On The Go 600 has a Goga Max High rebound insole and 5Gen responsive cushioning for support and comfort.
The straps are quick-drying and adjustable.
The upper consists of soft heathered fabric, and there are some color options available with a solid black or a solid white sole.
---
7
From Vionic, we have comfortable and supportive casual sandals for Cruise Ship trips.
The Amber comes in a few neutral colors from which you can select.
There is a rubber outsole for durability and traction and durable leather uppers.
The uppers are adjustable, and there are wider widths available.
There is also a Cork and EVA microfiber wrapped footbed that cushions and absorbs moisture.
---
8
The perfect cruise ship casual sandal is the Keen Rose.
The design is fashionable and classy, with a sporty style and durability.
There are comfortable uppers with a hook and loop strap fr closure.
The thick and supportive sole has EVA for cushioning and a non-marking rubber for the outsole.
There are plenty of feminine color options from which you can select.
---
9
The Vionic Kirra Thong is a lightweight casual sandal for wearing on an off deck on the Cruise Ship.
The uppers are genuine leather with a thong style and supportive adjustable back strap.
The footbed is cushioned with EVA with a microfiber wrap to absorb moisture.
Tere is a durable and high traction rubber outsole with a low heel design.
You can also select from many colors available in this range.
---
10
The Merrel Sandspur Rose is a comfortable and sporty style sandal for everyday wear on and of the Cruise Ship.
The uppers are leather and synthetic with a decorative D-Ring leather strap.
There is a shock-absorbing EVA midsole and a leather-wrapped comfort base cushioned and contoured footbed.
The M-Select Grip rubber outsole is highly slipping-resistant and durable.
---
Index Table: Top Rated Sandals for Cruise Ships
---
---