No outfit, particularly formal wear, is complete without the right shoes.
The main issue with Dress shoes, however, is that they are usually quite uncomfortable.
A lightweight pair of Formal-Styled sandals could be a hit with any outfit for a formal occasion or event in the summertime.
---
Choosing a Dress sandal According to Comfort Features
Sandals seem to be an easy option in the summertime for any occasion, but let us not forget about the bumps and bruises caused by uncomfortable straps, the unsupportive footbeds, and lack of support. Luckily I am here to assure you that there are so many supportive, comfortable, and still fashionable sandals to choose from as Dress sandals for any occasion.
Uppers – Looking for a comfortable sandal, you need to look for an upper design with straps that will offer an adjustable fit that has smooth linings, and that will not irritate your feet.
Sole – A contoured, padded, or cushioned footbed can be all that you need for comfort and support; with a stabilizing deeper heel cup, an EVA shock-absorbing foam midsole will likewise help to reduce the impact on your feet.
Outsole – Lastly, a slip-resistant rubber outsole provides a better grip to prevent injuries and accidents, and the heel height will add stability in a supportive heel type.
---
Choosing the Best Dress Sandal for the Occasion
Here are a few great tips in choosing the right dress sandal for the occasion;

For Work in the Professional Environment – For any professional environment, keep in mind that you want to look and feel your best. Opt for a comfortable sandal with a lower heel and some embellishments or decorative detail. Always opt for darker and more neutral colors as they match most outfits and give a more sophisticated and professional appeal.
Flat Soled Dress Sandals – You do not necessarily need heels for a formal event or to jazz up your outfit, flat sandals can be just as flattering in the right setting. When opting for flats, look for pastel or more feminine and flattering colors and some decorative details. I would recommend flats with shorter skirts or dressers and narrow trousers than long flowing dresses and pants.
Dress Sandals for On Your Feet All Day – On your feet actively all day, make sure that your sandal has a durable rubber outsole that provides excellent traction and looks for cushioning in the midsole and footbed for comfort. Opt for a mid or chunky-style lower heel rather than a high or flat heel.
Dress Sandals for Standing All Day – For standing still all day, foot fatigue is the primary concern, and if you need to look smart and feel comfortable, you will need to up you gave. Ensure that you opt for low and chunky heels, no flats or stilettos. Ensure there is ample cushioning and some form of moisture-wicking fabric linings in the footbed and uppers, particularly in summer.
Heeled Dress Sandals – Heels are ideal for wearing long and short dresses and going with almost any outfit, making them so ideal. You can choose between a block, low, or wedge style heel if you look for a more comfortable design sandal rather than a stiletto heel.
---
Features of a Good Dress Sandal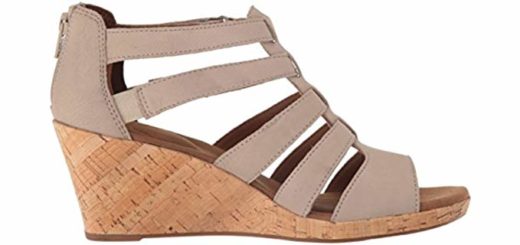 Heel – A Flat, Wedge or platform styled heel, or block style heel.
Footbed – Padded, or cushioned for comfort, and with a smooth moisture wicking lining.
Uppers – Leather or synthetic materails in many smooth, suede or patent feels, with or without decorative gems, stones, beads, metal accents, or cutout details.
Colors – Solid neutrals, bold or pastel colors, or patterened designs.
Upper Types – Peep Toe, Sling Back, Criss Cross, Slide, Toe Post, Thong, Multiple straps or Gladiator.
---
Reviews: The Best Dress Sandals
Here are some of the most stylish and elegant dress Sandals available today;
---
1
The Tory Birch Miller is a Toe post-thong sandal in leather with a flat sole and is available in many colors.
The uppers are made from 100% genuine and soft leather.
There are decorative details, cutouts, and trimmings on the uppers available in a large variety of color patterns and variations to choose from.
The outsole is made from durable rubber with a patterned tread for better grip.
The sole is flat with a slightly elevated heel, and that footbed is slightly padded and smooth.
---
2
The Vionic Noble Laurie is one of the most comfortable and lightweight sandals you will find, ideal for more formal occasions.
The uppers are made from soft and supple leather, and there is an adjustable back strap for a better fit.
The EVA midsole offers lightweight cushioning, shock absorbency, and support.
The footbed has a contoured design, and there is a deeper heel cup for better stability.
This sandal comes in many color options to choose from, so there is one for every outfit.
---
3
With its chunky heel, the Allegra is the perfect dress sandal that you can wear with a long dress or any dress style for that matter for more formal events.
An open-toe design for warmer weather conditions with an adjustable ankle strap so you can get the best fit for you.
The chunky heel is more stable and more comfortable on your feet, yet it still boasts style and sophistication.
There are a comfortable and padded non-slip insole and a durable outsole.
This sandal is also available in color variations that you can select from.
---
4
If you are looking for a more orthopedic and comfortable sandal for any foot issue or condition that still looks great and fashionable for that formal event, I highly recommend the Propet Aurora.
The uppers are made from genuine leather and offer an adjustable function so that you can get just the right fit.
The footbed is very comfortable and adequately cushioned for better support and shock absorbency.
The durable rubber outsole is thick and shock absorbing and will ensure you the best grip and stability on most surfaces.
This shoe is likewise available in many color options for you to choose from.
---
5
There is nothing more fashionable, and that speaks summer as much as a wedge-style sandal; this, of course, will also complement a long dress, skirt, or trousers beautifully.
Genuine leather uppers are crafted with rhinestone accents down the middle strap for a formal and fashionable style.
The Concealed goring at the instep and padding in the front strap ensures a more comfortable fit.
There are an adjustable hook and loop closure at the ankle with goring for a customized fit.
The footbed consists of cushioned and comfortable cork and latex materials.
A durable TPR outsole that provides excellent grip.
The Heel is a wedge style that is more formal and sophisticated.
---
6
A highly formal and classy, Platform Dress Sandal from Charles David is available in two color variations.
The soft and smooth suede leather uppers are available in either a Truffle or black color option to choose from.
There is a peep toe for a more classy and fashionable effect.
The footbed is smooth and padded for comfort.
A high platform style sole that is excellent to wear for any formal occasion.
There is a soft and comfortable leather insole that absorbs moisture.
---
7
The ECCO Damara is a very comfortable sandal that you can wear as dress sandals.

These are seminar-formal dress shoes for those in-between occasions.
The upper consists of durable leather, and both are slide sandals.
A Fluidform injection technology fitted last with anatomical support and an integral bond between the sole and the upper portion.
A lightweight molded EVA footbed provides lightweight and flexible shock absorbency.
Microfiber lines the footbed for cooling comfort and to manage moisture.
There is also a durable and high traction rubber outsole.
---
8
The Rest Harissa from Vionic is the most comfortable dress style sandal with so many support features.
The upper straps comprise soft and flexible leather, and there is also some color selection available.
The footbed is cushioned and contoured for optimal support.
A durable rubber outsole provides excellent grip and traction on most surfaces.
Both sandals have a fashionable appeal for more formal wear.
---
9
This is a comfortable and stylish Espadrille Style sandal that is perfect for dress-up occasions.
The upper of the sandal consists of a canvas-style fabric that is soft and breathable.
The wedge heel adds stability in sophistication for a more dressy style.
There are likewise wider width options in this sandal so that you get the perfect fit.
You can also choose your favorite color from a broad selection.
The Footbed is cushioned with the patented LifeStride comfort technology.
---
10
The Mephisto Lissandra is a comfortable sandal dress with a high platform heel.
The uppers are leather with adjustable hook and loop straps as well as buckle details.
The footbed offers cushioning and shock absorbency.
The sandal has a high heel and platform design for a Dress style that is also comfortable.
There are also many color options available from which you can choose.
---
Index Table: Top Rated Dress Sandals
---
---