Nurses spend many hours on their feet on hard and slippery floor surfaces that can hold slipping hazards and lead to painful and aching feet.
The best Clogs for Nurse offer a comfortable and accommodating fit and other features that are ideal for this profession.

---
Why Choose Clogs for Nurses?
Clogs are a general shoe design associated with hospital workers;

Fit – Clogs generally have a very roomy and wide toe box that allows you to spread your toe out and cater to foot conditions such as bunions and Hammertoes.
Sole – Most clogs have a slip-resistant sole, a rocker design, or a slight heel that takes the pressure off your feet and provides stability.
Comfort Features – Clogs come with comfort and support features that help fight foot fatigue and keep your feet well aligned for all the time you spend on them.
Closed Design – The closed design of a clog provides better protection against liquids and spills. Most Clogs are fully waterproof.
---
Choosing the Right Clogs as a Nurse
I would recommend that you choose a brand name clog that you are assured of the quality, as this will be a clog that you spend many hours in.
Make sure that there are features such as cushioning and other support features, as well as a moisture-wicking lining.
The sole needs to be slip-resistant on wet and dry floor surfaces, and the uppers need to offer good water resistance or waterproofing.
Most hospitals require that you wear solid white shoes. That is why all the clogs that I have chosen in the review section are available in solid white colors. However, there are more colors if you may choose your own colors.
---
Features of a Good Clog for Nurses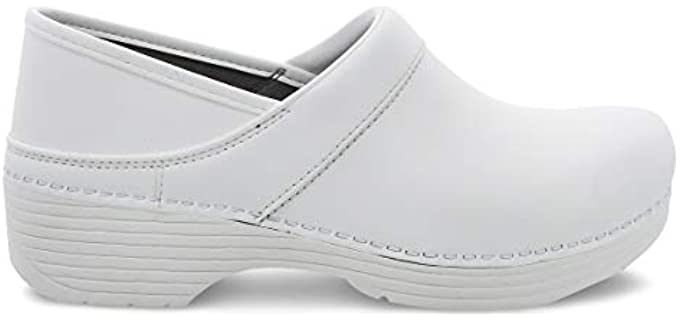 Uppers – Clogs for Nurses usually have either genuine, or synthetic leather uppers that are water resistant and have a closed protective design.
Comfort Features – Most of the Clogs we feature do come with comfort features such as a cushioned footbed that will have a foam, or EVA cushioned midsole, and insole. There may also be support features such as a contoured footbed that supports your arches.
Outsole – Clogs for Nurses will have a durable rubber or synthetic outsole that will be slip resistant, or oil and slip resistant.
Options – The Clogs I have chosen are all available in a solid white color options for nurses. Some models do offer more colors, and they are also available in wider widths.
---
Reviews: The Best Clogs for Nurses
Listed below are some excellent Clog style shoe models for Nurses;
---
1
The Dansko LT pro Clogs are designed specifically as medical shoes for healthcare industry work.
They are leather with good water resistance, and they are extremely easy to clean.
The Dansko Clogs for nurses have a comfortably cushioned footbed and a durable EVA outsole.
Inside is a comfortable and moisture-wicking sock liner that will keep your feet dry and comfortable.
The EVA outsole is highly slip-resistant and durable.
---
2
The Crocs Neria Pro LI Clog is a slip-resistant work clog that is perfect for Nurses.
They consist of water-resistant and easy-to-clean materials with crosslite foam construction.
They have thicker toe regions that add some protection against liquids and hot liquids.
They are fully ASTM F2913-11 tested, as well as CE Certified, and they meet or exceed EN ISO 20347:2012, OB, SRC standards.
The shoes are slip-resistant, and they come in wider widths options.
The footbed is contoured for arch support.
They are available in white, and there are more color options available.
---
3
The Wako non-slip clogs are ideal for nurses who work in the healthcare industry.
They gave a slip and oil-resistant rubber outsole.
The uppers are water-resistant, with an easy to clean and closed design that offers good protection against liquids.
There is a solid white color available for nurses, as well as a few more color options.
The clogs for nurses are cushioned for comfort with a supportive footbed.
They have a roomy and relaxed comfortable fit.
---
4
The Crocs Bistro Clogs are the perfect work shoes for the food industry and healthcare occupations.
They are a crosslite foam material that is water-resistant and easy to clean.
The toe area is extra thick for protection and durability.
They have a Crocs Lock slip-resistant tread that is ideal for slippery hospital floors.
The fit is roomy and comfortable, and there are wider widths available.
The Crocs Nurses clogs do come in wider width options, as well as more colors besides the solid white.
---
5
The Dansko Professional clog is the most durable and comfortable clog for nurses.
The clogs have leather uppers with a roomy toe box fit and excellent liquid resistance.
They are easy to clean and maintain, as well as extremely durable.
The interior has a smooth and comfortable lining to prevent friction.
The style is easy to slip on and off with a comfortable, relaxed fit.
The outsole is fully slip-resistant and highly durable.
---
6
The Any wear Guardian Angel healthcare cogs are ideal for nurses.
They have easy wipe clean, water-resistant uppers and a comfortable fit.
There is a lightweight EVA midsole and a removable antimicrobial memory foam insole.
The clogs are available in a range of sizes and offer a wide and roomy fit.
There are more colors available as well as a solid white color.
---
7
The Skecher's work clogs are the perfect design for nurses.
They are ideal for keeping your feet comfortable and supported during long shifts.
The toe box is roomy and round with a snug and comfortable ankle fit.
There is a removable cushioned textile insole and a lightweight shock-absorbing midsole.
A heel stabilizer provides better stability and support.
The rubber outsole is flexible and slip-resistant.
The shoes are electrical hazard safe and OSHA compliant.
---
8
The Dansko Pro XP is also an excellent choice in clogs for nurses.
They have genuine leather uppers that offer good water resistance and that are easy to clean.
There is a Platform-style sike and a comfortably cushioned footbed.
The outsole has an anti-fatigue rocker bottom style.
The toe box is roomy and a comfortable fit.
The rubber outsole is highly slip-resistant.
There are wider width options available, as well as more colors.
---
Index Table: Top Rated Clogs for Nurses
---
---