There are no two ways about it. Our feet take plenty of strain daily without thinking too much about it.
In turn, your feet can develop conditions such as corns and calluses, which could be caused by unsupportive and improper footwear.
The best sandals for corns can help curb the condition's symptoms and prevent corns from developing.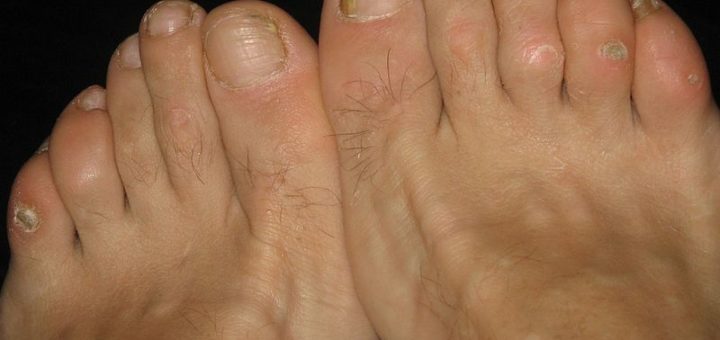 ---
Corns and Callouses Explained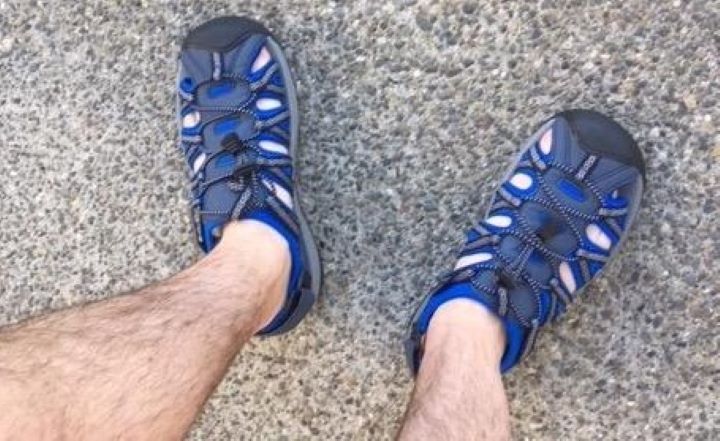 Corns and Calluses may be quite similar and causes by similar things.
Corns are small circles of thick skin that develop along the sides and tops of your toes and sometimes on the feet' soles.
On the other hand, calluses are similar to corns, with hard and rough areas of skin that become yellow.
One important thing to remember is that if your shoes or sandals place pressure on your feet, Rub or chafe, your skin will react and try to adapt. This is usually mainly how corns and callouses develop in the first place.
Callouses are more likely to develop because of chafing and friction, causing blisters that become hardened yellow skin over time. In contrast, corns form because of hard, repetitive shock on certain feet and toes to provide additional cushioning in those areas.
Regular sports activities, standing on your feet at work all day, and improper footwear are all culprits for the development of corns and callouses.
---
The Best Sandal Types for Corns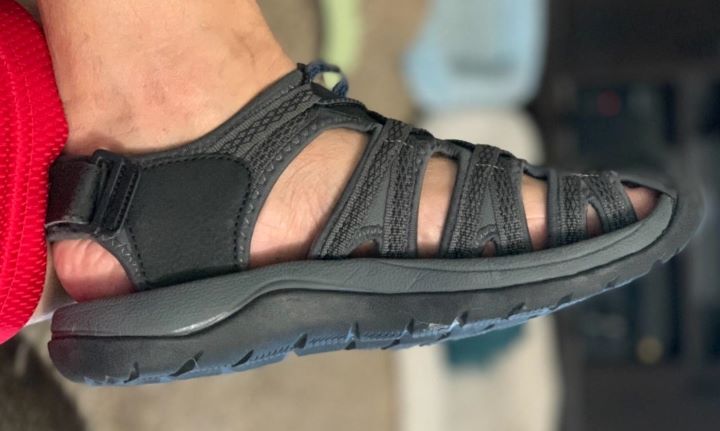 Initially, the most fundamental way to prevent corns from developing in the first place is to invest in proper footwear. In the case of this article, proper sandals.
Fit – The sandal fit is essential as you need a fit that is the right shape for your feet that will not squeeze or be too loose to cause friction. Especially when it comes to sandals that you wear all day for work or sports, they will need to fit properly and comfortably.
Toe Room – Toe room in a sandal for corns is essential. Make sure that whatever the sandal's design, you can wiggle and spread out your toes easily and that there are no restricting straps that place pressure on your feet and toes.
Smooth Lining – Make sure that no hard lumps, scratchy seams, stitching, or glues on the inside of the sandal can cause friction and irritation. Sandals with a smooth lining will also provide good moisture-wicking properties.
Cushioning – Cushioning ins a sandal is a key element for the prevention and healing of corns. Cushioning such as a padded footbed and EVA midsole helps absorb shock and prevent painful corns' pressure.
---
Features of a Good Sandal for Corns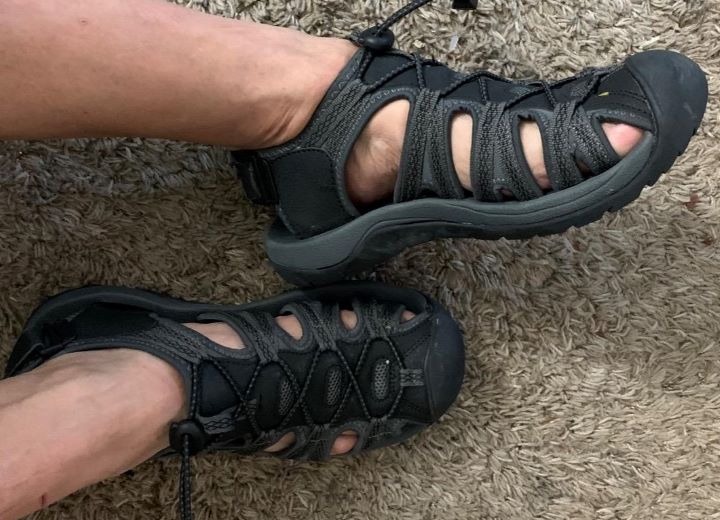 Uppers – Look for sandal with comfortable uppers that are soft against your skin and that will not cause chafing or irritation. Leather, synthetic leather and some textile materials or fabrics are ideal.
Fit – The toe box of the sandal needs to offer a roomy and comfortable fit, with no straps adding pressure. The fit should be snug enough to prevent slipping that can cause chafing and blisters.
Cushioning – A comfortable cushioned or padded footbed provides cushioning and comfort. While EVA or foam midsole may provide good shock absorbency, ideal for corns.
Outsole – A durable rubber or synthetic outsole provides grip and traction ideal for balance and proper support. A thicker outsole will also protect your feet from hard protruding objects and rough surfaces.
---
Reviews: The Best Sandals for Corns
Listed below are some of your best choice in sandals for feet that have corns.
We hope you love the sandals we recommend!
So that you know, We may collect a share of sales or other compensation from the links on this page.
---
1
The Dream Pairs Adventurous sandal is an outdoor sports sandal with a cushioned footbed and closed adjustable uppers ideal for foot conditions such as corns and bunions.
The Dream Pairs Adventurous sandal is an Outdoor fisherman's style sandal.
The closed design will hide and protect corns, calluses, and bunions.
Because the uppers are soft and adjustable, there will be no excess pressure on your toes and feet.
There is also plenty of underfoot cushioning with the EVA footbed.
The outsole is a durable and high gripping rubber, Ideal for all surfaces.
---
2
Two classic sandals for all occasions from Propet are ideal for corns, callouses, and many other foot conditions.
Both sandals feature soft genuine leather uppers with different designs for men and women.
They both also have adjustable uppers to get a comfortable fit.
The footbed is cushioned and comfortable, whereas the Daytona has EVA cushioning, and the Farrah has Cork and rubber cushioning.
The sandals have a durable and high traction rubber outsole.
The Farrah features a low but sophisticated heel.
Both sandal models are available in more color options.
---
3
These two models from Propet have a closed design to hide corns and a foamy cushioned footbed for ultimate comfort and support.
These sandals are fisherman Sandals models that are slightly more formal in design.
They are available in plenty more colors for your perusal and preference.
The sandal offers a comfortably cushioned footbed and a shock-absorbing midsole.
They have a more closed uppers design and a roomy toe box that does not pressure corns or bunions.
---
4
The Vionic Tide Flip Flop sandal will place no pressure on corns and calluses and has a biomechanical cushioned footbed for support and comfort.
The Vionic Tide is an extremely comfortable and supportive Flip Flop model.
They are open with only the uppers straps and very breathable.
The footbed is podiatrist-designed and has a biomechanical shape with a deep heel cup for optimal support and cushioning.
Furthermore, a thick and durable slip-resistant rubber outsole and an EVA midsole for shock absorbency.
The sandal is also available in more colors for men and women.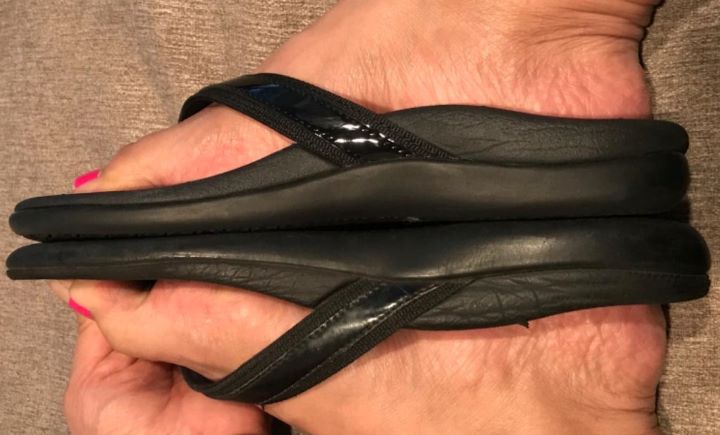 ---
5
Comfortable Corns Slide Sandal
The Vionic Kiwi is a comfortable casual wear slide sandal that is fully cushioned and supportive, with a single adjustable upper strap with a Velcro closure.
This is a slide-on and off sandal, ideally for leisure wear at home or wearing to the beach or pool.
I like them because you can adjust the single uppers strap to suit your needs.
The footbed is very comfortable with EVA and Vio Motion support technology.
The uppers are also padded for more comfort and less friction.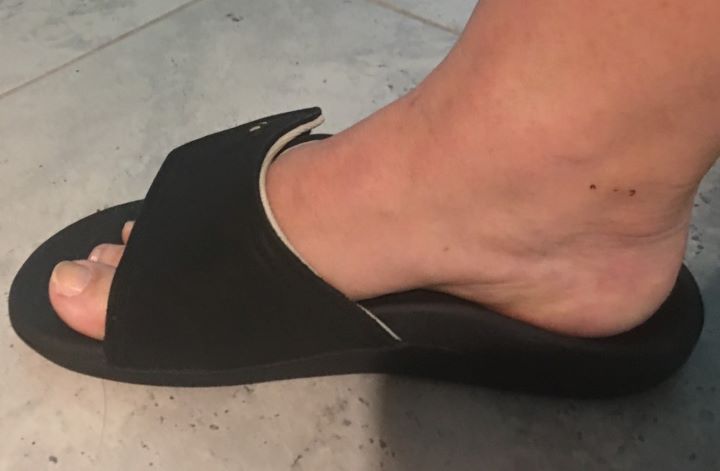 ---
6
The Oofos Ooriginal sandal is a post-recovery sports sandal with a rocker design sole and plenty of cushioning, and they are perfect for corns and calluses.
The Oofos range of sandals is ideally post-injury, operation, or post sport and exercise recovery sandals.
So, if you are going through a rough time with corns, calluses, or even bunions, they will offer excellent comfort and take all pressure off your feet.
The sole is designed as a rocker sole, and the entire sandal has a very sift and foamy structure for cushioning.
The uppers are a flip-flop style that is very cool and breathable.
There are also more colors available.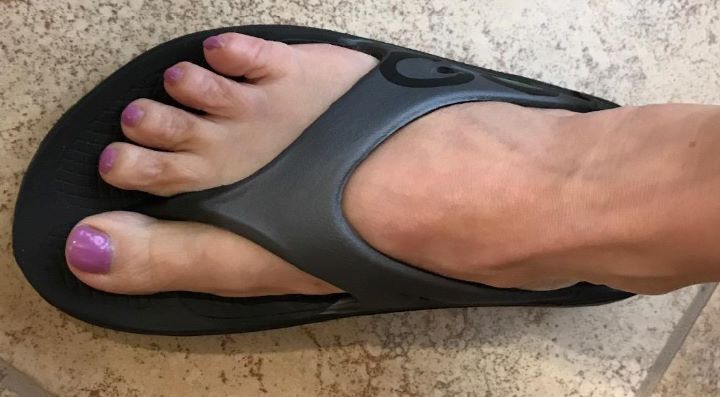 ---
7
The Hurricane Verge is a great Hiking sandal for bunions.
The straps will hide and not irritate bunions.
A soft and cushioned EVA footbed and a protective underfoot nylon shank.
More colors are available and wider widths.
---
9
Leather sandals for Corns
The Chaco Wayfarer also has a lovely design to hide bunions.
The uppers are genuine leather, and the sole is a durable rubber.
The footbed is a Luvseat cushioned design, and there is an EVA midsole.
The sole is likewise non-marking.
---
9
The Vionic Kiwi slide has an adjustable uppers strap to accommodate bunions and wider feet.
The footbed is cushioned and has Vio Motion support features.
There are more colors available and more sizes.
The outsole is a durable rubber.
---
10
Outdoor Sandals for Corns
The Teva Hurricane 4 is a great hiking sandal design for bunions.
The Uppers offer a comfortable and adjustable fit with textile materials.
There is a cushioned footbed with Shocpad technology.
They are quick-drying and very durable sandals in general.
---
Index Table: Top Rated Sandals for Corns
---
---