If you are an avid runner, you most likely have the best gear for running and a trusty pair of running shoes because it's worth it to have these things in place.
But what about after your run?
One piece of kit that might not have crossed your mind is the best recovery sandals for runners or the best recovery shoes.
Recovery sandal is ideal for hot weather conditions to wear after a run, and in this article, we will look at some of the best brands and models.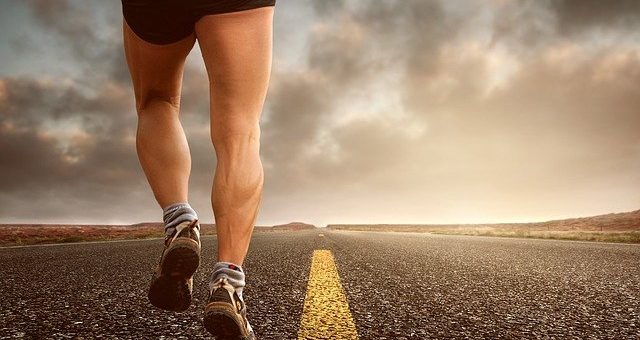 ---
Why Invest in Recovery Sandals for Running
It is much more fun to run in springtime and summer, and you can also run for longer without getting cold and wanting to head home.
Spring and summer are the time for running and enjoying the outdoors, with all it has to offer.
After a long run, your feet may be tired, hot, sweaty, and sometimes aching. A pair of recovery shoes may not be most suitable in this case, and this is where recovery sandals will come in most handy.
Recovery sandal
Provide excellent arch support and cushioning, taking the weight off your feet. They also breathe and ventilate well to cool down sore feet because of their open design.
---
Benefits of Recovery Sandals After Running
Recovery sandals for runners have so many benefits, here are only a few of them;
Improve Circulation – The footbed design of most recovery sandals and the fact that they are more open in design greatly improves blood circulation in your feet and legs. Some recovery sandal has a massaging footbed, which is even better for circulation and refreshing the feet.
Break Up Of wastes. A good recovery sandal that improves circulation and ventilates your feet well will help to break down accumulated wastes such as lactic acid and uric acid in your feet.
Pain Relief – If your feet are aching and in pain after your run, recovery sandals will provide support and relief to reduce pain. They can also alleviate leg and lower back pain.
Reduce Swelling – Recovery sandals will provide comfort and support, as well as a fit where there is no added pressure, to reduce swelling and discomfort of the feet.
Help with Recovery – Well, recovery sandals do exactly that. They help your feet recover after a long run by relaxing the muscles and alleviating pain and swelling. They are also ideal post-surgery or after an injury.
Rocker Sole Design – Many recovery sandals have a rocker-sole design that creates a unique fulcrum effect, almost like a rocking chair, which encourages the gait cycle and reduces strain on your feet.
---
Features of a Good Recovery Sandal for Runners
Check out some of these features to help you choose the best available recovery sandals to use after a run;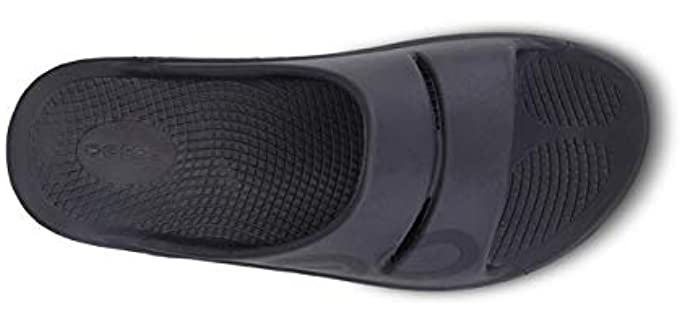 Cushioning – A cushioned insole and shock-absorbing foam midsole is ideal. Compression-molded footbeds or midsole are the best for cushioning and impact absorption. The footbed should also have a more contoured and supportive design.
Support – Good arch support is ideal in the sandal footbed to support and cradle the foot's arch, reducing strain.
Uppers – Look for comfortable and adjustable uppers that can accommodate swollen and sore feet. You also do not want uppers that chafe or cause any form of friction. A slide-on or flip-flop design is likewise easier to put on and take off in between.
---
Reviews: The Best Recovery Sandals for Runners
Listed below are some of the top-rated brands and models of sandals that are ideal for recovery after running.
We hope you love the products we recommend!
So that you know: We may collect a share of sales or other compensation from the links on this page.
---
1
Slide Sandals for Recovery After Running
The Oofos OOahh range is slide sandals designed specifically for post-injury or operation recovery and post sports or exercise recovery.
This is a unisex sandal for men and women.
It has an easy slide-on design for your convenience.
The sandals feature OOfoam foam technology that absorbs 37% more impact than other foam sandals.
It allows for better natural motion and relief with a rocker design sole.
The sandal comes in whole sizes and has more color options.
---
2
Runners Recovery Slide Sandal
The Hoka One Ora sandal is designed specifically as a post-exercise and running recovery slide and thong sandal.
The sandal I am synthetic with a durable and slip-resistant rubber sole.
It is a slide-on design that is easy to use.
The sole has a light rocker design for better motion.
It is cushioned and very comfortable, with more colors available.
---
3
Flip Flop Sandal for Recovery After Running
The Spenco Flip Flop range is ideal to use as post-running sandals that are easy to slip on and off and look great.
These are flip-flop design sandals available in more colors.
They have orthotic grade arch support and a metatarsal dome.
There are a deep heel cup and a 5mm heel lift.
The uppers are breathable composite mesh, and the sole is a durable rubber.
More colors are also available to you.
---
4
Sports Sandal for Running Recovery
The Chaco Z1 Classic is a comfortable sports sandal that is fully adjustable and ideal for wearing a recovery sandal after running.
The Uppers are fully adjustable textile webbing.
There is a LUVSEAT PU midsole for cushioning and comfort.
The footbed is treated with an antimicrobial and offers excellent support.
There is a ChaoGrip outsole for slip resistance in durable rubber.
These are outdoor sandal that also makes for excellent recovery sandal.
---
5
The MBT athletic Nakuru and Kiburu sandal have a rocker design sole and a fully cushioned footbed to provide comfort and relief after running.
The MBT sandal has a rocker design sole that reduces strain and pressure on your feet and allows for easier motion.
They are adjustable in fit and have leather uppers.
The midsole is plush and soft memory foam, and there is a durable rubber outsole.
You can likewise select from a few more available colors in this model.
The Nakuru is a slide design sandal.
---
6
Flip Flop Sandal for Running Recovery
We have the PR sole design recovery flip flops with patented Acupoint massaging technology after running comfort and pain relief from Gone for a Run.
This is a full-on recovery sandal just for runners.
It has a cushioned stability sole with ACUPOINT massaging technology to improve blood flow.
It is comfortable cushioning, and they are very lightweight and durable,
The uppers allow for a comfortable fit in a flip-flop design.
---
7
Slide Sandals for Runners
The Adidas Adissage is an excellent recovery sandal for runners.
The massage nodules in the footbed provide improved circulation and reduce pain.
The footbed is cushioned and ideal for recovery.
The uppers are a comfortable and wide-fit single strap.
The sole is durable and slip-resistant.
---
8
Orthopedic Slide Sandals for Runners
The Crocs LiteRide is a lightweight and cushioned slide sandal for recovery from running.
They have an athletic design and cushioned crosslite footbed.
The uppers straps are perforated for breathability.
More colors are likewise available to you.
---
9
Recovery Flip Flops for Runners
The Oofos Flip Flop design is a recovery sandal for runners.
It has a rocker design sole for less pressure.
The sandal footbed is a cushioned foam.
There are also plenty of colors from which you can select.
---
10
Recovery Sandals for Runners
From PR soles, we have a recovery slide sandal for runners.
They are a unisex design available in two colors.
The uppers are adjustable, and there is a supportive foam sole.
They pamper and relax your feet to relieve aches and pains.
---
Index Table: Top Rated Recovery Sandals for Runners
---
---