Three main characteristics make the best walking sandal: a Supportive Sole, a Thickly Strapped upper portion, and a Protective Heel design to keep your feet in place.
These features are essential to make it to the list of sandals for walking long distances.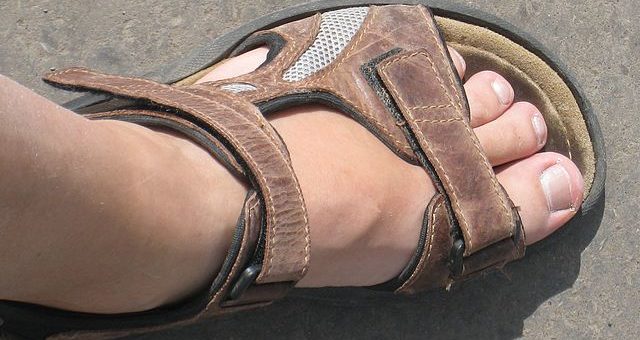 ---
---
What To Avoid in a Walking Sandal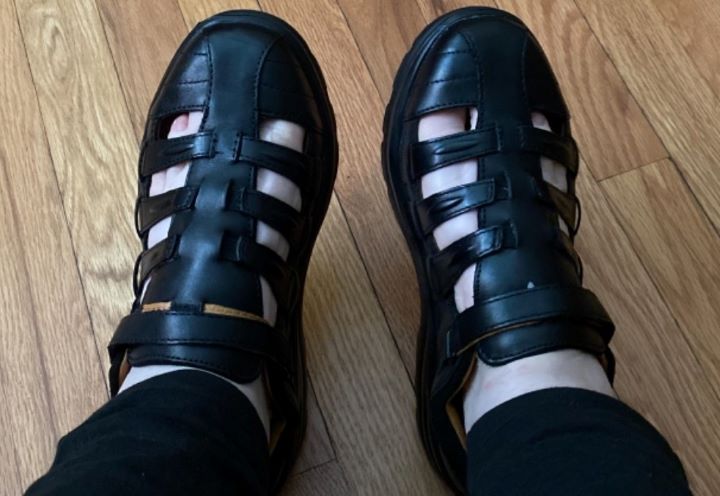 High Heels – A high-heeled sandal is not designed for walking in and should be avoided at all costs.
Flat Soles – A flat-soled sandal is just as bad if not worse than a high-heeled sandal as it provides no support or underfoot comfort.
Fragile Sandals – You need a durable sandal for walking. Therefore, your more decorated and fragile design sandals or dress sandals may need to be designed for looking good and not for hard-wearing performance.
Flip Flops – Though some flip-flop brands and models offer excellent comfort and support features, I would rather not recommend them for walking as they can slip out of your feet. The same goes for slide sandals or any sandal without a backstrap. I have added a few of these for those who insist that I find to be the best for walking long distances.
---
What To Look for and a Sandal for Walking Long Distances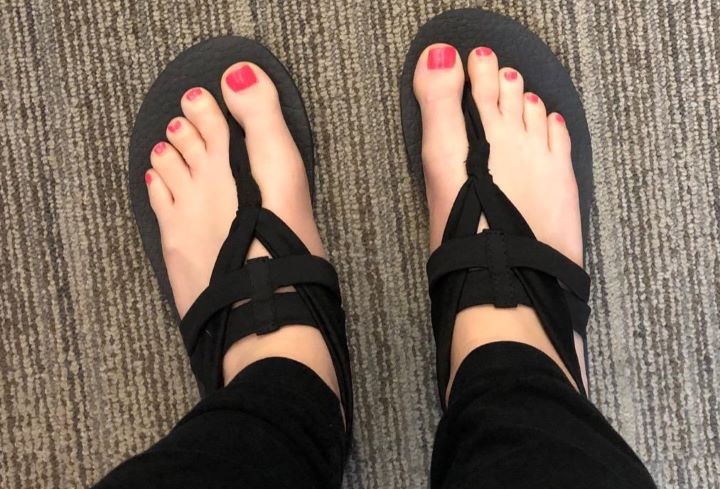 Durability – Look for durable construction and durable materials such as leather, textiles, EVA, and rubber. Most reputable and quality brand sandals can be trusted for quality and durability.
Shock Absorbency – Shock absorbency is critical for walking to reduce the impact on your feet, knees, ankles, and joints. Cushioning, such as memory foam, gel, or EVA, is ideal for shock absorbency.
Cushioning – Cushioning, as mentioned before, does not just absorb shock but also provides comfort for long-distance walking.
Smooth Linings – Smooth-lined uppers and footbeds are a must; otherwise, you may endure chafing and blisters from excess friction. Moisture-wicking materials are also ideal.
Support – Good stability and arch support are necessary for walking to keep your feet well aligned and help with the natural biomechanics of movement.
Tread – The tread of your individual needs to be durable, made of rubber, preferably with patterns or lugs, depending on the walking surfaces.
---
Features of a Good Sandal for Walking Long Distances
Uppers – Smooth upper webbing or straps lined with moisture-wicking fabric can be padded. The bungee lacing system on Fisherman's sandals. Adjustable straps.
Cushioning and Support – Cushioned footbed with a contoured shape and arch support. EVA midsole for shock absorbency.
Outsole – Durable rubber outsole with a slip-resistant tread.
---
Reviews: The Best Sandals for Walking Long Distances
Here are some of our favorite brands and models in sandals that are ideal for walking longer distances.
We hope you love the sandals for walking long distances we recommend!
We may collect a share of sales or other compensation from the links on this page.
---
1
Walking Sandal for Long Distances
These are two extremely durable and comfortable Fisherman-style sandals perfect for walking long distances, particularly if you have a foot condition or feet that tend to ache and tire quickly.
The uppers have a fisherman design that is more enclosed for protection and is made from lined leather.
You get a pair of cooling Gel insoles that provide cushioning and keep your feet cooler.
Both have the popular DR.Comfort Biomechanically engineered arch support, a cushioned footbed, and a shock-absorbing midsole.
These sandals also offer extra depth and a wider fit and are available in wider options.
---
2
Flip Flop Style Orthopedic Comfort Walking Sandals
Skechers is a top brand in sports style and comfortable sandals that are highly durable and perfect for walking long distances on various terrains.
The Skechers Cali has soft and comfortable T-strap fabric uppers, decorative rhinestone detailing for fashionable appeal and a Backstrap that is elastic and flexible for a more secure fit for the ladies.
For the Gents, the Evented Rosen Flip has a plush and comfortable memory foam footbed that contours to the shape of your feet, and the uppers are also made from a moisture-wicking and soft, non-irritating textile fabric.
These shoes boast a supportive, cushioned footbed and a shock-absorbing midsole from EVA materials.
To finish off, a durable rubber outsole offers excellent grip and traction.
---
3
Sports Sandals for Walking Long Distances
Keen is a reputable and trusted sports brand that manufactures some of the most surprising sports sandals. I have chosen these two models as the ideal sports sandals for long-distance walking outdoors in more rough terrain.
A more closed-style upper webbing for better protection is made from smooth-lined textile materials for less friction and quick drying.
There is a bungee lacing system to get the perfect fit.
The Metatomically designed cushioned footbed provides the best shock absorbency and support for walking longer distances.
Contoured arch support for all arch types and a compression-molded durable EVA midsole to attenuate shock.
The durable rubber outsole is designed for trail walking outdoors on slippery surfaces.
---
4
Sandal for Long Distance Walking
If you suffer from Heel Pain, Plantar Fasciitis, or Achilles Tendinitis, these two models from Clarks are your best sandals for walking long distances.
The uppers comprise Soft and comfortable textile materials.
Inside, you will find the Cloudstepper and Cushion Soft Technology for lightweight and durable comfort.
Furthermore, an EVA footbed offers excellent shock absorbency and cushioning.
The durable rubber outsole has a tread for all outdoor and indoor surfaces, providing excellent traction.
---
5
Fisherman's Sandal for Long Distance Wlaking
The Orthofeet Alpine and Naples extra depth OrthopppediOrthopedicc sandals with a closed Fisherman's style design offer better protection and comfort for individuals with foot conditions and deformities.
Soft and smooth leather uppers with moisture-wicking smooth linings to reduce friction.
Extra-depth design is available in wider widths to accommodate foot conditions, swelling, and deformities.
An Ortho cushioning system with lightweight air cushioning for comfort and support.
The EVA cushioned midsole offers ample shock absorbency.
High traction, thick, and durable rubber outsole ideal for all surfaces.
---
6
Long Distance Walking Sandals
These are wonderful orthopedic comfort Walking sandals that are designed for optimal support.
The Nubuck leather uppers are soft and seam-free and have an adjustable setting velcro strip to ensure the most comfortable and adaptable fit.
There is a Density Midsole and integrated post and shank for better stability and motion control, ideal for long-distance walking for individuals who suffer from plantar fasciitis or heel pain.
The Footbed orthopedic for ample shock absorbency and comfort
The rubber outsole is designed to last and provide excellent traction for walking.
This shoe is also available in wider-width options and extended sizes.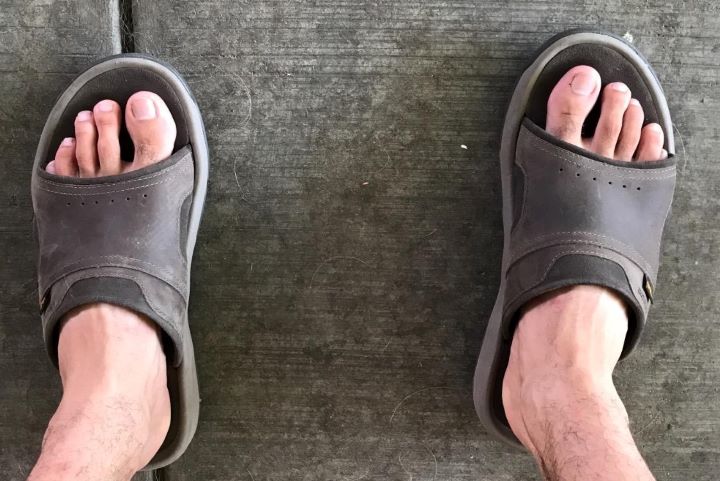 ---
7
Comfortable Walking Sandals
From Keen, Rose and Arroyo are the best sandals for walking long distances because of their comfort and durable construction.
Both sandals offer an adjustable fit and are available in a few color options you can choose from.
Eva is used in the footbed, which is also contoured for optimal support. The sandal's sole offers excellent cushioning and shock absorbency, and there is a lug slip-resistant rubber sole.
The Arroyo has a leather upper, while the Rose has a synthetic upper, which is water-resistant.
---
8
Long Distance Outdoor Walking Sandals
Here we have two water-friendly outdoor walking sandals from Merrell.
This sandal has a leather and textile-based water-friendly upper design and well mesh linings for comfort.
There is an EVA cushioned and shock absorbency midsole and comfortable insole.
The All Out Blaze sieve features a very popular Vibram rubber outsole, while the Tetrex has a rubber sole with a lug pattern for excellent slip resistance.
Both sandals offer good water resistance and are ideal for outdoor trail walking.
---
9
Long Distance Walking Sandals
These are the perfect two sandal models from Skechers for long-distance walks in plush comfort and style.
The Louden features leather uppers with tonal stitching and a soft textile lining.
There is also a cushioned memory foam insole and a textured synthetic outsole.
The Slingback has fabric and textile uppers with aSkechKnit construction and a Dual-Lite responsive cushioned sole and flexible outsole.
Furthermore, the Slingback offers a Bio-Dri lining to keep your feet dry and dor free.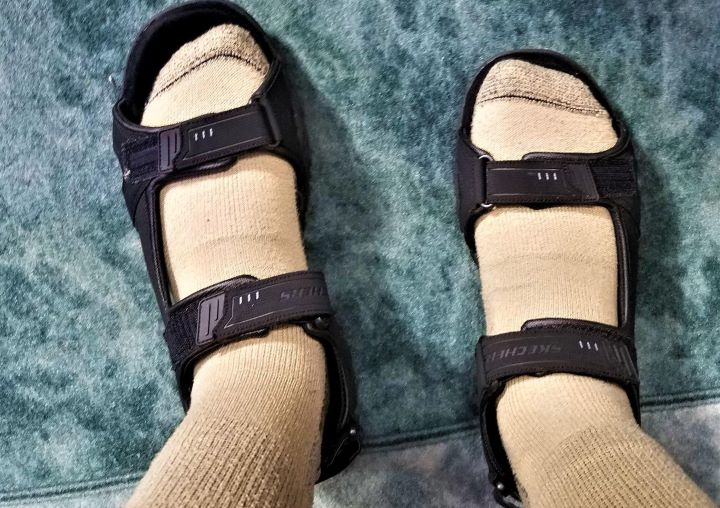 ---
10
All Terrain Long Distance Walking Sandal
The Teva Omnium is an excellent choice in protective long-distance walking sandals.
There are quick-drying synthetic and mesh uppers with a bungee lace-up system.
The footbed is fully cushioned with Molded EVA foam, and there is ShocPad technology for shock absorbency in the heel.
The spider web design rubber outsole is non-marking and very durable.
The closed-toe design protects your toes against bumps.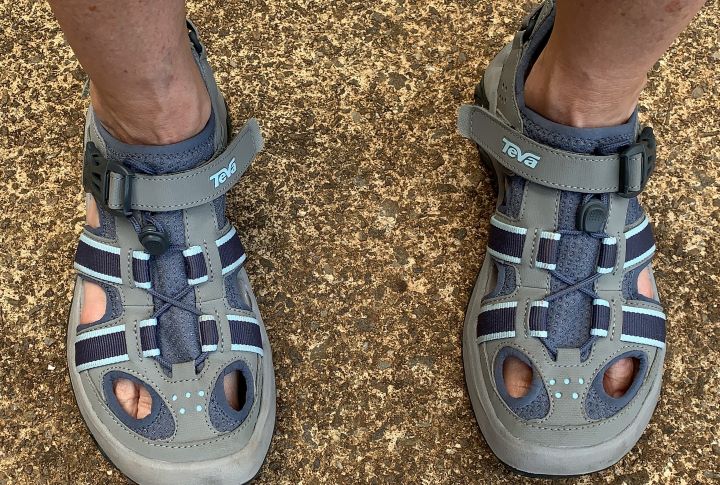 ---
Index Table: Top Rated Sandals for Walking Long Distances
---
---