When hiking ooh backpacking, especially in the summertime, it is more advisable to use a pair of hiking or backpacking sandals, than a closed pair of trail runners or hiking boots. Hiking sandals are comfortable, and they are, and they are much more breathable, especially and very hot weather.
Merrell is a brand that offers some excellent sandals for backpacking and hiking. They are. Mainly outdoor sandals that offer many comfort, and durability features, and also are ideal to use on trails on wet and dry terrains.

---
Sandals or Boots for Hiking
Generally, more and more people are opting for trail running shoes instead of hiking boots, which are usually hot and heavy, and more like Hiking sandals. In this case, we are not talking about flip-flops or crocs. We are talking about proper outdoor parking sandals that have lugged soles, good arches support and all the features that make them worthy of working on trails.
Pros – Sandals for Hiking and Backpacking are generally much cooler to wear with their open design. You will have fewer issues with sweaty and irritated feet, and less chafing and blisters. Sandals are also very lightweight for hiking and backpacking.
Cons – Unfortunately sandals provide little protection for your toes, and you will be more prone to snake and insect bites. Your feet may also become quite could should the weather change and become cooler suddenly.
---
Merrell Outdoor Sandals
Merrell Hiking sandals are perfect for daily backpacking trips or hiking trips in hot weather, or when you simply need to change out of your hot and heavy hiking boots or shoes.
They have many comfort features and come in some stylish designs.
Merrell sandals are also quite rugged with a durable and grippy outsole for hiking and back Packing.
Merrell offers quite a variety of hiking and backpacking sandal styles for men and women, and they have a wide color diversity.
---
Features of a Good Merrell Sandal for Backpacking and Hiking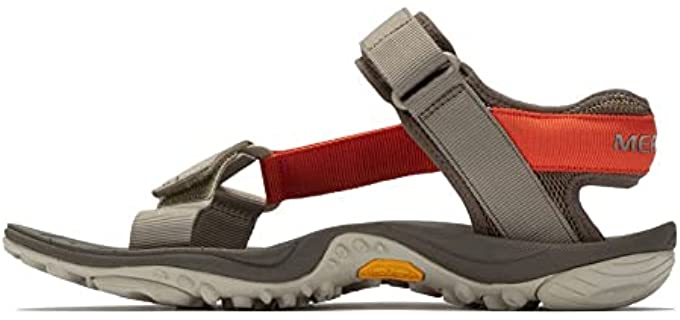 Uppers – Merrell Sandals will have either full-grain leather, nubuck leather, or textile uppers that are mostly fully adjustable with a hook and loop closure. They have a mesh or neoprene lining and usually have a microfiber-lined footbed.
Comfort – For Comfort Merrel uses an EVA foam Base or midsole with an ergonomically shaped footbed. Some models have a nylon shank for added stability and support.
Outsole – Merrel sandals may have a regular rubber, or Vibram rubber outsole with different lug depths from 3mm up to 5mm in the tread for outdoor use and grip.
Options – Most Merrell sandals are available in more sizes and plenty of available colors from which you can choose.
---
Reviews: The Best Merrell Sandals for Backpacking and Hiking
These aresome of the best available Merrell sandal models that you can use for hiking and Back Packing;
---
1
The Sandspur Rose from Merrell is the ideal Hiking and Backpacking sandal for women.
The design offers a very secure and fully adjustable fit that will keep your feet stable on all terrains.
It has a comfortable design with a rounded open toe.
The uppers are full-grain soft leather with a moisture-wicking microfiber lining.
The Outsole is a durable design with a non-slip textured tread, for balance and stability.
The sandal has a nylon arch support shank and a microfiber-covered footbed.
There is a cushioning EVA midsole for comfort and support.
---
2
The Merrell Terran Lattice is especially ideal for Backpacking and suitable for hiking.
It is available in many striking and bold colors, as well as a few neutral color selections.
The Terran has adjustable nubuck leather uppers with a textile lining and PU coating for durability and resilience.
The ankle and heel adjustable straps provide good ankle stability.
There is an ergonomically shaped EVA footbed that has a microfiber lining to wick away moisture.
The M-Select GRIP rubber outsole is designed for optimal grip on a variety of surfaces.
---
3
The Merrell Terran Convertible 2 is a toe Loop sandal with a secure back strap.
It has a sporty design and many features that make it highly suitable for Back Packing and hiking.
The uppers are soft nubuck leather with a breathable mesh lining.
There is a Molded nylon arch shank for arch support and underfoot protection.
The EVA cushioned footbed is lined with microfiber to reduce moisture and keep your feet cool and comfortable.
---
4
The Merrell Terran Cush Lattice Sandals are comfortable and more suitable for general backpacking, and light hiking trails.
It has full-grain leather uppers and polyester webbing.
There is a hook and loop closure system that you can easily adjust to give you the most suitable fit for your needs.
The insole is wrapped with recycled microfiber to wick away moisture.
There is a ComfortBase Active integrated contoured insole for comfort and a molded nylon shank for stability.
The Midsole has shock-absorbing EVA foam and the outsole is a TPR rubber from recycled materials.
---
5
Here we have a sandal model from Merrell that is more water-friendly for hiking and backpacking.
It has synthetic textile uppers that are quick-drying and comfortable.
The uppers are fully adjustable hook and loop straps allowing you to get the most perfect fit.
There is a full EVA foam midsole for comfort and shock absorbency.
The sandal has a very hardy and durable Vibram Mega Grip 5mm Lug outsole for rougher terrains.
---
6
From the men, we have the Merrell Kahuna 4-strap Hiking and backpacking sandal.
The sandal features Suede leather and mesh uppers with a cushioning neoprene lining that is quick-drying and cool.
There is a neoprene-lined padded footbed and EVA foam midsole for comfort and stability.
the TPU heel counter offers a secure heel fit for ankle stability.
The sandal is suitable for more hazardous terrains the durable Vibram TC5+ 3.5mm lug rubber outsole.
---
7
The Merrell Kahuna Web sandal for men offers a more secure fit for hiking and backpacking.
It is a nylon and Mesh sandal that has a mesh lining to wick away uppers.
You can fully adjust the uppers, with their hook and loop closure for an all-around perfect fit.
The sandal has an Air Cushion in the heel to add stability and absorb shock.
There is an EVA midsole and footbed for comfort and support.
The Vibram rubber outsole ensures excellent traction for wet and dry situations.
---
8
The Merrell Breakwater Strap is a sporty sandal suitable for backpacking, and heavy hiking trips.
It has Woven web uppers that are quick-drying and lightweight.
The uppers are adjustable with a hook and loop closure.
For comfort, you have a contoured EVA foam midsole and covered footbed.
The outsole is a Vibram Mega Grip design with a very lug 5mm tread for all terrains.
---
Index Table: Top Rated Merrell Sandals for Backpacking and Hiking
---
---