Any good sandal should have a comfortable fit, cushion your feet, and support the arch of your foot.
Whether the best sandal with arch support has solid arch support, an anatomical footbed, or molded design, they will all help support your foot's arch.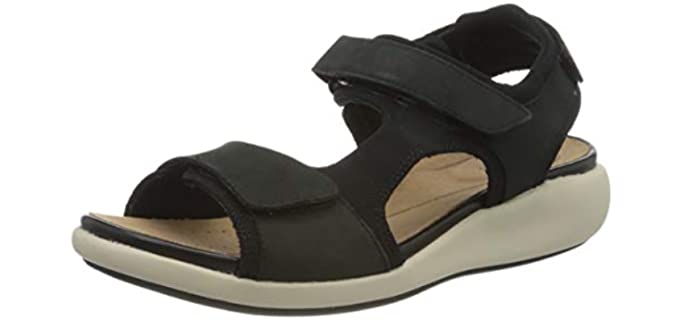 ---
---
What is Arch Support and Why do You Need It?
The arch of your foot has several critical functions to support your body weight when standing and walking and allow proper movement when walking and running.
Supporting the arches of your feet helps to distribute weight and impact more evenly when walking, standing, or running to keep your feet and lower limbs well-balanced and prevent complications and injuries.
Arch Support for Overpronation – When you Overpronate, meaning your feet roll inward excessively and your arches flatten as you walk or run, it can place excessive strain on the outer edges of your feet and cause pain. The arch support holds your feet in a more anatomical position to allow normal pronation and prevent excessive overpronation.
Foot Conditions – Not having good arch support in your shoes or sandal can lead to many ailments and foot conditions. It can lead to plantar fasciitis, which causes severe heel pain, Achilles pain, and deformities such as Bunions and hammertoes.
Changes in Your Foot Shape – When you walk or run, there is a change in your feet' shape with every step you take. Too much and too little motion can cause more severe detrimental changes. The arch support in a sandal or shoe acts as a filler material that spreads weight and pressure so that there are fewer changes in your feet' motion and structure when you walk or run.
---
How to Choose Arch Support Sandals
When shopping for sandals, you will wear them regularly; looking for good support features such as shock-absorbing cushioning and arch support is important. Arch support sandal aims to provide better alignment in the footbed for your feet to lift and support the arch.
Arch Type – Firstly, the type of arch you have may affect the choice of arch support. Lower arches need lower arch support, while a higher arch requires sandals that mimic the foot's arch. A neutral or normal arch may not require much arch support, rather just and more anatomically shaped footbed in a sandal.
Fit and Size – Sandals where your toes and feet hang over the top and sides are not a good fit. The entire sandal footbed must be large enough to support your feet, with slight space left at the top and sides.
Sole – The Insole or footbed of the sandal should have a built-in arch supper or a more anatomical shape that naturally supports the arch of your foot. The outsole needs to be stable and durable.
Closure – Keeping your sandals on your feet is important, as you do not want to strain your toes or feet to grip a sandal that always feels like falling off. Thus, look for sandals with adjustable or secure fitting uppers, and maybe a back strap or slingback design.
Heel Height -A Mild to moderate heel height or a rocker design sole is ideal for keeping pressure off your feet and providing eve and adequate arch support. Avoid very high heels and very flat-soled sandals.
---
Features of a Good Sandal with Arch Support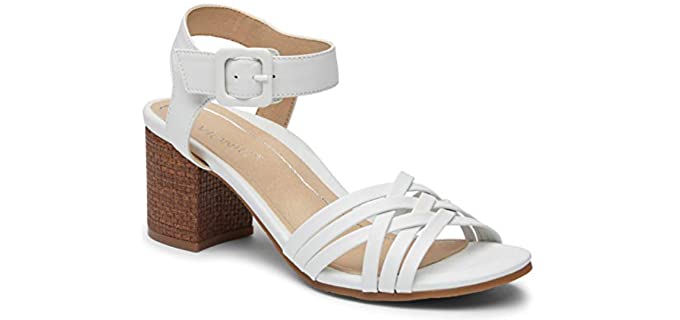 Uppers – Sandals may have leather, synthetic leather, or fabric uppers that are durable and comfortable against the skin. Some may also have a moisture-wicking lining. The uppers can be adjustable to offer a more comfortable fit.
Support and Cushioning – The sandal's footbed should offer a design that supports the arch, such as an anatomical or biomechanical design or arch support. Molded footbeds and memory foam will conform to the shape of your feet, providing cushioning and light arch support. Cushioning is key to protecting your feet against hard impact.
Outsole – Rubber is a durable and high-traction material for an outsole on a sandal. However, you may also find EVA outsoles that are more cushioning and softer.
Options – Most of the sandal models w we have included offer options in color, size, and some extended widths.
---
Reviews: The Best Sandals with Arch Support
In our list, you will find some of the top sandal brands and models that offer good arch support;
---
1
Rockport Darwyn Men
The Rockport Darwyn is a comfortable leather Fisherman-style sandal with Arch support.
The sandal has genuine leather uppers with a Fisherman style.
It has truTECH technology for lightweight shock absorbency and a supportive arch footbed.
The PU outsole provides good shock absorbency and grip.
Rockport Flats Sandal Women
The Rockport Adjustable sandal for women also has good arch support.
It has leather adjustable uppers straps and is available in more colors.
The sandal is comfortable and cushioned, with extended sizes available.
---
2
The Gus from Dr. Scholls is a supportive arch sandal for men.
The Gus sandal has leather uppers and a cushioned memory foam insole with a synthetic sole for men.
The Adelle 2 for ladies is a comfortable and supportive sandal.
The Adelle has an Insole Technology anatomically cushioned footbed for better support and shock absorbency.
The Adelle also comes in more colors and has a sophisticated style.
---
3
Sandals for with Arch Support
One of my favorite sandals for support and comfort is the Birkenstock range.
I have chosen Arizona as it is the most popular.
The Molded cork and latex footbed cushions your feet and support your arches.
The uppers are soft leather with adjustable buckle closures.
You can also choose from more available colors.
---
4
The Clarks Sling Back Sandal is casual arch support sandal for men and women.
The slingback range has adjustable leather uppers with a smooth lining.
There is an Ortholite and PU foam supportive footbed and smooth lining.
The outsole is a durable and high-traction rubber.
The sandal is available in more colors.
---
5
Arch Support Dress Sandals
Ludlow Charlie
The Ludlow Charlie from Vionic is a slide sandal with two straps.
It has genuine leather uppers and a leather-covered EVA sole.
The design of the footbed cushions and supports your arches.
Peony
The Vionic Peony is a dress-style sandal with a low-block heel.
The podiatrist-designed footbed cushions and supports the arches of your feet.
The sandal has leather uppers and is available in more colors.
---
6
Sandals with Arch Support
Then, another addition from Birkenstock is their Mayari, a strappy style sandal with arch support.
The Uppers are genuine oiled leather, and more colors are available.
The footbed is molded cork and latex, supporting the foot and arches and providing superb cushioning.
The sole is slip-resistant and very durable.
---
Index Table: Top Rated Sandals with Arch Support
---
---