Today's popular trend is the Cycling Sandal, which has some similarities to a Cycling shoe but is more ideal for hot weather.
This article will look at some of the top brands and models available in Cycling sandals.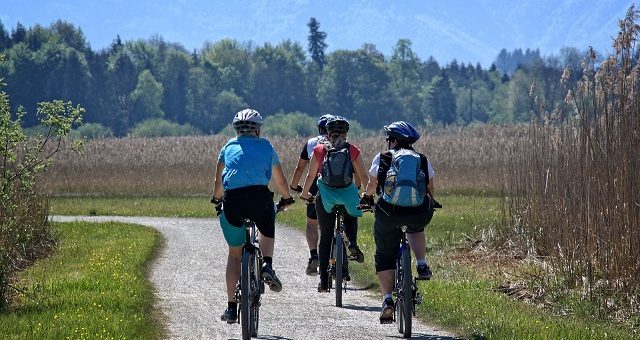 ---
How do Cycling Sandals Compare to Cycling Shoes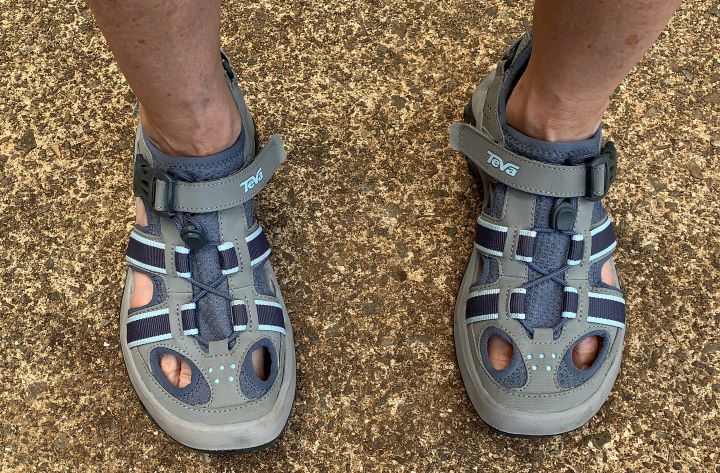 I guess the big question for those who have not tried a sandal for Cycling yet, is how they compare to Cycling shoes;
Drying – When a sandal gets wet, it drains water more effectively and dries much quicker.
Ventilation – Sandals offer much better Ventilation in hot conditions that cool your feet and keep them from sweating.
Versatile – Sandals for Cycling are versatile as you can also wear them with socks when it gets colder or for more comfort and protection.
Some Cons – You need to keep in mind that a sandal will not offer the same amount of robust protection as a closed-toe style will; sandals can also give a more insecure fit because of their open design.
---
Cycling Sandal Versatility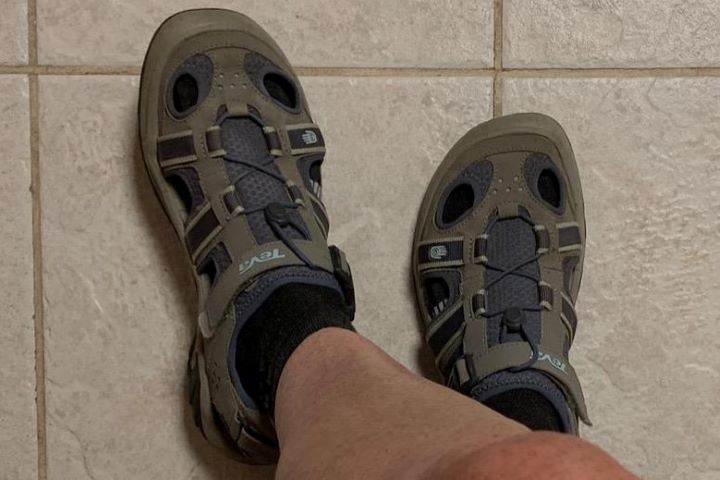 If anything, Cycling sandals are very versatile; as I have mentioned, they are cool and ventilated for hot climates and can be worn with light or thick waterproof socks when climates get colder. Sandals also come with a Clip-in, an option that keeps your feet stable and provides optimal body positioning.
Then again, a Sandal is useful for almost all terrains in Cycling, wet or dry, and even sandy beaches.
Sandals come in different styles and shapes for Cycling, and you can always opt for a closed-toe or Fisherman-style sandal for better protection.
---
Features of a Good Sandal for Cycling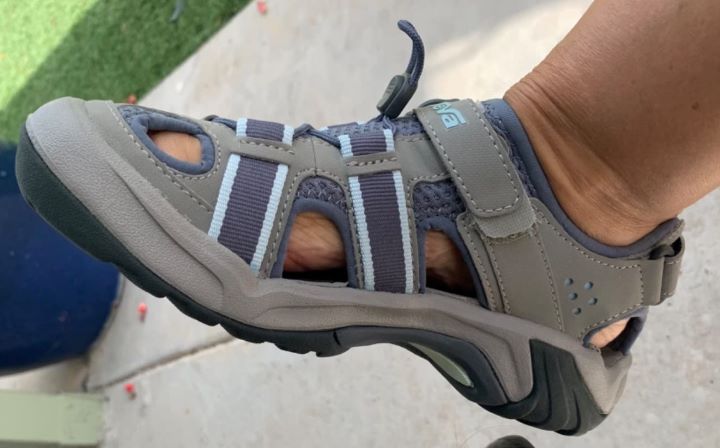 Uppers – The Upper can consist of durable leather, textile, or fabric, usually polyester, for faster drying. Some models also have a padded and lined upper design.
Clip or Unclipped – Sandals designed specifically for cycling come in a Clipped or UnClipped version.
Footbed – Cycling sandals usually have a flexible sole and a comfortable and lightly cushioned footbed that offers good arch support and stability.
Outsole – Rubber in an outsole offesr excellent grip and durability.
Design – The Cycling sandal generally has a more sporty design and can come in a closed-toe or open-toe design.
---
Reviews: The Best Cycling Sandals
These are some excellent designs in sandals that work very well to Cycle with.
We hope you love the products we recommend!
So that you know, We may collect a share of sales or other compensation from the links on this page.
---
1
The Teva Omnium is a durable and protective sports sandal perfect for Cycling.
The uppers are water-resistant and quick-drying synthetic and mesh material.
The uppers are also fully adjustable in fit.
There is a Molded EVA foam midsole for shock absorbency and ShocPad technology.
The bungee lace-up system ensures a safe and secure fit.
The Non-marking Spider Rubber outsole offers excellent grip and traction.
---
2
Closed Toe Cycling Sandal
The Exustar SS503 is a closed-toe design Cycling sandal that is flexible and comfortable.
The uppers are durable and offer an adjustable fit with a protective closed-toe design.
The sole has medium flexibility, which is ideal for cycling.
The sandal offers a tight and comfortable non-slip fit.
The design is a unisex design for men and women and comes in both size options.
---
3
Hiking Sandal for Cycling
The Teva Terra Fi 5 is a popular hiking and sports brand sandal, which also does quite well for Cycling.
The upper consists of a quick-drying and breathable synthetic polyester and are fully adjustable in fit.
There is an EVA cushioned footbed and molded PU midsole for cushioning.
The Durabrasion Rubber outsole has a sticky Spider grip design for support on wet and dry surfaces.
You can also choose from a few color options in this specific model.
---
4
Toe Guard Sandal for Cycling
The Easy Snap Lock Design Sandal for Gold Pigeon is perfect for Cycling with its protective toe and Lockdown fit.
Fabric and synthetic materials are used for the puppets with a quick-dry, comfortable lining.
There is an additional rubber toe cap for toe protection and durability.
The Orthaheel technology footbed supports your foot's natural alignment and provides comfortable cushioning.
The rubber outsole is durable and ensures high traction.
There are a few color models to select from in this range and different designs and fits.
---
5
Protective Clipless Cycling Sandal
Another excellent model in cycling sandals from Exustra is their SS515C Clkipless design that still works well with Clip Pedals.
The Exustar model is a unisex design available in three color selections for both men and women.
The uppers are durable Nylon with a comfortable suede lining and Velcro adjustable closures.
There is a rubber outsole with an EVA wedge for cushioning and a screw-on cleat cover.
The sandal is compatible with all clip-on and platform pedal types.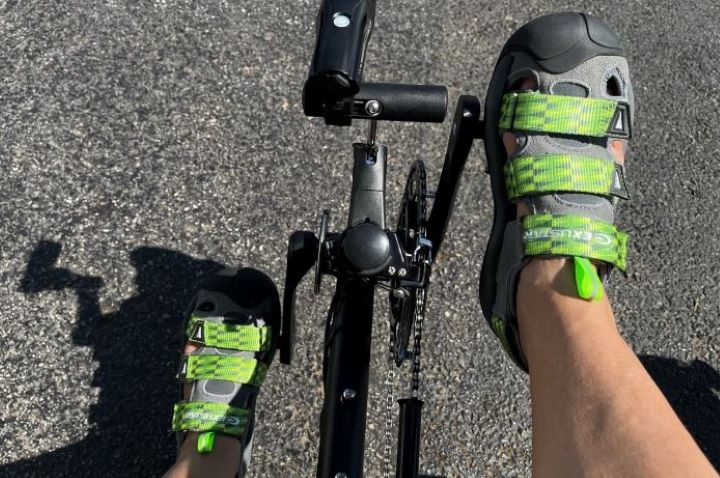 ---
6
The Keen Newport H2 is also a Hiking and Sports sandal, ideal for casual cycling excursions and walking in between Cycling.
The Polyester uppers are quick-drying and water-resistant.
The rubber outsole has multi-directional lugs and razor siping for better grip even in wet terrains.
There is a comfortable dual-density contoured insole for optimal support and cushioning, as well as a compression-molded EVA midsole.
The sandal is lined with ECO Anti-Odor technology in the footbed, a natural probiotic-based technology that breaks down odors and bacteria.
---
7
The Northside Burke and Santa Rosa are comfortable and casual cycling sandals.
The Upper is synthetic and textile, as well as adjustable in fit.
There is a Cushioned EVA footbed for comfort and a flexible sole.
The TPR traction outsole is ideal for cycling and slips resistance.
The sole also offers excellent shock resistance.
---
8
Cycling and Sports Sandals
The Dream Pairs Adventurous sandal is a fisherman-style sandal with a more protective cycling design.
The overall design is very lightweight and flexible, as well as water-friendly.
There are soft adjustable textile uppers and a super soft cushioned EVA footbed for comfort.
The rubber outsole ensures excellent grip and flexibility.
The closed design is more protective and durable.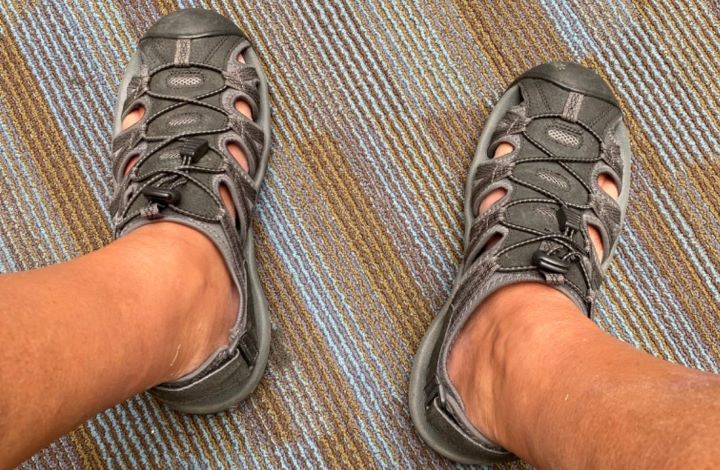 ---
9
The Gold Pigeon Snap Lock Sandals offer a secure and comfortable fit for Cycling.
The uppers are synthetic leather with a soft textile lining to prevent friction.
The durable rubber outsole ensures excellent traction and grip.
The sandal is waterproof and can be machine washed.
The sole is flexible and cushioned for comfort and durability.
There is a SNAP lock buckle for easy on and off.
---
10
A removable Cleat recess cover.
Closed-toe Fisherman's style.
Adjustable Uppers.
Durable and high traction rubber sole.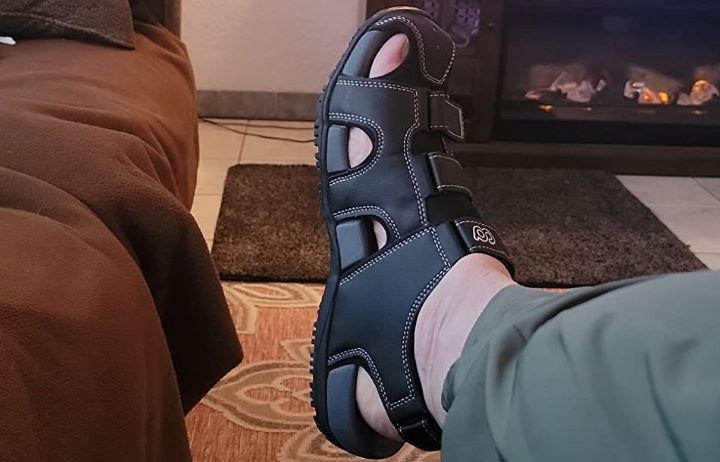 ---
Index Table: Top Rated Sandals for Cycling
---
---