There are so many conditions and even injuries that may lead to heel pain.
Wearing the wrong shoes, even the wrong sandal for heel pain, can worsen the symptoms or cause your heel pain.
That is why you need the best sandal for heel pain, which supports and cushions your feet.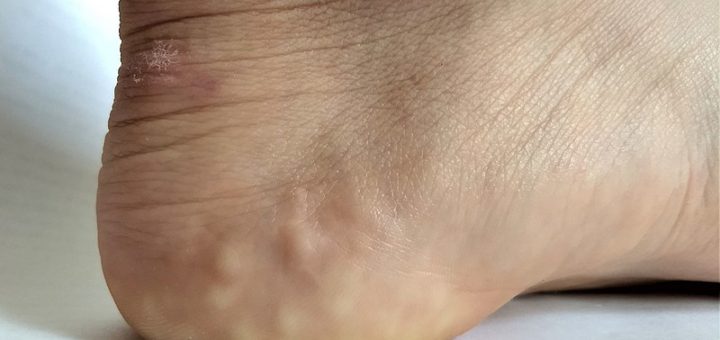 ---
Heel Pain Causes and Prevention
Heel pain is a common foot and ankle problem where the pain may occur underneath the heel or right behind it
There are so many reasons why you may have heel pain, and it is important to find the cause to help with treatment.
Mostly it may be because of increased activity or a new activity being introduced that causes an impact on your heels.

Causes and Risk Factors of Heel Pain – You may have injured your heel stepping on a hard object, twisting your ankle, or even from a hard impact during activity. Other causes may be plantar fasciitis, heel spurs, Achilles tendinitis, or Bursitis. Arthritis, being overweight, and wearing improper footwear are some risks that can increase your chances of heel pain.
Managing Heel Pain – You can easily manage heel pain in a few ways. Firstly make sure that the shoes and sandals you wear offer proper support and cushioning for your feet, especially your heels. You can use pain relieves or ice on your heel for the pain. Massages and stretching exercises may also help.
Preventing Heel Pain – To prevent heel pain from developing, make sure to keep your tendons flexible, wear proper footwear, and avoid activities that cause a hard impact on your heels and feet.
---
Choosing Sandals for Heel Pain
Good Fit – Any good sandal should fit properly and not easily slip off your feet.
Avoid Flats -generally, if you have heel pain, and overall I would avoid flat sandals as they offer little to no support for your feet and heels.
Heel Counter -A sandal with a sturdy heel counter or closed style heel, or even heel cup provides stability and support for the heel.
Arch Support – When the arch of your foot is supported, weight and impacts spread more evenly, and there is less strain on your heels.
---
Features of a Good Sandal for Heel Pain
Uppers – Sandals can have leather, polyester, rubber or EVA uppers that are all comfortable. Look for sandal with adjustable uppers for heel pain, so that you can get a secure and comfortable fit.
Footbed – The Footbed is important as it needs to support and cushion your feet. EVA or memory foam cushioning I ideal, and an anatomically shaped, or arch support footbed. Some sandals may also have a closed heel, or heel cup design.
Outsole – Look for a grippy rubber outsole that is thick and provides good shock absorbency.
Fit -The sandal should offer a snug, but still comfortable, and secure fit.
Options – from the models we have chosen, there should be options regarding colors, widths, and plenty of sizes.
---
Reviews: The Best Sandals for Heel Pain
Here we have some of the best available sandals that will surely help with heel pain;
---
1
We have two ideal sandals for heel pain: Vionic, the Colleen, and the Canoe.
The Colleen is a ladies sandal with leather uppers with adjustable hook and loop closures to get the perfect fit.
The Colleen sandal also features a podiatrist-designed and cushioned footbed with proper support and stability.
The Canoe for men has leather uppers lined and adjustable for your convenience.
The Canoe for men has a podiatrist-designed EVA cushioned footbed and a very durable rubber outsole.
You can similarly get both sandals in more colors options as you wish.
---
2
These two sandal models from DR Scholls have perfect comfort and support systems to help treat and prevent heel pain, making your life a little easier.
Let's start with the Gus for men. It has genuine leather uppers and a comfortable, roomy fit, with adjustable straps.
The Gus features a cushioned memory foam footbed that will conform to the shape of your feet and provide ample impact protection, along with the stability and durable rubber outsole.
The Adelle 2 is a gorgeous and comfortable leather sandal with adjustable hook and loop closure uppers for the ladies.
The Adelle also features a comfortable Insole technology footbed with cushioning and proper support.
The Sole is lightweight and flexible, and the sandals are very lightweight.
There are also more colors available in both sandal models.
---
3
The Chaco Wayfarer sandal models are comfortable leather sandals with a supportive footbed ideal for heel pain.
The Wayfarer has strappy leather uppers in genuine full-grain leather with exquisite quality.
The sandal's footbed has a Luvseat dual-density EVR design for cushioning and support that is unmatchable.
The outsole is a sturdy and durable rubber for support and slips resistance.
The sandal is available in a few more neutral color options.
---
4
Elegant Sandal for Heel Pain
The Rockport Darwyn and Flat sandals are perfect for all occasions and help with heel pain.
The Rockport Darwyn is a Fisherman-style sandal with leather uppers and mesh linings that wick away moisture.
Similarly, the Darwyn features truTECH lightweight shock-absorbing technology and cushioning with a PU outsole for further shock absorbency.
The Rockport Flat sandal for the ladies has leather uppers with adjustable straps.
They have a cushioned comfort insole and good arch support, along with a durable and sturdy rubber outsole.
Both sandals are available in a few more color selections.
---
5
Then we get to another favorite for many foot conditions and even for heel pain.
The Birkenstock Arizona is a comfortable and very casual sandal that is extremely popular.
The sandal has soft leather uppers with buckle closures and an adjustable fit.
The footbed has a completely anatomical design, consisting of latex and cork for cushioning and impact absorption.
The outsole is designed for optimal traction and is synthetic.
The Arizona sandal is a unisex design available in a huge variety of colors, widths, and sizes for men and women.
---
6
Slide Sandal for Heel Pain
From DR. Martens, we have something a bit different.
The Myles Brando is a platform-style sandal with a more rugged look.
The uppers are vegan leather, and there are two straps, with buckle closures, for adjustability.
The footbed has comfortable cushioning and a supportive design.
The thick rubber sole will absorb impact and protect your feet.
You can get DR. Martens, Myles, in a few neutral colors.
---
Index Table: Top Rated Sandals for Heel Pain
---
---