Hallux Rigidus is a condition that sometimes gets overlooked, and for those who have this condition affecting their day-to-day life, the right treatment can make a world of difference.
So I am here to tell you today that you can easily cope with the pain and discomfort of Hallux Rigidus and even prevent it in the first place with the right footwear.
---
---
How will the Right Sandals Help with Hallux Rigidus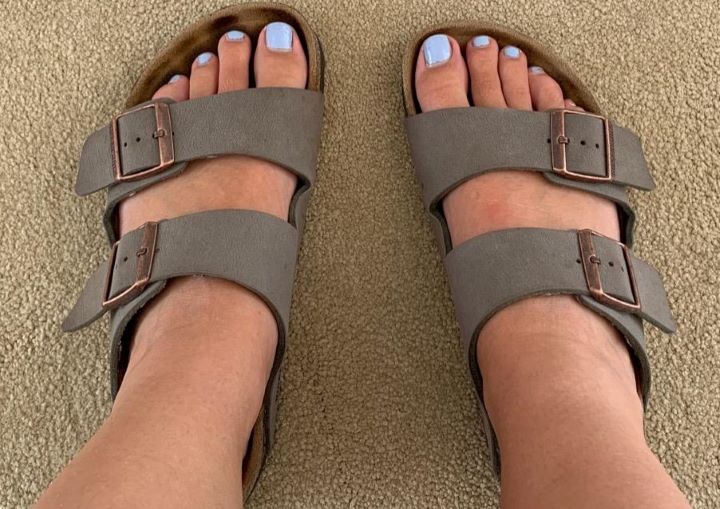 So firstly, let us look at how footwear can help with Hallux Rigidus;
Even Pressure – A good sandal for Hallux Rgiiducs will offer an evenly cushioned footbed to spread pressure through the entire sole from heel to toe.
Support – Support in a sandal ensures that your feet are correctly positioned and aids in movement, providing shock-absorbing cushioning to prevent strain on your toes and midfoot.
Roomy Fit – Extra toe room and a wider fit in most Hallux Rigidus sandals ensure less pressure on the toes and more room for movement.
---
Best Sandal Types for Hallux Rigidus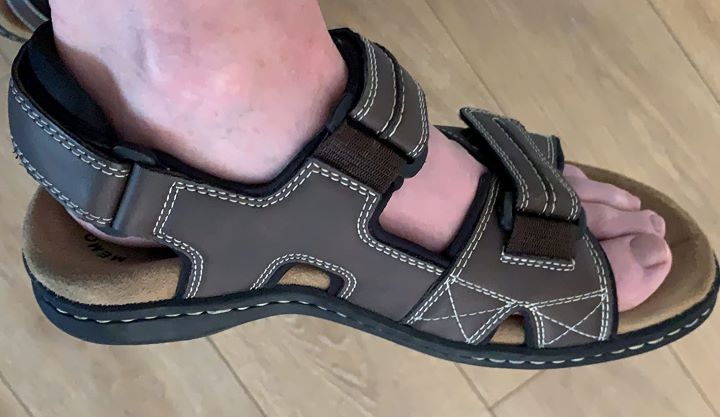 Wider Width – Sandals with a wider fit, particularly in the toe area, are ideal for Hallux Rigidus and offer a more relaxed fit design, accommodating swelling.
Adjustable – Adjustable straps allow you to get the fit you need and customize as your requirements change.
Orthopedic – Most orthopedic sandals offer a roomy toe, excellent support, and cushioning features for medical conditions such as Hallux Rigidus.
Rocker Bottom – A sandal with a Rocker Bottom sole reduces strain on the big toe and forefoot and improves motion and stability, which helps with the pain and symptoms of Hallux Rigidus.
Birkenstocks – The Birkenstock sandal or sandal with a similar design have a wide fit, adjustable uppers, and a contoured cork footbed which is one of the best slip-on sandal designs for Hallux Rigidus.
---
Related Articles on Hallux Rigidus
---
Features of a Good Sandal for Hallux Rigidus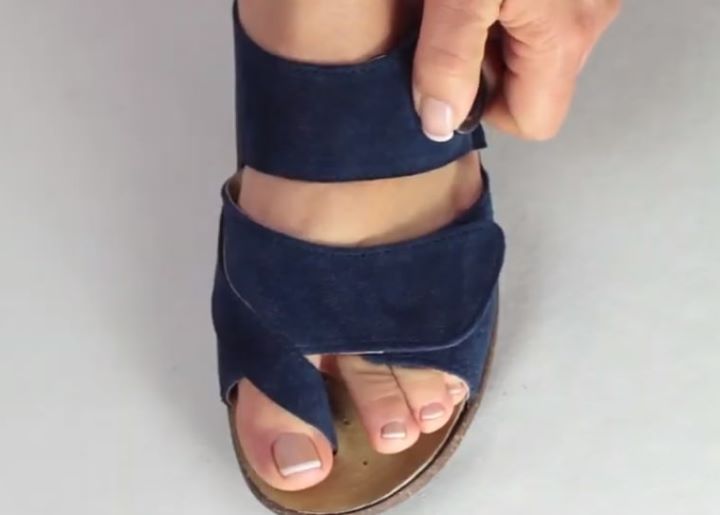 Uppers – Soft and comfortable textile or leather uppers with flexible or adjustable settings for a customizable fit.
Roomy Toe and Wide Fit – A roomy toe box area DNA a wider fit option is ideal and offers more comfort and freedom of movement.
Support – A contoured and supportive footbed with cushioning and an EVA or foam midsole to absorb shock, particularly in the toe and the ball of the foot area.
Rocker Sole – The Rocker Sole option keeps your forefoot and toes from directly hitting the ground.
Sole – A sturdy sole for better stability and a rubber outsole for excellent traction offers excellent support and grip.
Arch Support – Arch support for your specific arch type will help with posture and proper movement to reduce strain on the toe and forefoot area affected by Hallux Rigidus.
---
Reviews: The Best Hallux Rigidus Sandals
Below are the most comfortable and supportive sandals for individuals who have Hallux Rigidus;
We hope you love the products we recommend!
We may collect a share of sales or other compensation from the links on this page.
---
1
Sandals for Hallux Rigidus
The Birkenstock Arizona is one of the best choices you can make in a sandal for hallux Rigiodus, plus it is a. Itin a wide variety of colors and finishes options.
The Birkenstock Arizona comes in a wide choice of colors in Nubuck, suede, smooth, metallic, or patterned and printed leather for the uppers.
The Birkenstock has a Cork and latex contoured footbed, ensuring optimal arch support and ample cushioning.
The outsole is durable and ensures a good grip.
The fit is relaxed and a bit wider.
---
2
Hallux Rigidus Sport and Hiking Sandals
Two of the best sandal for hiking and outdoor use when you have Hallux Rigidus are the Teva Tirra and Teva Katavi.
The upper comprises smooth and durable leather with a moisture-wicking textile lining.
The contoured EVA footbed ensures excellent support and cushioning.
There is a Shock pad in the heel to absorb shock and a compression-molded shock-absorbing midsole.
The uppers are adjustable so that you get a perfect fit.
The rubber outsole is durable and ensures excellent grip on most surfaces.
---
3
Sporty Sandals for Hallux Rigidus
The Dockers New Page and Earth Origins Holland are two different brands with many features, ideal for Hallux Rigidus.
These sandals offer a roomy and relaxed fit, with wider width options and adjustable straps.
The footbed is cushioned with memory foam for comfort, and the Fusion design adds extra cushioning and shock absorbency layers.
A durable rubber outsole ensures good traction and grip.
---
4
Hallux Rigidus Flip Flop Sandals
These are the most comfortable and supportive Flip Flops you will ever own, with a perfect design for Hallux Rigidus.
A diabetic sandal with extra width, toe room, and availability in wider options.
The upper leather straps are comfortable and soft against the skin.
The footbed is contoured and cushioned for comfort and support.
The outsole is also patterned for better traction.
---
5
The synthetic leather upper of the shoes is easy to care for and durable.
There are a few color selections from which you can choose.
Orthaheel technology and a microfiber lining keep moisture at bay for the footbed.
The rubber outsole is durable and has a patterned tread for traction.
---
6
Sandals for Hallux Rigidus
The Offers Oooahh is a post-injury or post-sports sandal perfect for severe pain and discomfort because of Hallux Rigidus.
These are easy slides on and off the sandal.
The foamy footbed offers excellent cushioning, and the Rocker Sole design removes all pressure from the forefoot.
The sandal is water-friendly and easy to clean.
There is also a few color selection available in the OOfos.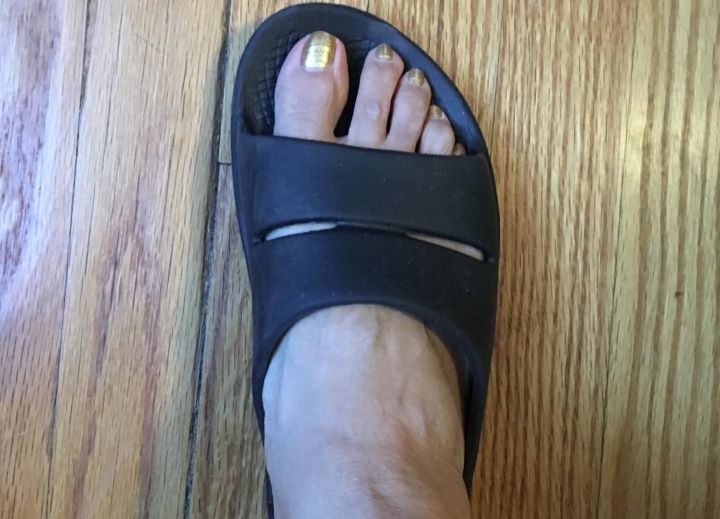 ---
7
sandals for Hallux Rigidus
The Teva Original has a comfortable and supportive footbed ideal for Hallux Rigidus.
The Upper is a water-friendly textile and is also fully adjustable.
The sole is a solid black color, and many color and pattern color options are available in the Teva Classic design.
The footbed offers to cushion and support with EVA foam.
The rubber outsole is rugged and durable.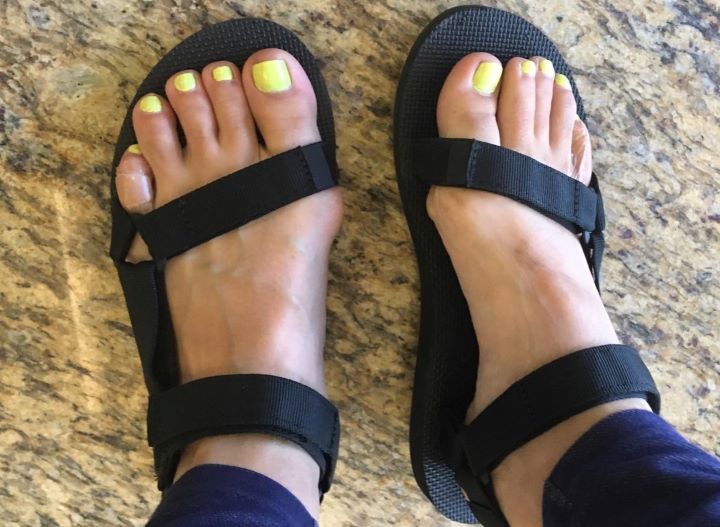 ---
8
The Vionic Leo and Amber are fashionable, everyday wear sandals for all occasions.
The uppers are durable leather with adjustable closure straps.
There are a few color selections available in both models.
The footbed is cushioned with Orthaheel technology for support and comfort.
There is a durable and high traction rubber outsole.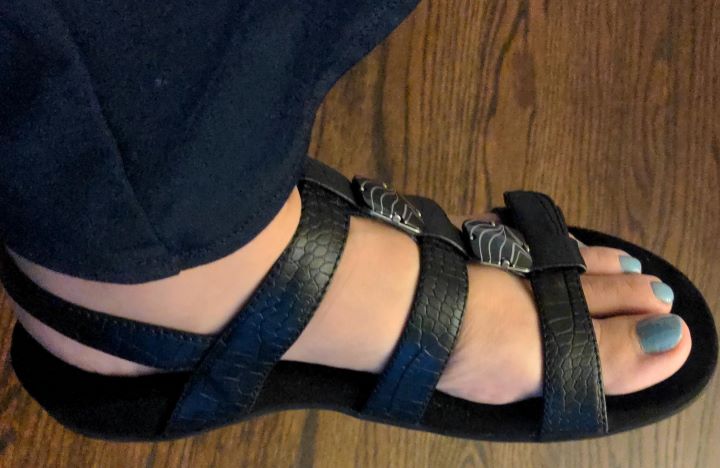 ---
9
Flip Flop For Hallux Rigidus
With the Iqushion, you get excellent arch support and Heel Cushioning for Hallux Rigidus.
The Flip Flop is very lightweight and foamy with water-resistant materials.
There s arch support and added heel and forefoot cushioning for shock absorbency.
The footbed has an anatomical shape for optimal support.
The Outsole offers durability and good traction.
---
10
Comfort Sandals for Hallux Rigidus
The Propet Casual and Pedic Walker are comfortable sandals for Hallux Rigidus that are perfect for walking.
Both sandals have adjustable leather straps.
The synthetic and durable outsole is perfect for walking on various surfaces.
A Cushioned and removable PU insole footbed ensures adaptable comfort and support.
The heel is closed for a more secure fit and protection.
---
Index Table: Top Rated sandals for Hallux Rigidus
---
---