For anyone who has the condition Hallux Rigidus, there is nothing more comfortable than an open-toe sandal with a roomy toe box and a more rigid sole that reduces motion on the big toe, and that also provides less pressure.
Birkenstock sandals for Hallux Rigidus or ideal as they have the softest and most accommodating adjustable uppers. The wide and roomy footbed offers good support and comfort with a more rigid type of sole. They will place little to no pressure on your painful big toe, and they will offer plenty of motion control and underfoot cushioning.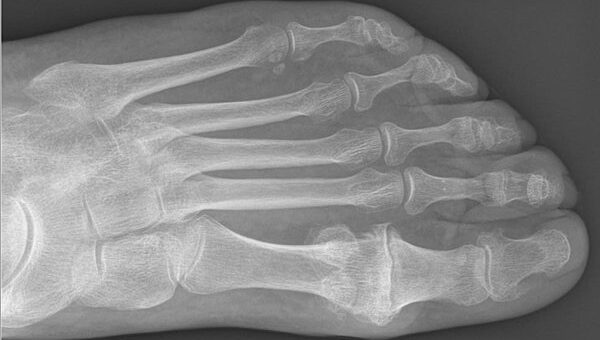 ---
Hallux Rigidus and How it Affects You
Unfortunately, Hallux Rigidus is a condition that can affect the way you walk, and that can cause you much pain and discomfort, especially when trying to choose the best shoes.
Hallux Rigidus is arthritis in your big toe. It is quite common, and it is sometimes called big-toe arthritis. Hallux Rigidus causes stiffness and the joint of your big toe can become painful and swollen. It is a progressive condition that will get worse with time in some individuals and others, they are lucky enough to find that it doesn't get any worse than when it started.
Did you know that there is also a condition called Hallux Valgus, which is bunions that similarly affect the joint of your big toe, causing a bony bump to form at the side of the big toe that is also painful and that can also cause stiffness? Many times individuals who have Hallux Rigidus can develop bunions and other conditions such as corns and calluses from the pressure of the other toes.
Causes – So initially, what causes Hallux Rigidus? There are a few things that can cause Hallux Rigidus. One of the main issues is overuse of the joint in your big toe or excessive stress on the joint of your big toe. Injuries such as stubbing your toe, or even spraining the joint in your toe, can also lead to Hallux Rigidus. With some individuals, it just runs in the family, and they can inherit a certain foot top that is more likely to develop Hallux Rigidus. Conditions such as osteoarthritis, rheumatoid arthritis, and gout, or some of the main causes of Hallux Rigidus, are inflammatory diseases that affect the joints in your big toe.
Symptoms – When you start developing Hallux Rigidus, you will feel pain in the joint of your big toe, especially when you walk or run. In the instance where you push off your big toe. In many cases, you will feel pain and stiffness in your big toe. Motion will start to decrease in the big toe's joint, and walking and standing can become painful. The joint in your big toe can become swollen and inflamed, and you may also feel pain and stiffness, especially in cold and damp weather. It will also become very uncomfortable to weigh specific shoes, especially high-heeled shoes, very flat shoes, or shoes that have a narrow fit placing pressure on your big toe.
Treatment – The best treatment for Hallux Rigidus is to reduce activities that cause pain and that can cause the progression of the condition. Foot-soaking ice, heat, and pain medication can be used to manage the pain cortisone injections will also help, but eventually, if the condition becomes very severe, you may need surgery.
Prevention – There are a few things you can do that can help to reduce Hallux Rigidus or its progression of it. But ideally, you cannot prevent the condition from happening. You can exercise your big toe joint to keep it more mobile. You can try to rest the joint when you feel pain, and you can especially wear shoes that have a good fit with enough space around your toes. Can I prevent hallux rigidus?
---
Shoes and Sandals for Hallux Rigidus
The Birkenstock sandals that we are featuring in this article truly are an excellent choice for the condition Hallux Rigidus. I love the fact that you can adjust the uppers so that they are soft and comfortable on your feet, and that they have a more rigid sole, which is exactly what you are looking for when you have Hallux Rigidus.
For most sports, you want the least amount of pressure on your big toe. You want something rigid underneath your feet that can support your feet, and that will reduce motion in the big toe joint which can cause pain and progression of the condition. You want a sandal or a shoe that absorbs impact, with soft underfoot cushioning and proper support from the footbed of your shoe or sandal.
Then again, you also want a shoe or a sandal that has a very low heel, or a solid sole, rather than an extremely flat sole or a high and medium heel.
---
Features of a Good Birkenstock Sandal for Hallux Rigidus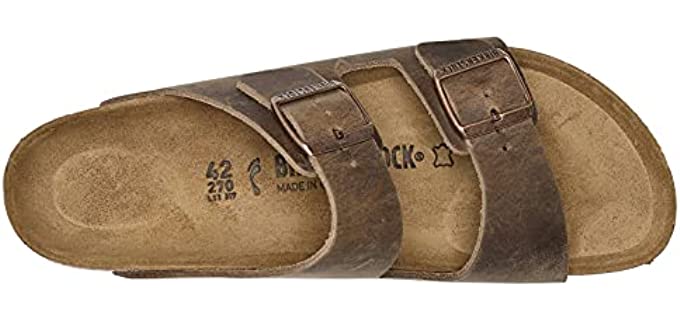 Fit – Birkenstock sandals generally have a wide and roomy toe box. They are available in white and narrow-width options, and they have adjustable uppers so that you can get a more comfortable fit.
Uppers – Birkenstock sandals will have either vegan or genuine leather uppers. The uppers will be smooth leather, nubuck leather, suede leather, or patent leather.
Low Heel – Birkenstock sandals have a thick and shock-absorbing sole, and they generally do not have a heel.
Rigid Sole – The sandals from Birkenstock usually have either an EVA cork or rubber outsole that is durable and rigid offering good traction and shock absorbency.
Support and Cushioning – Most Birkenstock sandals come with a cork and latex footbed that has an anatomical design to provide ergonomic support for your foot. And the orchestras of your foot. They also offer good cushioning to absorb impact and reduce pain in the big toe.
---
Reviews: The Best Birkenstock Sandals for Hallux Rigidus
In our review section, we have some of the best available Birkenstock sandals that are ideal if you have Hallux Rigidus;
---
1
Sandals for Hallux Rigidus
The Birkenstock Arizona is the most popular sandal from this brand.
It has two upper straps that are soft leather with adjustable buckle closures.
They have a comfortable contoured cork and latex footbed.
The outsole is durable and supportive.
---
2
The Gizeh has a Birko Floor Upper with a T-Strap.
The uppers place no pressure on your big toe.
The sandal feature a comfortable shock-absorbing EVA sole, and leather lining.
They also ensure good anatomical arch support.
---
3
Leather Sandals for Hallux Rigidus
The Milano has a softer more comfortable footbed and an EVA sole.
It has genuine leather uppers and a regular fit.
There is a Molded Cork footbed for support and comfort.
The uppers are fully adjustable in fit.
---
4
These are Mule style sandals from Birkenstock for a more closed-protective design.
They have a roomy toe box and soft leather uppers.
The footbed is lined and has cork and latex cushioning.
The outsole is durable and supportive.
---
5
Sandals for Hallux Rigidus
The Toe Loop sandal from Birkenstock can help limit excessive motion of the big toe.
The uppers are oiled leather and the footbed is lined with suede.
There is a supportive cork, latex footbed, and grippy outsole.
The uppers of the sandals are also adjustable.
---
6
Sandal for Hallux Rigidus
The Honolulu from Birkenstock is available in many colors.
It is a fun and casual sandal for beach and pool wear.
There is a durable EVA sole and anatomical EVA footbed that is lined.
The sandals are lightweight and fully washable.
---
Index Table: Top Rated Birkenstock Sandals for Hallux Rigidus
---
---