Choosing the best shoes for Gout initially can be quite difficult. However, choosing sandals for gout can even be more difficult. In this article, we want to help you find the most comfortable sandals that you can wear, even when you have a gout attack or flare-up that is especially affecting your feet or big toe.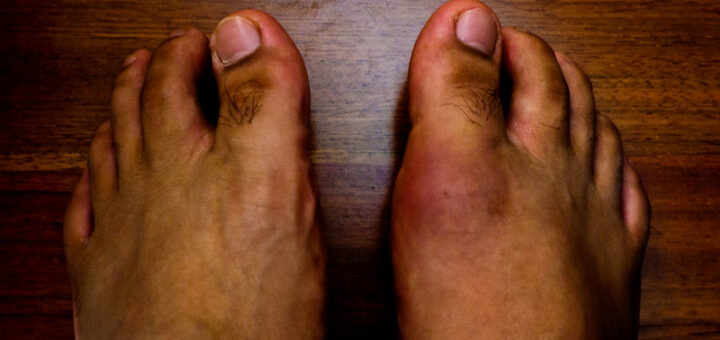 ---
Gout Symptoms and Causes
Gout is a more complex form of arthritis that affects the joints in your body, and it is characterized by severe attacks of pain, swelling, redness, and inflammation. Most often, gout will affect the base joint of the big toe, which can cause painful symptoms.

Symptoms – Gout symptoms will occur suddenly and overnight. You may feel intense joint pain, and it will usually affect your big toe. However, it can occur in any joint. The pain will be the most severe within the first 12 hours after it began, and after that, you may have lingering discomfort. There may be inflammation and redness, and you may have a limited range of motion in your big toe as gout progresses.
Causes – Gout is basically caused when urate crystals start to accumulate in your joints. It can happen in one or more of the joints in your body. In terms of your feet, these urate crystals tend to form, and the base joint of the big toe causes gout of the big toe. Your body produces uric acid to break down purines which are naturally found in your body, and also in foods such as red meats, organ meats, liver, seafood, such as anchovies, Sardines, mussels, scallops, trout, tuna, and also alcoholic beverages, especially beer and sweetened drinks that contain fructose. Uric acid will usually dissolve in your blood and pass to your kidneys through your urine. However, sometimes your body produces too much uric acid, or your kidneys will excrete too little uric acid, which will cause a build-up that may form sharp, needle-like crystals the in the joint surrounding tissues, which can cause painful inflammation and swelling.
Risk Factors – The biggest risk factor regarding. Is consuming alcoholic beverages such as beer and high sucrose or sugar, fold beverages. Red and Organ meats and certain seafood also lead to gout. Some medical conditions can increase your risk of gout, and it is also more apparent in men than in women.
How it Affects Your Feet – Many frequent attacks of Gout can cause long-term damage to your feet and your big toe. There is a risk of infection, ingrown toenails, swelling, and damage to the skin of your feet or your big toe. Gout may also affect the way you walk, which in turn can lead to pain in the hips, knees, and back
Treatments – You can use ice packs and non-steroidal anti-inflammatory medications to deal with the pain of gout attacks. You can use medications that also help to control the levels of uric acid in your bloodstream which could cause damage to your kidneys because of gout. I would highly advise that you reduce your intake of sugary drinks and alcoholic beverages, especially beer, and that you also limit seafood such as shellfish, as well as red and organ meats, which are all some of the main risk factors that may lead to gout.
Complications – Gout can be a condition that can be moderate and recurrent. However, it can become more recurrent, and it can become more advanced and more painful. Gout can also lead to kidney stones because of uric crystals that are collecting in your urinary tract.
---
Choosing Sandals for Gout
If you are someone that experiences many gout flares or attacks you should really try to avoid flimsy footwear and sandals such as flip-flops or unsupportive sandals.
The best sandals for gout are those that have plenty of cushioning, and good support with a comfortable and adjustable fit that will not place pressure on the painful areas or joints of the feet. As Gout usually affects the big toe, you want this area of the sandal to be more comfortable and accommodating.
Sandals for gout should have a deep and spacious fit in which you can easily spread out your toes. You want soft and comfortable underfoot cushioning and a supportive midsole. High heels are not good if you've got gout as this place is pressure on the joints of the big toe, which can be extremely painful. So ideally, you want to opt for sandals with a very, very low heel or a flat sole.
---
Features of a Good Sandal for Gout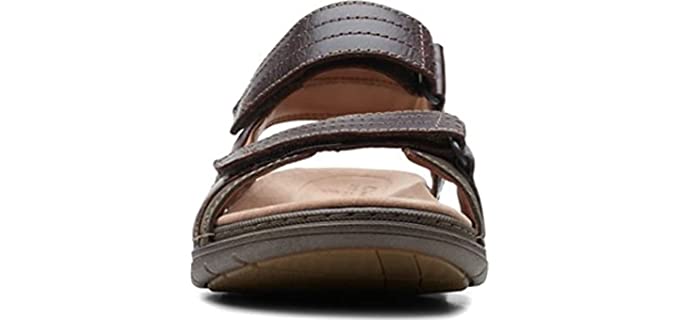 Uppers – When looking for a sandal for Gout opt for sandals with softer and more flexible uppers that have a roomy and wide toe box and adjustable fit. Soft leather, polyester, and mesh are ideal materials for uppers.
Support and Cushioning – Sandals need to have a more stable sole with EVA cushioning and a comfortable supportive footbed.
Outsole – Most sandals will have a durable rubber or Vibram rubber outsole, some models have a softer EVA outsole for grip on wet and dry surfaces.
---
Reviews: The Best Sandals for Gout
These are some of our top choices in a variety of sandals for Gout;
---
1
Dr, Scholl is an Orthopedic brand that makes some lovely sandals with many excellent comfort features for Gout.
The sandals have adjustable fit and comfortable cushioning features with a more contoured and anatomical footbed.
They have a roomy toe box and offer good stability.
The uppers are leather and have a hook and loop closure.
You can likewise choose from a few available color options.
---
2
Waterproof Sandal for Gout
If you are looking for the perfect waterproof outdoor sandal for Gout it is definitely the Teva XLT@.
The sandal offers you full adjustability with soft polyester uppers that are also quick-drying.
There is a comfortable cushioned footbed and EVA midsole to absorb shock.
The sandal has a roomy toe box fit.
The outsole is a durable rubber offering excellent stability and traction.
---
3
Vionic sandals are slightly more formal in style offering everyday support and comfort.
They have a podiatrist design footbed with good arch support and a heel cup for stability.
The sandals are well cushioned to absorb shock and generally have a roomy toe box.
They have adjustable comfortable uppers and a durable rubber outsole.
---
4
Waterproof Sandal for Gout
The Crocs Swiftwater sandals are water sandals that have a very lightweight and comfortable design.
They are fully adjustable to accommodate your feet, and there are no irritating straps that could cause any pressure.
The sandal has a contoured and well-cushioned footbed for support, and stability.
They also have a reliable and high-traction outsole.
---
5
From Clarks, we have two slightly closed styles and more formal sandals for Gout.
They have leather uppers and are available in more colors.
The sandal is adjustable in fit and does offer more toe room.
Clarks is a brand known for its Orthopedic comfort features for foot conditions such as gout.
The sandal is cushioned and has a cool textile lining.
They have a stable EVA midsole and a durable rubber outsole.
---
6
The Keen Astoria West is a T-Strap Wedge sole sandal for comfort, with a sporty style.
The sandal has a comfortable and adjustable fit with water-friendly polyester uppers.
There is a well-cushioned midsole and a stability shank for support.
The sandal has an Aquagrip rubber outsole for grip on wet and dry surfaces.
---
Index Table: Top Rated Sandals for Gout
No.
Product
Men ♂
Women ♀
Features
Brand
Score

1

Dr. Scholl's

®

- Gout Sandals

Gus

Adelle 2

Cushioned
Anatomical Footbed
Arch Support
Leather Uppers
Wider Widths

Dr. Scholl's
98.2

2

Teva

®

- Waterproof Sandal for Gout

Hurricane XLT2

XLT2

Adjustable Uppers
Water resistant Quick Drying Polyester
Cushioned
Anatomical Footbed
Slip Resistant

Teva
97.7

3

Vionic

®

-

Canoe Leo Brown

Colleen

Concealed Orthotic Support
Cushioned
Heel Cup
Adjustable Upper straps
More Color

Vionic
97.8

4

Crocs

®

- Waterproof Sandal for Gout

Swiftwater River

Swiftwater Webbing

Adjustable Uppers
Waterproof
Slip Resistant
Lightweight
Cushioned

Crocs
97

5

Clarks

®

- Gout Sandals

Hapsford Cove

Leisa Ruby

Cushioned
Arch Support
EVA Midsole
Adjustable Uppers

Clarks
97.8.

6

Keen

®

- Outdoor Gout Sandal

Astoria West

Astoria West

Cushioned
Water Friendly
Non-Marking Sole

Keen
97.4
---
---