Many individuals today are affected by sweaty feet, whether it is heat, extra sweat, or Hyperhidrosis.
A sandal is your best shoe option for sweaty feet because of its open and highly ventilated design.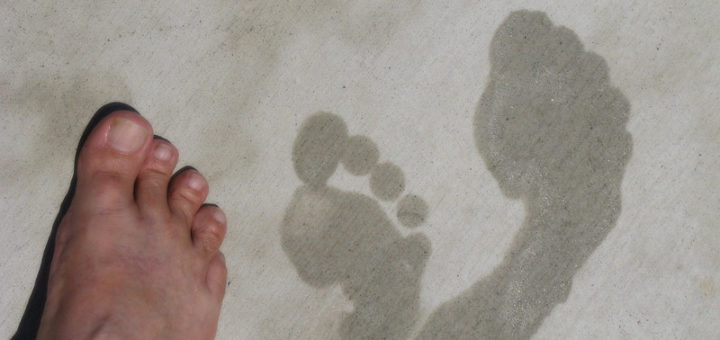 ---
---
Some Tips for Dealing with Sweaty Feet when Wearing Sandals
Here are a few tips and tricks you can follow to keep your feet dry and dor free in your favorite pair of sandals;
Anti-Fungal Powder – A good anti-fungal foot powder will help absorb sweat and kill those nasty odor-producing germs and bacteria.
Rubbing Alcohol – Rubbing Alcohol is a quick fix to dry up a sweat on your feet and between the toes; however, it will not keep sweat at bay for very long.
Changing Shoes – Changing your shoes and sandals can help control sweat as your feet heat up in the same pair of shoes, which causes sweating.
Washing and Soaking – You can wash your feet in between and soak them in black tea for refreshing and sweat control.
Stay Hydrated – Ensure you drink plenty of water and fluids to help control your body temperature, preventing excessive sweating.
Anti Perspirant – You can likewise spray some antiperspirant or use roll-on on the bottom of your feet to prevent sweating.
---
Best Sandal Types for Sweaty Feet
Here are a few great options in sandal types that work well for sweaty feet;
Slide Sandals – slide sandals have a sporty style; they are an easy on-and-off option and can be changed regularly to prevent overheating.
Suede – An even better option than leather, a suede lining or suede sandal absorbs sweat and helps to keep your feet dry.
Birkenstocks – Birkenstocks or any other sandal brand with a cork sole is excellent for sweat absorbency.
Flip Flops – Flip Flops come in a large variety of styles, from casual to formal, and because they are so affordable, you can invest in a few of them. They are lightweight, open, and breezy, ideal for sweaty feet.
---
Features of a Good Sandal for Sweaty Feet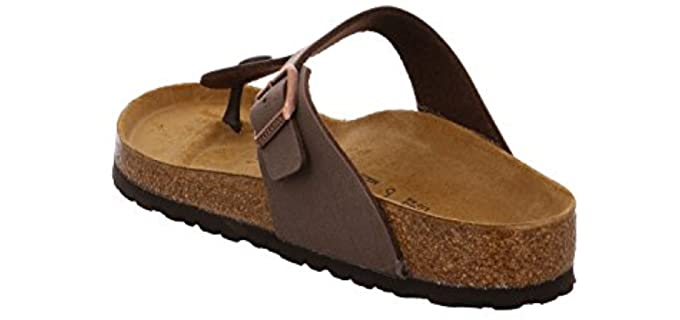 A natural fiber sole such as Cork or bamboo fibers.
Leather and suede are excellent options in a sole or lining.
Cushioning and a contoured footbed for comfort and prevent feet from slipping around.
Open design allows for maximum ventilation.
It is lined with sweat-absorbing fabric or synthetic lining.
Durable and slip-resistant outsole and EVA cushioned midsole.
---
Reviews: The Best Sandals for Sweaty Feet
Here is our list of the best available sandals for Sweaty Feet;
We hope you love the sandals we recommend!
We may collect a share of sales or other compensation from the links on this page.
---
1
Birkenstock is an excellent choice in sandals for sweaty feet because of the absorbent cork footbed and suede leather upper design.
Soft suede leather is upper with an adjustable strap.
A comfortable cork footbed and cushioned EVA midsole.
Durable and high traction rubber outsole.
The sole is also flexible and offers a good grip.
---
2
Shower sandal Sweaty Feet Sandal
This is a great sandal that you can slip on and off; it also allows you to wash or rinse your feet quickly with its water-resistant and shower-friendly design.
Easy slide-on and-off design available in many color selections.
Water repellent can be used to shower with or rinse feet frequently, and the shoe will dry almost instantly.
EVA midsole for shock absorbency and a durable outsole for excellent traction.
Comfortable synthetic bandage design uppers.
Lightweight and offers a regular semi-wide fit.
---
3
The Teva Fi Lite is a lightweight, comfortable sports and hiking-style sandal with excellent moisture management capabilities.
The upper consists of Nylon and Polyester that is quick-drying and breathable.
A cushioned EVA midsole and Nylon shank offer excellent stability and support.
There is shock-absorbing ShocPad technology.
Features
A durable and high-traction spider rubber outsole.
---
4
Leather Slide Sandal for Sweaty Feet
These are two superb sandal models from Clarks with a moisture-managing insole.
Soft and comfortable leather uppers.
An Ortholite open Cell Molded footbed with soft cushion padding.
A durable TPR outsole that offers excellent traction.
Ultra-lightweight and breathable design.
Smooth moisture-wicking textile linings.
The Malone is available in a black or brown color selection, while the Leisa Cacti Q is available in Olive or red leather.
---
5
The Tide model in the Vionic is a favorite among many for its highly breathable and open design and excellent moisture management technologies.
Soft leather and synthetic textile lined upper for comfort and breathability.
Thong style opens sandal.
A Comfortable and flexible EVA midsole for cushioning and shock absorbency.
Slightly raised dot design on the footbed for better traction.
Podiatrist-design, biomechanical, and orthotic footbed with a deep heel cup for support and comfort.
Lined footbed for moisture management and a durable rubber outsole for traction.
---
6
The Birkenstock Florida is the primary design in Birkenstock Shoes with a cork footbed and suede leather uppers.
Soft suede leather is upper with a double strap design and buckle closure for the best fit.
A cushioned cork footbed that absorbs moisture and keeps your feet dry.
Durable rubber outsole for excellent grip and traction.
S; lightly platform styled sole for better cushioning and support.
Available in a dark brown or tan leather option.
---
7
The Keen Newport H2 is the ideal outdoor and casual wearing sandals for sweaty feet.
The Open design of the sandal offers excellent sweat reduction and cooling ventilation.
There is also a Microban Zinc Based treated antimicrobial lining to reduce odors and bacteria caused by sweat.
The uppers are flexible and adjustable for a comfortable fit.
The insole is cushioned for comfort and has a moisture-wicking lining.
A durable rubber outsole with a lug tread for outdoor and indoor traction and grip.
Many color selections are available.
---
8
Open Toe Comfort Sandal for Sweaty Feet
The Teva Open Toe Design sandal and Verra are sports sandals with a moisture-wicking lining and antimicrobial-treated footbeds for sweaty feet and odors.
The leather and textile uppers are completely adjustable for the perfect fit.
The footbed is contoured and cushioned with EVA for shock absorbency and support.
There is a high traction durable rubber outsole for slip resistance.
The Sandal is also water-friendly and quick drying.
---
9
Cork Footbed Sandal for Sweaty Feet
The Birkenstock Gizeh sandal is a fresh and comfortable thong sandal with an absorbent cork footbed contoured for comfort.
Smooth leather upper offers you a soft and comfortable fit with adjustable straps and buckle closures.
The cork and latex footbed is contoured for support and offers exceptional cushioning.
A thick rubber outsole ensures excellent slip resistance and durability.
The thong-style is cool and comfortable for those hot summers when your feet tend to sweat.
---
10
Leather Slide Sandals for Sweaty Feet
The Merrell Slide sandals are ideal for sweaty feet with an antimicrobial fabric lining.
The Upper consists of full-grain leather.
There is a comfortable Cushioned footbed with Merrell Air Cushioning in the heel.
The sole is lined with an antimicrobial and moisture-wicking fabric lining for sweaty feet.
The rubber outsole ensures excellent grip and traction on most surfaces.
---
Index Table: Top Rated Sandals for
---
---