Cracked Heels can be painful and unsightly, and wearing sandals may worsen or cause Cracked Heels.
But wearing closed shoes is only sometimes favorable, especially in hot weather. So, I will help you find some great sandals choices for Cracked Heels in this article.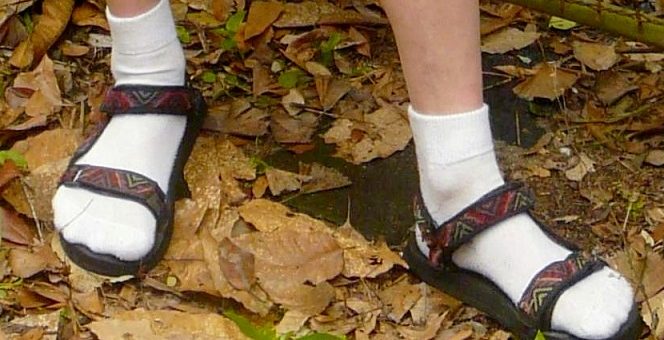 ---
---
Sandals and Cracked Heels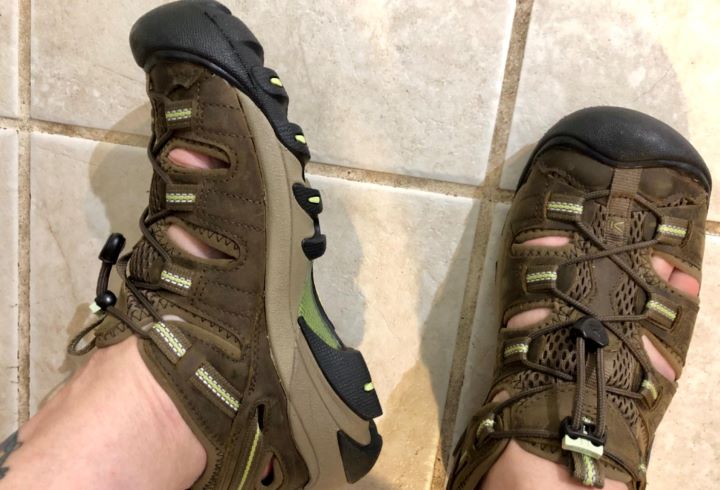 In general, most sandals, particularly Flip Flops, have a role in dry and Cracked heels. As you have most likely noticed, when you wear a closed shoe with socks, your heels are not cracked, but as soon as you go barefoot, they start to Crack.
Because your heels are open and dry most of the time, they lose moisture and start to crack. There is also little protection against the elements, further aggravating the condition.
In areas where the area is drier, you are more likely to suffer from cracked heels than in humid areas around the coast.
Yet, if you wear the right design in a Sandal, you can hide and even prevent cracked heels and still enjoy the freedom of a sandal.
---
Fixes for Cracked Heels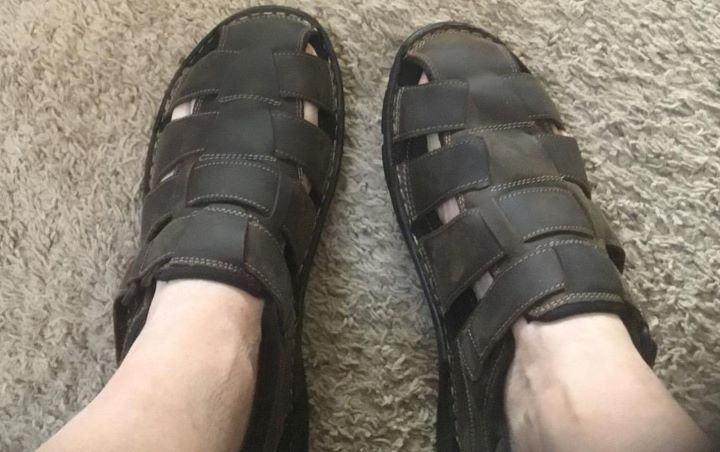 If you want to wear a pair of sandals and avoid or even heal Cracked Heels, the right type of sandal goes hand in hand with a proper foot treatment regime;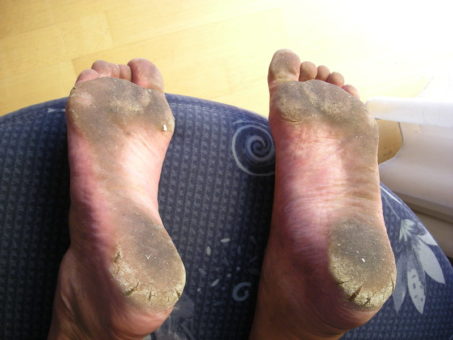 Clean and Scrub Your Feet – Make sure to properly clean your feet and use a Pumice stone or a good scrub to remove all excess dead skin.
Moisturize – You can use an Emollient or Humectant Moisturizer to moisturize your feet. An Emollient Moisturizer penetrates the skin and reduces water loss, whereas a Humectant Moisturizer penetrates the outer layer of the skin and attracts moisture from the air.
Foot Conditions and Health Issues – Health Conditions such as Diabetes, Obesity, Hyperthyroidism, and skin conditions such as Eczema, Fungal Infections, and Psoriasis can all cause Cracking Heels. Treating these conditions can also prevent and heal Cracked Heels in turn.
Harsh Soaps – Avoid using harsh soaps and chemicals on your feet, which can dry them out even more.
Socks to Bed – Right after You have Moisturized your feet, you can put socks on and keep them on for a while or sleep with them. This helps to moisturize and deal with your cracked heels deeply.
Dry Feet – When you get out of the bath or shower, dry your feet properly and immediately apply moisturization, as water and dampness can also cause dryness in the heels as well as lead to fungal infections.
---
Features of a Good Sandal for Cracked Heels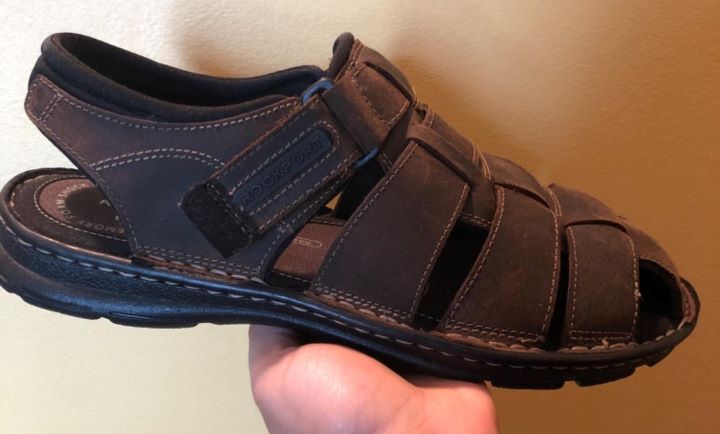 Uppers – Look for a sandal with a comfortable and adjustable fitting upper design. Fisherman's sandal styles are usually the best option for Cracked heels. Uppers can be leather, textile, or synthetic materials.
Footbed – The footbed needs to be cushioned and supportive with a contoured design, heel cup, or arch support. An Antimicrobial or microfiber or dry footbed lining is ideal for keeping fungus, causing bacteria and sweat at bay.
Midsole – EVA or foam cushioning in the midsole is ideal for cushioning and shock absorbency.
Outsole – Rubber or synthetic material can be used for the outsole, with a patterned or lug tread for slip resistance and traction.
Style – Look for a sandal with a more closed style heel that protects the heels and hides unsightly cracked heels.
---
Reviews: The Best Sandals for Cracked Heels
Here we have the perfect sandal models that will help with and hide Cracked Heels;
We hope you love the sandals we recommend!
We may collect a share of sales or other compensation from the links on this page.
---
1
Sporty Sandals for Cracked Heels
The Keen Arroyo is a sporty sandal with a closed heel and water-resistant materials, ideal for preventing and treating cracked heels.
The uppers are leather with a textile lining for comfort.
The uppers are likewise fully adjustable for a customizable fit.
The closed-heel design will hide and help to clear up cracked heels.
There is a comfortable cushioned Metatomically shaped footbed consisting of Dual Density EVA
The sandal is easily washable and quickly drying with water-resistant materials.
The durable rubber outsole is non-marking and has high traction.
---
2
Cracked Heels Dress Sandal
The Propet Bayport and Pedic Walker are two comfortable dress-style sandals with a closed-heel design and cushioned footbeds.
The Upper is genuine leather, and a few neutral color options are available.
There is an Ortholite footbed and an antimicrobial moisture managing lining for Comfort..
The midsole is cushioned, and the Pedic Walker has a slight heel.
The rubber outsole ensures excellent grip and traction.
The closed-heel design will protect and help to heal cracked heels.
---
3
These are two stunning Fisherman Style sandals with a protective closed heel for cracked heels.
Genuine durable leather is used for the upper, with adjustable fitting straps.
The sandal in both models is available in a few color options.
An EVA Footbed with a supportive design provides all-day comfort while the closed heel hides and heals cracked heels.
The design is ideal for more dressy occasions and walking.
---
4
Sandal for Crakced Heels and Foot Odor
The Newport H2 is a comfortable sports sandal for outdoor use that can help with Cracked Heels, though it has no closed-heel design.
The Newport H2 is water-resistant and has an adjustable and washable polyester upper.
There is a lace-up bungee system for a more comfortable and customizable fit.
Dual-density PU is used for the footbed and Compression-Molded EVA in the midsole.
The rubber outsole has lug patterns to provide extensive slip resistance.
---
5
What I love about the Teva Omnium is the closed heel that still has two large ventilation and drainage holes, which protects and hides cracked heels.
Mesh and synthetic materials are used for the upper, adjustable and comfortable. There is a high traction and slip-resistant, durable rubber outsole.
The Toe and Heel are closed for protection. However, there are cutouts and drainage holes for ventilation and water drainage.
The Molded EVA midsole and ShocPad technology provide extensive comfort and shock absorbency.
The rubber outsole is likewise non-marking.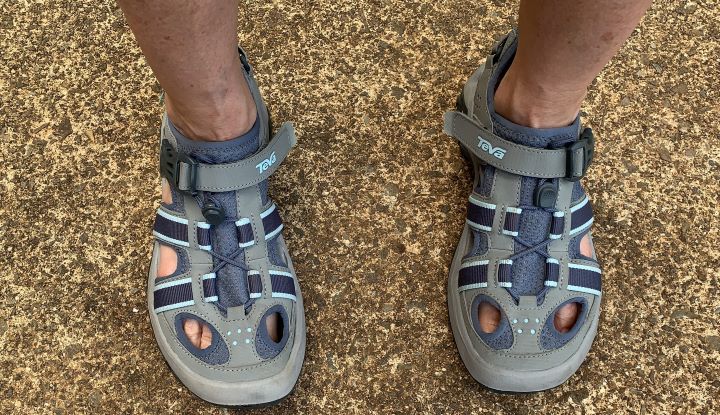 ---
6
Casual Sandal for Cracked Heels
The Teva Omnium Drift and Northside Santa are similar sporty sandals with a protective closed-heel design.
The upper consists of durable synthetic and textile materials that quickly dry.
A compression-molded EVA midsole for shock absorbency and cushioned footbed for comfort.
The rubber outsole ensures excellent traction and long-lasting durability.
From the Teva sandal, you can also enjoy odor and bacteria resistance from the Microban technology.
You can likewise choose between a few color options in both brands.
---
7
Cracked Heel Support Sandals
These casual and comfortable sandals offer a more closed and supportive design for Cracked Heels.
Clarks Sillian Stork
The Upper is a soft and comfortable textile material.
There is a Cloudstepper cushioned footbed for comfort.
The design has a closed heel to hide cracked heels.
The rubber sole is durable and offers excellent traction.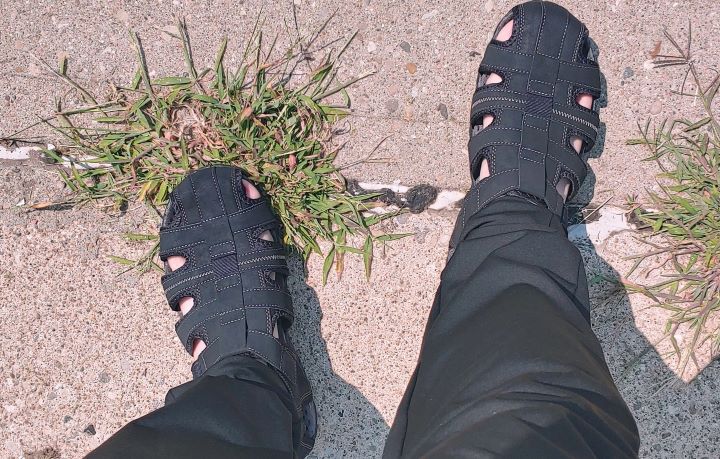 ---
8
Sports Sandal for Cracked Heels
The Northside Burke and Santa Rosa are two sporty styled sandals for cracked heels.
Both sandals have textile and synthetic uppers with durable synthetic soles.
Nylon and mesh in the uppers are quick dryings and breathable.
There is a cushioned and brushed EVA footbed for comfort and cushioning,
The TPR outsole also offers good slip resistance.
---
9
Sandals for Cracked Heels
The Crocs Classic is a lightweight and cushioned sandal that is quick-drying and ideal for cracked heels.
The Crosslite material offers cushioned foamy comfort and support.
The uppers are breathable and have drainage holes.
The sandal is water-friendly and easy to clean.
The outsole offers excellent grip and traction.
There is also plenty of color options available in the Crocs Classic.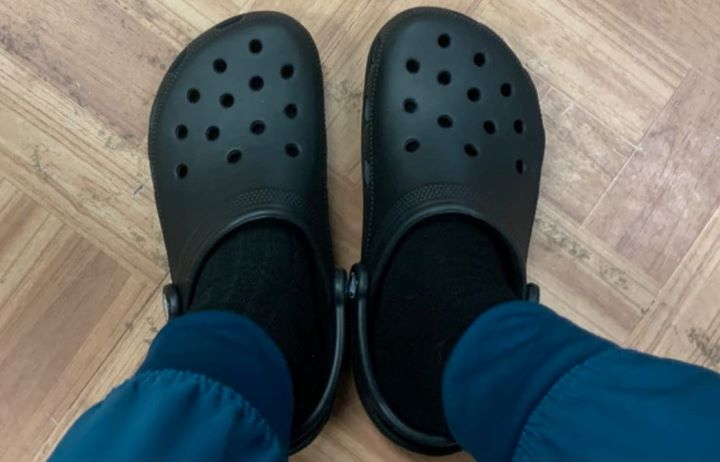 ---
10
Comfortable Sandals for Cracked Heels
We have the Andrews Fisherman sandal and the Hewitt for gents.
The Hewitt for men has leather uppers and an anatomical footbed with a microsuede lining to absorb moisture.
The Andrews features Textile uppers and a Memory Foam Cool Fit insole for cushioned comfort and a breathable mesh lining.
Both sandals have a closed heel design for cracked heels.
There are also more color selections available.
---
Index Table: Top Rated Sandals for Cracked Heels
---
---