Hammertoes can be painful and very unsightly, causing much discomfort and annoyance.
Your footwear may be one of the main culprits in your hammertoes' cause and aggravation. On the other hand, finding the right shoes may be more challenging, especially for sandals.
Nevertheless, the best sandal for hammertoes will give you a comfortable and flattering option in summer and springtime.
Though sandal is never the first choice for hammertoes, as you would want to hide them, I am here to give you some good news and show you some great designs that will work well if you have this condition.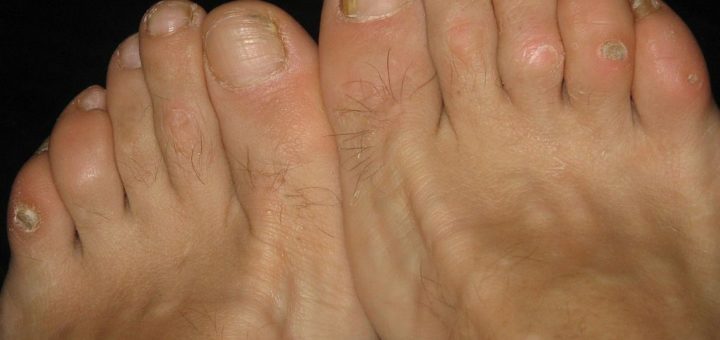 ---
---
Why You Need the Right sandals for Hammertoes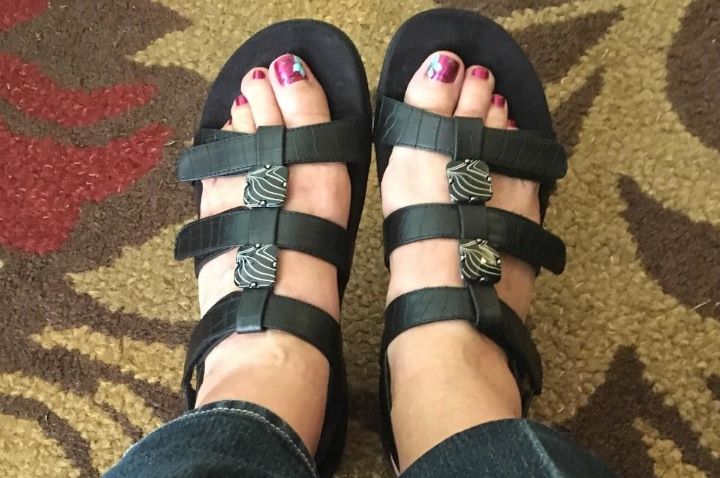 First, you must pick sandals if you have hammertoes. There are a few things to consider.
You do want a sandal that will flatter, somewhat hide unsightly hammertoes, and will not place pressure on our toes, which flexes and can be adjusted if needed.
Secondly, you will need a sandal that provides good underfoot support and cushioning to prevent strain and pain caused by hard impacts and help you keep a proper balance.
Luckily, quite a few sandal models will fit all of these criteria and will have you well on your way for summertime.
---
Treating Hammer Toes Without Surgery
In addition to proper footwear, you can also follow a few easy tips and methods to alleviate the symptoms caused by hammertoes and to help treat the condition;
Exercises – Exercising your toes, such as picking up marbles with your toes and similar routines, may strengthen the muscles and loosen the stiffness. It would help if you also stretched your toes daily manually.
Inserts – Shoe inserts or gel toe separators recommended by a podiatrist may reduce the pain and prevent the hammertoes from worsening.
Cortisone – You can also ask your doctor for a cortisone injection that can help to help alleviate the pain in the area.
---
Features of a Good Sandal for Hammer Toes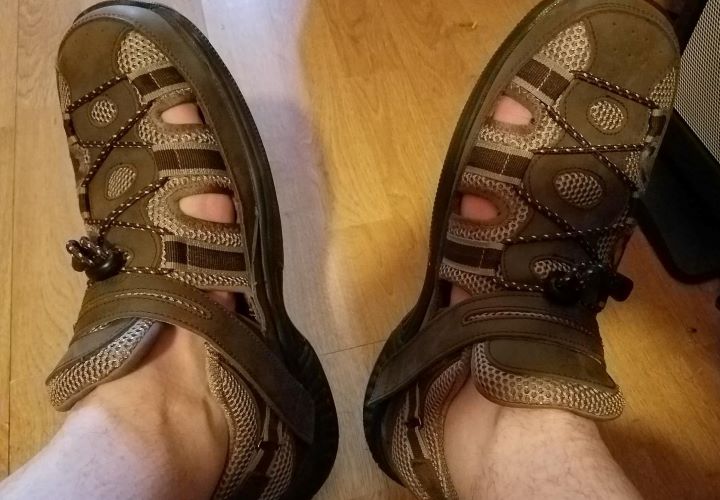 Uppers – Look for uppers that are stretchable or adjustable in fit, and look for a wide and roomy toe box fit. The extra-depth design sandal is likewise ideal.
Cushioning – Soft underfoot cushioning, firm support, and shock-absorbing midsole provide comfort and help absorb shock on impact to prevent pain.
Rocker Design Sole – Sandals with a rocket design sole mat help make walking easier and deliver cushioning.
Outsole – Always look for a sandal with a durable rugger or lug-patterned outsole for safety and slip resistance.
---
Reviews: The Best Sandals for Hammer Toes
Listed below, we have reviewed some of the best available sandals for hammertoes that fit all the criteria for complete relief and a more flattering fit;
---
1
Fancy Sandals for Hammer Toes
The Vionic Canoe for men and Vionic Amber for ladies are two stunning sandal models that will give a more appealing coverage to your hammertoes and provide ample comfort and less pressure.
The Canoe model has full leather uppers, while the Amber has synthetic ones.
Both sandals have adjustable uppers and more colors available.
The Canoe sandal has a concealed orthotic arch support and a podiatrist-designed cushioned footbed.
The Amber features a microfiber-wrapped EVA, cork footbed, and durable rubber outsole.
You can choose from wider width fits in both sandal models.
---
2
The Keen Newport H2 is a closed-design sports sandal that hides unsightly hammertoes and provides soft cushioning and a comfortable, wide, accommodating fit.
The sandal has fully adjustable quick-drying, polyester, and synthetic uppers.
There is a bungee lace-up system for an adjustable fit and wider widths.
The closed design will hide unsightly hammertoes.
There is a Compression-molded EVA footbed and a probiotic-based odor-resistant lining for comfort.
---
3
Fisherman's Sandal for Hammer Toes
The Teva Omnium 2 is a comfortable closed-design sports sandal that hides and protects Hammer Toes and provides ample cushioned comfort and support.
The Omnium features adjustable leather and synthetic uppers that are quick-drying.
There is a cushioned EVA foam midsole and comfortable footbed with a stable Nylon shank.
The footbed is treated for odor resistance and bacteria.
Wider widths are available; you can adjust the uppers for a more comfortable fit.
---
4
The Teva Beach and Pool sandal has adjustable straps for a customizable fit and a soft EVA cushioned midsole for comfort when you have painful Hammer Toes.
A comfortable and accommodating beach sandal.
The uppers are fully adjustable and quick-drying textile material.
The sole is cushioned with EVA with a heel cup and arch cookie for support, which helps to relieve pain from hammertoes and reduce strain on your feet.
You can choose from plenty of fun patterns and color options.
The footbed also has a zinc-based treatment to fight bacteria and odor.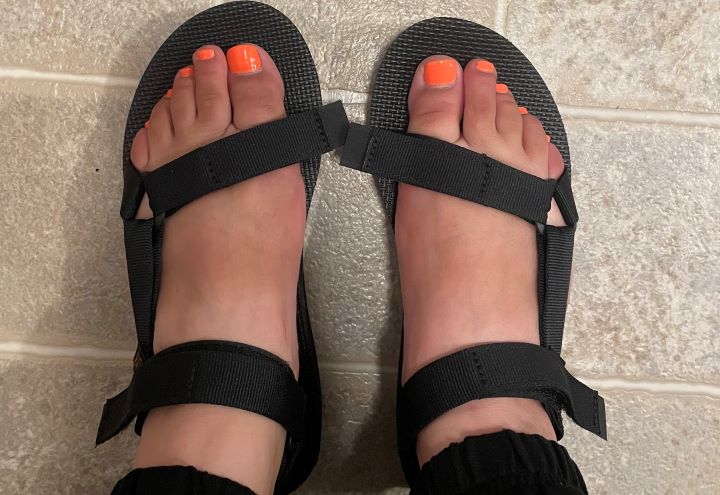 ---
5
Dressy Sandals for Hammer Toes
The Clarks Saylie Quartz and Brixby Shore are fancier sandals for more formal occasions, camouflage hammer toes slightly, and provide cushioning and a wide and comfortable fit.
Both sandals have full-grain leather uppers and more colors available.
The uppers offer adjustability in fit, and wider widths are available, all ideal features for hammertoes.
For comfort, there is a cushioned footbed and lightweight shock-absorbing EVA midsole.
The rubber outsole ensures that you stay firm on your feet with a high-grip rubber.
---
6
Closed Style Sandal for hammer Toes
The Skechers Reggae Slim Forget Knotted for ladies and closed-toe fishermen style sandals for men have a more closed design to hide unsightly Hammer Toes and provide a wider and roomier toe fit, along with ample cushioning for comfort.
The Knotted web design sandal for the ladies has textile uppers that are a very stretchy fabric with a design that will hide unsightly hammertoes.
The men's Closed-toe Sandal also hides Hammer's toes but has leather and synthetic uppers.
Inside are a plush, comfortable memory foam cushioned insole and a durable midsole.
The outsole is a tough rubber for good grip and traction on various surfaces, even slippery ones.
There are also more colors available to you.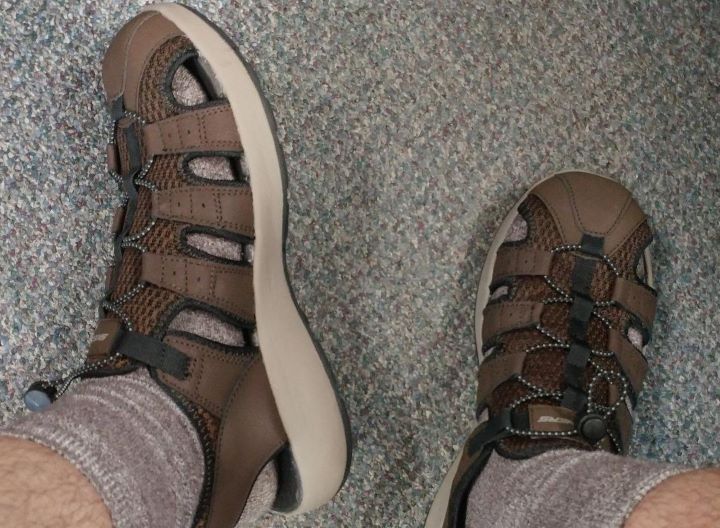 ---
7
The Chaco Odyssey Sport sandal is ideal for hiding hammertoes and protecting the outdoors.
It has a closed design with mesh and synthetic uppers that breathes well and dries quickly.
The rubber outsole provides ChacoGrip 3mm Lug grip on the tread.
The footbed is comfortable with a Luvseat design and cushioning and EVA in the midsole.
There are a few colors available from which you can choose.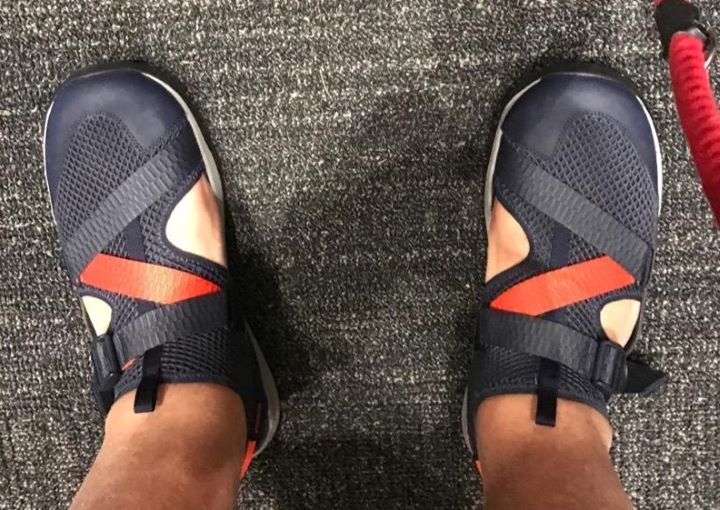 ---
8
Leather Sandals for Hammer Toes
The Chaco Wayfarer is a more stylish sandal for Hammertoes.
The straps slightly hide hammertoes, and the fit is very comfortable.
The uppers are leather, and the outsole is a durable rubber.
The Footbed has a cushioned EVA and Luvseat design for support.
---
9
Slide Sandal for Hammer Toes
The Teva Slide design sandal is a comfortable casual sandal for Hammertoes.
The design is accommodating and will slightly cover your hammertoes.
The footbed is cushioned and supportive.
There is a durable rubber outsole and a foam sole.
---
10
Outdoor Sandals for Hammer Toes
The Teva Hurricane 4 is a great Hiking sandal for hammertoes.
It has adjustable and quick-drying textile uppers.
The footbed is cushioned with ShocPad technology.
There is a high abrasion-resistant Durabrasion outsole.
More colors are likewise available to you.
---
Index Table: Top Rated Sandals for Hammer Toes
---
---