If you are looking for one of the best shoe types for wide feet, Clogs for wide feet are the best available option.
Clogs, in general, offer a wide and roomy fit as well as many other comfort features that you can look forward to.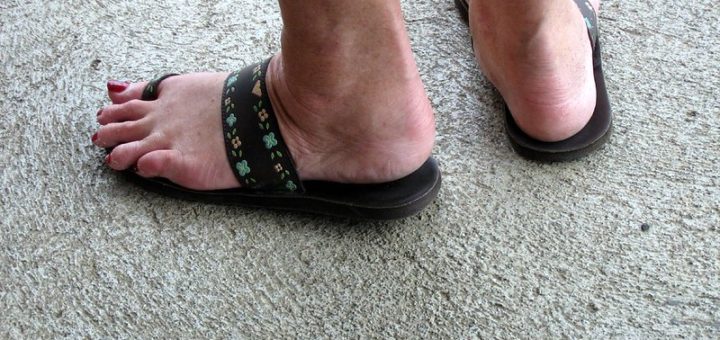 ---
Wide Feet and How They Affect You
Wide feet may be because of an injury, or other reasons such as weight gain, or an injury that affected the shape of your feet.
Whatever the reason, it is important to get shoes in general that offer a comfortable and roomy fit for wide feet.
Having shoes that squeeze your toes and feet can cause many issues such as bunions, corn, Calluses, and other foot deformities, besides just being painful and uncomfortable.
---
How Do Clogs Help?
Clogs are generally associated with being a wide fit, but here are some reasons why they are ideal for wide feet;

Roomy Fit – Clogs usually have a very roomy and wide, as well as a high toe box that will not squeeze your toes and forefeet.
Wider Widths – The Clogs we have chosen in the review section are all available in wider width options, though clogs are already a wide fit.
Extra Depth – The Extra-depth also creates more room, which will be proved a better fit for wide feet.
Comfort Features – Most clogs today come with comfort features such as cushioning, arch support, and moisture-wicking linings, so they are not just the uncomfortable hard styles that were initially created.
---
Features of a Good Clog for Wide Feet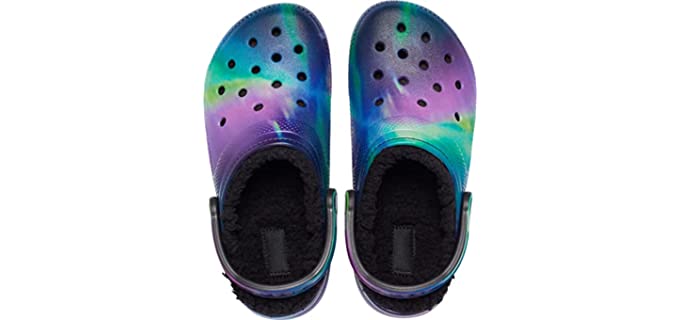 Uppers – Clogs generally feature wide and roomy uppers with a wide toe box. They may have a closed design or ventilation holes. The models we have included consist of crosslite foam, leather, and synthetic materials.
Fit – The fit of a clog is generally wide in fit, however, the models we have chosen are all available in wider widths. They will likewise have a higher toe box and extra depth design so that you have the least pressure on your toes.
Comfort and Support Features – The Clogs we have chosen offer good cushioning and support features such as EVA and PU foam, they have a contoured footbed design for arch support.
Outsole – The Outsole can be EVA, PU or a durable rubber, with a slip resistant textured tread.
---
Reviews: The Best Clogs for Wide Feet
In our list we have some excellent clog brands and models that all offer a wide and roomy fit, with wider widths available;
---
1
The Crocs Classic Clogs are the ideal clogs for summer.
They have large ventilation holes and an adjustable back strap.
There is a roomy toe box and soft Crosslite foam materials.
The clogs are water-resistant and quick drying.
They are available in plenty of color options as well as wider widths options.
---
2
The Dansko Professional Clogs are clogs that are ideal for work purposes.
They are likewise available in wider widths and more colors.
The clogs have leather uppers with a moisture-wicking lining.
They have an improved padded collar and a comfortable cushioned insole for your comfort.
The Clogs feature a PU rocker style sole with a wider heel strike design for stability.
---
3
The Skechers Work Clogs offer the ideal foot for wide feet.
They have durable and water-friendly uppers with a wide and roomy toe box.
There is a lightweight midsole and cushioned insole for comfort and shock absorbency.
The outsole is a non-slip flexible rubber, and there is a slight heel for stability.
Both models are available in wider widths, as well as more colors options.
---
4
The Crocs Crocband is another model from the Crocs Clog Range.
They consist of quick-drying and easy-to-clean Crosslite foam and are very lightweight.
The sole is slightly thicker, and the footbed offers good contoured support.
There are ventilation holes on top, and there is an adjustable ankle strap.
The Croc Band Clogs are available in wider widths and have a roomy toe box fit.
There are also a few more two-tone color options available in this range.
---
5
The Oofos OOCloog is a clog from this famous brand.
The clogs are essentially recovery shoes that provide comfortable cushioning and a roomy fit for post-exercise and post-injury or surgery.
They have a sole rocker design that reduces pressure on your feet.
The entire Clog consists of lightweight Oofoam and is quick-drying as well as easy to clean.
They are a wide fit, and there are a few more colors from which you can choose.
---
6
The Crocs Bistro Clogs are the perfect clogs for work, especially in the food and hospitality industry.
They consist of water-resistant and easy-to-clean crosslite foam, with reinforced toes for protection against hot liquids.
The clogs have a closed design for waterproofing and a comfortable contoured footbed for shock absorbency.
The outsole has a more textured ad durable design to offer good slip resistance.
The clogs are available in wider widths and have more color options available in neutral colors for work.
---
7
The Crocs Specialist Clogs are also more of a work clog design with an open back and adjustable back strap.
They have a closed toe with a roomy and comfortable fit.
The clogs consist of crosslite foam with a double reinforced toe.
The outsole has a lug design for good traction and slips resistance.
The clogs are available in more colors and wider widths.
---
8
The Dansko XP 2.0 Clogs are work and general clogs that offer a wide and roomy fit.
They are leather with padded instep and a moisture-wicking smooth lining to wick away moisture.
The clogs have a lightweight EVA midsole and soft cushioned insole for comfort and support.
The Outsole is a very durable and slip-resistant rubber with a patent design.
The clogs are available in more colors and similarly wider widths, so you can choose as needed.
---
Index Table: Top Rated Clogs for Wide Feet
---
---