We all generally pay much attention to the fit of our work shoes, athletic shoes, and any other closed shoe style, but yet neglect to keep this factor in mind when purchasing sandals.
Getting the right fit in length and width in your sandal is quite crucial if you want to stay comfortable and avoid issues.
Keen Sandals for wide feet come in full sizes, which offer a medium fit, as well as half sizes that offer a wider fit.
Most Keen sandals likewise offer you adjustability of the uppers of the sandal in order to allow a more customizable fit.
---
Why is The Fit of Your Sandals so Important
The Fit of your sandals is very important for a few reasons;
Chafing and Blisters – A sandal that is too loose can chafe and cause painful blisters and abrasions on your feet, especially in wet conditions. On the contrary, sandals that are too tight may cause pressure points on your feet that can also lead to sores, abrasions, and even callouses and corns.
Foot Deformities – When the fit of any shoe, sandal included causing your toes to be squashed together or cause pressure on your feet, the bones and ligaments may become deformed, and there may be growths and bumps such as Bunions, hammertoes, and claw toes, along with other similar issues.
Improper Alignment and Walking Bio- Mechanics – When a shoe or sandal fits too tightly, it will cause uncomfortable walking and even standing. In turn, you may develop an improper walking pattern or posture that can affect the joints and alignment of your feet and body, which in turn leads to pain and motion issues such as Overpronation or Supination.
Discomfort and Fatigue – All in all, a tight-fitting sandal will hurt your feet and cause discomfort all the way. You may end up with tired and aching feet, and this is just from wearing a sandal that is too tight.
---
So What do Keen Sandals Offer for Wide Feet
Keen sandals are generally more outdoor and water-friendly types of sandals that come in different options, such as their open-toe ranges, fisherman style, sporty flexible styles, and even flip flops.
What I love about most Keen sandal models is the fact that their uppers are normally fully adjustable, so you can adjust them to whatever width options you require.
Some sports and fisherman-style models have more flexible materials on the uppers that will flex and stretch with your feet, along with a bungee lace-up system to adjust the fit.
The footbed of Keen sandals is mostly very generous and will accommodate for a wider foot shape.
Then again, as you will see from their size options, they have regular full sizes, as well as half size. The half-size is generally a wider fit than the full size, so it is recommended that you size up half a size for a wider fit.
---
Features of a Good Keen Wide Width Sandal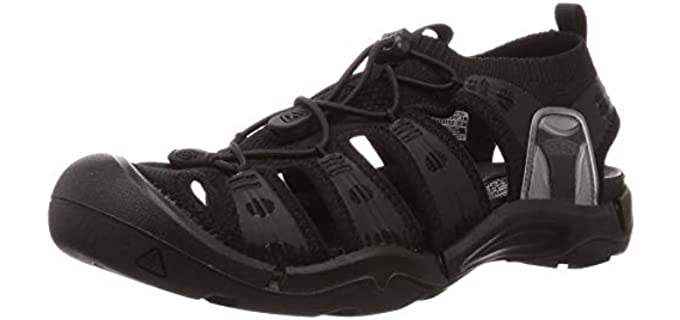 Uppers – Keen sandals have mostly water-resistant uppers such as their washable polyester or their recycled, plastic webbing that is more durable and abrasion-resistant. Most of their textile uppers models are quick-drying and will not hold water. Then you also get their leather uppers with a water repellent design. Some models have padded straps, while others just have lined straps. You get the open-toe design, Fisherman styles that are closed, and also flip flop designs.
Fit – The men's and women's Keen sandals are specifically built for the foot shape of each. Most Keen sandals have a locked heel fit to prevent slippage and instability. You get a wider fit with the half-size options, and most sandals also offer full adjustability in fit.
Support and Comfort – Keen sandals are well known for the comfort and support that they provide. Keen sandals have an EVA midsole that is compression molded for shock absorbency, with a contoured footbed for full support and a cushioned insole for comfort. There may be a PU insole, and some models have a stability shank for stability on uneven terrains.
Outsole – Then again, the outsole of the keenest sandals is designed for optimal traction on wet, uneven, and slippery outdoor and trail surfaces and terrains. The outsole has multi-directional lug patterns with razor siping for optimal grip and traction. You also get the aqua grip design in the water shoe range that is non-marking and ideal for wet surfaces. Keen uses genuine rubber for the outsole of their sandals.
Closure – Most Keen sandals will have a hook and loop Velcro closure, and the closed fisherman's styles mostly have bungee lace closure systems.
Odor Protection – Inside the insole of most of the Keen sandal models, you will find a natural, pesticide-free probiotic-based technology to break down sweat and odors.
Options – Keen offers a variety of full and half size options in all of their sandal, as well as more color options. Their sandal is usually more neutral in color, with a few exceptions here and there.
---
Reviews: The Best Keen Wide Width Sandals
Below you will see some of our best keen sandal models that offer an excellent wider fit;
---
1
Here we have the Keen Rose for the ladies and the Venice for the gents.
Both are good-looking sandals that offer a wide and roomy fit with adjustable uppers.
The sandal is cushioned for comfort and has a high traction durable rubber outsole.
The uppers consist of water-resistant polyester materials, and there are more colors from which you can choose.
---
2
Wide Feet Walking Sandals
The Keen Newport H2@ is ideal for wide feet and outdoor excursions, especially in wet conditions.
The sandal has a water-resistant, washable polyester upper that is lined for your comfort and adjustable for the right fit.
There is a removable dual-density PU insole and EVA shock absorbing midsole.
The outsole has Multi-directional lugs and razor siping for excellent slip resistance.
There is also the popular probiotic-based natural odor protection treatment in the footbed.
---
3
The Keen Clearwater CNX is a sandal with wider widths available, ideal for outdoor use.
The uppers are 100% polyester and quick drying.
There is a 4mm midsole drop and a contoured arch for support, with EVA and PU cushioning.
This is a closed-style sandal with a bungee lace system.
The sandal also has a Multi-directional lug rubber outsole, with flex grooves for more flexibility in the sole.
---
4
The Keen Arroyo and Whisper are similar sandals for wide feet with fully adjustable and flexible uppers.
They have leather and synthetic leather uppers.
The EVA Footbed is Metatomical and dual-density for shock absorbency and support.
There is an external shank for stability and support on uneven terrains.
The sandal also comes in more color variations.
---
5
Stretchable Sandal for Wide Feet
The Keen SOLR Sport has soft, flexible uppers that will adapt to the shape of your feet.
The sandal has water-resistant recycled plastic webbing uppers that are quick-drying and likewise abrasion-resistant.
The sandal is treated with plant-based probiotic technology for odor and bacteria resistance.
The outsole is an Aquagrip design that is non-marking rubber with stop zonal-siping.
There are also more color options available.
---
6
Wide Feet Walking Sandals
The Uneek Evo from keen is something a bit more casual in style with a closed toe and open heel.
The sandal has soft and flexible braided cord uppers and a roomy footbed.
There is a non-marking durable rubber outsole and a Metatomical footbed that has a Microfiber lining for your comfort.
The Lightweight Pu midsole offers good cushioning and shock absorbency.
Furthermore, you can choose from a few more color options.
---
Index Table: Top Rated Keen Wide Feet Sandals
---
---