When your Toddler starts to roam and explore, especially in the hot summertime, the good sandal is necessary to keep little feet safe, comfortable, and fashionable.
Teva has some of the best sandals for Toddlers that work well and provides excellent comfort.
In this article, we explore some of their best sandal ranges that are designed specifically for Toddlers.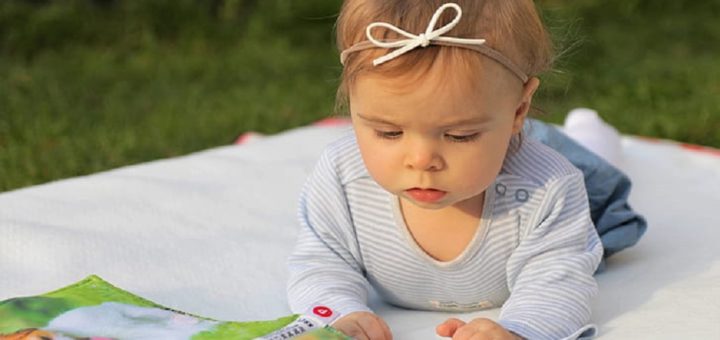 ---
Why Does Your Toddler Need Sandals
Learning To Walk – When your toddler is at that stage where they are learning to walk or get stable on their feet, they will need proper supportive footwear that aids with stability and provides underfoot comfort. A good pair of sandals is ideal in warmer weather, particularly for outdoor trips or in your garden.
Protection – A good sandal protects underfoot for small, fragile feet against sharp protruding objects and hard abrasive surfaces. Many sandal toddler styles have a closed-toe design to protect little toes against bumps and bruises.
Style – Maybe you want your little one to look fashionable for an outing or a visit to friends or family; in this case, a cute pair of sandals can add finishing touches to their outfit.
Comfort – Sandals can provide comfort and protection for little feet. They create a soft platform for your little one to walk on, ensuring a comfortable and light fit.
---
What to Look for in Good Sandasl for Toddlers
When it comes to toddlers, there are a few things to keep in mind in your choice of sandals for them;
Siize Specifications – Toddlers sizes run from a very small 0 to a size 10, suitable for young children or Toddlers with larger feet. Please ensure you get the right size option for your Toddler in the sandal model you like.
Closed Design – I generally prefer a closed-toe design for younger toddlers because the open styles risk toe bumping and bruising. Some Toddlers learning to walk may also tend to push their toes over the edges of an open-toe sandal design.
Secure Closures – Secure closures on an adjustable sandal so that you can get a comfortable fit are important. Also, because Toddlers will try to remove their sandals, a secure closure that is challenging for them to open is important.
Grip Inside and Outside – As you will see, some Teva sandal toddler models have a patterned insole that helps little feet grip better. A lug-patterned rubber outsole provides a good grip and traction on outside surfaces that are wet or dry.
Stability – Light stability features in a sandal help toddlers who are just learning to walk to keep their balance better.
Durable Construction – All in all, because children are children, they take their toll on shoes and sandals; therefore, durable materials that can take the wear and tear are needed.
---
Features of a Good Sandal for Toddlers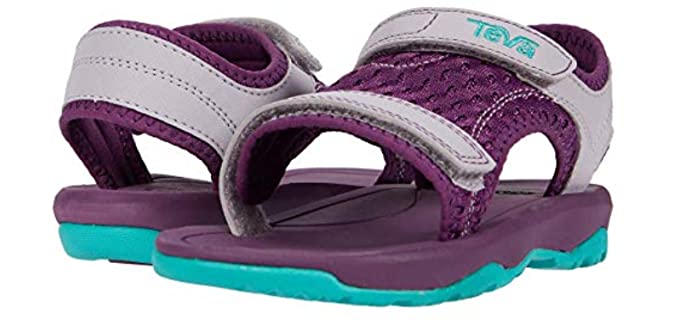 Teva Psyclone XLT for Toddlers – The Teva Psyclone is an upgraded sandal for toddlers with many new features. A new super grippy rubber outsole for better slip resistance and stability, a wider opening for easy on and off, and a fuss-free opening design. The EVA foam midsole is lightweight and cushions little feet. These sandals are created using plant-based materials only.
Teva Hurricane XLT Range for Toddlers – The Teva Hurricane XLT is also available in toddler sizes. The Hurricane XLt has a Dry quick webbing upper from soft polyester. The uppers are adjustable with easy hook and loop closures: a soft cushioning EVA foam midsole and a supportive Nylon shank for underfoot protection and stability. The rubber outsole has an excellent design for grip and traction.
Teva Mush Range for Toddlers – The Teva Mush Range offers a plush and comfortable sandal for little feet. The recycled polyester upper straps and quick-drying and durable. There is a MUSH top sole that cushions and conforms to the shape of little feet. A Lightweight EVA foam sole provides support and durable traction.
---
Reviews: The Best Sandals for Toddlers
Below you will find the best available sandal options from Teva in Toddler sizes;
---
1
Closed Style Toddler Sandal
I placed the Manatee as a first option for toddlers because of its more closed and protective style. The manatee is available in Toddler and little kid sizes and has many color options with fun two-tone colors. The uppers are a sift and breathable mesh with a bungee cord lace-up for secure closure. The EVA foam footbed cushions the feet and protects them. A rubber outsole provides good traction and underfoot protection.
---
2
Specifically for Toddlers, the Psyclone has a more closed and protective design with lightweight toddler construction.
The Uppers consist of a light, quick-drying, and breathable mesh with a secure closure.
The EVA foam footbed is comfortable and cushioning.
There is a durable rubber outsole for slip resistance.
Furthermore, there are two fun color options available for boys and girls.
---
3
Water Sandal for Toddlers
The Hurricane Drift is a fun water sandal available in toddler sizes.
The Hurricane Drift consists solely of Injection Molded, soft, and foam EVA.
Eav dries quickly and washes easily.
There are hook and loop closures for a secure and adjustable fit.
The Hurricane Drift is likewise available in many fun colors for Toddlers.
The sole is a durable and high tractiohigh-tractionn rubber.
---
4
Flip Flop Sandal for Toddlers
The Mush Two Flip Flop is designed and sized especially for Toddlers.
The Uppers are soft and comfortable textiles and fabric.
There is an elastic back strap on the Flip Flop design to keep small feet secure in the sandal.
The footbed is a plush and comfortable EVA foam with a durable outsole.
You can get these in fun colors for boys and girls.
---
5
The Hurricane XLT is a durable outdoor sandal design available in Toddler sizes and colorful prints.
The Uppers comprise a soft, quick-drying Polyester with adjustable straps, hook, and loop closures.
There is an EVA foam footbed that cushions and supports little feet.
The Outsole consists of durable rubber for optimal grip and traction.
There is a color option available for boys and girls with fun prints.
---
6
These are lightweight water sandals.
They are easy to clean and rinse down.
The sandal is available in many bright colors.
They are also very soft and foamy to wear.
---
7
The Sandals have Textile and mesh uppers.
They are a more adjustable and protective design.
There are boy's and girl's color options available.
This is an adjustable fit design trail and outdoor sandal.
---
8
An Upgrade on the original Hurricane.
They have water-ready and quick-drying uppers.
The uppers are fully adjustable in fit.
There are also many more fun colors available.
The sole is a cushioning EVA with a rubber outsole.
---
9
Cute and comfy little flip-flops.
They are available in more colors with textile uppers.
The sole is a lightweight and cushioning EVA.
The outsole has a lug pattern for slip resistance.
---
10
Sandals for Older Toddlers
The Hurricane XLT 4 for toddlers is one of the best outdoor sandals.
It has adjustable and water-friendly textile uppers.
There is a slip-resistant rubber outsole.
The closures are easy to hook and loop designs.
There are also quite a few more color options available.
---
Index Table: Top Rated Sandals for Toddlers
---
---