Orthopedic Shoes, in general, are always the most comfortable and supportive footwear choice that you can make for your feet.
Whether you need Orthopedic shoes for a certain foot condition or not, they are healthy and comfortable.
However, sandals may not always be as available in Orthopedic designs. Thus we want to help you by shoes you a few Orthopedic sandal brands and their best model.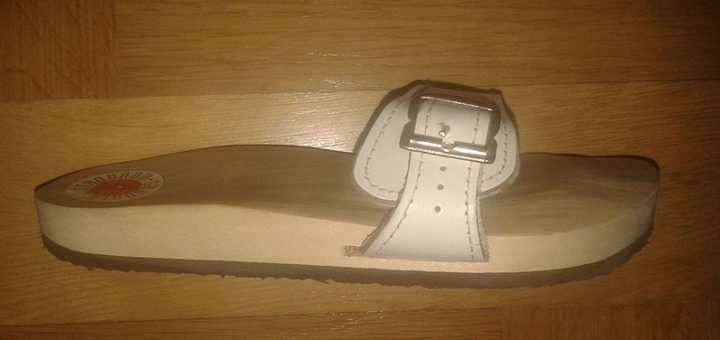 ---
What are Orthopedic Sandals
Firstly, an Orthopedic shoe, or sandal, is a sandal or shoe that does not contain normal properties. An orthopedic sandal is made to accommodate foot abnormalities and conditions and improve biomechanical fit functions.
Many Orthopedic shoes and sandals are designed to accommodate special foot orthotics, with an extra depth design or removable layers.
Orthopedic sandals are ideal for people who suffer from bunions, hammertoes, heel spurs, plantar fasciitis, diabetes, arthritis, flat feet, swollen feet, and people recovering from surgeries or injuries.
---
Benefits of Orthopedic Sandals
Having a good pair of Orthopedic sandals can hold many benefits, whether you have a foot condition or not;
Better Support – Good Orthopedic sandals support your feet and help align them properly, which helps with better body alignment.
Improves Circulation – The accommodating and roomier fit of the Orthopedic sandal will help to improve blood flow and be ideal for swollen feet.
Less Foot Pain – the cOrthopedic sandals'ort and support features of Ore impact and strain on your feet, which can reduce pain.
Corrects Certain Foot Issues – Orthopedic shoes and sandals can help to correct misaligned feet or overstressed arches. It can also help with overpronation and supination.
Improve Mobility – Many people who suffer foot conditions or pain do not feel like being very mobile to prevent pain and discomfort. However, the symptoms may be less with proper footwear, and pain may be reduced.
---
Features of a Good Orthopedic Sandal Brand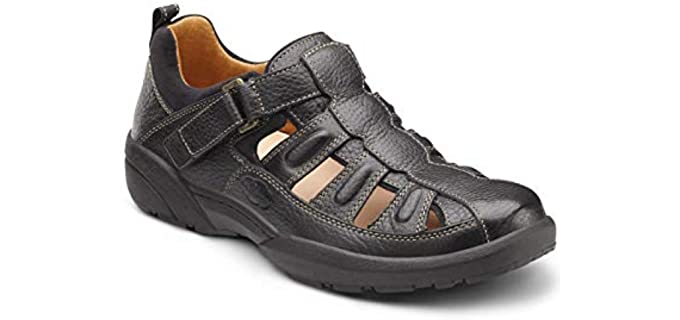 Toe Box – Most Orthopedic sandal will have a wider and extra roomy toe box for accommodating a variety of foot conditions.
Firmer Heel Counter – Many Orthopedic brand sandal have a closed style heel with a firmer counter for better support.
Deeper Heel Cup – Most sandals have a deeper heel cup too provide better stability and alignment.
Sole – The Orthopedic brand sandal may have a stability or rocker style sole fir balance and to reduce pressure on your feet.
Seamless – The design of Orthopedic sandal is usually seamless with a movements wicking smooth lining for comfort, and less friction.
Comfortable Footbed – Orthopedic sandal will have a supportive and cushioned footbed, sometimes with a removable cushioning insole.
---
Reviews: The Best Orthopedic Sandal Brands
In our list are some of the best available Orthopedic shoe brands and models for men, and women;
---
1
From DR. Comfort, we have two fisherman-style sandals with a more closed style.
This design is ideal for people with foot conditions and deformities such as bunions and hammertoes.
They have an extra depth design with a roomy toe box and are available in wider widths.
The sandal is genuine leather with a durable rubber outsole.
They have a cooling design and a comfortable layered, cushioning footbed.
---
2
From Hush Puppies, I have chosen the Raul and Lilly as an Orthopedic brand sandal model.
Both are closed-style sandals to hide unsightly foot deformities and conditions.
The sandal has leather uppers and a soft nubuck leather that is fully adjustable.
There is a soft and comfortable foamy footbed for cushioning and shock absorbency.
The sandal has a roomy fit and is available in wider widths and ore color options.
They have a sturdy and durable rubber outsole for stability.
---
3
Recovery Orthopedic Slide Sandal
The Oofos range of sandals is Orthopedic recovery sandals that you use after an operation, injury, or exercise.
They have a rocker design sole that takes all pressure off your feet and provides excellent stability.
Here I have chosen the two-strap Oofos slide that you can easily slide on and off your feet.
They consist entirely of water resistance, easy clean Oofoam, and have a durable slip-resistant outsole.
They are also available in a few neutral color options.
---
4
Orthopedic Slide Sandals for Comfort
The Connor and Keely slide from Dr. Comfort, a popular Orthopedic brand, is ideal for lounging at home and on the beach or pool.
They are leather sandals with fully adjustable single uppers straps.
For comfort, the sandal has a dual-density foam midsole and an integrated post shank, with a comfortable lined and cushioned footbed.
The sandal offers a wide and roomy fit and is available in wider widths.
They have a durable and slip-resistant rubber outsole.
---
5
Orthopedic Sandal for Heel Pain
I have selected two different sandal models from Vionic for men and women.
Both sandals have adjustable straps and are available in wider widths and colors.
They are a more formal style sandal for all occasions.
The sandal has leather uppers with a smooth and comfortable lining.
They are well cushioned with a podiatrist design footbed for optimal cushioning and support.
---
6
Orthopedic Support Sandals
From Dr. Scholls, I have chosen the Gus and the Adelle 2 sandal.
Dr. Schools, as you know, is mostly an insole brand that makes some of the best Orthopedic insoles. However, they also make excellent Orthopedic shoes.
These two models provide a wide and roomy fit and are available in wider widths.
The Gus has leather uppers and adjustable hook and loop straps. The Gus also features a memory foam cushioned footbed.
The Adelle has Microfiber lined uppers that are comfortable and adjustable, with anatomical cushioning and a lightweight, flexible outsole.
Both sandals are available in more colors.
---
7
Arch Support Orthopedic Brand Sandals
The Rockport Darwyn Sandals and Adjustable flat for women are comfortable from an Orthopedic brand.
They have fully adjustable leather uppers, and both sandals are available in wider widths and more colors.
The sandal has a comfortable, supportive, cushioned footbed and good shock absorbency.
The outsole is a durable and slip-resistant PU design.
---
8
Orthopedic Sandals for Plantar Fasciitis
The Birkenstock Arizona is a favorite Orthopedic style sandal.
They offer an adjustable fit with soft and lined leather uppers and are available in wider widths.
The Birkenstock Arizona sandal is two strap slide sandals with suede leather uppers and a durable rubber outsole.
The footbed is a moldable and cushioning cork and latex with a soft lining.
The sandal is also available in many more colors and prints.
---
Index Table: Top Rated Orthopedic Sandal Brands
---
---