Teva is the original sports sandal that emerged from the shores of the Grand Canyon back in 1984.
The Teva was born out of necessity to prevent your sandal from floating downstream off your feet by a resourceful river guide who strapped two Velcro wristbands on his old flip-flops.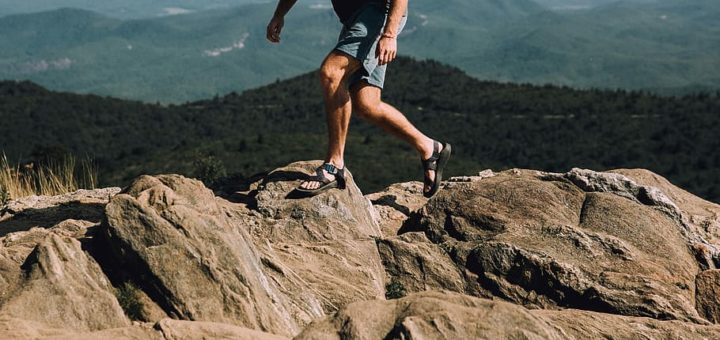 ---
---
Innovation and Artisanship of the Teva® Sandal
Teva created the Original icon to allow individuals to roam freely in any environment without worrying about losing a sandal.
Every piece of footwear is considered a canvas for creating a perfect art piece that is functional, comfortable, and durable. As a company, TEVA believes in good business, shapes its community, and protects the environment we live in today.
---
Teva® Sandal Designs
There are many different TEVA sandal designs. I have chosen a Few of their Top Ranges, each offering many different models and added extras.
Original – The TEVA original features the robust EVA footbed, durable rubber outsole, and Polyester webbing uppers with easy hook and loop Velcro closures. The Straps are made from recycled plastic and are quick-drying and straightforward to clean.
Hurricane – The Hurricane sandal from Teva is a more robust, hiking-style sandal with either leather or polyester webbing uppers. The Injection-molded strap allows for a much easier and quick grip and adjustability. There is an EVA foam midsole, Nylon Shank for stability, and a more rugger Durabrasion rubber outsole for outdoor trails.
Vegan – Their vegan range offers 100% recycled plastic straps using traceable REPREVE polyester yarn. There are an EVA foam base, rubber outsole, and the popular hook and loop Velcro closure.
Ember Styles – The Ember Style range from TEVA is a closed shoe range with water-resistant treated Quilted polyester ripstop uppers, a cushioned EVA midsole, and a rubber outsole. The inners are lined with cozy microfiber and treated with Aegis for foot odor. However, in this article, we are only concentrating on their sandal ranges. Closed shoe inspired by classic outdoor gear.
---
Features of a Good Teva® Sandal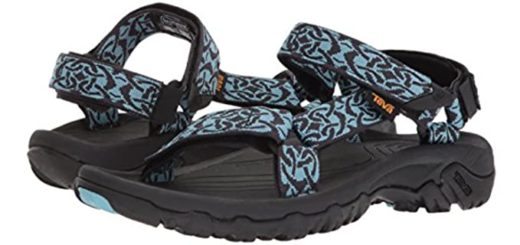 Uppers – Teva sandal uppers can consist of anything from Textile Polyester straps that dry quickly or more durable leather straps, which are usually lined and, in some models, padded.
Outsole – The popular abrasion-resistant DurAbrasion rubber outsole, Vibram, or regular EVA or Rubber outsole designs, depending on your chosen model. Some models have micro traction lugs on the tread for enhanced grip and traction.
Insole and Footbed – Most EVA sandal models offer a contoured footbed with arch support, the footbed is cushioned for shock absorbency, and some models have a lining treated with Microban Zinc to repel odors.
Colors and Patterns – Though the leather and suede upper options tend to be more neutral in color selection, the textile uppers come in many colors and patterns.
Closures – The Teva sandal usually has a hook, loop, or Velcro strap closure system.
Styles – You will find mostly casual styles in the Teva Sandal. Teva also manufactures some exceptional Hiking Sandal models.
---
Reviews: The Best Teva® Sandals
These are some of the top favorite sandal models from TEVA;
---
1
The Teva Verra and Strata are comfortable casual outdoor and all-around wearing sandals, which I have chosen as the top favorite models for men and women.
The Teva Terra is available in a few neutral color designs.
The universal Teva strapping design features an adjustable hook, loop straps, and soft fabric linings.
There is a contoured EVA footbed with arch support and a Microban Zinc-based odor-resistant treatment on the insole.
The Vibram rubber outsole offers excellent grip and has a lug pattern.
---
2
The Teva Original still stays the favorite and most sold model from Teva.
It can be used for sports or casual wear and features its original and best design.
The uppers consist of textile materials and have adjustable hook and loop closures.
The footbed is made from cushioned EVA with a zinc-based Microban odor-resistant lining.
The Durabrasion rubber outsole offers high abrasion resistance and good slip resistance.
---
3
Sandal for Boating and Beach Wear
Hurricane 4 is a top model from their latest Hurricane range.
The Hurrican 4 is a fun and sporty sandal perfect for water reports, beachwear, and boating.
There are textile fabric-lined uppers that dry quickly and adjustable hook and loop straps.
In the sole is s stabilizing Nylon shank for uneven terrains and shock absorbency.
The Foam midsole and Durabrasion rubber outsole are durable, high abrasion-resistant, and shock absorbing.
This model is also available in a few color options from which you can choose.
---
4
The Teva Tirra is another top favorite and a more stylish design sandal.
The uppers straps consist of fabric-lined textile webbing and are adjustable for a perfect fit.
This model has additional ShocPad Technology and cushioning in the sole for shock absorbency.
The sole consists of EVA foam and a Durable rubber outsole.
This model is also treated with a Zinc Based Microban treatment to fight odors and bacteria.
---
5
The Terra-Float is a lightweight, comfortable sandal from Teva.
This design can be found in Narrow fit options and is ideal for narrow feet.
The upper consist of polyester webbing with a knit design and an ankle strap with a hook and loop closure.
The Durabrasion outsole offers high abrasion resistance and is made from durable rubber.
A Float design midsole is extra lightweight and cushioning.
---
6
For the beach and casual days at the pool, I highly recommend the Teva Fi Lite.
The sandal has a Soft and quick-drying polyester and Nylon upper webbing construction.
A comfortable and lightweight sock-absorbing EVA midsole and a shock-absorbing ShocPad technology footbed exist.
The insole is Microban Zinc based, treated for odor resistance.
The outsole is a rugged and durable Spider Rubber Outsole.
In this model, there are some color selections available.
---
7
The Teva Omnium is a comfortable Fisherman-style sandal for outdoor sports.
The uppers are mesh and synthetic with a bungee lace-up system.
There is a Molded EVA foam footbed for support and comfort and a ShocPad technology shock-absorbing heel.
The rubber outsole is non-marking and slips resistant.
---
8
The Teva Mush is a foamy and comfortable beach flip-flop from Teva.
The Upper is a Canvas Cotton Material that is light and breathable.
The sole is a dual-density cushioning EVA.
The outsole offers an excellent grip on slippery surfaces.
You can also select from a few neutral color options.
---
9
The Teva Minam and Voya are casual everyday wear sandals.
The Teva Hudson has genuine leather uppers, and the Voya has synthetic and textile strappy uppers.
There is a Contoured and supportive EVA footbed.
The Durabrasion rubber outsole ensures excellent durability and grip.
You can select from a few available colors in both sandal models.
---
10
The Katavi and Elzada are both fashionable slide sandals from Teva.
Both sandals have leather uppers with a textile lining.
Ther is a comfortable and supportive contoured EVA cushioned footbed and stability shank.
The outsole is a rugged Durabrasion rubber that offers excellent traction.
There are a few color options available in both sandal models from which you can choose.
---
Index Table: Top Rated Teva Sandals
---
---