Naturalizer shoes and sandals are known as the sandal and shoes with the "Beautiful Fit."
Well, not only are Naturalizer sandals gorgeous when they are on your feet, but they are also surprisingly very comfortable as well.
I have found some of the most comfortable and stunning styles of Naturalizer sandals for you to take a look at in this article.

---
---
How Did Naturalizer Come Into Existence
First, lets us look a bit into the History of Naturalizer as a brand;
In 1927, when cultural shifts and more progressive thinking patterns emerged, Caleres Inc released a women's footwear line that combines current fashions with comfort features.
Naturalizer became one of the first shoe and sandal brands that women could enjoy for its feminine style and impossibly good comfort.
Naturalizer still honors the brand's original promise to deliver fashionable, feminine, and stylish shoes and sandals that are very comfortable to wear.
---
Sandal Types According to Soles
Heels – Naturalizer offer you a wide variety in choices of Heels. They have High, Medium, and low heeled sandals and wedge heels, and block or stiletto heel styles.
Flat Sandals – Neutralizer also features arranged flat sandals with a comfortably cushioned footbed and a very slight heel for stability.
Platform/Flatform – There are also some superb Flatform and Platform Sole design sandals offered by Neutralizer.
Espadrilles – Models such as the Opal, Odina and Oak have an Espadrille style wdge design sole.
---
Features of a Good Naturalizer® Sandal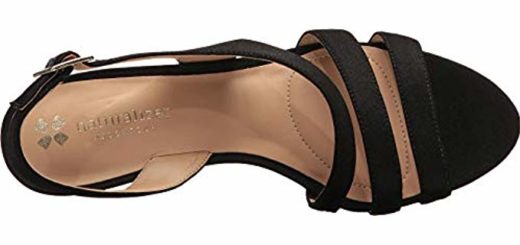 Uppers – Leather and synthetic materials are used for the upper, which can have different feminine styles, color designs as well as a hook and loop or buckle closure system, and adjustable fit.
Footbed – Most Naturalizer sandal features the famous Contoured footbed that supports the heel and arches and provides Dual-density Cuhsiioning. There is also a lightweight, breathable lining to wick away moisture.
Outsole – The Sole is flexible and moves with you along with rubber and synthetic materials in the outsole.
Heel – You can choose between a variety of heel heights as well as a flat sole or wedge and platform design heel.
---
Reviews: The Best Naturalizer® Sandals
Here we have some excellent selections in favorite models from the Naturalizer sandal brand;
---
1
The Nalani is a top favorite comfort and all-occasion sandal from Naturalizer.
The uppers are leather with an ankle strap and strappy forefoot.
There is a padded comfort footbed, and the sandal has a low heel.
You can choose between black or white color options.
The outsole is a durable and high traction rubber.
The slingback strap is also adjustable with a hook and loop closure.
---
2
If you are looking for a comfortable sandal dress for a wedding or prom, then Cameron is absolutely perfect!
These are stunning designs for formal events, and the uppers are decorated and dazzling.
The heel is three and a half inches high, and there is a lower platform.
There is an adjustable buckle for a customized fit at the ankle.
You can choose from neutral and glitter color options.
---
3
The Kinsley is an elegant high-heeled sandal dress, which you can get in many colors and patterns.
The Kinsley is sleek and elegant, giving length and height with the sophisticated stiletto high heel.
There are a single front toe strap, a closed heel, and an adjustable buckle ankle strap.
Many color options are available in the Kinsley.
The uppers are leather, either smooth or shiny patent.
The footbed is lightly padded for comfort.
---
4
Something fun and funky is the Flatform design sandal from Naturalizer, the Billie.
Leather uppers and a synthetic sole are used in the Billie sandal.
The Billie sandal features a platform sole that is quite high and comes in similar colors as the leather uppers.
There are four colors from which you can select in this model.
The footbed is cushioned and comfortable, and there is a durable synthetic outsole.
---
5
The Tally from Naturalizer has a flat sole and comfortable Toe Loop design.
The Tally has a flat sole as well as a comfortably cushioned footbed.
The leather uppers have a Toe Loop and a rounded toe design with a cross strap and adjustable buckle closure ankle strap.
A few color options are available in the tally sandal model.
The sole is synthetic and very durable.
---
6
The Whimsy is a flat Gladiator Style sandal with a comfortable footbed and slight heel.
The Whimsy is a stunning Gladiator style sandal that is available in a black or tan color selection.
The sole is flat with a slightly elevated heel.
There is an N5 Cushioned and supportive footbed.
The uppers consist of leather and synthetic materials.
---
7
The Naturalizer Scout is a comfortable Flat sandal.
The uppers are genuine smooth leather with an adjustable hook and loop closure and an open toe.
There are many color options available to choose from in the Scout.
The footbed is cushioned and comfortable.
There is also a slip-resistant and durable stabilizing sole.
---
8
The Taimi from Naturalizer is a dress-style sandal with a high heel for sophistication.
The uppers are leather or Nylon fabric with a smooth lining.
There are a 2.5 Inch heel and synthetic sole.
There are also many color options in the Taimi.
For comfort, you have the N5 Comfort cushioning technology in the footbed.
---
9
Another stunning Platform dress shoe from Naturalizer is the Pressley.
The Pressley has smooth leather straps in the uppers and comes in a few neutral color options.
There is an N5 Cushioning and comfort technology system for support and shock absorbency.
The heel is 3 inches with a ¾ inch platform.
There is also a durable and high traction outsole.
---
10
The Fairmont from Naturalizer is a more comfortable flat-soled sandal.
The sandal only comes in natural tan-colored options.
The strappy upper is genuine smooth leather with a hook and loop closure.
The sole is flat and very durable.
There is a comfortable and lightly padded footbed.
---
Index Table: Top Rated Naturalizer Sandals
---
---