With Orthotic support, Vionic makes some of the best sandals, shoes, slides, and flip-flops. They also have a very comfy range of slippers with the same support features.
This article will look at some of the best slipper models from Vionic for all seasons.

---
---
Why You Need Good Slippers
Everybody needs a good pair of slippers;

Home and Leisure Wear – Slippers are a good choice for leisurewear to slip into at home. They are particularly comfortable after a long day on your feet. Slippers give your feet a break they need from the pressure of your daily work or exercise shoes and help alleviate foot pain and allow your feet to breathe.
Seasonal – You get warmer design slippers for winter and cooler, more breathable slippers for summer. Cool and open design slippers allow your feet to breathe and keep them cool during hot summers. They are an excellent relief from hot work shoes or boots. Warmer slippers have an ore-closed design and are usually lined or insulated to provide warmth and protection against the cold. They are ideal for keeping your feet warm during those cold winter months.
Support – We chose Vionic slippers because they provide excellent support and cushioning for your feet, unlike most slipper brands. As leisurewear, even your slippers should provide comfortable underfoot cushioning and good support for your feet.
Warmth – As discussed, slippers are usually preferred for their warmth during colder weather. And Insulating fleece or shearling lining is ideal for keeping your feet warm and toasty.
Protection – Slippers can provide added protection when walking on hard floors at home and against slips, sharp objects, and toe bumps and abrasions. They are also ideal for quick excursions outside, provided they have an outdoor and indoor design sole, such as rubber.
---
What do Vionic Slippers have to Offer You?
In the end, why choose Vionic slippers specifically?
Firstly, Vionic slippers are certified by the American Podiatric Medical Association (APMA), a leading foot health information resource representing over 15,000 podiatrists across the United States. Most Vionic shoes, sandals, and slipper models carry the APMA Seal of Acceptance that certifies that they promote foot health.
Vionic slippers offer full arch support with an Orthotic designed footbed to improve your posture and properly align your feet and body.
They provide cushioning and support features for orthotic pain relief and a roomy, comfortable fit that will accommodate foot issues and deformities such as bunions.
Vionic slippers are usually available in wider-width models and some color options.
Furthermore, Vionic slippers are available in various materials to make them ideal for whichever seasons you need them.
---
Features of a Good Vionic Slipper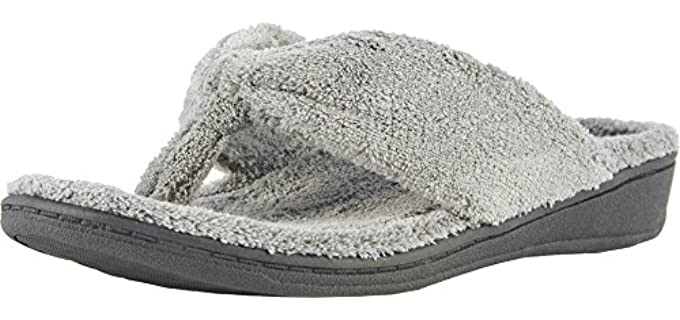 Designs – Vionic slippers come in many designs. They have slipper sandals, such as adjustable sporty sandals, flip flops, and slide sandal slippers. Then you get the warmer closed-style mules with or without a back slipper model.
Uppers – Depending on the design, Vionic slippers are available in various materials for the uppers. Leather and suede designs, fabric, Faux Shearling, and line models exist. Most designs have a footbed covered with shearling or terry cloth. You also get polyester and flannel uppers. As for fit and design, the uppers may have an adjustable closure such as Velcro, a hook and loop strap, or a button.
Footbed and Midsole – Most Vionic slippers have a shock-absorbing flexible EVA midsole that is covered with a textile material with a padded and comfortable footbed; some models have an EcoFresh antimicrobial treated footbed. Their slippers and other shoe and sandal models use the same podiatrist design and biomechanically engineering technology.
Outsole – As a good slip-resistant sipper, the outsole must be rubber with a patterned or lug tread for grip and traction on indoor and outdoor surfaces.
Options – Vionic slippers come in various color options depending on the model, as well as size and width options.
---
Reviews: The Best Vionic Slippers
Here are some of our top favorite Vionic Slipper models for men and women;
---
1
The Vionic Indulge Sadie is a comfortable mule-style slipper.
It has an EVA sole with a comfortable and cushioned footbed.
The sole is flexible, and the footbed has a deep heel cup and arch support features.
The slipper offers three-zone comfort cushioning and support.
It is the ideal spa and house slipper; however not recommended for outdoor use.
---
2
The Vionic Borough Tomkin is a moccasin-style slipper for men.
It has leather, textile, or suede upper options and various colors from which you can select.
The footbed is covered with a faux shearling layer for comfort, and there are Vio Motion support features and cushioning concealed in the footbed and midsole.
The slippers carry the APMA (American Podiatric Medical Association) Seal of Acceptance.
The rubber sole is durable and offers a good grip and traction for indoor and outdoor use.
---
3
The Vionic Indulge relaxes a comfortable and cozy slipper for ladies with an adjustable fit.
The slippers are synthetic with textile uppers and a textile-covered EVA footbed for cushioning and comfort,
The Outsole is TPR and quite flexible.
There is a hook and loop strap for full adjustability and a customizable fit.
The slippers have Vio Motion concealed support features and cushioning,
They are available in many solid colors, as well as animal prints.
---
4
The Vionic Bridges Alfons are Mule slippers for gents.
They have a Vionic Cone Comfort Orthotic insole and arch support system.
The uppers are soft suede with a faux fur shearling lining.
The slippers slip on and off easily, and a few neutral colors are available.
They have a flexible sole with a deep heel cup and arch support.
The outsole is a durable rubber for indoor and outdoor use.
---
5
The Vionic Indulge Jackie are comfortable Flannel Slippers in a few color options.
They have a durable indoor and outdoor rubber outsole for optimal slip resistance.
The uppers are flannel materials with button closures and adjustable fit.
Furthermore, the footbed has a deep heel cup, arch support, cushioning, and three-zone comfort technology.
---
6
The Vionic Irving Adler is a slipper for men.
They are a comfortable moccasin style available in two color options.
The slippers are a closed and warmer design for colder winter months.
They feature suede uppers with a faux fur shearling lining.
A durable rubber outsole and a flexible sole with a deep heel cup and arch support on the footbed.
The slippers are likewise certified as diabetic slippers.
---
7
The Vionic Indulge Gracie is a toe post flip flop design slipper for ladies for summer.
The style comes in many solid colors and some animal print options.
They are full of soft fabric material that is fuzzy and comfortable.
The footbed features three-zone comfort and cushioning support.
The outsole is EVA, so not suitable for outdoor use.
---
Index Table: Top Rated Vionic Slippers
---
---